O Fallon Pumpkin Beer Review: Balance of Spicy and Sweet
O Fallon Pumpkin Beer is a unique and brilliant beer that tastes like a delicious pumpkin pie but still retains its classic beer taste in the backbone. Brewed by O'Fallon, this is an ideal choice for those who like pumpkins or want to try out something new.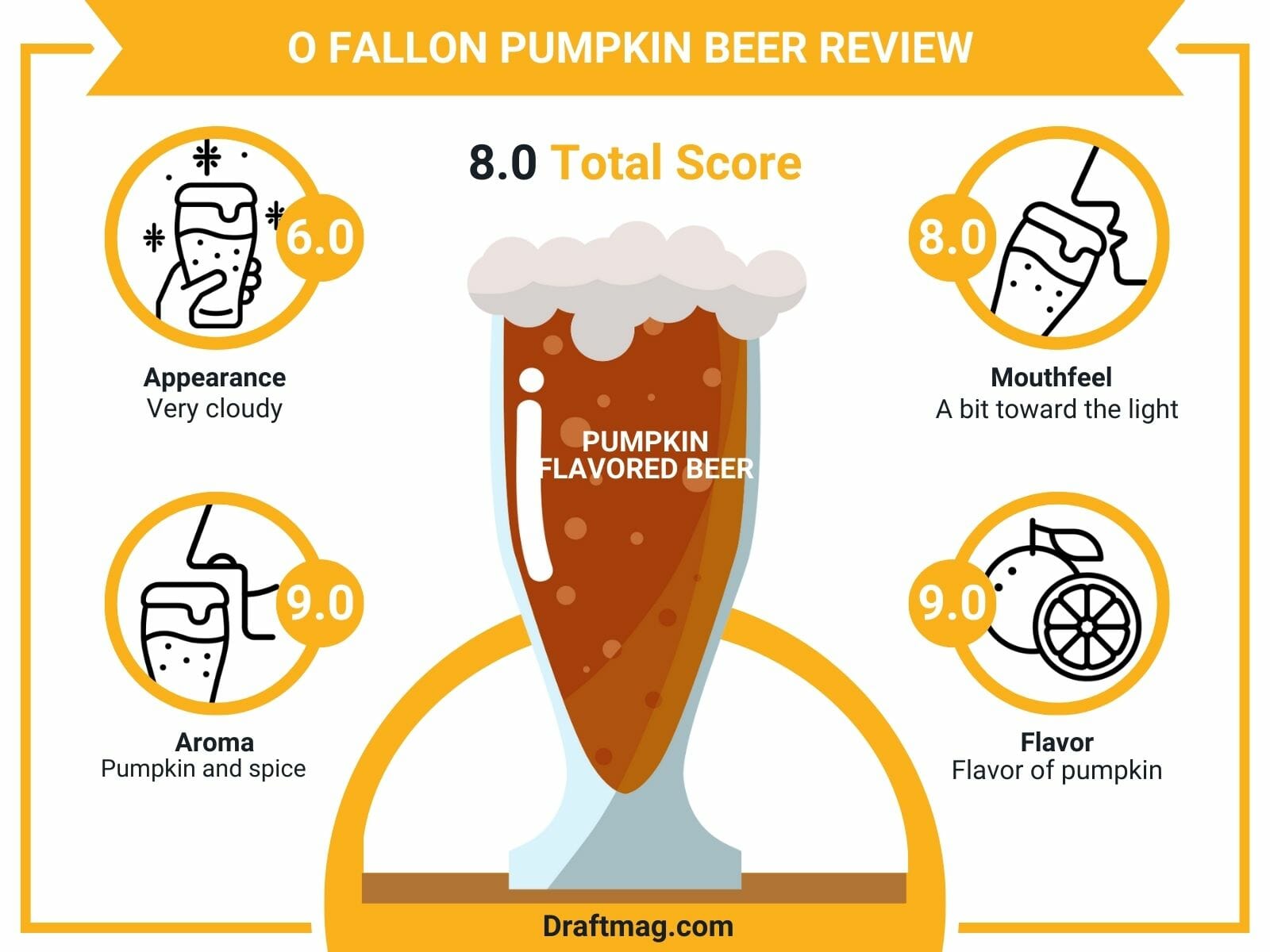 Check out the best fall beers for 2023 you can not miss!
It is a spicy and refreshing beer with a fantastic yet delicious body that pairs well with different kinds of food. To know more about this beer, continue reading our article below as we review its tasting notes, food pairings, and more.
O Fallon Pumpkin Beer Stats
| | |
| --- | --- |
| Country | United States |
| Brand | O'Fallon Brewery |
| Style | Pumpkin Flavored Beer |
| Taste | Pumpkin, spice |
| Body | Medium body |
| ABV | 5.6 percent |
| Flavors & Aromas | Pumpkin, apple, vanilla, spice, cream, malts |
| Serving Temperature | 45 – 50 degrees Fahrenheit |
Tasting Notes
O Fallon Pumpkin Beer Tasting Profile
The Pumpkin is just what its name implies, a pumpkin brew from O'Fallon Brewery. The beer features an ABV of 5.6 percent and a balanced taste of pumpkin and spice. Tasting like a delicious pumpkin pie and your favorite beer, the brew is the perfect choice for autumn, Thanksgiving, or any other season and occasion.
The beer has an orange color and a medium body. It features flavors and aromas of pumpkin, spice, cream, vanilla, apple, malts, and caramel. With the refreshing body, the beer goes down easy on any occasion and will pair well with different foods. You can even go all out with a pumpkin pie. The combination of the ingredients being used and the brewing procedures is responsible for the final beer color.
When having the Pumpkin brew, you should serve it in a pint glass, snifter, chalice, and goblet. It shows off the bright orange color of the beer and holds the head in place. Serve it at temperatures from 45 to 50 degrees Fahrenheit.
– Appearance
The Pumpkin ale features a hazy orange color that leans towards brown. The appearance is very cloudy, so you can barely see through it. It has a very beautiful and attractive color, with some particulates.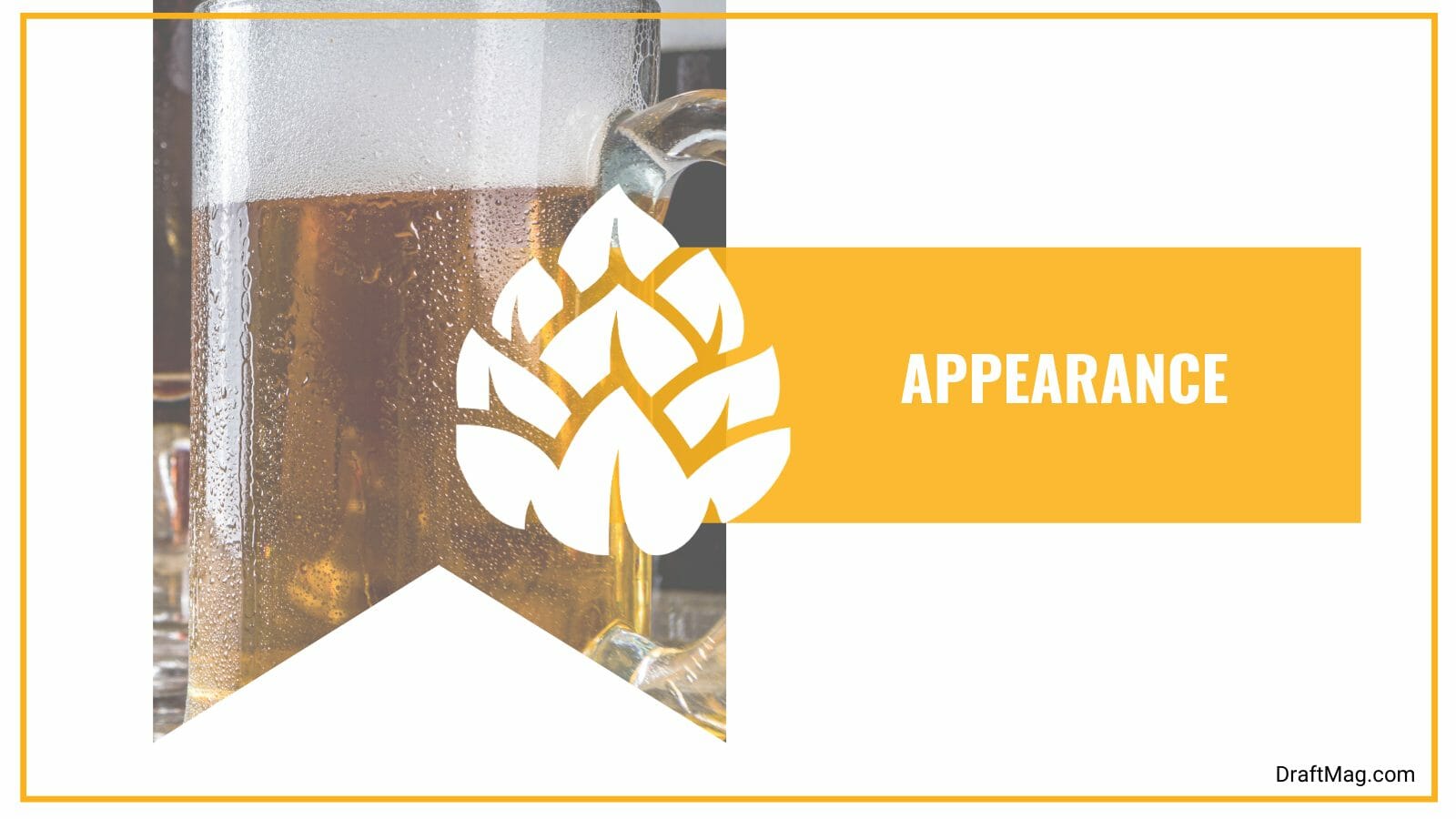 Atop the beer is a frothy off-white head that goes up to two fingers high. The foamy head offers decent retention, so it lasts for a long time without dissipating. As it reduces, it leaves a ring of lacing against your glass.
– Aroma
The aroma of the craft beer is mostly pumpkin and spice, which is like a well-made pumpkin pie wafting to your nose. The base of the aroma is pretty bland, as you can barely smell the other notes, and it simply moves the pumpkin aroma to your nose.
You might also notice a bit of caramel and malt notes, but the pumpkin offers more strength and is done well. The spices that you will notice are cinnamon, nutmeg, and clove.
– Mouthfeel
On the palate, the Pumpkin brew features a medium body, but it tends a bit toward the light. The light body will go down easily when you swallow, and there is some carbonation. The carbonation gives you a fizzy or spritzy feel that goes well with the creamy feel.
The feel of the beer is pleasant, and it does not have a dry finish. As for the ABV level, it is decent, so you will notice a bit of alcohol when the beer warms up. However, it does not get in the way of the flavor.
– Flavor
The taste of the Pumpkin brew is basically more of what the nose is already offering. You can taste the pleasant flavor of pumpkin, and there are a lot of spices too, including cinnamon, clove, and nutmeg. Nothing much is going on aside from the balance between the pumpkin and the spice. On the backbone of the beer is a bready malt base with a bit of caramel.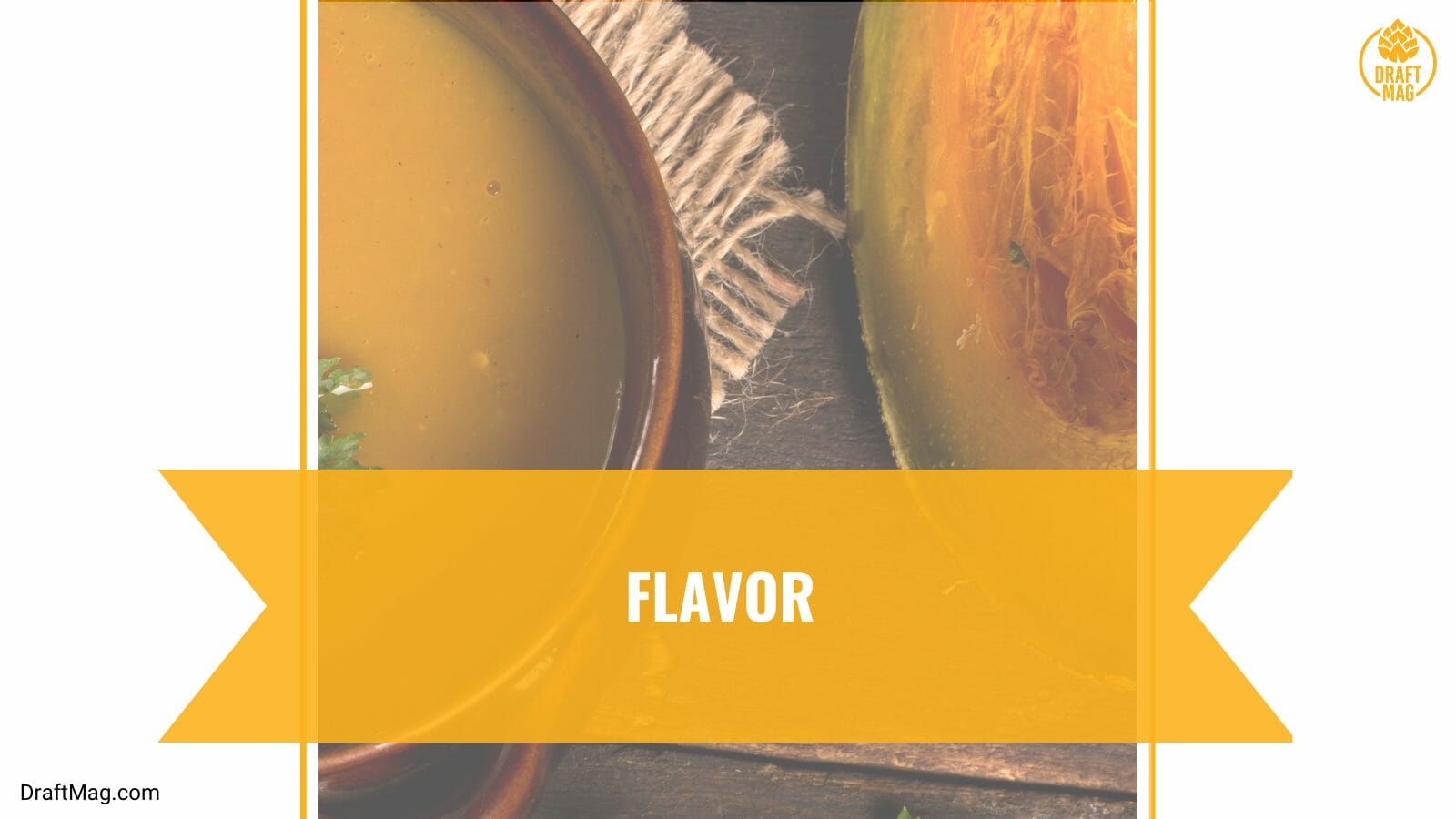 You might notice a bit of apple cider in the taste, as well as vanilla and cream. The flavor of pumpkin is more a canned pumpkin than a raw one, and there are hints of brown sugar too. It is mildly sweet and still tastes like beer.
– Food Pairings
There are different kinds of food you can have with the Pumpkin brew despite the limited taste. You should have it with pies, dishes that you will normally have for Thanksgiving, and the perfect autumn dishes.
Consider pairing the beer with savory stuffed mushrooms, shepherd's pie, cranberry and walnut salad, chili, mashed potatoes, chicken Alfredo, and a sandwich made with turkey, brie, and apple. You can also have the pumpkin ale with peanut or chestnut soup, pad thai with hazelnuts and roasted peanuts, and noodles.
The beer pairs with all fall food flavors, and you can do the same for dessert. Enjoy the beer with coffee ice cream, pumpkin spice pretzels, pumpkin pie yogurt, caramel apple pie, and an apple coffee cake. As for your cheese pairing, enjoy the beer with an aged Irish white cheddar, Gorgonzola, or a Parmigiano Reggiano.
Ingredients
O'Fallon Brewery calls this beer pumpkin pie in a bottle, and for good reason. It is first brewed with a three-barley malt mash, and then they add 136 pounds of real pumpkin is to the wort. This is why you get an authentic flavor of pumpkin when you drink it and not some artificial notes.
After the brewing period, the beer is seasoned with cinnamon, cloves, and nutmeg. Aside from the pumpkin and the spices, the beer is made with different malts, which are pale malts, white wheat, and caramel 90L. As for the hops, they are Cluster hops.
Nutrition Facts
The Pumpkin brew features an alcohol content of 5.6 percent, which is expected from the ale. It has a low ABV, so you won't taste it when drinking until your beer starts warming up. The bitterness levels are set at 11 IBU, as you can barely taste the hops or any other bitterness levels when you drink.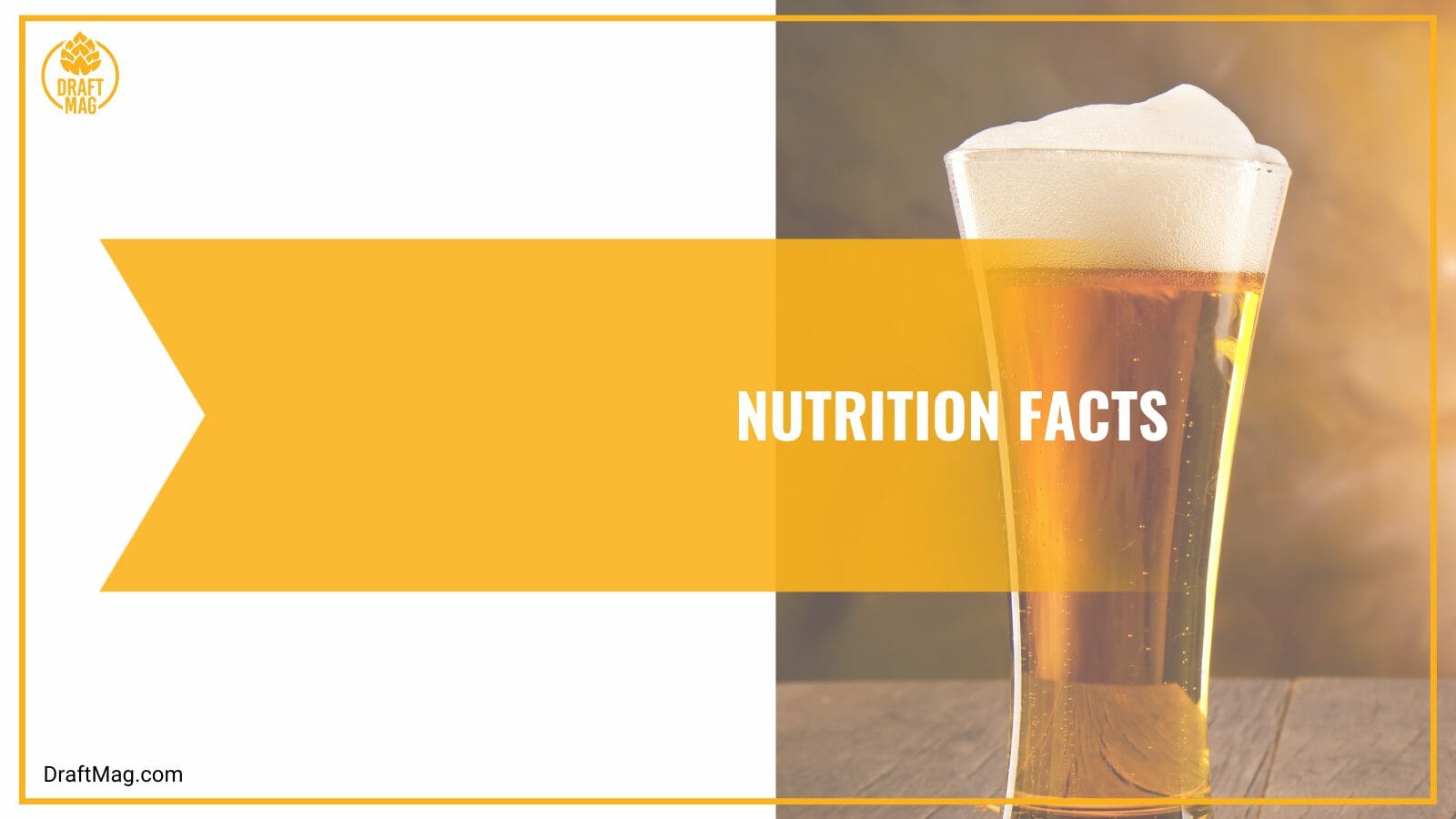 Every 12 ounces of the Pumpkin brew will give you 180 calories. There are also 12 grams of carbs, 10 mg of sodium, 2 grams of protein, and 2 grams of fiber in one serving of this brew. Drinkers on a keto diet can have this beer, but not too much because it has an above-average level of carbs. It is not gluten-free.
History
The Pumpkin brew was released in 2003 by O'Fallon Brewery, and it has remained a seasonal option from the brewery since then. It is the most popular seasonal offering from the brewery and is released between August and November.
O'Fallon Brewery was founded in 2000 by Fran and Tony Caradonna. It is one of the oldest and biggest craft breweries in St. Louis and is now based in a 15-barrel brewhouse. When it was first founded, the Caradonnas did all the brewing and selling by themselves.
Conclusion
If you're looking for a unique beer, this is the ideal choice as it will remind you of fall with its crisp pumpkin taste. Here's a rundown of our Pumpkin ale review:
It is a pumpkin ale with an ABV of 5.6 percent (If you are interested in beers with a higher alcohol content you can check out the top strongest beers).
The beer has flavors and aromas of pumpkin, spices, malts, caramel, vanilla, apple, and cream.
It is made with real pumpkin, spices, malts, and Cluster hops.
Serve the beer in a pint glass at temperatures from 45 to 50 degrees Fahrenheit.
Pair the beer with autumn-themed foods like shepherd's pie, stuffed mushrooms, chicken pie, peanut soup, coffee ice cream, and Irish white cheddar.
You can give the beer a try by purchasing it from a craft brewery, although it's only available seasonally. Some online retailers also offer this beer for sale, and you can also buy the Pumpkin pack, which consists of different fall beers.