7k IPA Review: A Solid and Hoppy IPA for All Occasions 
7k IPA is a flavorful IPA that will surprise your taste buds with every sip that you take, from the citrus and tropical notes to the piney hops and malty base. The beer is solid and offers a great finish without any flavor overpowering the other.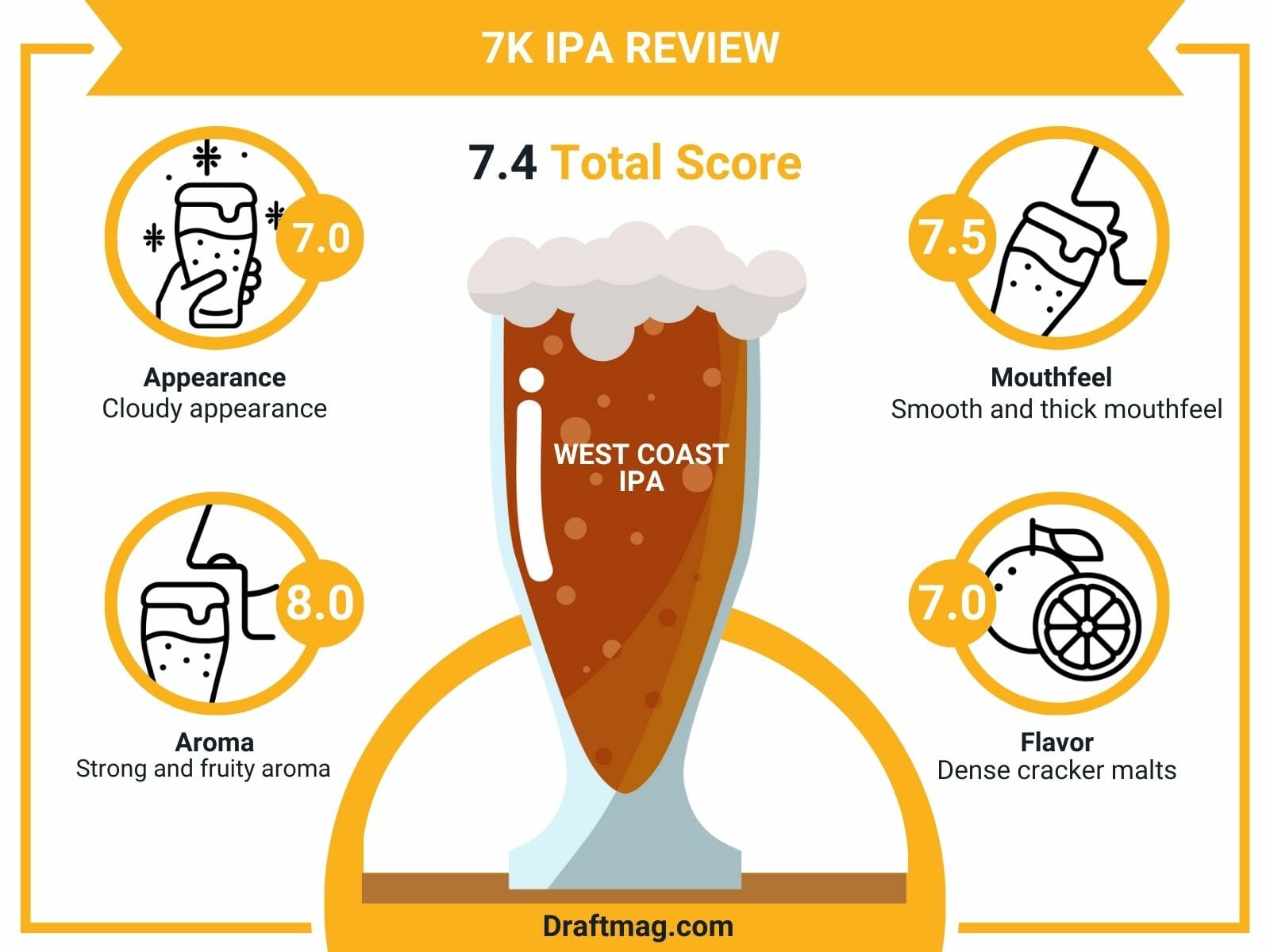 Whenever you're in the mood for something hoppy, you should give this drinkable and dank IPA a try. If you're curious about this IPA, our detailed review covers all the important points, from the flavor and aroma to what you can drink it with. 
7k IPA Stats
| | |
| --- | --- |
| Country  | United States |
| Brand | Santa Fe Brewing Company |
| Style | West Coast IPA |
| Taste  | Citrus, tropical fruits |
| Body | Medium body |
| ABV | 7 percent |
| Flavors & Aromas | Citrus, pine, tropical fruits, malty, herbal, earthy  |
| Serving Temperature | 45 – 50 degrees Fahrenheit |
Tasting Notes
7k IPA Review 
7k IPA is an American IPA with an alcohol content of 7 percent. The beer is made by Santa Fe Brewing Company and offers a fruity and intense taste with a clean hop profile. Unlike other IPAs, this beer has a West Coast style and a lean malt base. It offers a good balance of citrus and tropical fruits. There are many great IPAs with a West Coast style.
The IPA has flavors and aromas of citrus, tropical fruits, pine, herbal and earthy notes, with a malt base. It features a golden-orange appearance and a medium body, slightly thicker than expected, with a dank taste. The beer is definitely worth a try if you like hops or want to try out an IPA for the first time.
When having the 7k beer, you should serve it in a pint glass, which has a narrow bottom and a wider top. Other options include a snifter, chalice, or goblet, as these are bulbous glasses with a short stem that you can use to enhance the aroma. Serve it at temperatures from 45 to 50 degrees Fahrenheit. 
– Appearance 
On the pour, the 7k ale has a hazed, cloudy appearance, so you can barely see through it. It has a light golden orange color, and the carbonation clashes with the unfiltered appearance of the beer.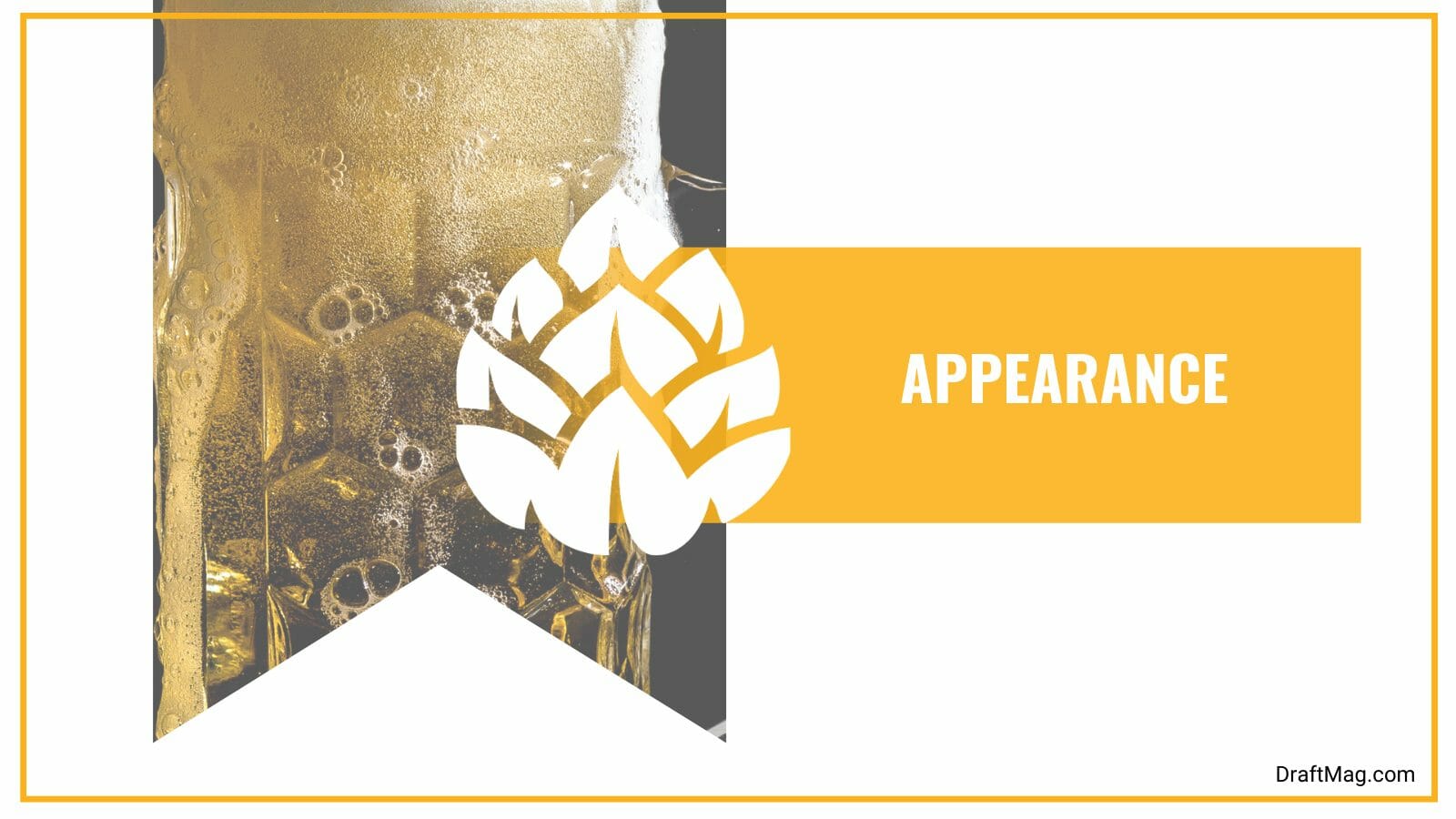 Atop the IPA, you get a white foam up to one finger high. The foamy head has fantastic retention and will slowly fade over time. It leaves a lot of foamy lacing against the glass. 
– Aroma 
On the nose, the IPA has a very strong and fruity aroma that sticks around for a while. The aroma of the beer will first hit you with a sweet citrus scent, and this s balanced out with tropical fruits and grapefruit from the hops.
The citrus notes offer a balance of tangerine and orange, while the tropical fruits lean towards mango. You might also notice a bit of herbal and earthy notes from the hops. 
– Mouthfeel 
The body of the 7k India Pale Ale features a medium mouthfeel and is quite dank. It has a smooth and thick mouthfeel, so it leans towards fullness as you swallow. The feel is also chewy, and the dankness in the mouthfeel complements the mix of flavors.
The carbonation level of the beer is low, giving you lazy bubbles as you swallow. The drinkability is also good, as the alcohol level is masked. 
– Flavor 
The most prominent taste in the IPA is from the hops, but the malts are always present. The taste of the beer starts with a flavor of dense cracker malts, and there is a bit of fruit in the taste. The sweetness from the fruits is still light at the front, and it becomes more intense in the middle before becoming weak at the end.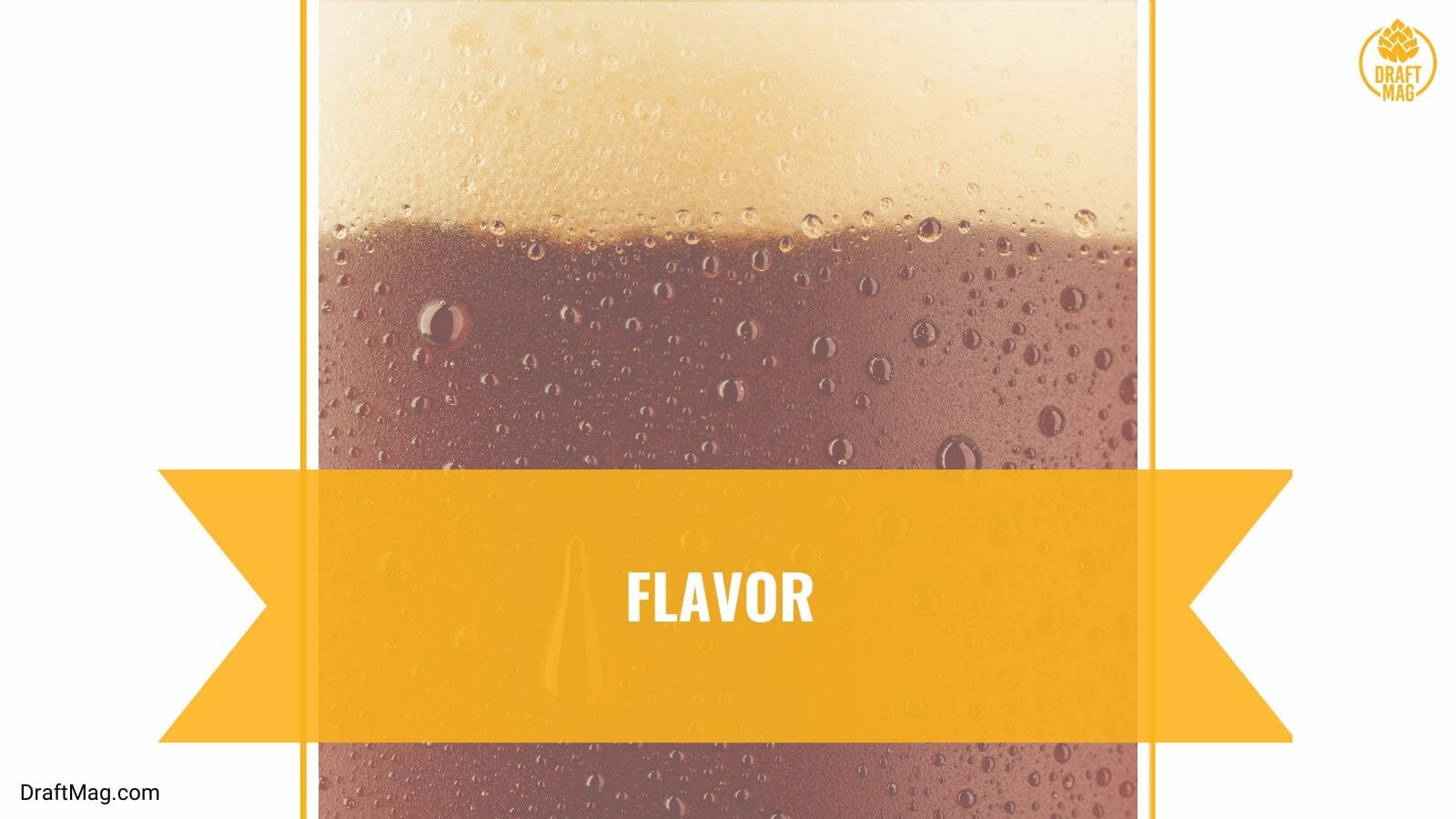 You will notice a bit of dank hops that offer earthy and herbal notes. There's some grapefruit and citrus in the flavor too, specifically tasting of tangerine and oranges. Towards the end, there is a touch of hay and yeast, and it leaves a thick and dry taste lingering on the tongue. 
– Food Pairings
When drinking the 7k ale, you can pair it with foods that have a similarly strong taste. The beer is bitter and hoppy, but there's still a bit of sweet fruitiness. This makes it ideal for spicy foods like Indian, Mexican, Thai, and Southeast Asian cuisines.
Also, try out sweet and fruity Asian dishes, tacos and burgers with barbecue sauce, and spicy pasta. When having snacks, you should go for salty and fried foods. You can also enjoy this beer with barbecue, smoked, fried, and roasted dishes, oily fish with citrus dressings, and more. 
If you're having dessert with this beer, try out a carrot cake, grapefruit cheese tarts, fruit bowl, sweet tea, lemonade cake, and more. For your cheese pairing, you can enjoy the 7k IPA with a sharp cheddar, as this goes well with the hop intensity. The beer also pairs well with blue cheese, which is nutty and creamy. 
Ingredients 
The 7k ale is brewed with malts, hops, yeast, and water. The malts offer a touch of caramel sweetness when you first drink them and a strong malty backbone. It remains strong throughout the taste. 
The hop profile features Simcoe, Mosaic, Eldorado, and Amarillo hops, which offer fruity, piney, and citrusy notes throughout the taste. It also has a clean hop profile. You might also notice a resinous hop flavor. As for the yeast, you will notice it in the flavor towards the end.
Nutrition Facts 
The ABV of the 7k IPA is set at 7 percent, which is expected from the style. The alcohol is hidden throughout the taste, making the beer highly drinkable. As for the IBU, it is set at 70 because of the vibrant hoppy bitterness that you get through the taste. Each beer has its own IBU – International Bitterness Unit – which makes it easier to find a different beer with similar bitterness.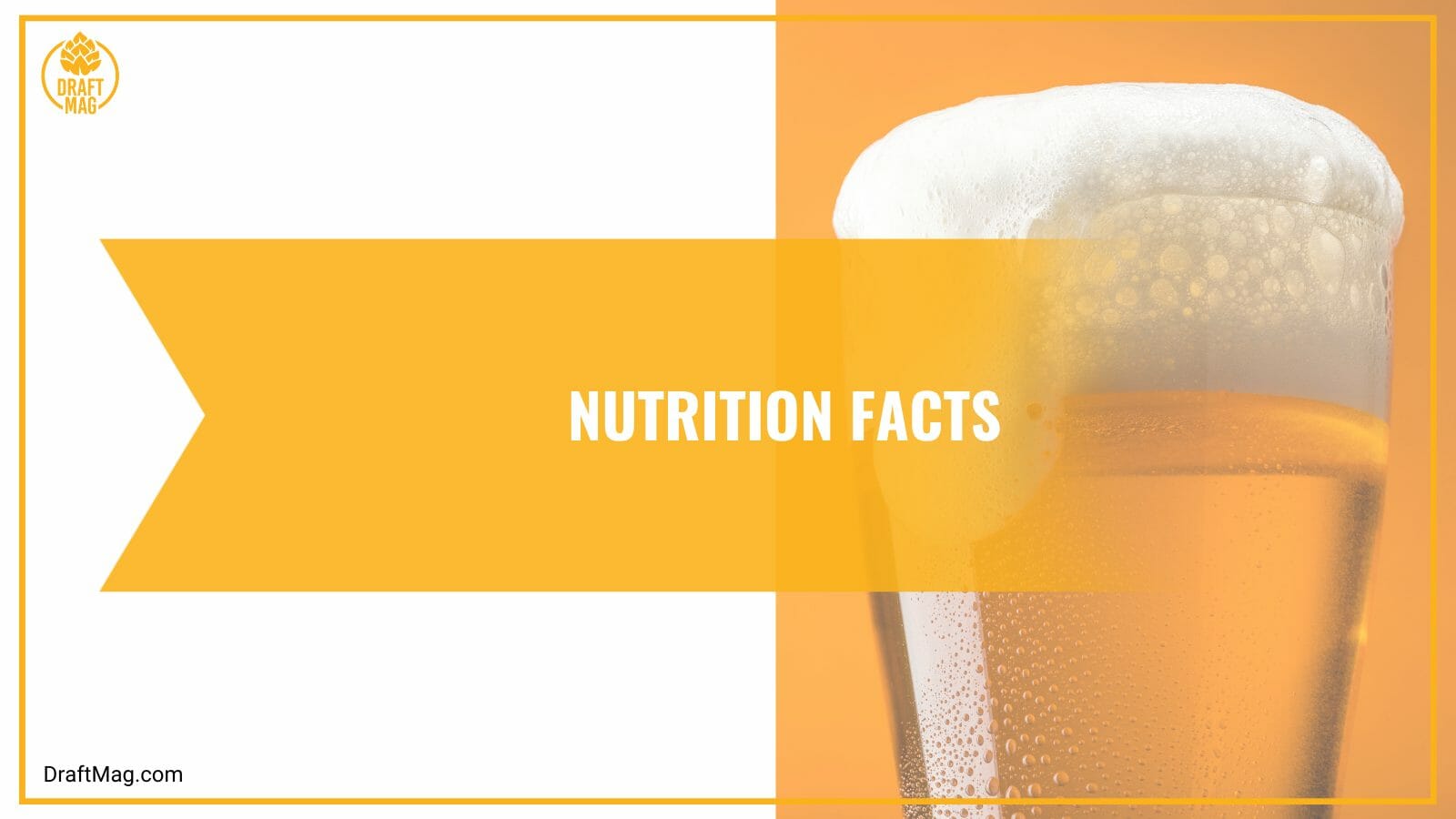 There are 200 calories in every 12 ounces of the IPA, while the level of carbs is 14 grams. There are 3 grams of protein, 1 gram of protein, 1 gram of fiber, and 10 mg of sodium. The IPA is not suitable for drinkers on a keto diet, and it is not gluten-friendly.
History 
7k IPA was released by Santa Fe Brewing Company in 2017 and is one of the year-round options from the brewery. The brewery is known as the original craft brewery of New Mexico and was founded in 1988 by Mike Lewis. In 2010, the brewery started selling its beers in cans. 
Now, Santa Fe produces almost 40,000 barrels of beer a year. The 7k IPA is one of the most popular beers, and other options include NMX Standard, Happy Camper IPA, and Santa Fhazy IPA. The brewery also makes seltzers and ciders. 
Conclusion
Whenever you're in the mood for a west coast IPA, you can enjoy the drinkability and fruity taste of the 7k ale.
Here's a rundown of our beer review:
7k IPA is a West Coast IPA with an alcohol content of 7 percent.
The beer has aromas and flavors of citrus, tropical fruits, pine, herbal, earthy, and caramel malts.
It is made with Simcoe, Mosaic, Amarillo, and Eldorado hops.
The beer is best served in a pint glass at temperatures from 45 to 50 degrees.
Enjoy this beer when you pair it with spicy foods, salty and fried foods, barbecue, roasted and smoked food, fruity desserts, and blue cheese.
You can buy the beer online or at a craft brewery. The beer is always available on tap at the brewery.