Paradise Park Beer Review: Dry and Easy Drinking Lager
Paradise Park Beer is an easy-drinking lager that is brewed to match the Louisiana climate. Made by Urban South Brewery, the refreshing lager offers a clean and crisp beer that goes down easy with every sip.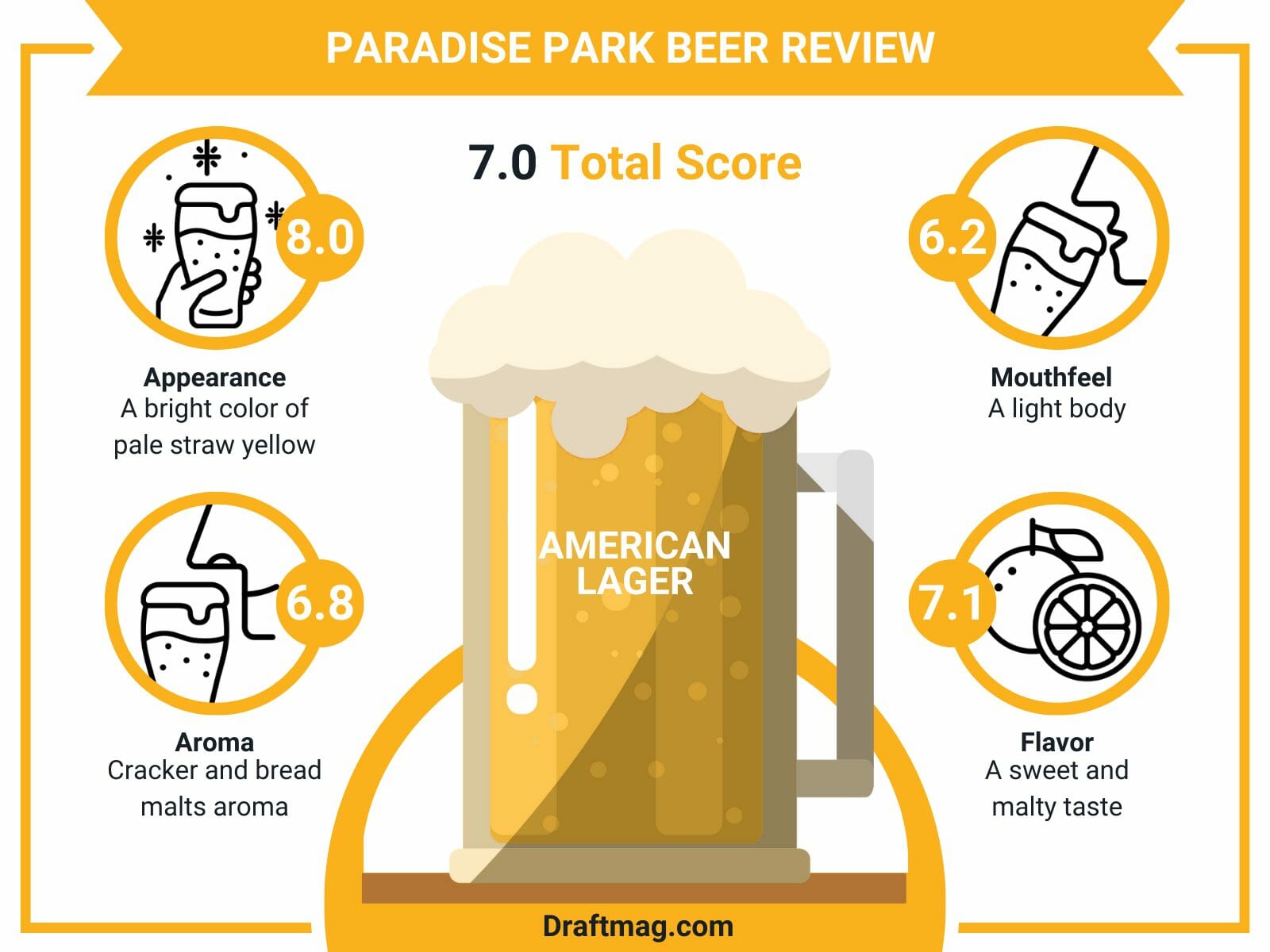 The crushable beer is malty and bready, but the hops shine through in spicy, grassy, and floral notes. In our review, we cover all you need to know about this lager, including its tasting notes and food pairings. 
Paradise Park Beer Stats
| | |
| --- | --- |
| Country  | United States |
| Brand | Urban South Brewery  |
| Style | American Lager |
| Taste  | Grainy, bready |
| Body | Light Body |
| ABV | 4.5 percent |
| Flavors & Aromas | Sweet grain, bready, dough, grassy hops, floral notes |
| Serving Temperature | 35 – 40 degrees Fahrenheit |
Tasting Notes
Paradise Park Beer Tasting Profile
Paradise Park Beer Review 
Paradise Park is a lager with a 4.5 percent alcohol content, made by Urban South Brewery. With a balance of hops and malts, the beer is super crushable, offering a clean and crisp character. It goes down easily without any alcoholic notes and is an affordable option for the everyday beer drinker.
The beer has a pale straw appearance and a light body with a bit of drying. There are flavors and aromas of grains, bread, dough, and grassy, floral, and spicy notes. It's a bit dry and mild, with some carbonation and a bit of fizziness. It is a refreshing beer that goes great on a hot summer day, especially since it's drinkable.
Serve the beer into a pilsner glass or a tall flute, which shows off the bright yellow color and holds the feeble head in place. The beer is best served cold, so go for 35 to 40 degrees Fahrenheit. You can garnish the beer with a slice of lemon or place a wedge on the glass. 
– Appearance 
On the pour, the craft lager offers a bright color of pale straw yellow that is leaning towards golden. The beer appears bright and clear, and you can see the carbonation floating to the top in sparse bubbles.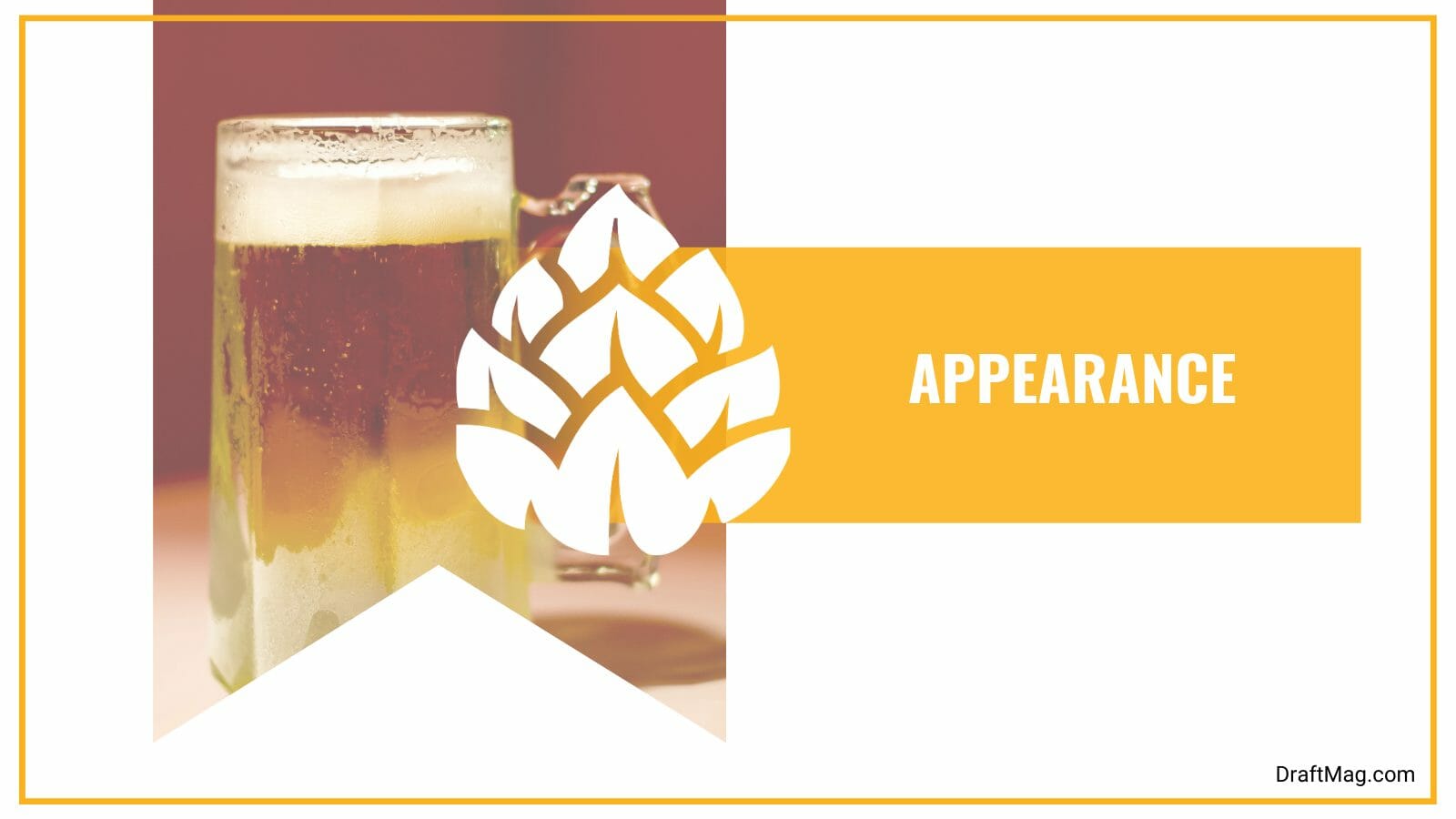 On top of the beer is a feeble white head, but it has pretty good retention. As it dissipates slowly, it leaves some lacing against the sides of your glass. Bring the beer to the light, and you will see hints of amber. 
– Aroma 
Bring the beer to your nose, and you get the classic lager aroma. The aroma is light and bright without overshadowing the flavor of the beer. The first thing you smell is the cracker and bread malts that come towards you.
In the backbone, there are hints of hops in the form of floral and spicy notes that tickle your nose a little bit. The smell is barely discernible but becomes more prominent over time. 
– Mouthfeel 
The Paradise beer has a light body, but it is not thin or flat. The body leans a little bit towards medium but is still crushable and easy to drink. The lager is clean and crisp and will cleanse your palate with every swallow you take. 
It is a decently carbonated beer, so there's a bit of fizziness that pops on your tongue with every sip. It feels a bit buttery and slides down your tongue. 
– Flavor 
The taste of the Paradise Park American lager follows the aroma very closely but is more flavorful and vibrant. It offers a sweet and malty taste that reminds you of a classic lager, and the first thing that you taste is the mild malt bread. It's a bit dry towards the end of the flavor and leaves a slight aftertaste.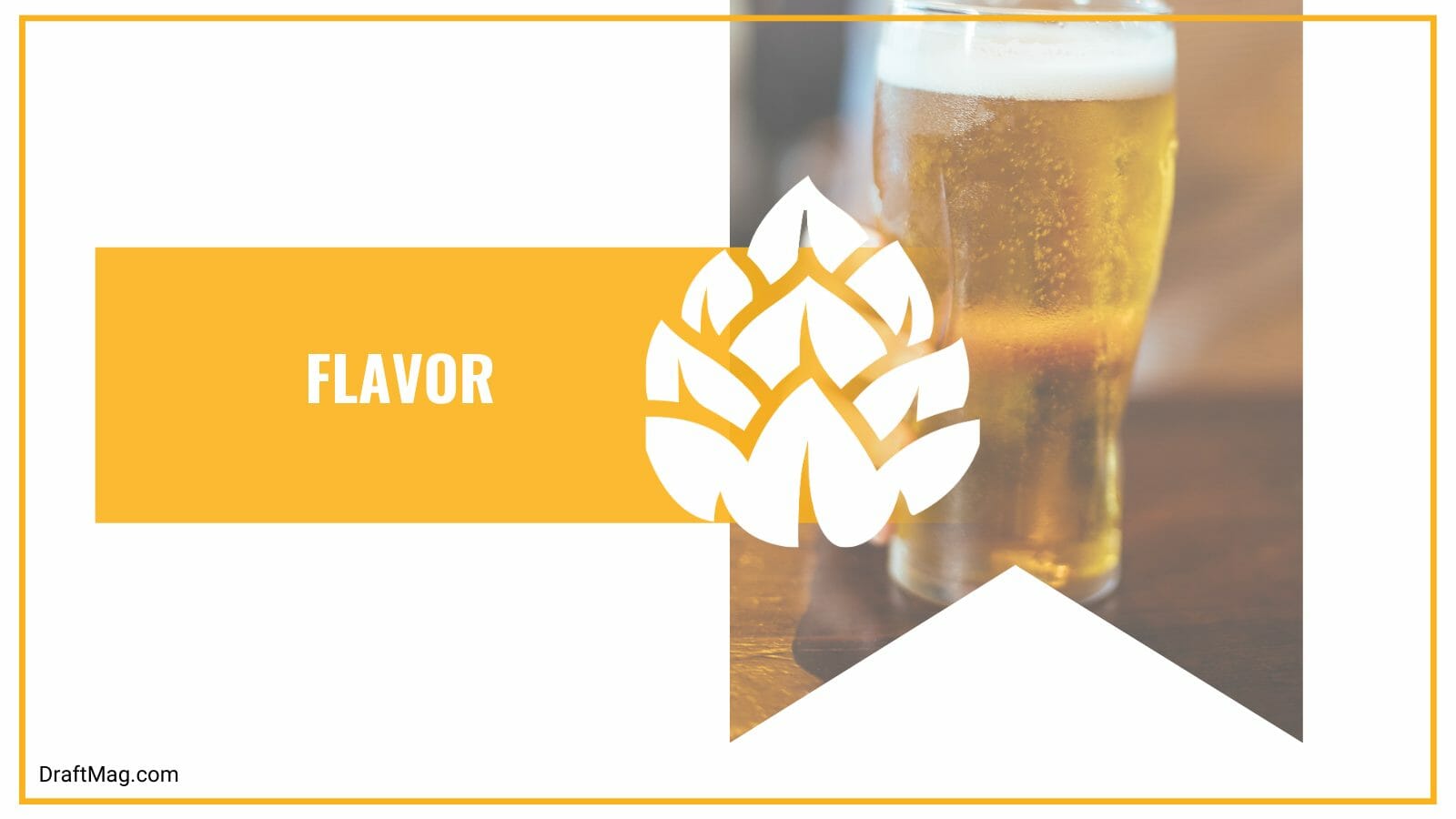 In the middle of the palate, the beer offers a bit of hop. You will taste some floral hops with mild peppery spice from the hops. The taste also offers some sweet grains mid-palate. You might also notice some sweet bread dough and grassy hops throughout the flavor. It finishes malty with a bit of hops and dryness.
– Food Pairings
When having this lager, you can pair it with a wide range of foods that will entice your palate. You can enjoy the beer with seafood like sushi or shellfish or try out spicy food as the crisp taste of the beer will cleanse your tongue. Try out Latin, Mexican, and Southeast Asian dishes as well.
The beer also pairs well with grilled pork and chicken and light pasta dishes without any cream or meat sauce. Your basic foods like buffalo wings, hotdogs, burgers, noodles, fried fish, taters, French fries, and even tacos with spicy barbecue sauce will go great with this lager. 
If you want to have cheese with your lager, you should go for mild cheeses. A mild cheddar or Havarti cheese is a fantastic pairing for the lager. As for desserts, lemon sorbet or strawberries and cream will go great with this beer. You can also have anything with milk and dark chocolate. 
Ingredients 
Since it's a classic lager, it's not surprising that the beer is made with your standard ingredients and no special additions. The malts that are used to make the beer are 2-row malts, and this gives you a bready, malty, and cracker-like flavor from the beginning to the end.
As for the hops, they are Huell Melon hops, offering spicy, floral, and herbal notes on your palate. The hops are mild, and the grains overshadow the taste. Other ingredients used to make the beer include yeast and water. 
Nutrition Facts 
In the lager, you get an ABV of 4.5 percent, which is expected for this style of beer. The low ABV is barely present in the flavor and aroma of the beer and does not offer any warming or buzz. There are low bitterness units, 10 IBU, due to the feeble hoppy character of the beer.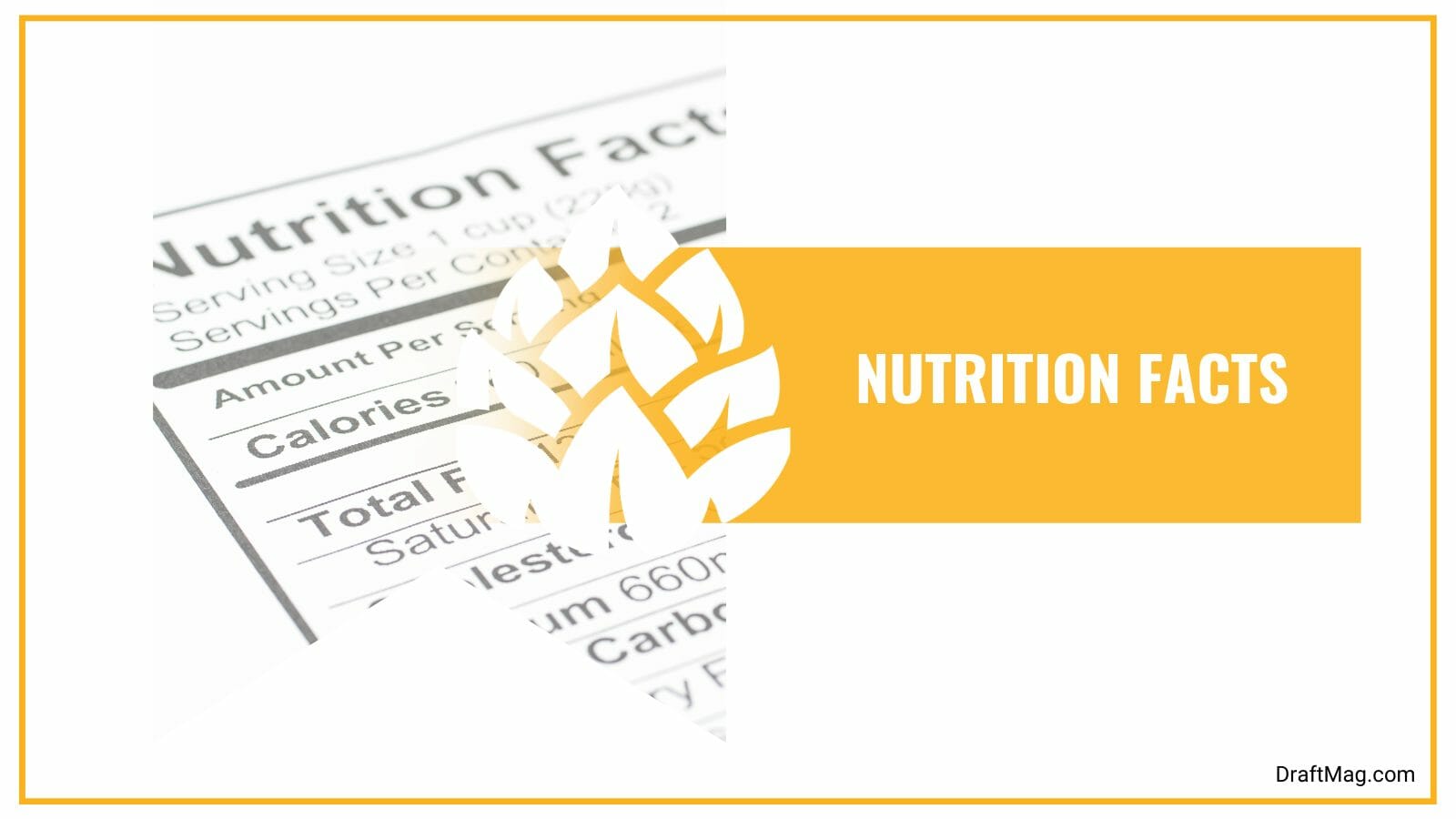 There are 120 calories in every 12-ounce serving of this lager, and it's important to consider this when calculating your daily dietary consumption. There are also 12 grams of carbs, which makes it unsuitable for those on a keto diet. Other facts include 2 grams of protein and 1 gram of fiber. It is not a gluten-friendly beer.
History 
The lager is a creation of Urban South Brewery and was first released in 2018. The beer was named after a trailer park in the hometown of the brewery's founder and is said to not take itself seriously. The affordable lager can be found in a wide range of stores. 
The brewery was founded in 2016 and prides itself in making affordable beers that are ideal for the Southern climate. The beers combine American style with European heritage, making them stand out among others in Louisiana. The brewery also made the low-cal Paradise Park IPA and Holy Roller IPA. 
Conclusion
This craft beer is the ideal choice for anyone who wants a classic beer without anything different. Here's a rundown of our beer review:
Paradise Park beer is a lager with a 4.5 percent alcohol content.
The beer has flavors and aromas of malts, bread, dough, crackers, and floral, herbal, and spicy hops.
It is made with two-row malts and Huell Melon hops.
Serve it in a pilsner glass when cold, ideally at 35 degrees Fahrenheit, and garnish it with some lemon.
The beer pairs great with seafood, grilled food, spicy food, light pasta dishes, classic American foods, mild cheeses, and dark or milk chocolate desserts.
If you're curious about this lager, you can check it out at stores near you or order it online.