El Chingon Ipa Review: Everything You Need To Know About This Beer
El Chingon IPA is a beer that is rich in flavor and very much pleasing to the eye. This is the only Four Corners El Chingon IPA review you will ever need to look up. This delicious brew is a classic India Pale Ale brewed using a chingo-blend of American hops.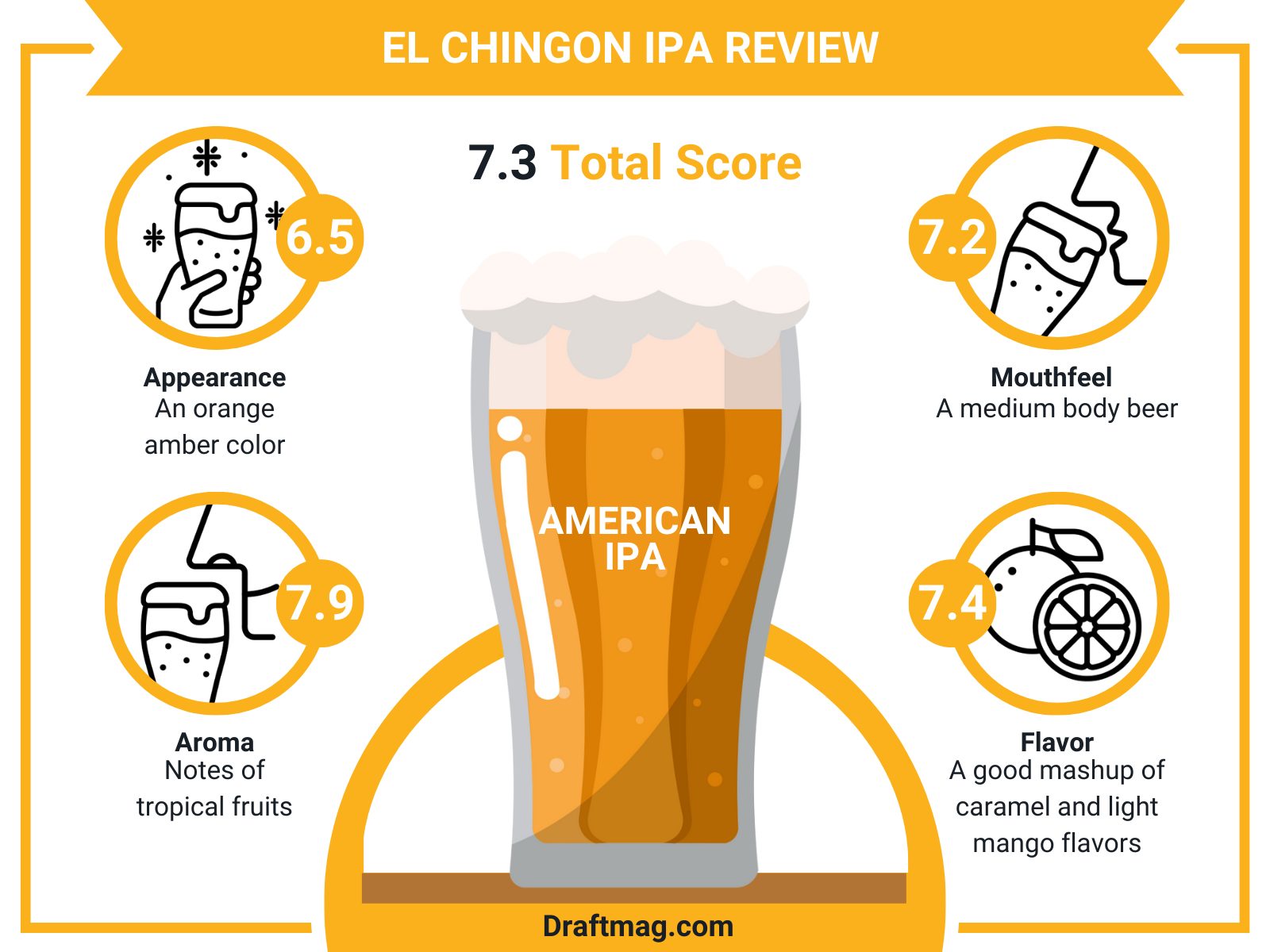 The beer is dry-hopped and will definitely blow you away with its absolute deliciousness. Crafted in Texas, this beer is full of hoppy and loud characters. Keep reading to know all about the details of this special beer.
El Chingon IPA Stats
| | |
| --- | --- |
| Country | Texas, United States of America |
| Brand | Four Corners Brewing Company |
| Style | American IPA |
| Taste | Earthy, Floral with moderate bitterness |
| Body | Medium body, moderate carbonation |
| ABV | 7.3 percent |
| Flavors & Aromas | Lemon, grapefruit, pineapple, earthy and light floral |
| Serving Temperature | 45 to 50 degrees Fahrenheit |
Tasting Notes
El Chingon IPA Tasting Profile
El Chingon IPA Review
Right from its appearance to its hoppy character and bitterness index, this beer has something unique that puts it away from all other classic styles India Pale Ales. This IPA is brewed with a mix of malts both American and German and dry-hopped to receive the highest balance of bitterness. Here is everything you need to know about this delicious yet unique IPA.
– Appearance
An orange amber color with hues of dark gold, this beer is topped with a large two inches white head. The head sticks and forms a thin lace making the beer look delicate and delicious.
The head, however, fades quickly but leaves a long foamy lace that lasts longer than expected. The beer has the classic bubbling of an India Pale Ale.
– Aroma
The aroma is not very loud and has subtle notes of all the ingredients. It is mostly citrusy and light overall with a tinge of lemony bitterness, a bit of herb and lighter notes of tropical fruits. It is piney, resinous and citrusy and is supported well by the orange-gold malt bill.
Earthy aromas stand out amidst the less crowded ingredients and this makes it even more special. Overall, the aroma evokes the qualities of a classic IPA beer. it has a caramel sweetness delivered by the malt character with a light pine hop aroma in the background.
– Mouthfeel
The mouthfeel is solid all around. The beer has medium weight with an excellent crisp from the carbonation. The body of the beer is also medium in creaminess and thickness. There is a neat balance between the body and the cleanliness of the beer that makes you want to grab another pint.
Every sip from this beer will offer a balanced malt bill with aggressive taste on the palate and well-suited bittering hops.
– Flavor
The taste is better than the aroma. While, not much is evident just from the aroma, one sip of this beer and you'll feel a bitter pine hop bite down on your tongue. This helps hold up the sweeter maltiness.
The beer also has a good mashup of caramel and light mango flavors. However, the maltiness is much lesser than older traditional IPAs or Double IPAs or even lesser than Barleywines. Some felt the presence of grapefruit hop and bready malt with a tinge of orange and plenty of tropical flavors. These advance into more floral and sweet caramel notes with a sideline of grassy and earthy flavor. Grapefruit and sweet tangerine flavors definitely linger on the tongue.
– Food Pairings
This beer pairs well with savory food such as the Spanish paella would be great because it brings out the flavor of the food. In addition, it also goes well with tacos, or guacamole, as you eat some and sip from the beer.
Nonetheless, don't forget that the food pairing doesn't end there, it goes great with sweeter dishes too, meals that have some caramelization in contrast to the taste. Some other dishes it goes well are light seafood, lamb, and pork because these meets are a little greasy but need a hint of sweetness. This beer is the key to getting the flavor out.
Ingredients
El Chingon IPA is brewed using a brilliant blend of American hops and well balanced with Munich malts. It is dry-hopped to bring the excellence of aromatic intensity. The base malts are predominantly pale and Munich malts and dry hopping induces an IBU of 70 units.
The boil is done with Cascade, Columbus, and Centennial hop. The final hit is a blend of 7C's – Cascade, chinook, Citra, Centennial, Crystal, Cluster, and Columbus. A final finisher is given with Santiam making it a full, pleasantly hoppy IPA with a robust malt bill.
Nutrition Facts
This beer is a hefty one, not just in mouthfeel, but also in its calorie count. With approximately 222 calories, this beer is rich, robust, and high on calories, because it has 1.8g of fat, and 16g of carbohydrates in one bottle which is 12 ounces. This means, that if you have any dietary constraints, you may want to skip this one. The El Chingón beer alcohol percentage is 7.3.
History
Four Corners Brewing Company (FCBC) started functioning and making delicious beers in 2012. They believe in creating vibrant brews and crafting them artfully. The founders are natives of Dallas and started with home brewing. They then took their passion to the next level and formed the company with the ideology to brew delicious crafts for the community.
The name of the brewery was inspired by the intersection in their neighborhood. The brewery has a unique and cultural vibe with an upbeat atmosphere and a perfect place for all friends to hang out. With Four Corners El Chingón IPA, they wanted to bring a couple of mixes together and build a unique brew with a burst of flavors and a rich base character.
Conclusion
Whether you enjoy IPAs or not, you would be sorry to miss this Four Corners beer. This IPA is a rich blend of the 7C's of hops, classic American Pale malt and Munich malt. These malts create a rich base for the hoppy beer to rest on.
El Chingón beer meaning is a reference to badass and a nod to the gender-neutral Latinx identifier.
This beer has a unique blend of Cascade, Chinook, Citra, Centennial, Crystal, Cluster, and Columbus.
The beautiful orange hue, the light aromas of citrusy, piney, and earthy notes, a light tropical aftertaste, and a rich yet medium-light mouthfeel, make this beer an absolute must-try.
The El Chingón IPA is a little heavy on calories as one bottle of the beer has 222 calories.
So what are you waiting for? Pick up your beers and raise your glasses to this one-of-a-kind brew.