Son of a Peach Beer Review: The Ultimate Guide to This Fruit Beer
RJ Rockers Son of a Peach beer is one of the wheat beers that are very prevalent in the craft beer industry nowadays. If you wish to explore this brew, this complete beer review will explain what you can expect to find in this drink.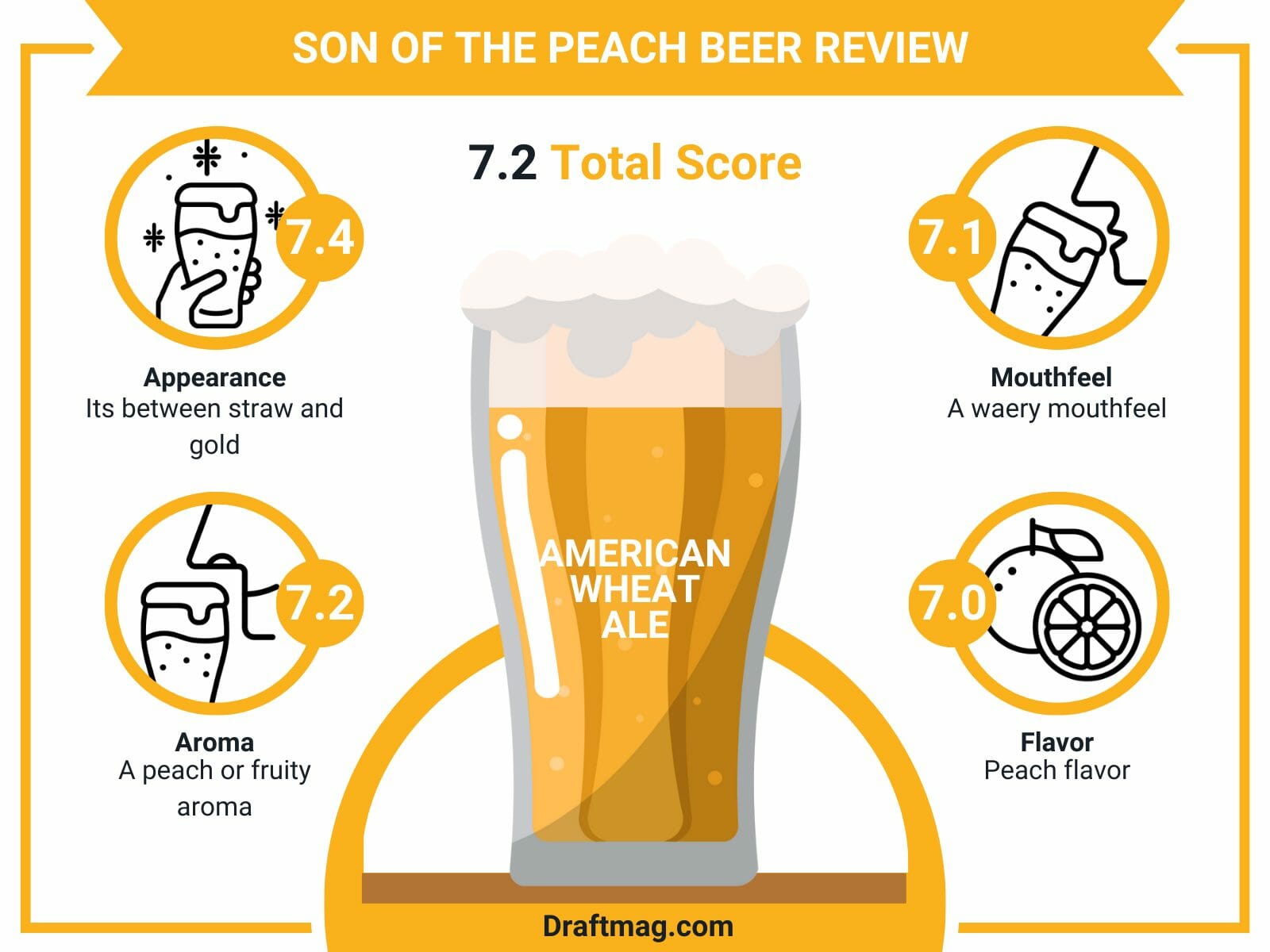 We will dive deep into the beer's organoleptic character, the nutrition facts, and the ingredients. Also, this ultimate beer guide will cover its history and the exciting pairings you can make with food, so read on!
Son of a Peach Stats
| | |
| --- | --- |
| Country | United States |
| Brand | RJ Rockers Brewing Company |
| Style | American Wheat Ale |
| Taste | Peach with mild bitterness |
| Body | Medium |
| ABV | 5 percent alcohol content |
| Flavors & Aromas | Peach, bready |
| Serving Temperature | 45-50 degrees Fahrenheit |
Tasting Notes
Son of a Peach Tasting Profile
Son of a Peach Beer Review
– Appearance
Generally, wheat beers have a color profile similar to German Hefeweizen beers between straw to gold.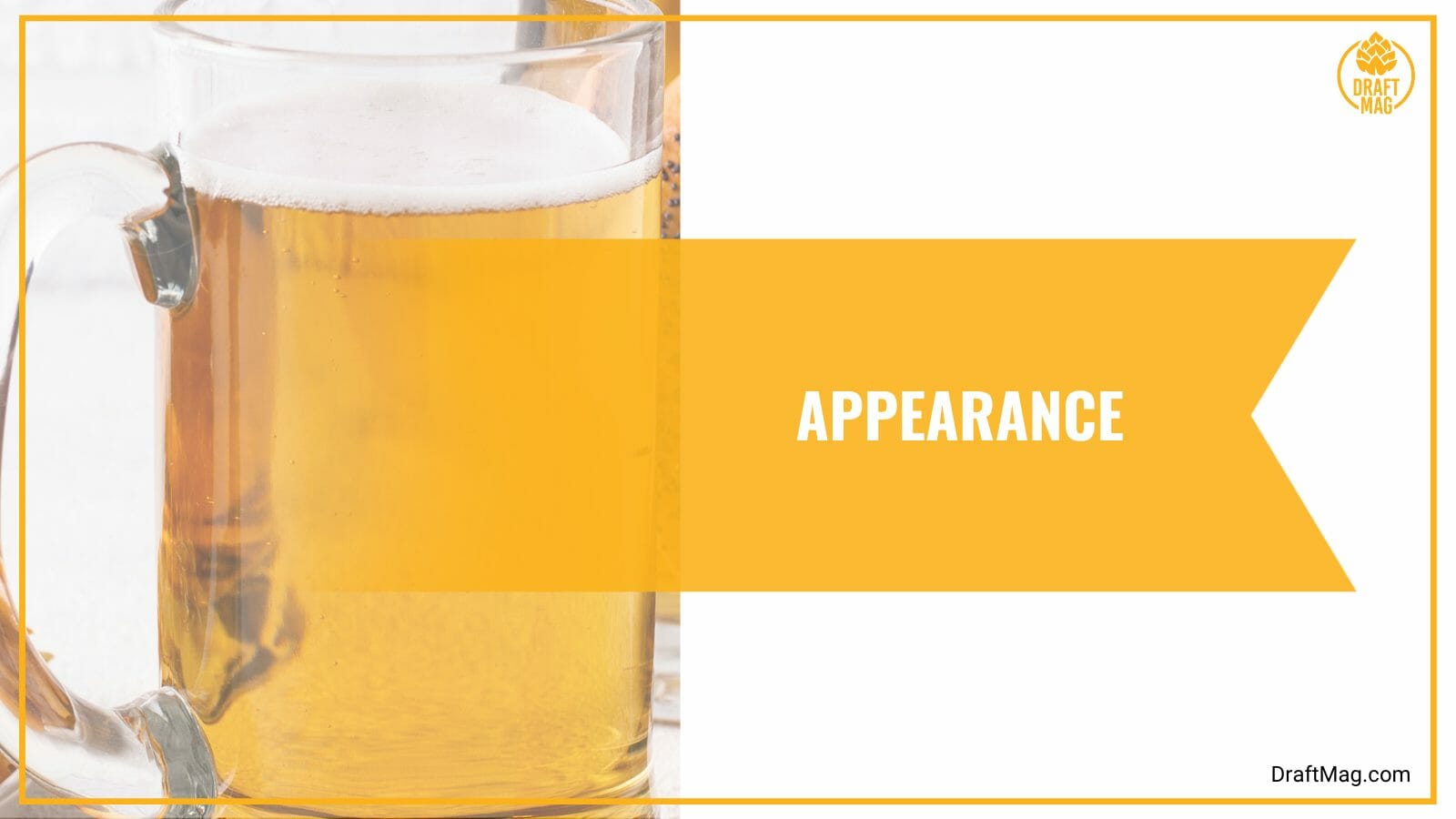 Son of a peach beer pours a hazy golden color with bubbles rising to a long-lasting half-finger thick off-white head that leaves a few lacings. Also, being an unfiltered wheat beer, you will see some particles falling down the glass as sediments.
– Aroma
You will love this beer at first sight if you are a peach or fruity beer fan. You get the first pool of fresh peach aroma on the nose balanced by wheat malts and citrus notes. Also, the hop scents are not dominant, which is typical of this beer style. However, the alcohol content of a son of a peach beer is low to medium; thus, the alcoholic presence is not so distinct.
– Mouthfeel
The Son of a peach drink is medium-bodied with low carbonation giving it a watery mouthfeel. It is refreshing and gives a sensation similar to a soft drink based on peach. But the peach notes are balanced by hops and malts. Overall, the beer is easy to drink and finishes dry, making your palette crave more after each sip.
– Flavor
Unlike the aroma, the beer's flavor is muted on peaches, but you still get that fruity sensation. It also includes mild bitterness from hops and malt notes. In addition, there is little to no alcohol heat in the flavor.
– Food Pairings
So far, we have discussed the beer's primary characteristics. But you can also enhance these features with food. And to achieve this, it is vital to remember that Son of a peach is a light beer with a dominant peach aroma. So, the brew will go well with light meals that accept sweets, like vegetable salads, sushi, light fish, or white meats like chicken and turkey.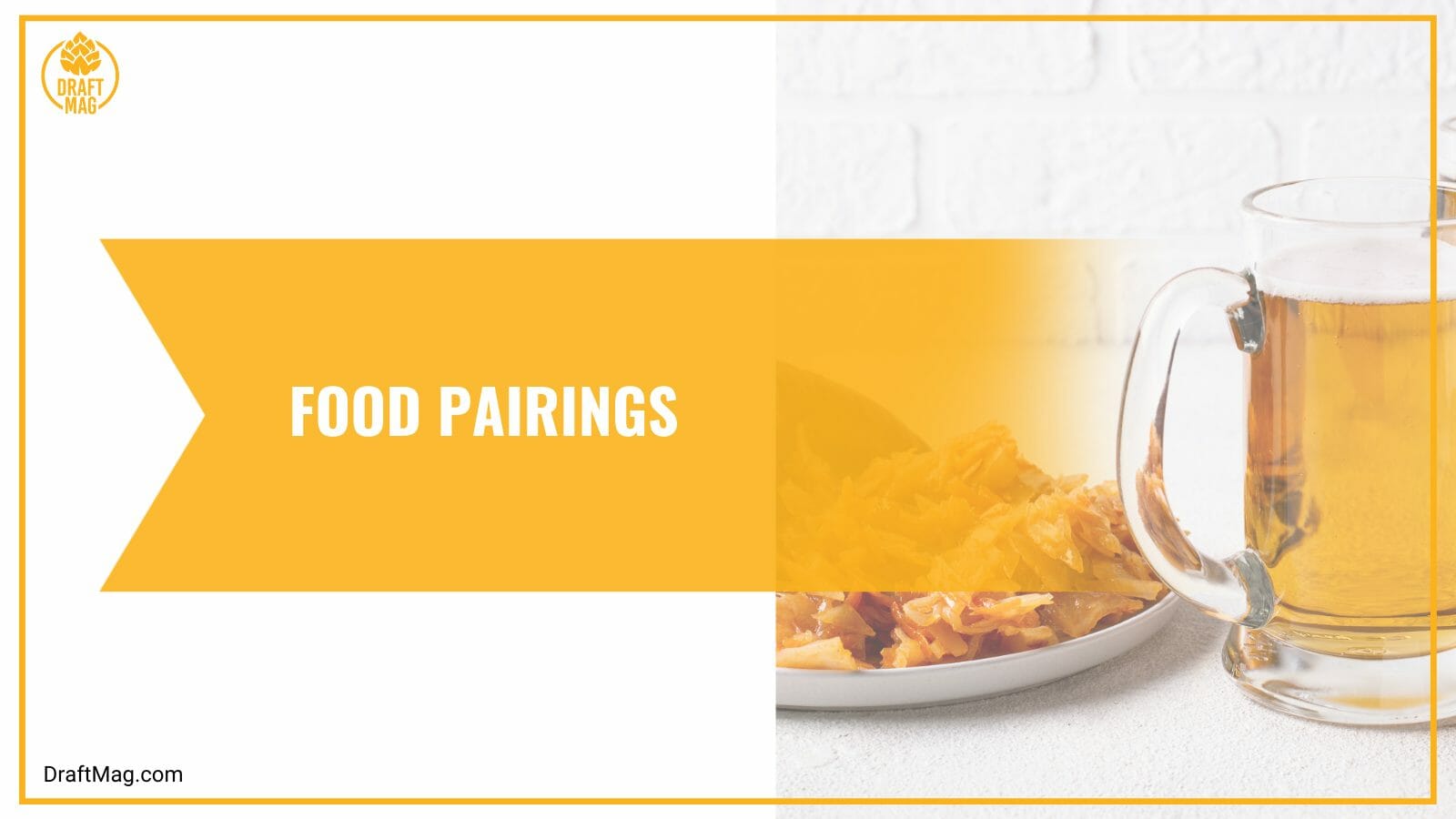 Also, this beer can travel with dishes with creamy sauces, such as pasta with cheese. And talking about cheese, Mascarpone, goat cheese, ricotta, and mozzarella are good pairings. It is also a great success to bet on tradition and combine it with German cuisines like roasted ham hock and potato salads. Other valid combinations are Weisswurst, sausages, spicy noodles, seafood, pork, and York ham. 
Furthermore, being a fruity beer, it does not go badly at all with desserts, especially those based on fruits. But it is better with not very intense desserts, such as a fruit salad, pastries, white chocolate, or ice cream. The food pairing list is endless; hence do not restrict yourself to the suggestions in this review.
Ingredients
Son of a peach wheat beer is brewed with the following ingredients:
Wheat malt
Water
Yeast
Hops
South Carolina-grown peaches
Nutrition Facts
Son of a peach beer calories is about 119 in a 12 fl. oz serving. But there is no concrete data about its carbs and protein content. Also, the beer is rich in Potassium, Zinc, Calcium, Selenium, and Phosphorus. In addition, it contains trace amounts of Vitamins B6, B12, C, and E.
Son of a peach beer ABV is five percent which is typical of a wheat ale. However, the beer is void of added sugars, cholesterol, sodium, fibers, and saturated fat. The alcohol content is low to medium; thus, one or two bottles may not intoxicate you. But do not exceed your limit, as excess alcohol consumption is unhealthy.
History
Son of a peach beer is one of the many brands of RJ Rockers Brewing Company in Spartanburg, South Carolina (SC), US. The brewery was founded by Mark Johnsen, who was passionate about beer. He began operation in 1997 and uses local ingredients to brew various craft beers for SC residents.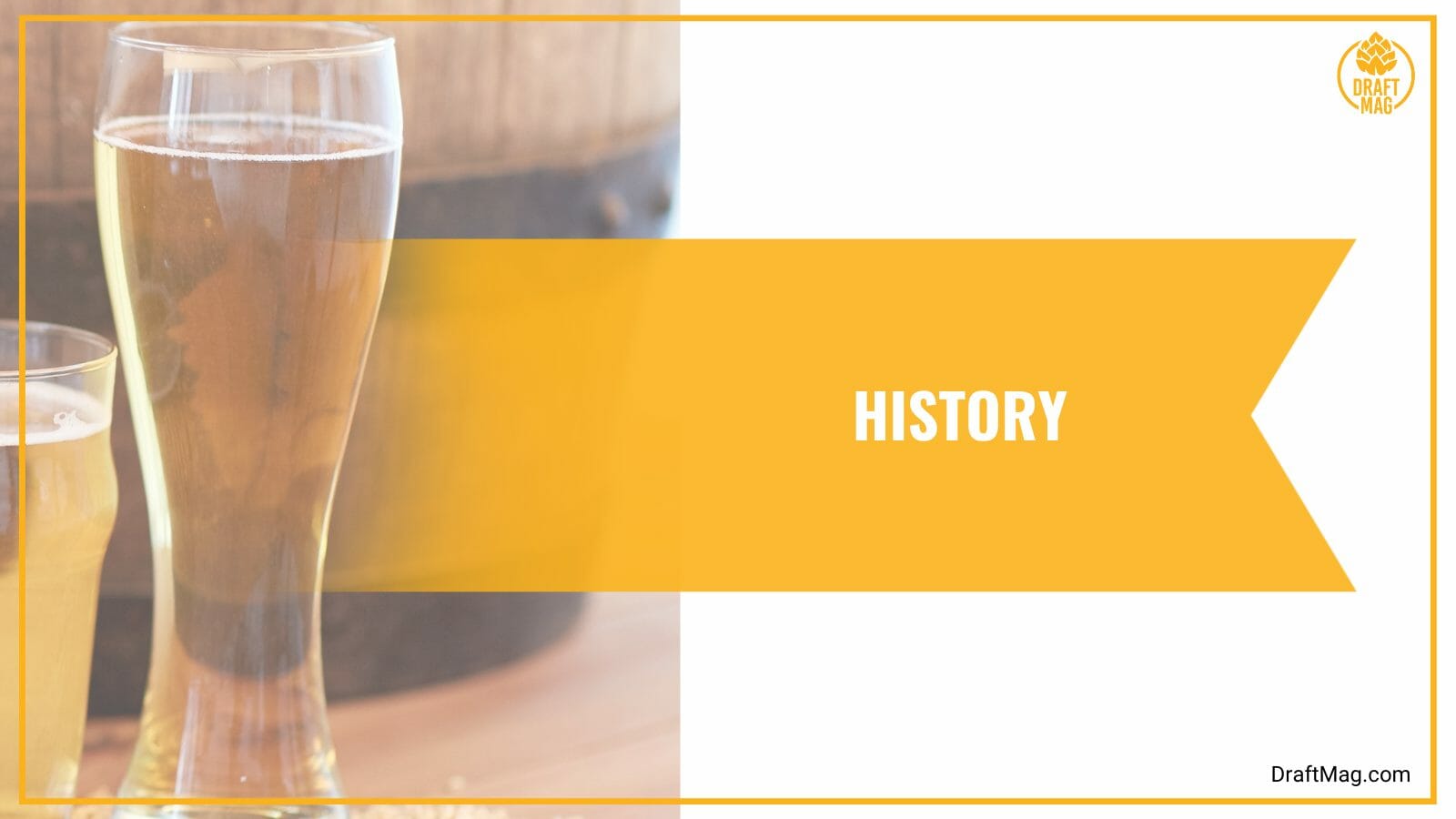 What started as a hobby for Mark many years ago is now a top-rated brewery in SC with over 11 brands of craft beers. Examples include Son of a Peach, Patriot Pale Ale, First Snow Ale, Rockhopper Ale, etc. RJ Rockers have two beer styles under the Son of a Peach brand, a Seltzer and a Wheat Ale.
Son of a peach unfiltered wheat ale brewed with SC-grown preaches was launched in March 2013 to expand the brand's reach further. The wheat beer is available throughout the year across SC, Atlanta and other Southern US states. You can buy Son of a peach beer online or from retail beverage stores, bars, and restaurants. And it is available in 12 fl. oz cans and bottles.
Conclusion
If you read this far, you can now understand what to expect from this fruity beer. So, will you give it a shot? Here are key points to note from this review:
Son of a peach beer is an American Wheat Ale with 5% ABV and 16 IBUs.
The beer appears to be cloudy and golden with an off-white head and dropping particles.
The beer's aroma is dominated by the peach element, followed by mild malt and citrus notes.
The beer is medium-bodied with low carbonation.
Finally, ensure you follow the serving temperature mentioned earlier for a more pleasant sensation.