Sippin Pretty Beer Review: A Delicious Fruited Sour Beer
Sippin Pretty beer is a deliciously brewed Fruited Kettle Sour with an explosion of tropical sourness on the palate. With a light body and mild lactic acidity, this beer is extremely refreshing and one to grab on a sunny beach day.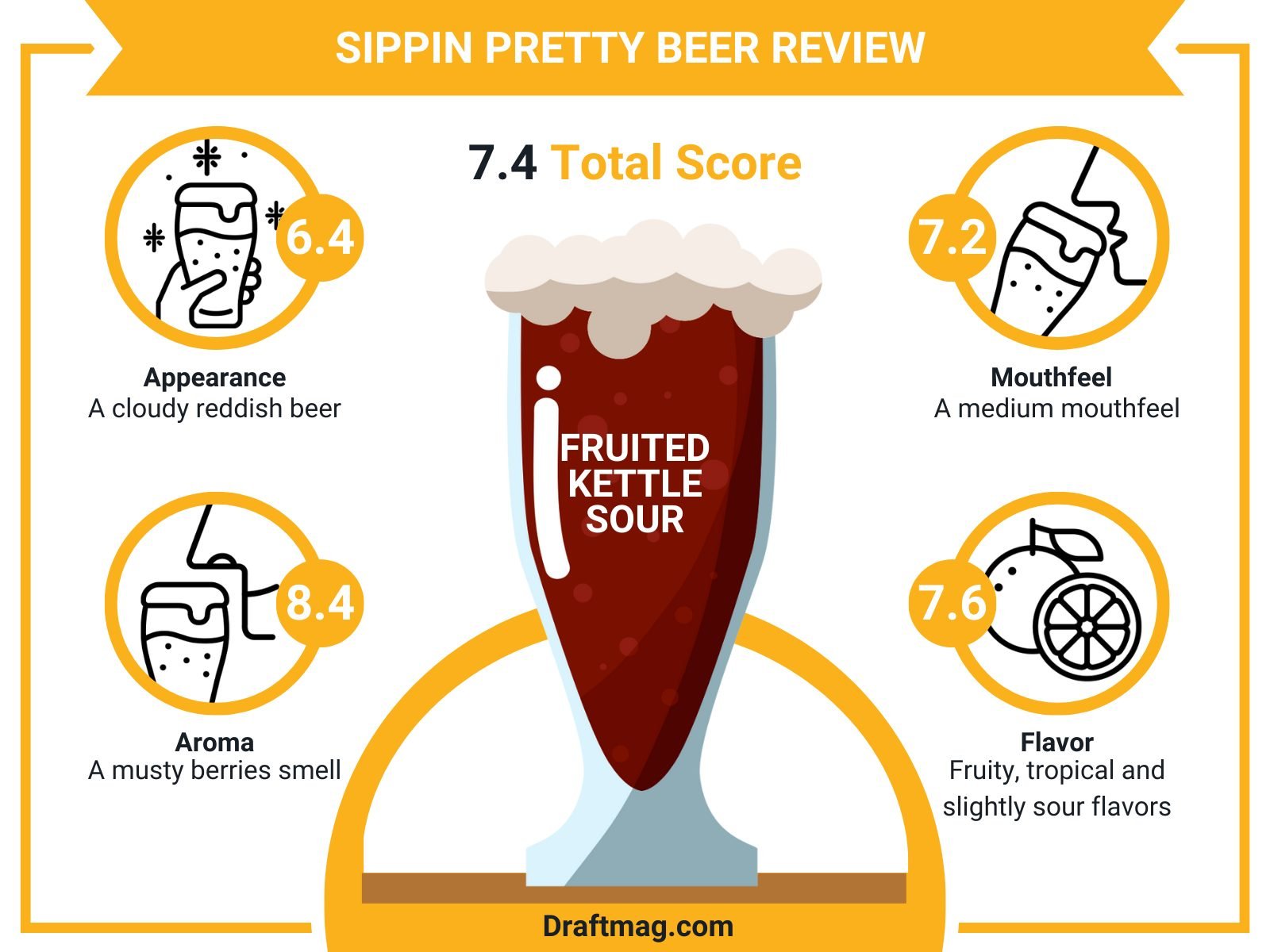 The beer looks as good as it tastes; bright ruby pink, refreshing, and super picturesque packaging.
Sippin Pretty Beer Stats
| | |
| --- | --- |
| Country | Colorado, United States |
| Brand | Odell Brewing Co. |
| Style | Fruited Kettle Sour |
| Taste | Fruity, berry-like, sweet and tangy |
| Body | Light body, refreshing with effervescence |
| ABV | 4.5 percent |
| Flavors & Aromas | Tropical fruits, berries, elderberry and tart |
| Serving Temperature | 50 to  55 degrees Fahrenheit |
Tasting Notes
Sippin Pretty Beer Tasting Profile
Sippin Pretty Beer Review
Sippin' Pretty Sour beer is a wild specialty beer according to BJCP guidelines. With moderate lactic berry and some mild sourness, the nasal pull is that of cracker malt and light saltiness.  There is soft lactic acidity with plenty of guava and elderberry notes on the nose.  Here is what you need to know about this crafty brew.
– Appearance
This beer has the appearance of a cloudy reddish beer, with a medium-sized off-white head. The white foam head has giant swiss cheese-like bubbles, one swirls into the glass and the white head seem to diminish in no time leaving an extremely thin and light lace around the corners of the glass.
The color is somewhere between a muddled dark pink and red. The beer is quite hazy and almost completely opaque. The head dissipates quickly leaving no foam and a clear drink. The gorgeous ruby-pink color of the beer is one of its most attractive qualities.
– Aroma
The beer smells of musty berries with a light salty tang to it. The beer has an overall tart sour nose, the exact aroma that defines a good fruited sour beer. There is a definite presence of salt in the beer with some tropical lurking beneath.
The nose is also quite yeasty, and this is an aspect to keep in mind. Some light raspberry notes emerge from beneath. Overall, the beer has a wave of tropical, fruity character, and fruity tartness with notes of guava, citrus rind, acai berry, and some sea saltiness. There is a mixed hint of hops and wheat too.
– Mouthfeel
The beer has a medium to light body, with a medium mouthfeel. It has a refreshing taste on the palate, leaving you to grab another beer. The mouthfeel is also slightly slick with a clean finish. There is not much aftertaste, thanks to the light body and nil residue.
There is medium carbonation with light bubbles that give a champagne-like feel with a thick yet dry finish. The light tartness leaves the beer feeling mellow and smooth and an easy drink. The ghostly saltiness brings some complexity to the beer.
– Flavor
Fruity, tropical, and slightly sour are the exact words to describe Sippin Pretty flavors. For someone who enjoys experimenting with their beers, this is something they should try. The sourness in this beer feels tricky yet new to the palate. There are flavors of tangy, unsweet, and watery raspberries with light sulfur that dominates the palate.
Some agree to find french bread notes with flavors of black pepper and yeast. There is also a lot of guava presence on the palate with a hint of wheat tartness. Overall, the beer has a dry finish with very little hop presence, light bitterness, and sweetness.
– Food Pairings
This is a deliciously tropical beer that goes perfectly with a well-decorated assortment of charcuterie, cheese, and fruits. If you are looking for a type of food that is more filling, then this beer can also be paired with sushi, dim sum, and well-flavored ramen. Desserts would not go well will this beer as it is already sour and bready.
Ingredients
This beer is made with a gorgeous blend of Crystal malts and American hops. Crystal malt is used to bring some color complexity to the beer. The yeast in this case is Odell Brewing Companies' proprietary yeast made in-house. Some super fruits like guava, acai, and elderberry are used to add the right layers of flavors to make this a tropical burst on the palate.
Nutrition Facts
Sippin' pretty calories are under 120 with over 14 units of total net carbs. This beer should be avoided on a keto diet as it is high in net carbs; in addition, it has 26.6mg of sodium as well. However, for the ones who aren't on a keto diet, this is still one of the easiest drinking beers as it is low on total calories in comparison to other beers.
History
Odell Brewing Company is an independently owned craft brewery that is owned and operated by its employees. It is also the 22nd largest brewery in the United States. It is located in Fort Collins and is known as the first craft brewery since 1989.
The brewery is known to work towards community development and believes in giving back. They are involved in plenty of humanitarian, educational, and environmental causes. They believe in creating quality, well-crafted experimental beers with exceptional service.
FAQ
– Is Sippin' Pretty gluten-free?
No. This Fruited Sour is not gluten-free. It can however be grouped under the gluten-reduced category. However, people with gluten allergies should avoid this beer.
Conclusion
Sippin Pretty tropical beer is an aesthetically designed and brewed craft beer that has the right amount of sour. With fruit-forward tasting notes and a balanced addition of pink salt, this drink is refreshing and aesthetically pleasing on the palate.
The guava has a giant presence on the palate but it doesn't overwhelm the complexity of the beer. The beer has gentle fruity acidity too.
The deep pink color of the beer is truly fascinating and leaves you wanting more.
The delicate addition of Himalayan pink salt only increases the delicious complexity of the various flavors in the beer, thereby giving it a rich tart-like finish.
You can pair this beer with a variety of different foods, such as ramen, or even sushi.
This beer is gently refreshing, fruity, expressive and overall tropical sunshine, perfect for a long summer day by the beach. What are you waiting for? Grab one now.