Ugly Pug Review: The Dark Beer With a Light Mouthfeel
Ugly Pug black lager is a smooth and nutty Schwarzbier that provides a lot of surprises as you swallow it. The beer is darker than what you might be used to, and it is also lighter than what it looks like when you pour it.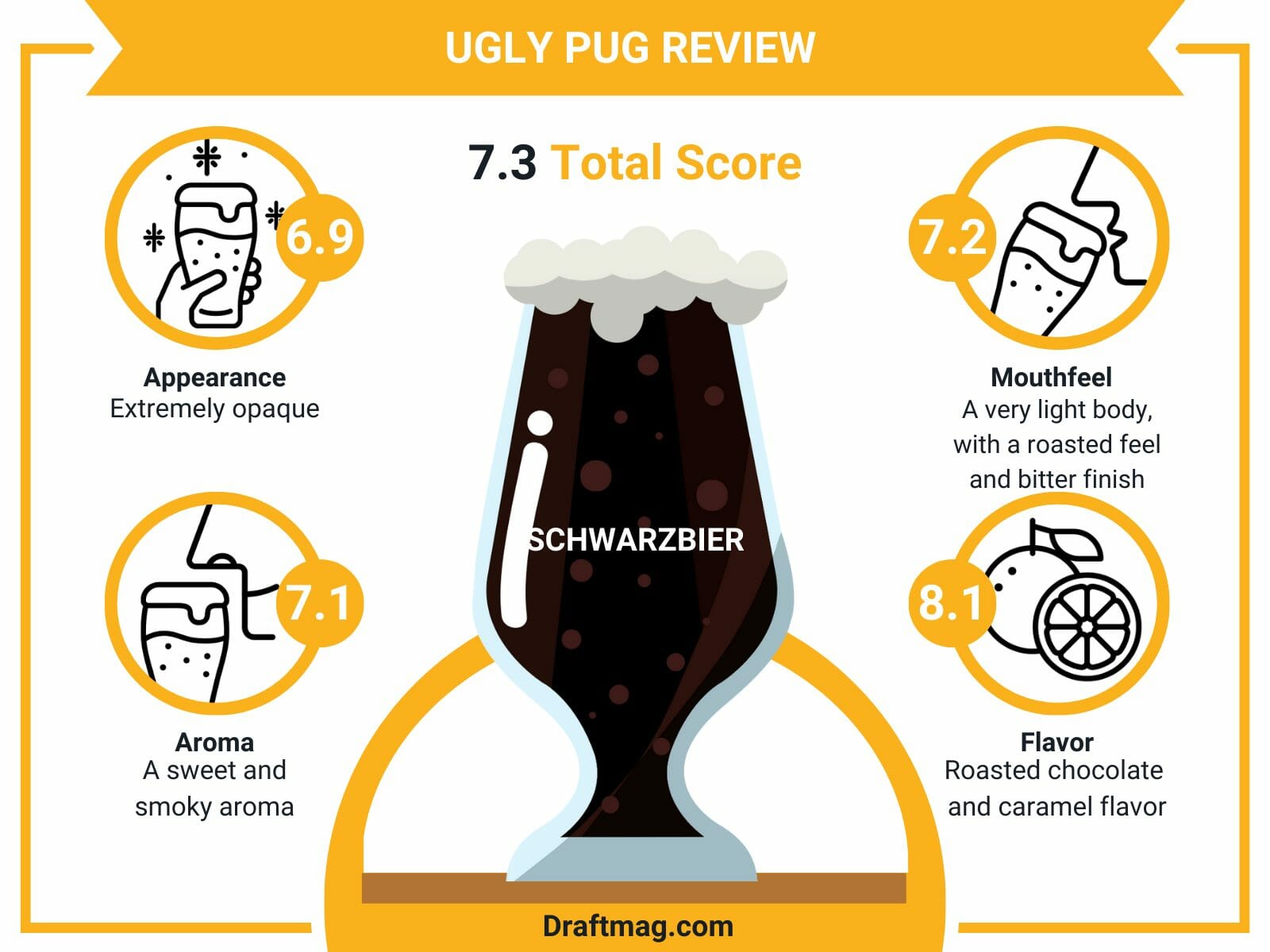 If you're looking for a light beer with a black malt flavor, this is the ideal choice for you. Our beer review covers all the details on this Schwarzbier.
Ugly Pug Stats
| | |
| --- | --- |
| Country  | United States |
| Brand | Rahr & Sons Brewing Company |
| Style | Schwarzbier |
| Taste  | Bitter, Chocolate |
| Body | Light body |
| ABV | 4.5 percent |
| Flavors & Aromas | Bitter, roasted malts, chocolate, coffee, |
| Serving Temperature | 45 – 50 degrees Fahrenheit |
Tasting Notes
Ugly Pug Review
This is a Schwarzbier brewed by Rahr & Sons, with a 4.5 percent alcohol content. The beer offers a brown color and a light texture, giving you a solid brew from start to finish. The taste of the beer is bitter, with chocolate in the flavor. If you've never had a black beer before, then this is an ideal choice.
The Schwarzbier offers a nice roasty taste, with flavors and aromas of roasted malts, chocolate, coffee, and some bitterness. It is best served in a pint glass that has a slender shape with a wide opening and a slim bottom. Other beer vessel options include stein and pub mugs.
The ideal serving temperature goes from 45 to 50 degrees Fahrenheit, which offers a refreshing and warm feeling.
– Appearance
The Schwarzbier pours the darkest color for a beer, looking extremely opaque. The dark brown color has a tan foamy head on top and hints of reddish hues in the light. The beer leaves some thin lacing against the glass as the head dissipates. With good retention, the aroma is retained throughout the flavor.
– Aroma
On the nose, the beer has a sweet and smoky aroma that stays for a long time. The beer smells pleasantly sweet, and it is dominated by roasted malts.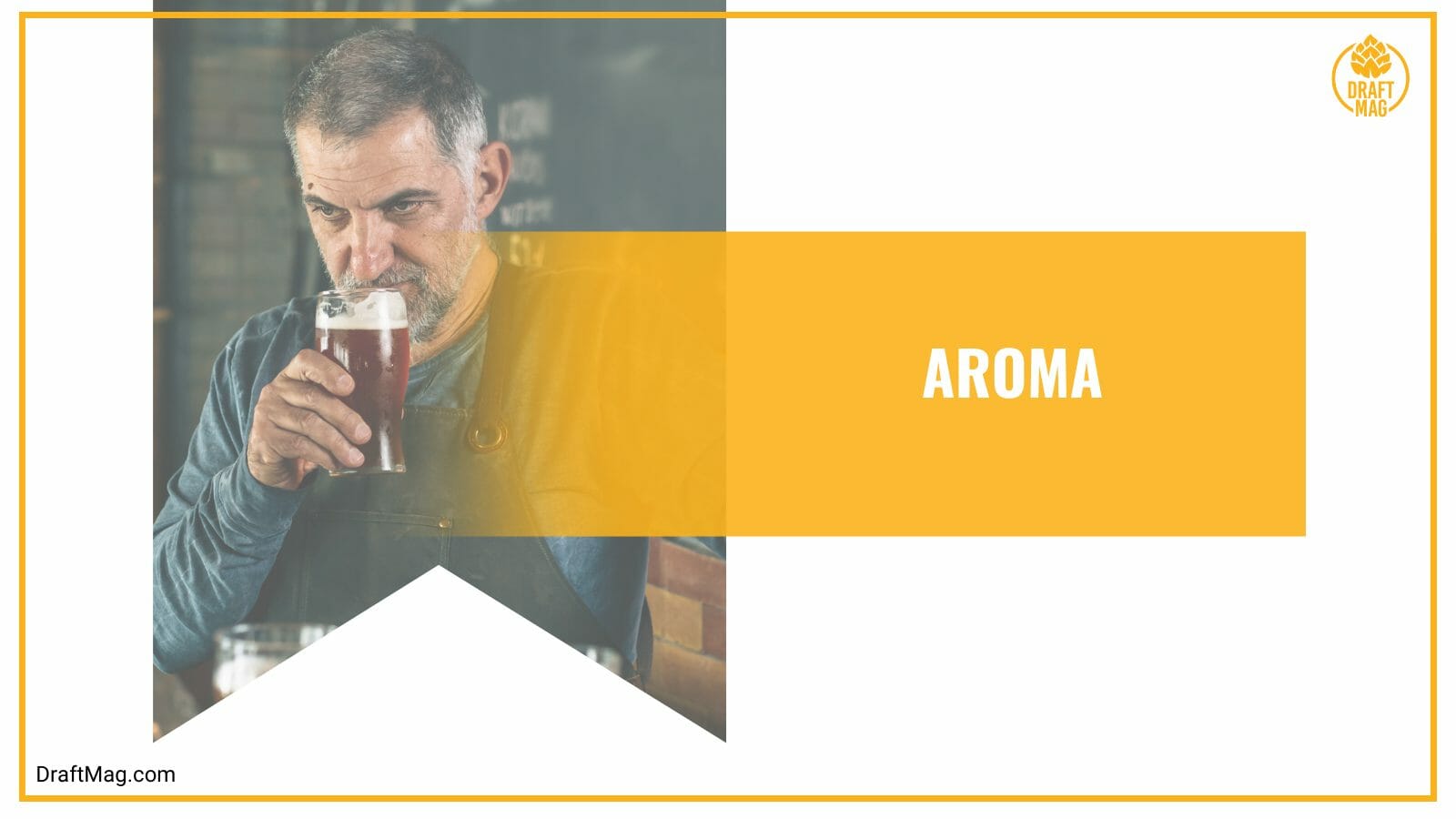 You might notice some hints of smoked malts in the aroma too, with a background of chocolate that rounds it up.
– Mouthfeel
You will be surprised to see how light the beer is when you pour it. The beer has a very light body, with a roasted feel and a bitter finish. There is a lot of carbonation in the beer too, which gives you a fizzy and bubbly feeling at the back of your tongue.
– Flavor
As for the flavor, the Schwarzbier is easy to drink and has a nicely balanced taste between all the notes. The beer is sweet, and the first thing that you taste when you drink it is the roasted malts. This is followed by the roasted chocolate and caramel flavor, with a thin and watery taste.
The beer tastes smooth, nice, and malty, with hints of chocolate. There is also some sweet coffee in the beer, all balanced together. Towards the end, the beer tastes sweet and roasty, finishing with a bitter taste. The malts and chocolate follow into the aftertaste.
– Food Pairings
When having this Schwarzbier, there are different kinds of food that you can have with the roasted malt flavor. The beer pairs well with mushroom strudel, muster cheeses, and fruit tarts. You can generally have it with German foods, so enjoy the beer with bratwurst, boneless chicken, knockwurst, sauerbraten, Weiner schnitzel, and tossed garden salad.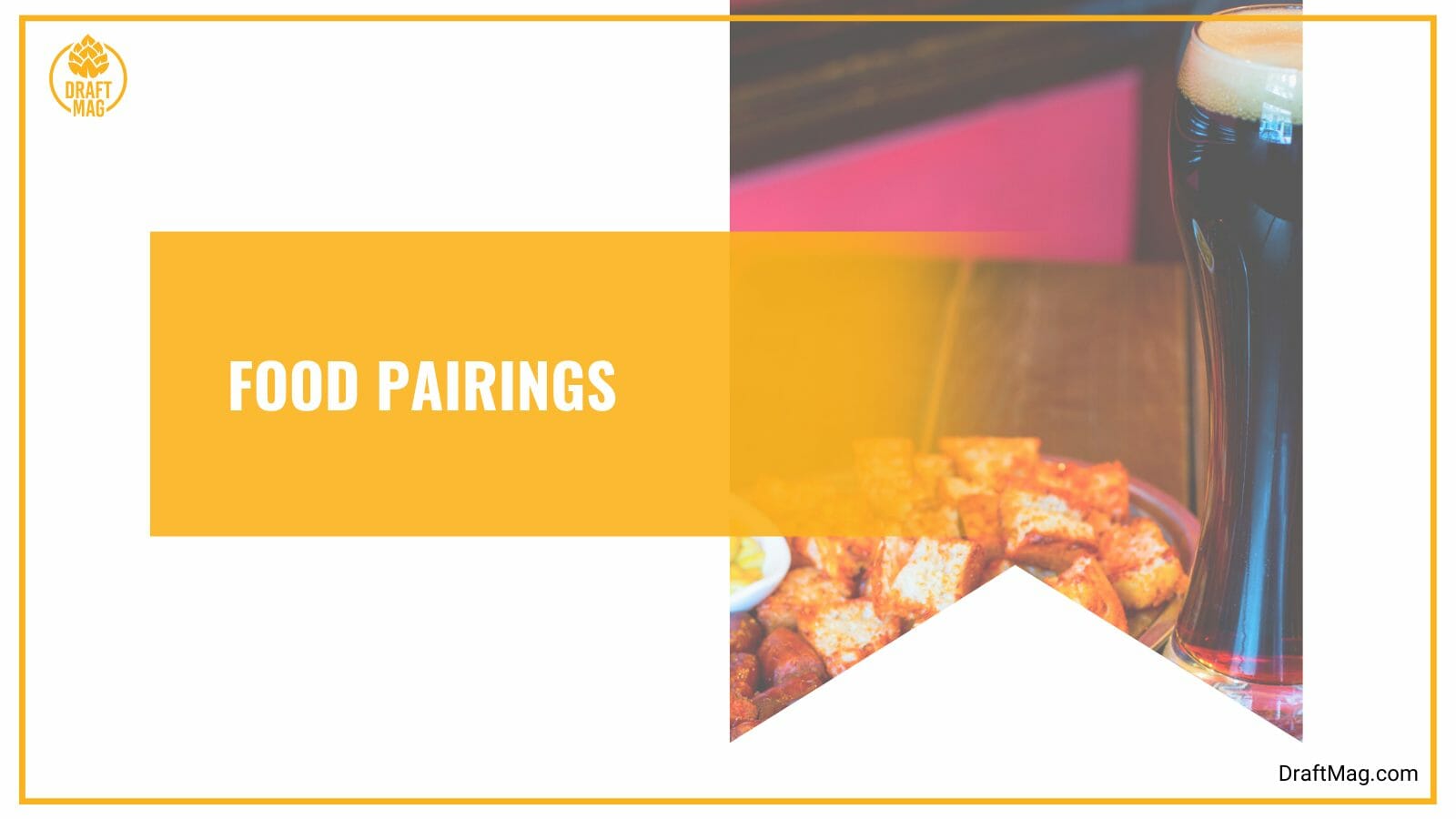 On top of this, you can have meaty dishes like chicken, pork, fish, beef, and turkey. Pair it with smoked, grilled, and roasted dishes, which go well with the roasted and smoked flavor of the beer. You can have it with seafood too, like salmon or mackerel. It goes great with salads with heavy dressings.
If you are having cheese with the beer, you should consider some Monterey jack cheese. Also, nutty cheeses like Munster and Gruyere go well with the beer, as well as smoked cheeses. Those who are interested in dessert can try out chocolate-based desserts like chocolate cheesecake and cookies.
Ingredients
The exact ingredients used to make the beer are unknown, but there are a lot of recipes for clones that use Pils malts, Munich malts, and chocolate malts. The malts are very evident in the flavor and aroma of the beer, and you can barely taste the hops as there are no fruits or dryness.
Nutrition Facts
In this dark beer, you get an ABV of 4.5 percent, which is a decent level for alcohol. You won't taste the alcohol in the flavor, and there is no burning in the mouthfeel. The beer also has an IBU of 27 because of the slight level of bitterness from the roasted malts. It mostly tastes sweet and chocolatey.
In the beer, you get 180 calories, which is a decent level. Those on a diet should keep it in mind when calculating their daily dietary requirement. It is also not a keto-friendly beer due to the high carbs, and it is not gluten-free.
History
The beer is brewed by Rahr & Sons Brewing Co, which is known for its funny back story and sweet flavor. It is a dark lager that got its name from a time when Fritz Rahr saw Oscar, his mother-in-law's pug, and shouted, "What an ugly pug." Coincidentally, they were making a test batch that night, and hence it got its unique name.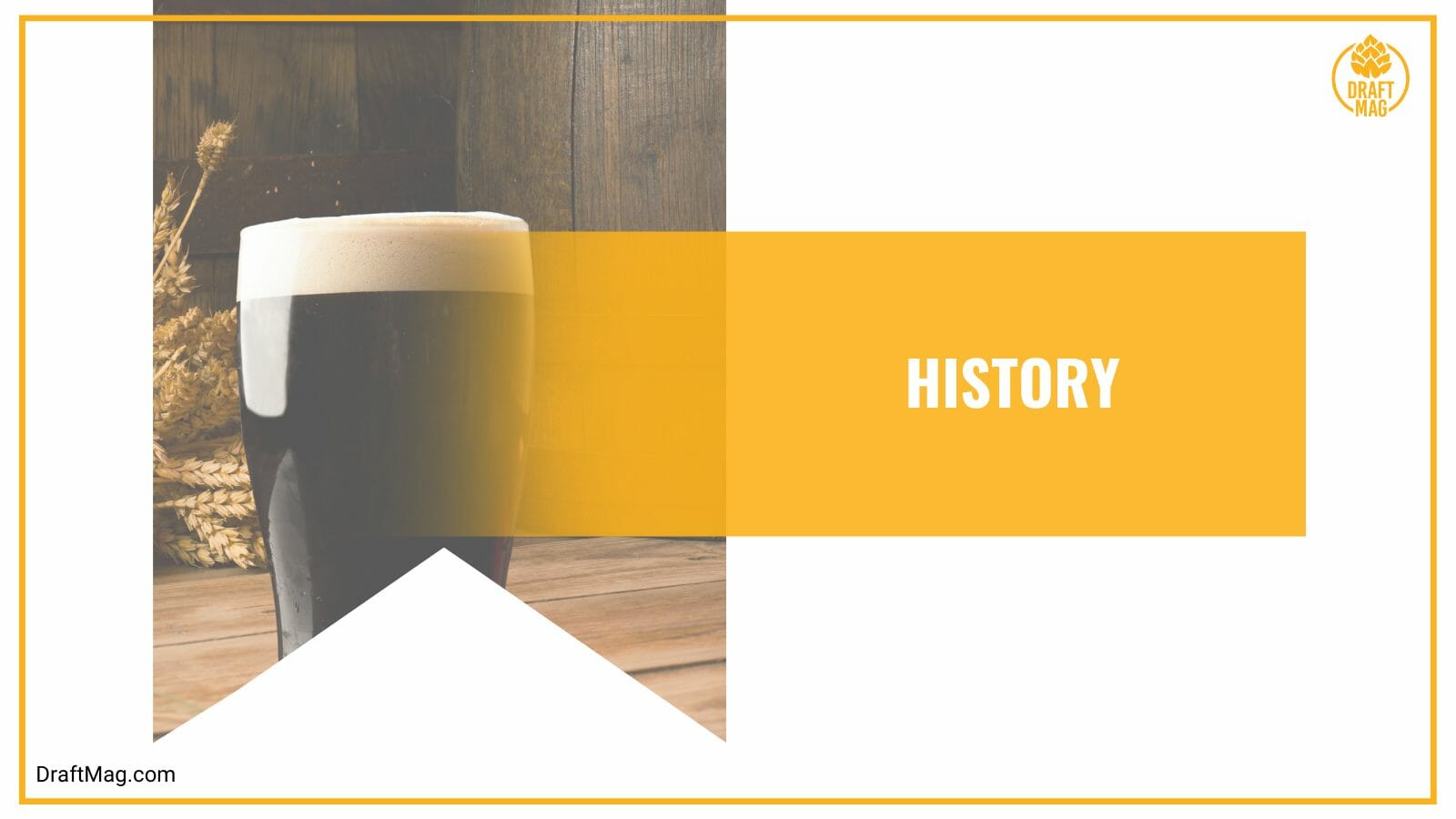 The beer is popular for having a surprisingly light body, unlike the usual styles that have a chewy or heavy mouthfeel. Many reviewers have praised the beer for being easy to drink even on the hottest of days.
Conclusion
If you're looking for a very unique take on a dark beer, especially if this is your first time trying this style out, this is an ideal beer for you. Here's a summary of what we covered:
The Ugly Pug is a Schwarzbier with a 4.5 percent alcohol content, brewed by Rahr & Sons.
The beer has flavors and aromas of roasted malts, chocolate, and coffee, with a bittersweet flavor.
The exact ingredients of the beer are unknown.
It is best served in a pint glass at 45 degrees Fahrenheit.
The beer pairs well with roasted, smoked, and grilled foods, German dishes, seafood, meaty food, nutty or smoked cheese, and chocolate-based desserts.
You can purchase this delicious beer online or at physical stores near you. Alternatively, get the beer directly from the tap whenever you're in Texas.