Terrapin Hopsecutioner Review: Specially-made for Hop Heads
Those looking for an overload of hops can try out the Terrapin Hopsecutioner. This is an American IPA brewed by the popular Terrapin Beer Co and known for its hoppy character in aroma and flavor.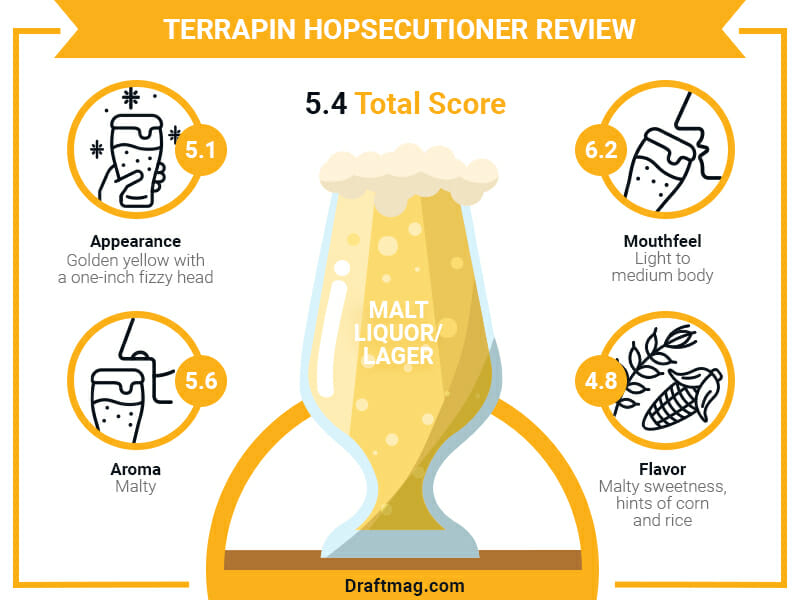 The beer is described as a killer IPA, known for using an aggressive brewing method and six different hops to give you a good balance. Our complete review will cover all you need to know about the Hopsecutioner and how best to enjoy this beer.
Terrapin Hopsecutioner Stats
| | |
| --- | --- |
| Country | United States |
| Brand | Terrapin Beer Company |
| Style | American IPA |
| Taste | Hoppy, smooth |
| Body | Medium body |
| ABV | 7.3 percent |
| Flavors & Aromas | Citrus, bitter, pine, smooth, hoppy, earthy |
| Serving Temperature | 45-50 degrees Fahrenheit |
Tasting Notes
Terrapin Hopsecutioner Tasting Profile
Terrapin Hopsecutioner Review
The Terrapin Hopsecutioner IPA is ideal for beer lovers who enjoy drinking hoppy beers. It is an American IPA brewed with six hops and promises to make you lose your hop head. According to Terrapin, the Hopsecutioner has been recruited to execute an aggressive hop profile.
This killer IPA has a good balance of firm hoppy and rich caramel sweetness, brought together by the citrus and pine hop notes. It is a craft beer with bold and fruity aromatics and a flavor that follows the nose. You should serve the beer in a pint glass, snifter, goblet, or chalice.
The Hopsecutioner features a high ABV and IBU, as expected from the beer style. It's a fantastic choice of beer to start your night out.
– Appearance
The Hopsecutioner pours a clear and bright gold to amber color and has light to medium creaminess. The beer has a fluffy and foamy off-white head, up to three fingers.
Good head retention gives you thick lacing against your glass and a stronger aroma. There are also signs of carbonation in the appearance.
– Aroma
On the nose, the Hopsecutioner features a balance of malt and hoppy aromas. The main aroma from the malt is the rich smell of sweet caramel, which goes well with the citrus, floral scent caused by the hops. The aroma appears earthy and dank, with hints of biscuit underneath.
– Mouthfeel
The Hopsecutioner has a medium-bodied and creamy texture that anyone will enjoy drinking. With its low carbonation, the beer does not taste fizzy or poppy when you drink it. It ends with a sweet and somewhat flat finish. The malt and hops offer a clean and bittersweet taste on your tongue, and the beer is slightly dry.
– Flavor
The flavor of the Hopsecutioner follows the aroma, with a rich taste of caramel sweetness combined with the solid hoppy bitterness. There are bright hints of citrus hops, resin, and pine at the back of your tongue.
Drinkers will notice hints of biscuit from the malt, while the hops add vibrant fruit colors, cedar, apricot, honey, and root beer flavored candy. The light tropical with hops flavor gives it a bittersweet taste but does not take away from its malty beer character.
– Food Pairings
The bittersweet and hoppy flavor of the Hopsecutioner makes it pair well with food that has similarly strong tastes, so char your favorite meats such as ribs, chicken, and pork chops, and add thick barbecue sauce.
The hoppy IPA can also cool down the flavor of spicy dishes, so look out for tacos and burgers.
Complement your meals with bright produce that will bring out the bitter hops, like English peas, artichokes, green onions, spring onions, and asparagus. You can have your Hopsecutioner with desserts like key lime pie, chocolate raspberry mousse cake, fruit trifle, dark chocolate truffles, and strawberry shortcake.
As for cheese, the American IPA goes well with earthy and light cheese like cambozola, blue cheese, or sharp cheddar.
Ingredients
The Hopsecutioner is made with six different hops: Warrior, Centennial, Amarillo, Chinook, Simcoe, and Cascade. The beer is further dry hopped with Cascade hops. This intense brewing process gives it a hoppy bitterness and tingly flavor.
But the caramel sweetness and biscuit undertones are obtained from their malts. The beer is brewed with the 2-row pale malt, pale crystal 24L, Munich malts, and Victory malts. Aside from these, it is also brewed with water and yeast. If you're a homebrewer, you can work on making this beer at home.
Nutrition Facts
The Terrapin Hopsecutioner has a 7.3 percent ABV and 60 IBU, giving it a boozy and bitter flavor. In every 12-ounce serving, the beer has 211 calories, which is a pretty high amount and not ideal for those on a diet to lose weight.
The beer also features 15 grams of net carbs in the 12-ounce serving, making it inadvisable for those on the keto diet. There are 2.1 grams of protein and 0 grams of fat in the same serving. The beer is vegan-friendly but not gluten-free.
History
Hopsecutioner is brewed by Terrapin Beer Company, a Georgia-based craft brewery in the United States. The brewery was founded in 2002 in Athens and has quickly become one of the top breweries in the city. Although it was founded by Brian Buckowski and John Cochran to be a craft brewery, Molson Coors has a majority stake in the company.
Hopsecutioner is Terrapin's second most expensive beer to brew, after the India Brown Ale. The beer was released in 2009, is still one of the top beers in Georgia, and is distributed for sale outside the brewery. It is a year-round IPA.
Conclusion
The Hopsecutioner is the ideal choice for hop heads and anyone who wants to try out beers loaded with hops. This is a good place to start if you've been planning to try out hoppy beers. Here's a recap of what we looked at in this review.
The Hopsecutioner is a popular American IPA made by Terrapin Brewing.
The beer merges flavors and aroma of hoppy bitterness, malty caramel sweetness, pines and citrus, a bittersweet body, and a slightly dry finish.
It is brewed with six hops, which include Simcoe, Warrior, Centennial, Chinook, Cascade, and Amarillo.
The beer tastes best in a pint glass, snifter, goblet, or chalice, served cold and with a citrus slice.
The Hopsecutioner goes well with strongly flavored foods, barbecue, spicy foods, rich desserts, and light cheeses.
If you're looking for a hoppy IPA to start your night, you can visit a liquor store to purchase Hopsecutioner, online or in person; you can also check out the brewery while you're in Georgia.