Scofflaw Basement IPA Review: Detailed Overview of This Inventive IPA
Scofflaw Basement IPA ranks among the best juicy craft brews that have gained a buzzworthy following. Today, it barely surprises anyone that this beer continues to fly off shelves and taps in beer stores, pubs and restaurants worldwide.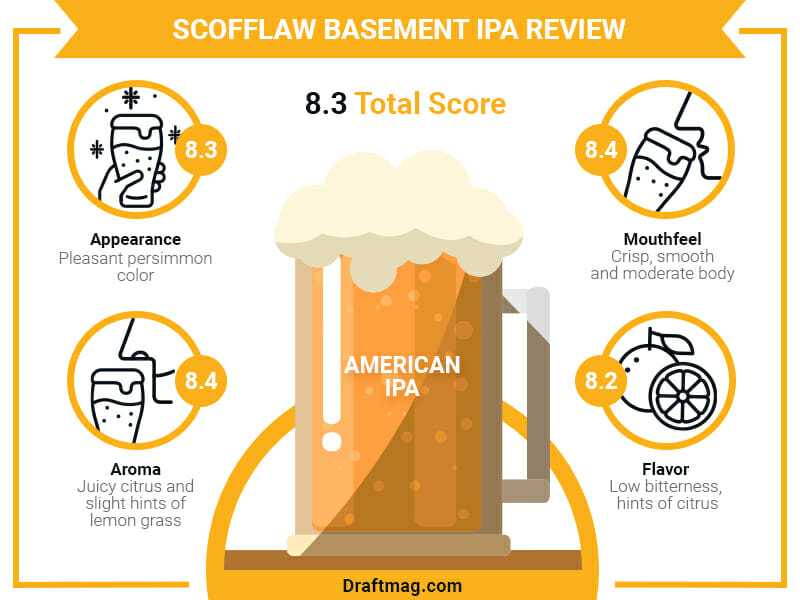 Moreover, this Scofflaw IPA is perfect for drinking in any basement, field, plot or gathering. Stick around to learn more about the different features of this unique brew.
Scofflaw Basement IPA Stats
| | |
| --- | --- |
| Country | United States |
| Brand | Scofflaw Brewing Company |
| Style | American Style IPA |
| Taste | Dank, crisp, smooth and slightly sweet with alcoholic fade |
| Body | Medium-bodied |
| ABV | 7.5 percent |
| Flavors & Aromas | Robust flavor and aroma with notes of citrus, tart lemon grapefruit, hops, resinous pine and tropical fruit |
| Serving Temperature | 45 to 50 degrees Fahrenheit |
Tasting Notes
Scofflaw Basement IPA Tasting Profile
Scofflaw Basement IPA Review
Scofflaw Basement IPA combines the more modern IPA style with the traditional, European-style ales to give its forward profile. This beer takes up a sweet malt flavor that takes over the finish, making it refreshing and enjoyable. Let's dive further into its features:
– Appearance
While many people assume that all light beers have lower ABV, note that a beer's appearance does not correlate to its strength. The Basement IPA as it appears as a pleasant persimmon color with visible haziness. Likewise, it pours a tight, fluffy khaki foam that dissipates slowly, and leaves a little lace after.
– Aroma
On the nose, this beer reveals a distinct scent like no other brew would have. The dank aroma of earthy tones on opening a can of this IPA hits first, along with juicy citrus and slight hints of lemon grass. Grab this beer to inhale all this wholesomeness.
– Mouthfeel
This ale's mouthfeel is somewhat like what you will find in classic New England IPAs. It has a crisp, smooth and moderate body, giving a dry mouthfeel and persistently sweet aftertaste. This IPA also offers lively carbonation, creating a refreshing and pleasant rendition.
– Flavor
The beer is an excellent selection for those who shy away from hop bitterness, which means you won't have to fuss about trying this brew. The Basement IPA is perfectly blended with a nice malty body to suppress the rising hoppy bitterness from the Citra hops.
That way, beer drinkers savor the sweet finish and pleasant hop notes in every sip. You may also notice the hints of citrus, resinous pine, and alcohol heat down your palate.
– Food Pairings
Scofflaw Basement IPA pairs perfectly with fried foods, Indian Curries, Mexican food, and grilled meat. Likewise, the fruity infused makes it the perfect complement to burgers and steaks.
Suppose you want to enjoy a sunny afternoon with spicy dishes. Then, it would be best if you combine your meal with this beer. When served chilled, it diminishes the heat of the spicy food to give a pleasant experience. Keep in mind that the versatility of this brew is not one to miss, which is why it pairs perfectly with a variety of foods.
Ingredients
There's no doubt that this beer continues to drive buzz among beer fanatics, and the primary subject tends to center on the ingredient used in producing this exceptional piece. The Scofflaw Basement IPA ingredients are Citra hops, Sweet Malt, lemon, yeast and to dilute it all, water.
These ingredients combine with other aromatics infused into the beer to deliver various notes and flavors for a crisp and satisfying drink.
Nutrition Facts
Scofflaw Basement IPA calories are 250 per 12-ounce serving, but this net calorie is derived from the ingredients, not from fat. Even so, this IPA should be avoided in ketosis as it contains a net carb of 23.66 grams and 89 grams of sugar. It also comprises 15.26 milligrams of Sodium and 1.67 grams of Protein. Above all, remember always to consume this IPA in moderation.
This beer has an IBU rating of 55, thus justifying its balanced bitterness and juicy character. Besides, it packs a sweet malty body and fruity tones that satisfies most drinkers. Scofflaw Basement IPA alcohol content is 7.5 percent. Therefore, depending on your tolerance, excessively drinking this beer can quickly get you tipsy.
History
Scofflaw is a relatively new brewery, launched in 2015 by Matt Shirah and brewmaster Travis Herman. The company originated as a dream project in Atlanta, initially situated in Shirah's mother-in-law's basement. This is why, most beer drinkers or enthusiasts agree that the company came about the brand name for some of its top-flight releases.
Almost two years later, Scofflaw moved into an 18,000-square-foot brewery in a close Bolton neighborhood on Atalanta's Westside. And note that the story is what the company takes pride in this facility and the awards for its top releases.
In addition, they aim to deliver a quality product to address Southern craft beer's dwindling perception. Scofflaw's new space features a 50-barrel brewhouse, an assortment of high-gravity stouts and sours, and many other new inventive offerings.
The two founders operate the brewery to date, bringing a wealth of experience in craft beer brewing. Today, Scofflaw Brewing Co. is one of the fastest-growing craft breweries in the United States. They continue to distribute a wide-range assortment of IPAs, led by the crowd's favorite, Basement IPA.
They include the Scofflaw Basement IPA and Scofflaw Pog Basement IPA, based on their origin. They also have different varieties of beer such as the moderately light-colored Scofflaw Double Jeopardy IPA and Scofflaw Basement Light IPA having higher ABV than other darker IPAs.
Conclusion
This fantastic brew is an inventive American-style IPA from the Scofflaw Brewing Company. The fact that this beer continues to attract widespread attention showcases its excellent features. Here's a quick recap on some vital points we mentioned in this article:
Scofflaw Basement IPA pours a nice persimmon color with noticeable cloudiness and tight, fluffy khaki foam.
This beer has a distinct juicy citrus aroma, a moderate mouthfeel and lively carbonation, which is what makes it flavorful.
This beer has a sweet malt flavor with pleasant hop notes in every sip, making it an ideal combination with grilled meat, fried foods, Indian curries and Mexican dishes.
This beer's ABV is 7.5 percent and 55 IBU. Its 12-ounce serving contains 250 calories derived from the source but is less keto-friendly.
Grab a bottle or can of this IPA to enjoy its robust, juicy quality that will liven you up today. Cheers!