Treehouse On The Fly Review to This Double IPA
Tree House On The Fly will draw you closer if you love fruity beers. The beautiful design on the can of this double IPA is enough to attract you and make you curious. However, to be sure it's something you want, this review will unravel the beer's appearance, aroma, flavor, and ingredients.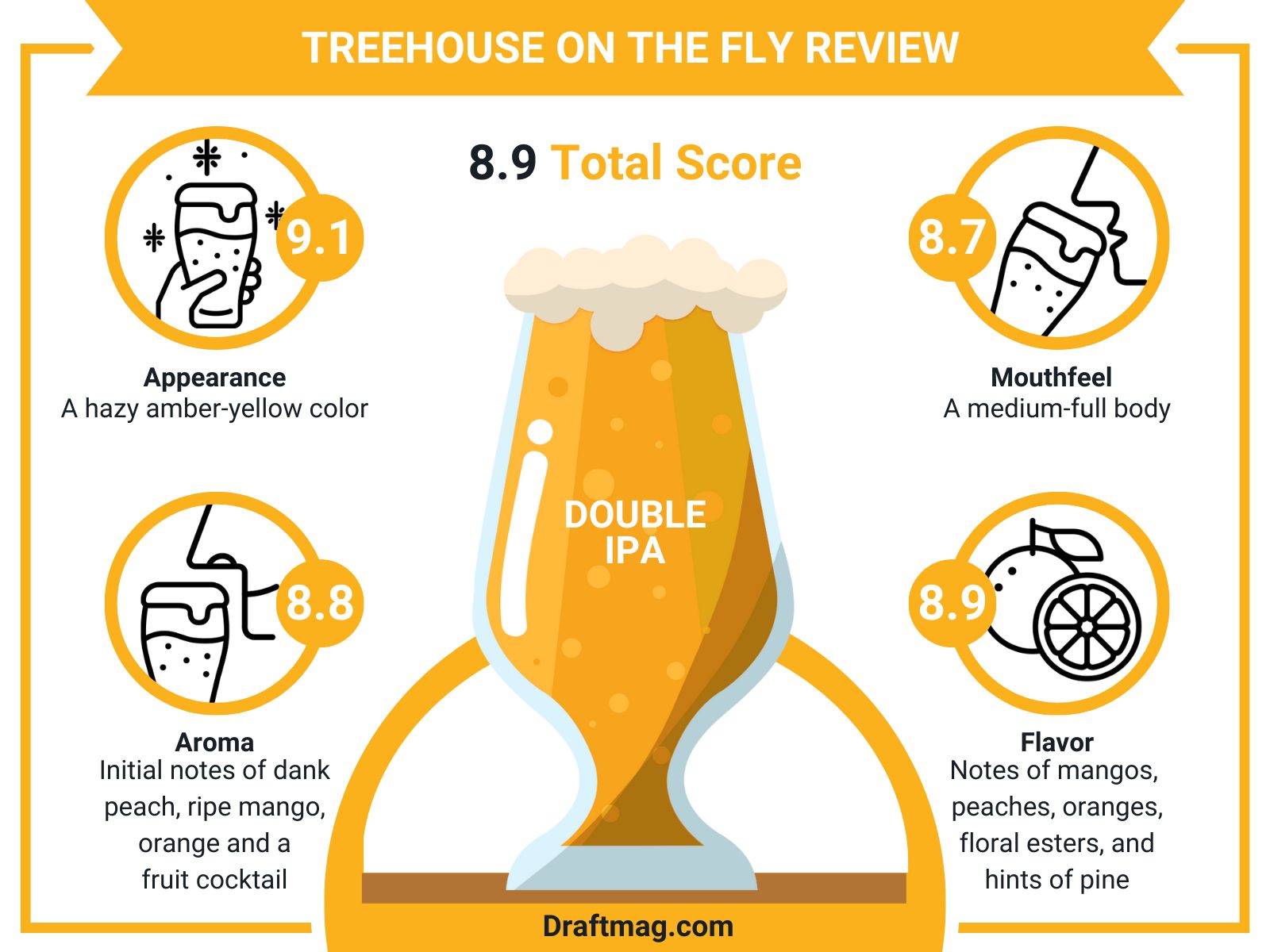 In addition, you don't want to stop reading now as we will happily dive into the beer's history and food pairings.
Tree House On The Fly Stats
| | |
| --- | --- |
| Country | United States |
| Brand | Treehouse Brewing |
| Style | Double IPA |
| Taste | Tropical fruity orange juice, ripe mango |
| Body | Medium-full |
| ABV | 8.1 percent |
| Flavors & Aromas | orange juice, ripe mango, dank peach |
| Serving Temperature | 55-60 degrees Fahrenheit |
Tasting Notes
Tree House On The Fly Tasting Profile
Tree House On The Fly Review
This beer is famous for being a double IPA, let's find out the characteristics that classify it under this style, and you'll discover what makes it unique.
– Appearance
First, the beer pours with a beautiful hazy amber-yellow color with medium carbonation. It has a one-finger thick bright white head with decent retention, leaving a few sticky laces after.
– Aroma
It is fruity in the sense of the nose. There are initial notes of dank peach, ripe mango, orange, and like a fruit cocktail. You may pick hints of pine resin, herb, and honey-like sweetness if you smell further.
– Mouthfeel
The beer has a medium-full body. It gives a creamy feel with medium carbonation that underlines a relatively sustained body. On the palate, however, it is very juicy with tropical fruitiness similar to a punch.
Nonetheless, this is followed by a creaminess sitting in the middle and mild astringency derived from hops, more of a green hop character. Overall, it is simple to say that it has a supple mouthfeel and is easy to drink.
– Flavor
The flavor follows the aroma of the drink that would fill your nose. On your tastebuds, you get notes of mangos, peaches, oranges, floral esters, and a hint of pine. In addition, it has a mild bitterness compared to some regular beers.
Food Pairings
Being a double IPA, On The Fly get along well with the same food pairings as IPAs. Interestingly, these beers will perfectly accompany any robust and complex flavor. This beer is excellent with very spicy dishes, for example, Indian or Mexican cuisine.
Also, it goes well with grilled meats of pork, chicken, and ribs, in addition to sausage, deep-fried meats, or fatty fish such as salmon with French fries. You can accompany these grills with thick barbecue sauce. At the same time, don't be afraid to drink it with hamburgers, popcorn, spicy noodles, pasta, and lasuni gobi.
Seafood like crabs, shrimp, lobsters, and oysters can play the game. You can also enjoy the beer with cheeses, especially the delicious soft ones, such as gorgonzola, sharp cheddar, stilton, or other blue cheeses. The reason is that the high alcohol content and mild bitterness scrubs the palate of the grease.
As for desserts, on the other hand, you can pair this beer with rich and creamy desserts, like glazed cakes, cheesecake, or creme brulee. On the other hand, you can complement the beer's robust mouthfeel and mild hop bitterness with meals containing artichokes, peas, and asparagus. In addition, you can pave the way for the bittering hops with spring onions, green onions, scapes, and ramps.
Ingredients
While Tree House brewing does not reveal the beer's recipe; however, it contains the following Double IPA ingredients as Malt (2-row/Crystal/flaked wheat), grain adjuncts, hops, different fruit flavors, and of course water and ale yeast
Nutrition Facts
The one pint can of Tree House On The Fly contains an estimated amount of 243 calories. However, there is no discrete information on the net carbs, proteins, fats, vitamins, and micronutrients.
Double IPAs usually have a high alcohol content between seven to ten percent. This beer has 8.1 percent ABV. Hence, there is a limit to how much you can consume, or you'll get boozy. Also, beers with high ABV contribute to weight gain, so you need to be wary of this beer if you don't want this.
In addition, the IBU of double IPAs is usually between 60 to 120. This means, ordinarily, this beer should have some bitterness; however, its bitterness is gently balanced by its sweet fruity flavors.
History
On The Fly is brewed by Treehouse Brewing Company in Charlton, Massachusetts, United States. Tree House, which started in 2011, has undergone a series of development and is one of the revered craft brewers in the country. The brewery is famous for its juicy IPAs, including On The Fly, Treehouse Wonderment, Treehouse rainbow beer, etc. However, remember that On The Fly double IPA is only available on-site at the brewery in one-pint cans.
Tree House has no distribution network; all beers are sold on-site. And due to the richness of these beers, consumers don't mind joining the queues to get their favorite brand. Interestingly, the company does not bear the name for the fun of it; there is an actual tree house where the brewery is located. This is where customers climb when they visit.
Asides from IPA, the company also brews other styles like milkshake beers, pilsner, and stouts, including the Treehouse King Creamsicle, Easy Does It, and That's What She Said, respectively.
Conclusion
Juicy beers are versatile as they are suitable for all seasons, and a perfect one is the Tree House On The Fly. On the other hand, this beer gives you a refreshing feel with its pools of tropical fruitiness. As earlier promised, we have detailed the beer's organoleptic characters. Here are key points to note:
Treehouse On The Fly is a Double IPA with 8.1 percent ABV.
The beer pours with a beautiful hazy amber yellow color with a finger-thick bright white head.
The beer's flavor combines notes of orange juice, mangos, citrus, and peaches with mild hop bitterness.
This beer pairs well with Indian or Mexican cuisine, grilled fish, sausages, meats, etc.
This beer has some bitterness flavor, however, the rich bitterness is cut with the sweet flavor it adds.
For a better experience, serve this beer at the required temperature. Think about it when are you visiting the Tree House brewery to grab a can of the juicy On The Fly?