Chihuahua Beer Review: Full-flavored Mexican Lager With Robust Palate
The Chihuahua beer is a full-flavoured adjunct lager, and although it is brewed in the United States, it is a Mexican-style beer. It is a strong lager that goes down easy but will still pack a punch when you drink it.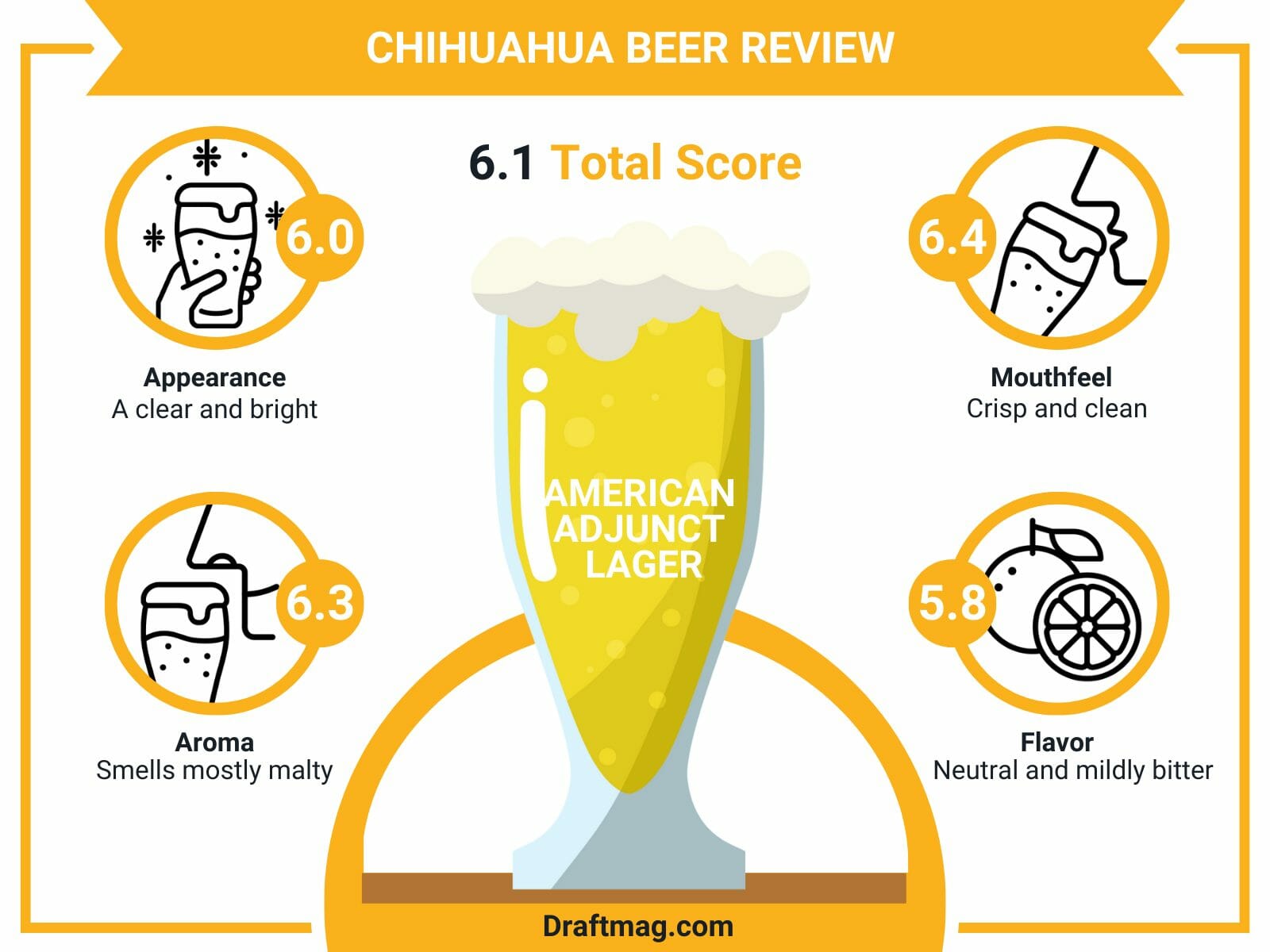 Whether you need something for partying or a refreshing beer during dinner, the Chihuahua lager is the ideal choice. Our review below has all you need to know about this beer.
Chihuahua Beer Stats
| | |
| --- | --- |
| Country  | United States |
| Brand | Chihuahua Cerveza |
| Style | American Adjunct Lager |
| Taste  | Malty, hay |
| Body | Light body |
| ABV | 6.5 percent |
| Flavors & Aromas | Malts, yeast, hay, fruity cracker, bread |
| Serving Temperature | 35 – 40 degrees Fahrenheit |
Tasting Notes
Chihuahua Beer Tasting Profile
Chihuahua Beer Review
Chihuahua Rico is an American adjunct lager brewed Mexican-style in the United States. It features a 6.5 percent alcohol content and a light body. There are aromas and flavors of malts, yeast, hay, cracker, fruits, and bread, with a mildly bitter character. The beer also pours yellow with a white head.
To fully enjoy the Chihuahua lager, you should serve it in a pilsner glass at temperatures from 35 to 40 degrees Fahrenheit. Serving it very cold will bring out the refreshing character, and the tall-footed glass showcases the bright, golden color. It is also best garnished with a lemon slice into the glass.
The beer is light and refreshing, although the ABV is a bit higher than what you'd expect. It will get you drunk faster than the classic lager but still goes down easy.
– Appearance
The Rico beer pours a yellow color into your pilsner glass, with a clear and bright appearance that makes it look attractive.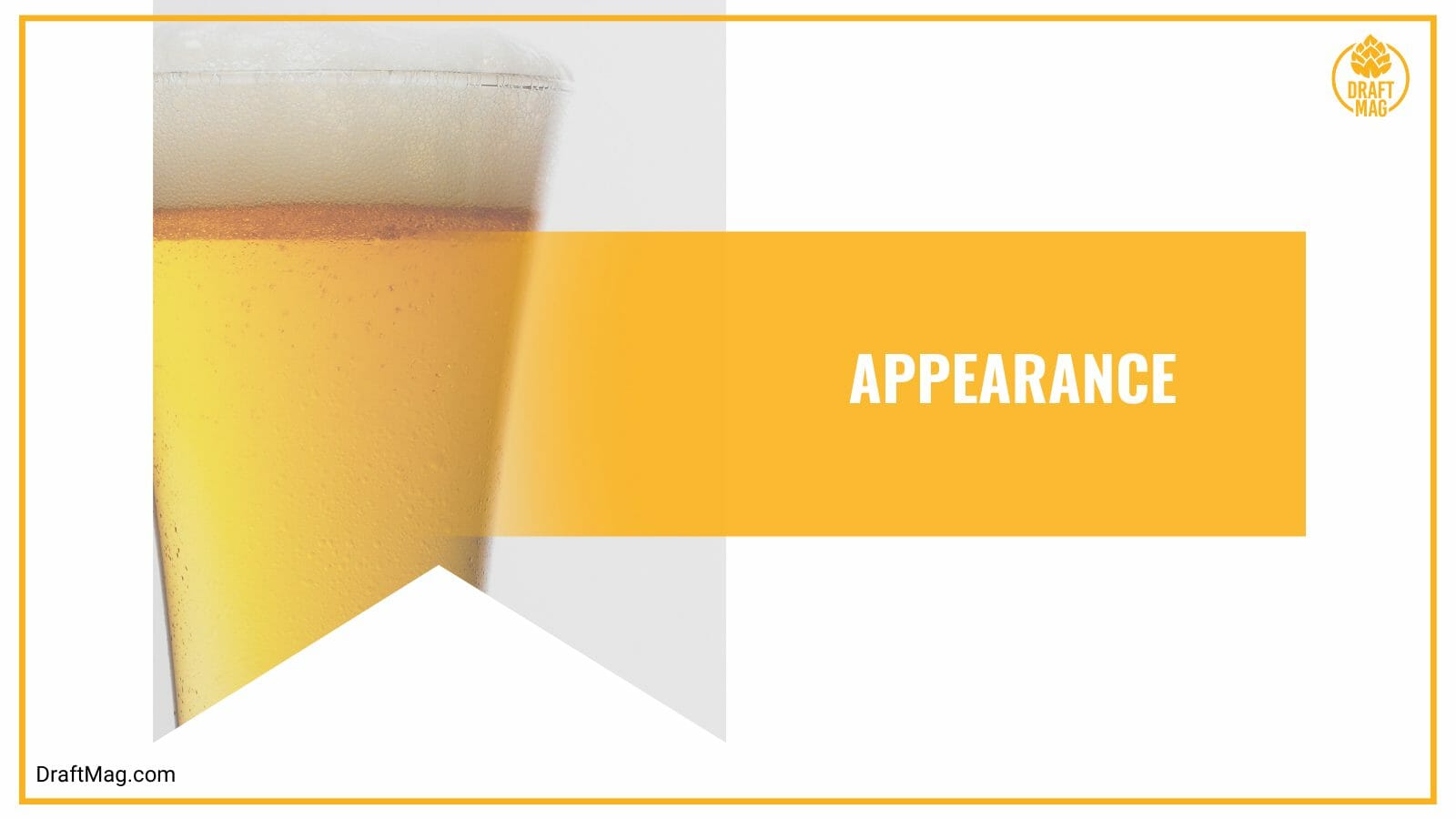 On top of the beer is a tall white-coloured head during the pour, but it will dissipate quickly, leaving barely any lacing on the sides of the glass.
– Aroma
On the nose, the Chihuahua lager smells mostly malty, but this aroma is light because it does not want to overshadow the taste. There are also hints of yeast and hay from the hops in the aroma. The beer has notes of cracker, dough, white bread, and lightly toasted biscuit, with an underlying layer of hops, peppercorn, wood, and corn.
– Mouthfeel
On the palate, the Rico lager feels crisp and clean with its simple lager flavors.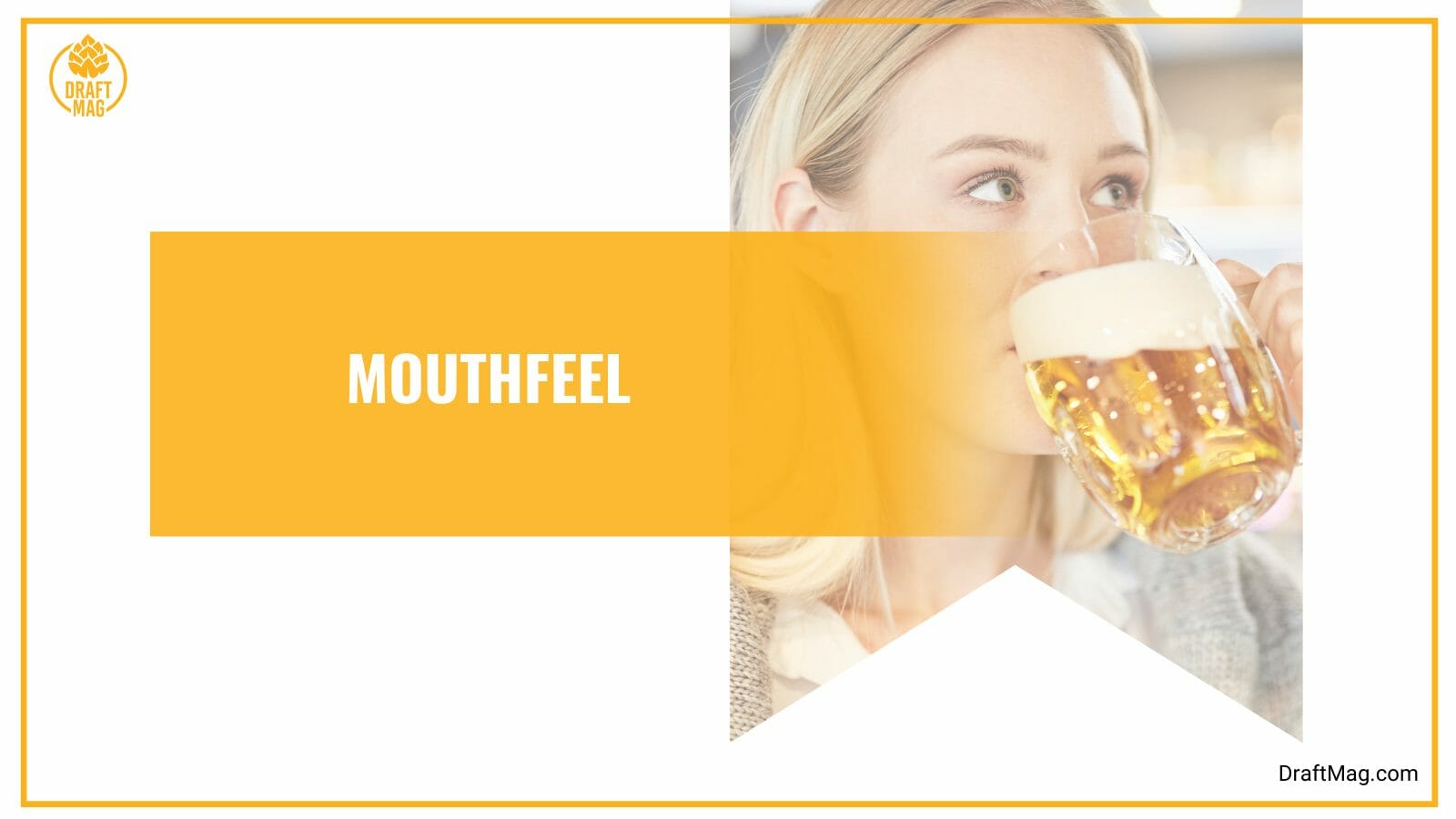 There is a light body and medium carbonation that caresses your tongue with a smooth and grainy feeling. It is also fairly sticky, and there is low alcohol warming on the palate.
– Flavor
As for the flavor, the beer starts out neutral and mildly bitter before hitting you with layers of flavors. The beer tastes of big sweet crackers, toasted biscuits, and white bread dough obtained from the malts. Underneath this is lighter notes of corn, peppercorn, earthiness, wood, and floral notes from the hops.
As you swallow the beer, you get lingering notes of cracker, toasted biscuit, bread dough and wood, and a lot of robustness to provide you with a rich flavor. There are also alcohol notes in the beer that balance with the sweet malts and bitterness.
– Food Pairings
The Chihuahua lager pairs great with bold and spicy foods, especially since it offers a clean taste that can cleanse your palate. It goes great with buffalo wings, spicy Mexican and Thai dishes, Szechuan chicken, and other kinds of spicy foods.
You can also try out bread-based foods that go great with the malty flavors like burgers, pancakes, pizzas, sandwiches, toast, and a bread salad. It also goes great with salads, as the crispiness goes great with the crisp flavor of the beer. Try out the herby chicken and American food like French fries, noodles and cheese, hot dogs, and snacks.
To satisfy your sweet tooth, try out chocolatey foods and lemon-based desserts. Some examples include blood orange sorbet and a chocolate cheesecake. It also goes well with creamy and semi-soft cheeses, so try out Havarti and Cheddar cheeses.
Ingredients
The ingredients used to make the Chihuahua craft beer are not specified, but the beer is brewed with malts, hops, yeast, and water. The malts are very forward since it's a lager, while the hops shine through with floral and herbal earthiness. As a Mexican-style beer, it is brewed with the same process as big brands in the Mexican beer industry.
Nutrition Facts
The Rico beer has an ABV of 6.5 percent, which is a bit high for the style. It has minimal alcohol warming as you swallow. In the beer, there are 195 calories, which you need to consider when considering your daily dietary intake.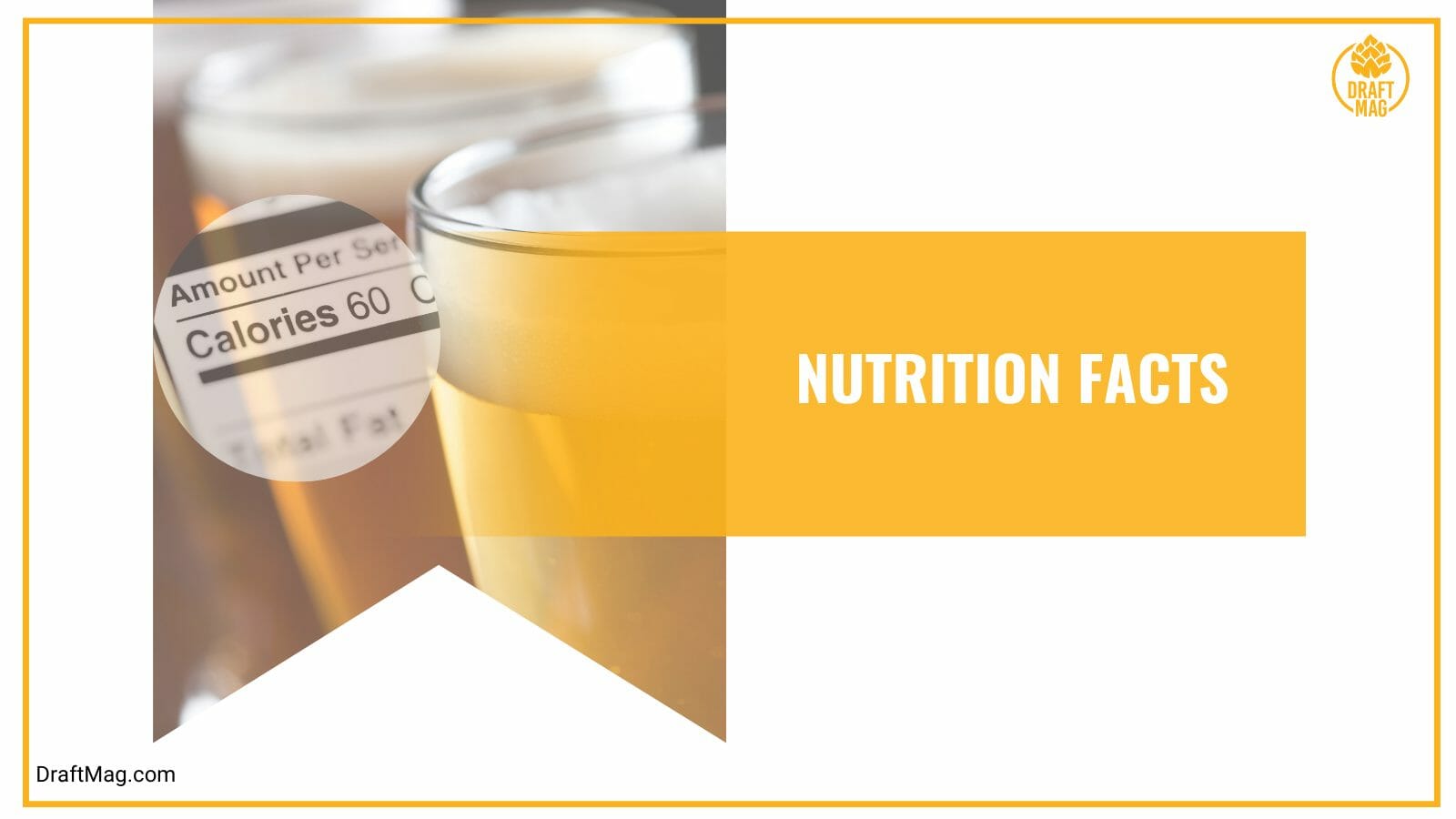 The beer also has 14 grams of carbohydrates, 2 grams of protein, less than 1 gram of dietary fiber, and 10 mg of sodium. It is not ideal for those on a keto diet as it has a high carbs content. The lager is also not gluten-free, but the brewery has stated that it is a vegan product as they don't use any animal-based ingredients.
History
The Chihuahua lager is surprisingly brewed in the United States by Chihuahua Cerveza Brewing Company. The brewery was founded in 2017 and tags itself as the Original Mexican American Beer. Its name was derived from the Nahuatl language, and it means the place where the waters of the rivers meet. It is talking about where the Rio Grande and the Rio Conchos meet to form the Mexican and US border.
The Rico lager is one of the most popular beers. Other top beers from this brewery include the Chihuahua El Primero, Chihuahua Limon, Chihuahua Guava-Lime, and different variety packs.
Conclusion
The Chihuahua lager is a fantastic choice for anyone who wants a refreshing and strong lager. Before you go, here's a summary of what we covered in this review:
Chihuahua beer is an American lager with a 6.5 percent alcohol content.
The beer has flavors and aromas of malts, crackers, bread, yeast, hay, and hops, with a light body and smooth finish.
Its exact ingredients are unknown.
The lager is best served in a pilsner glass when cold.
Pair the beer with bold dishes, spicy foods, bread-based dishes, American food and snacks, sweet desserts, and creamy cheeses.
To give this beer a try, you simply have to check out any liquor store around you or get it delivered from online stores.