Pacifico Beer Review: A Detailed Look at Your Favorite Beer
This Pacifico beer review will give you all the information you need to decide if this beer is best for you. This Mexican pilsner-style lager comes with an excellent combination of flavors and aromas, showering your palate with delight.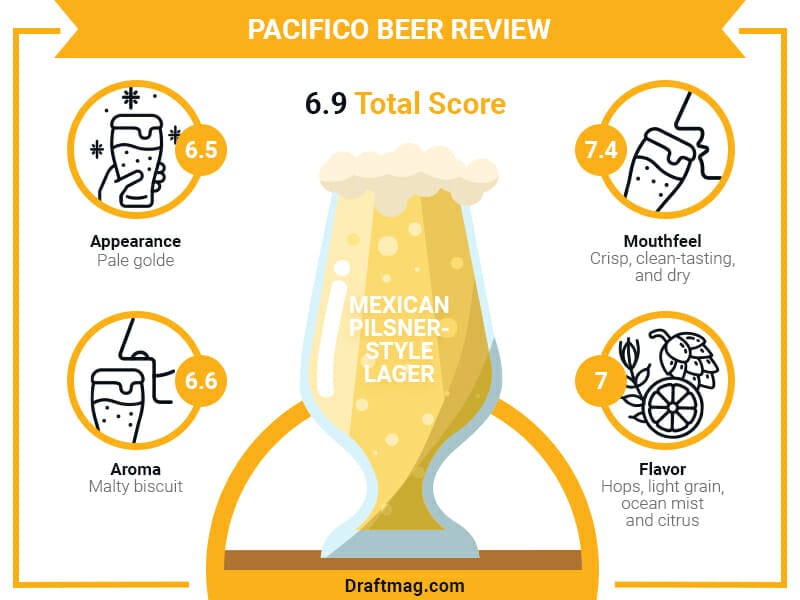 This special beer is readily available in bars, pubs and liquor stores around your area. However, before you walk into any store to buy this beer, you should read through this review to know what to expect.
Pacifico Beer Stats
| | |
| --- | --- |
| Country | Mexico |
| Brand | Grupo Modelo (AB InBev) |
| Style | Mexican Pilsner-style adjunct lager |
| Taste | Crisp, dry, pale and moderately sweet |
| Body | Light body |
| ABV | 4.4 percent |
| Flavors & Aromas | Refreshing flavor with a touch of ocean mist and grass citrus |
| Serving Temperature | 46 degrees Fahrenheit |
Tasting Notes
Pacifico Beer Tasting Profile
Pacifico Beer Review
If you're wondering what the Pacifico beer taste is, then you're in the right place. Let's take a look at Pacifico's tasting notes.
– Appearance
Generally, all Mexican-pilsner style lager appears pale golden with a balanced hop and malt character. They are mostly made with Saaz, Hallertau noble hops and light-colored pilsner malt.
Pacifico beer pours with a light gold color; it appears almost crystal clear with inherent light carbonation and a finger frothy eggshell foam. When poured into a glass cup, the beer is a crystal light gold straw. The beer has a low lacing because of its low head retention and low alcohol content. It has a white snow-head that disappears within 30 seconds.
– Aroma
Many international light lagers have a light aroma, and they have a malty biscuit aroma dominating the nose. Pacifico gives a faint grassy odor which is quite noticeable. The presence of creamed corn aroma becomes more noticeable as the beer warms up.
– Mouthfeel
Pacifico beer is a crisp, clean-tasting, and dry beer. Some even say it is like a light floral with some splash of sea air. Because of its moderate light body and alcohol content, the popularity among the surfer is inherently moderate. It cleanses the palate, and its smooth lightness attacks the tongue with lively carbonation.
It leaves a grainy malt flavor from water crackers on the tongue with little or no aftertaste, and it sometimes leaves foam. This is one of the beer's uniqueness that you can barely find in other beers. On finishing, it leaves a mild grassy bitterness. This bitterness plays a significant role in balancing the faint sweet corn flavors and brings out an excellent finish.
– Flavor
Just like every other Mexican lager, it is advisable to drink this beer from a can to get the best of all the flavors. It gives a flavor of hops bittering and light grain with ocean mist and citrus. However, light beer stored in brown bottles is prone to oxidation. This may lead to a condition where flavors are lost.
This beer represents the Mexican-pilsner style lager perfectly. Most lagers in this class have a similar flavor which aims at giving drinkers a refreshing experience. This one is a simple perfect palate cleanser between salty and spicy food bites. You can also choose to drink it in between meals.
– Food Pairings
It is best to serve the beer very chilled because of the light flavor, making it perfect for drinking on hot days when you do not want something heavy. Not forgetting that the beer has a German origin, you may want to combine it with Brezeln (giant soft pretzel), Knockwurst and Bratwurst. Pairing with Mexican foods like Bolillos, Chahuis, Camote, Aguachile and Burrito Burro percheron is also not a bad idea.
Pacifico is perfect when taken with quesadillas, tacos and chimichangas, and it also goes well with seafood. Taking the beer with these foods brings out the taste, and it lets you enjoy it on another level. To have the best experience with the beer, why not add a bit of clamato juice and squeeze some drops of lime into it. You will feel so good, and it becomes extremely refreshing.
For people that love mixing beer, Pacifico beer is perfect for any kind of mixing. Michelada is beer mixed with a slice of jalapeno pepper, tomato sauce, spices, salt, lime and Worcestershire. Lastly, beer margarita is beer served with a margarita with the beer bottle inverted in the margarita glass. However, always remember to drink in moderation, and don't be too extreme with your pairings.
– Pacifico Beer Review Pros and Cons
There are several reasons why you should add this beer to your list of beers to try. However, you should also keep some drawbacks in mind. Let's take a look at the pros and cons of Pacifico
Pros
This beer is an import choice with crisp lager attributes at a reasonable price.
With a trace of bitterness on the aftertaste, this beer is well-balanced.
It has a low ABV, making it a wonderful session beer.
Just about any beer drinker can easily find it and enjoy it.
Cons
It has a flavor character that is weak and watery.
It soon loses carbonation and has no head retention.
For those with delicate palates, a note of bitterness on the finish could be off-putting.
Pacifico Beer Ingredients
Although this beer combines several notes and flavors for an enjoyable drink, it still uses the usual beer ingredients, including:
Water
Malted barley
Cereals
Hops
However, other various aromatics are also infused within this beer.
– How It Is Brewed
Brewing has been Grupo Modelo's craft for several years. Even though technology keeps advancing, they only made very few changes to the brewing process. Brewing a great beer requires expertise to get high-quality results.
This process does not only involve consistent concentration from the brewers but also ensuring that raw materials and production processes undergo quality control tests.
These are the steps involved in brewing this exquisite beer:
Step 1
The first step starts with the malting of the barley. The barley is placed deep into the water in the malt house until it grows. The next process is to kiln dry to get the chocolate as well as the specialty, black and pale malts.
Here, malted barley gets to the brewery from the malt house in bags. The pale malt is then grounded with various specialty, crystal and roasted malts according to the brew's desired recipe.
Step 2
The malt is placed in the miller in this stage until the texture becomes similar to coarse grits. The sole purpose of this stage is to open the starch inside while still making it rough enough for water to flow through. The piper then carries it to the next compartment of the brewing process. The milling process takes about 45 minutes.
Additional hot water is used in the mash to rinse the sugar produced in the mash. The wort is very malty and sweet initially, but it begins to disappear at the end. The brewers use the same quantity of water for all batches of beer produced. However, they change the grain amount to regulate the quantity of sugar in the kettle.
The amount of sugar needed changes depending on the beer style being produced. The more the malt employed, the more the alcohol content, sugar and malt flavor. This can amount to a longer fermentation process.
Step 3
The piper (flex auger) collides the milled grain against the grist case. The grist is what is now called the malt. The grist remains in the case until the brewer opens the two slides on the chute.
The grist then mixes with hot water when it drops into the mash tun. The hot water and enzymes produced in the malting process convert starch from the barley into sugar.
The barley stays in hot water for about one hour, then the conversion process is done. The product obtained is called wort, and it is in liquid form. The wort is differentiated from the grain using a screen below the mash tun. It is then passed through a pipe that connects the two into a kettle.
Step 4
The final stage is known as the recycling stage. They gather all the used grain from the beer production process and give it to local farmers for livestock feed. This is just another way Groupo Modelo participates in environmental sustainability.
Nutrition Facts
Pacifico beer's ABV is 4.4 percent, and it has 18 IBU, making it an excellent beer. This beer is perfect for everyone, and the low alcohol content helps it prevent you from having health issues. Pacifico Beer Calories is 140 per 12-ounce serving, but you should note that the calories do not come from fat; instead, they come from sugars.
A bottle of this beer has 14 grams of carbohydrates. The carbohydrate is mainly gotten from the 12 grams of sugar in the beer. It does not have any form of fat or sodium, whether unsaturated or saturated. If you are looking for a beer filled with minerals and vitamins, Pacifico may not be the best choice.
It has about 1 gram of protein, and this isn't so perfect. The daily protein requirement is 56 grams per day for an average man and 46 grams for an average woman per day.
History
Pacifico beer was produced in 1900 by three German immigrants (German Evers, Emilo Phillippy and Jorge Claussen) in Cerveceria del Pacifico, Mazatlan. On its label, there is a picture representing a life savior around a ship's anchor laid over the port's lighthouse hill, which is known as Cerro del Creston. About 50 years later, the Groupo Modelo bought the brewery in 1954.
It gained lots of recognition in the United States, with Anheuser-Busch (a Belgian-Brazilian brewing company) combining with the brewery. In 2012, an antitrust suit was filed in the USA, splitting the two giant breweries. Lion eventually purchased Pacifico in Australia in 2020.
However, people are unsure if changes have been made to the original recipe from the 1990s. Whatever the case, Pacifico has inevitably secured a high place in the beer industry. The beer is also recognized internationally and known for its high quality. In Mazatlan, the bottles have special names such as Medias, Ballenas, Ballenon and Cuartitos.
– Origin of the Name
You must be wondering why Mazatlan is in a small town in Germany and Pacifico is supposed to be a Mexican beer. Well, both would be correct. The beer was first produced in Germany when immigrants decided to begin a brewery according to their knowledge of Pilsner-style lager. This began the history of Mazatlan, which is now the popular giant port today.
So yes, it is a Mexican lager beer with German history. This beer has been everybody's favorite for 70 years, but earlier in the 1970s, some surfers from California discovered the beer, and they loved its taste, making it an instant hit among the surfers. They immediately began importing this excellent beer for their family and friends.
The beer's demand began to increase until it got into the international market. The company wanted to appreciate the surfers, so they came up with the slogan "Pacifico beer, discovered in Baja, imported by surfers."
FAQ
Does Pacifico taste like Corona?
Pacifico and Corona have similar flavor profiles, but Pacifico has a slightly richer taste due to its maltier finish.
Are Pacifico and Modelo the same?
Pacifico and Modelo are both Mexican lagers, but they have distinct differences in taste and aroma.
Is Pacifico American or Mexican?
Pacifico is a Mexican beer, brewed in Mazatlán since 1900.
Conclusion
Pacifico is a light Mexican pilsner-style lager that has a little more flavor than similar beers within its range. While some people may find it thin or watery, it is a true crowd-pleaser with its light body, faint bitterness and crisp finish. Let's have a quick recap on some crucial points:
Pacifico beer pours with a light gold color, appearing almost crystal clear with inherent light carbonation and a finger frothy eggshell foam. Pacifico gives a faint grassy odor, which is quite noticeable. The presence of creamed corn aroma becomes more noticeable as the beer warms up.
Pacifico beer is a crisp, clean-tasting and dry beer. Some even say it is like a light floral with some splash of sea air. Because of its moderate light body and alcohol content, its popularity among surfers is inherently reasonable. It cleanses the palate with its smooth lightness attacking the tongue with lively carbonation.
On finishing, it leaves a mild grassy bitterness. This bitterness plays a significant role in balancing the faint sweet corn flavors and brings out an excellent finish.
It is made from water, malted barley, cereals and hops. All of these combine to give it a delightful mix of flavors and aromas.
Pacifico beer's alcohol content is 4.4 percent and 18 IBU. Its 12-ounce serving has 140 calories, 14grams of carbohydrate and no fat content. Therefore, it is a healthy beer that will not predispose you to dangerous health conditions.
Grab a Pacifico beer today if you need a high-quality beer with a refreshingly crisp aroma, flavor, and taste.