Bells Rind Over Matter Review: Give This Flavorful Wheat Beer a Try
The Bells Rind Over Matter is a citrusy wheat beer bursting with delicious flavors and made with real fruit. Produced by the Michigan-based Bell's Brewery, it's a fun, all-season beer that anyone can enjoy.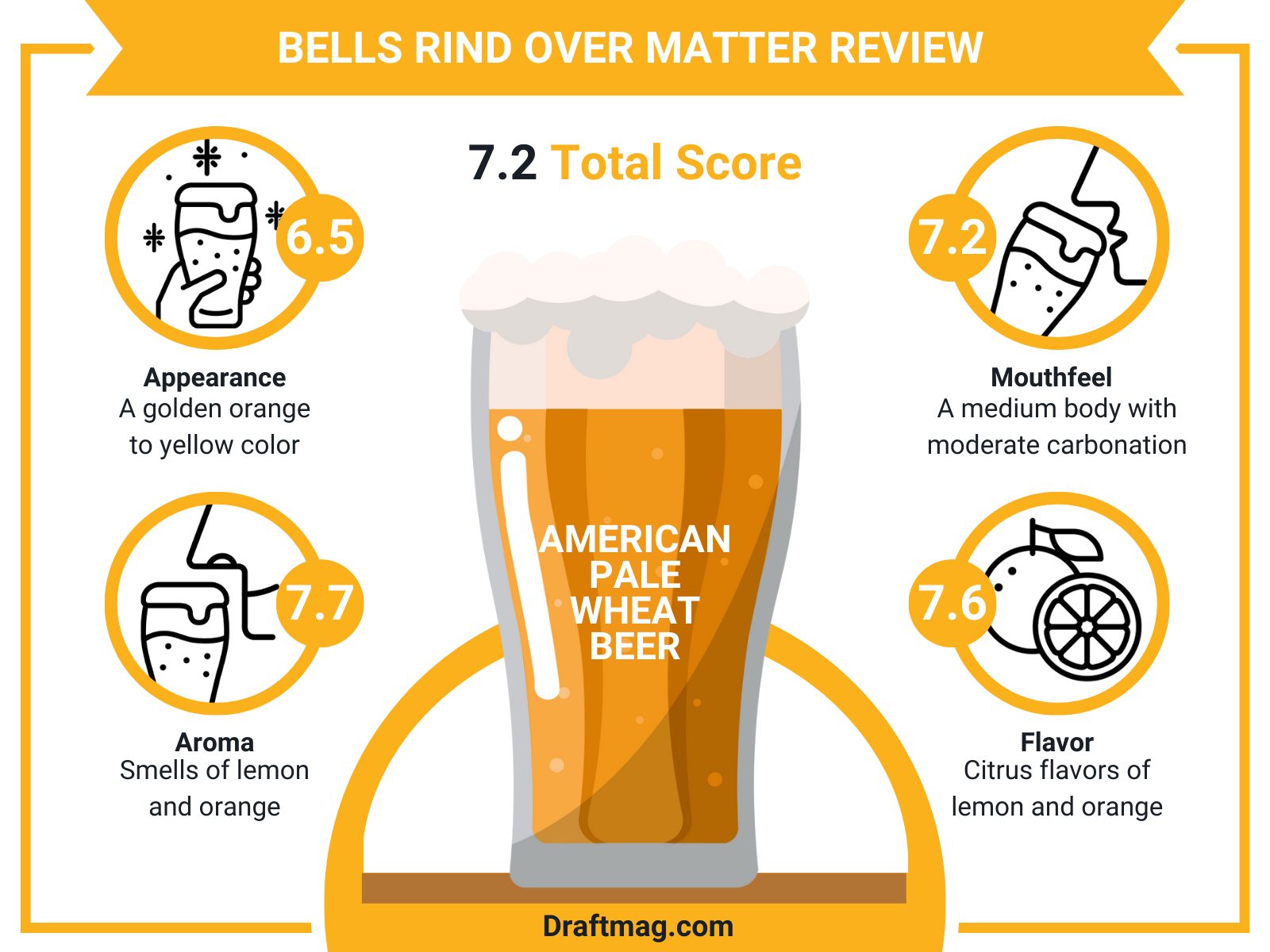 With real lemon and orange zest, the Rind Over Matter is a delicious and refreshing beer offering a light malt profile that allows all other flavors to shine. This review covers all you need to know about drinking this American pale wheat beer.
Bells Rind Over Matter Stats
| | |
| --- | --- |
| Country  | United States |
| Brand | Bell's Brewery |
| Style | American Pale Wheat Beer |
| Taste  | Wheat, citrus |
| Body | Medium to Medium-Light body |
| ABV | 5 percent |
| Flavors & Aromas | Zesty, citrus, herbal, wheat, grainy |
| Serving Temperature | 45-50 degrees Fahrenheit |
Tasting Notes
Bells Rind Over Matter Tasting Profile
Bells Rind Over Matter Review
Rind Over Matter is an American pale wheat beer made with real orange and lemon zest by Bell's Brewery in Michigan. The beer offers a bright, refreshing, and crushable character that sets it apart from other wheat beers. With the malts delegated to the background, most of the flavors are bright citrus giving you a smooth taste.
You can fully enjoy the Rind Over Matter when you pour it into a Weizen glass at temperatures between 45 and 50 degrees Fahrenheit. The beer has a 5 percent ABV but is easy to drink without distracting boozy flavors. You can garnish it with a citrus peel, preferably orange or lemon.
The Rind Over Matter beer is ideal for all beer lovers and is an all-season, refreshing beer. It's a fruity and flavorful wheat beer with strong aromas and flavors of lemon and orange, a lightly hazed appearance, and a medium-bodied mouthfeel.
– Appearance
The Rind Over Matter pours a golden orange to yellow color into your glass. It has a thin head of white foam that leaves no lacing on the inside of the glass. The beer has a cloudy, hazy appearance and the lacing will appear scattered on your glass.
– Aroma
The Rind Over Matter wheat beer smells of lemon and orange on the nose. The zesty citrus flavors dominate the aroma, with hints of wheat and lemongrass in the backbone. The beer does not have an overwhelming smell that will put you off but is mild and becomes stronger when you drink the beer.
– Mouthfeel
The Rind Over Matter has a medium body with moderate carbonation. The carbonation combines with the zesty character to give you a fizzy and tingly feeling on your tongue. The beer also tastes rather tart but is easy to drink. Overall, it has a refreshing mouthfeel.
– Flavor
The flavor of the Rind Over Matter beer starts with a strong taste of citrus upfront. The citrus flavors are lemon and orange. But it slowly subsides and becomes your standard wheat beer, with well-balanced flavors and a slightly herbal finish.
The wheat flavor tastes like toasted malts and balances well with the tartness of the lemon and orange peel. There is a hint of spice, but it is underplayed, focusing mostly on the wheat and the tart citrus.
There is also a hint of lemongrass and wafer in the flavor. The citrus recedes during the taste but is present in the aftertaste along with slight, grainy wheat.
Food Pairings
The Bells Rind Over Matter goes well with strongly flavored foods that match the strong citrus flavor. You can pair it with buffalo wings, spicy noodles, pastries, fruit tarts, lemon and orange, and salads. Raspberry tarts are also a good choice with beer or spicy curry.
The beer goes well with all citrus-flavored dishes, even when the flavor is in the salad dressing or dessert. Other pairings include sweet and fruity Asian dishes, vegetarian dishes, light soups and salads, and sushi.
As for the cheese pairing, you can have Rind Over Matter with Feta, goat, or Gruyere cheeses.
Ingredients
The highlight of Rind Over Matter is the citrus flavors. The beer was brewed with real lemon peels and orange zest, which allowed the citrus taste to shine. The other ingredients are water, wheat malt, hops, and house ale yeast.
The wheat malt is present in the flavor, although slightly, as it takes the back seat for the citrus. It also manifests itself in flavors of wafers and grains. The beer does not have a hoppy character as a wheat ale, so you can't expect strong flavors of hops except in the taste of lemongrass.
Although Bell's uses an in-house ale yeast, you can make a Rind Over Matter clone as a homebrewer.
Nutrition Facts
The Rind Over Matter beer has an alcohol by volume of 5 percent, which is pretty decent for a wheat ale. It does not have a boozy character or a strong taste of ethanol. The beer has 160 calories in every 12-ounce serving, so drinkers watching their dietary intake should consider this.
It also has 13.4 grams of carbs in every 12 ounces. The beer has 20 IBUs, and the original gravity is 1.048. Rind Over Matter is not ideal for those on a keto diet because of the carbs and is not gluten-free.
History
Rind Over Matter was released in 2021 by one of the largest breweries in Michigan, Bell's Brewery. The beer was added to the wheat beer series, including Bright White Ale, LoSun, and the famous Oberon Ale.
As a seasonal beer, you can only find it between August and September while supplies last. Bell's is known for excelling at wheat beers, and they decided to give their customers even more by making this refreshing, crushable wheat beer.
Conclusion
Rind Over Matter is a refreshing fruity ale ideal for any occasion where beer is needed. Here is a rundown of what we covered in this review:
Rind Over Matter is an American pale wheat beer with 5 percent ABV by Bell's Brewery.
It has flavors and aromas of orange, lemon, wheat malts, and lemongrass.
The beer is brewed with water, hops, wheat malts, house ale yeast, and real orange and lemon peels.
It is best enjoyed when poured in a Weizen glass with citrus garnishing.
The beer can be paired with spicy foods, fruit tarts, and citrus-flavored dishes.
You can look out for the Rind Over Matter beer when its season comes in Bell's Brewery, Michigan, or check out liquor stores near you.