Goose Island Next Coast Ipa Review: A Bright, American IPA
Known for its unique name and hoppy flavor, the Goose Island Next Coast IPA is a top-notch India Pale Ale. It blends the piney hop flavors with a bouquet of hops and still allows the malty goodness to shine through the ale.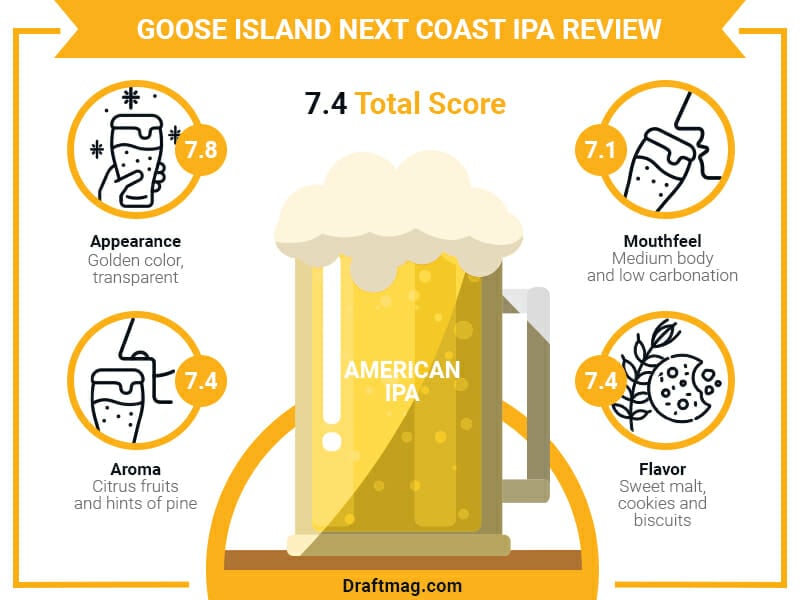 Brewed by the award-winning Goose Island, there's much to expect from the Next Coast IPA. If you're wondering whether this beer lives up to its hype, our review will cover all the details of the beer, and you can make your choice.
Goose Island Next Coast IPA Stats
| | |
| --- | --- |
| Country | United States |
| Brand | Goose Island Beer Co. |
| Style | American IPA |
| Taste | Bright, hoppy |
| Body | Medium body |
| ABV | 7 percent |
| Flavors & Aromas | Piney, tropical fruits, hoppy, citrus, malt notes |
| Serving Temperature | 45-50 degrees Fahrenheit |
Tasting Notes
Goose Island Next Coast Ipa Tasting Profile
Goose Island Next Coast IPA Review
The Next Coast IPA is an American-style IPA brewed by the popular Goose Island Brewery. Bursting with fruity and hoppy flavors, it is a great example of what an American IPA is supposed to be, especially with the tropical fruity flavors and aromas.
With flavors and aromas of citrus, pine, and tropical fruits, you won't forget you're drinking a beer, as the malty backbone is very much present in the beer's character. You can serve this beer in a snifter, chalice, or goblet at 50 degrees Fahrenheit.
The Next Coast beer is the ideal choice for hop heads and anyone who wants an above-average beer to keep them company.
– Appearance
The Next Coast IPA pours completely clear into the glass with a golden color. Its transparent appearance combines a large, foamy white head and good retention.
With its long-lasting head, you get thick lacing against your glass. The transparency makes it easy to see the carbonation bubbles floating to the top of the cup.
– Aroma
When you bring the Next Coast IPA to your nose, you will notice the strong aromas of citrus fruits and hints of pine behind it. The hoppy aroma is balanced with the malt notes, with a slight smell of tropical fruits acting as a backbone. The scent is bitter and dank, with minor notes of pineapple and toffee.
– Mouthfeel
The Next Coast beer has a medium body and low carbonation, so you don't get the bubbly feeling in your mouth. Despite the 7 percent ABV, it's highly sessionable and fills your mouth. The carbonation adds depth to the beer, but it tastes lighter than expected from the strong aroma.
– Flavor
As for the taste, the Next Coast brew has a clean flavor. Upfront, you get a taste of sweet malt, which is presented with drinkable flavors of cookies and biscuits. This gives way to the hoppy flavors, offering themselves in dry pine, resin, spiciness, and floral.
Towards the end, you start tasting the strong fruit flavors with a blend of passionfruit, pineapple, oranges, and tropical fruits. It ends with a lingering taste of semisweet grapefruit and bitterness in the finish.
– Food Pairings
You can get the most out of the Next Coast beer with the right food pairing. As a bitter and strong IPA, the beer goes well with strongly flavored food, like grilled chicken, meat, pork, duck, or fish, with thick or spicy barbecue sauce. It can also be paired with roasted, braised, and fried foods.
Those with a sweet tooth can pair the Next Coast with fruit-forward desserts like lemon tarts, chocolate cake, strawberry shortcakes, and dark chocolate truffles. It also goes well with sharp cheeses like cheddar or stinky cheeses. If you're in the mood for something simple, pair the hazy IPA with the typical burger, tacos, or pizza.
Ingredients
The Goose Island Next Coast beer was brewed with Eureka, Nugget, Mosaic, Denali, and Citra hops, which gives it its balanced bitterness and fruity flavors. As a hoppy IPA, this blend of hops is the most important.
Aside from the hops, it is also made with barley malt and malted wheat in the malt list, which adds flavors of malt, biscuits, cookies, and sweetness. Although hops are the main ingredient, malt and wheat are still evident in their flavor and aroma.
The beer is not ideal for those allergic to wheat or malts. The other ingredients include water and yeast.
Nutrition Facts
The Next Coast IPA features a 7 percent ABV but is known to be sessionable for its high alcohol content. It also has 40 IBUs, measuring the bitterness from the hops. Compared to other hoppy IPAs, Next Coast is not too bitter.
The beer has 25 grams of carbs in a 12-ounce can, making it inadvisable for those on keto or any other diet. It also has 15 mg of sodium and 3 grams of protein. The Next Coast beer is not ideal for those on a gluten-free diet due to the malt list.
History
Next Coast is an American IPA brewed by Goose Island Beer Company. The brewery was founded in Chicago in 1988 and is currently one of the most successful craft breweries in the Midwest. The brewery is known for its award-winning beers from the World Beer Cup, World Beer Championship, World Expo of Beer, and the Great American Beer Festival.
The Next Coast IPA is one of the top beers from the brewery. Although you might not get it on draft, you can purchase it at the brewery restaurant or other locations in Chicago.
Conclusion
The Goose Island Next Coast IPA will appeal to you if you're a hop head. But even if you don't enjoy hops, don't hesitate to try out this beer for its sessionable flavor and fruity character. Look below for a recap of this article:
Next Coast IPA is a popular American IPA brewed by the Chicago-based Goose Island Brewery.
The beer is bursting with aromas and flavors of citrus, hoppy bitterness, malty sweetness, crackers, and tropical fruits.
It is brewed with five hops, malted wheat, barley malts, yeast, and water and can be cloned by homebrewers.
It tastes best when cold and served in a goblet or chalice, with a wedge of orange or lime.
The beer goes well with food, including barbecue, fruity desserts, sharp cheeses, and fruits.
If you want to try the Next Coast IPA, you can visit a liquor store online or in person to purchase the can, and whenever you're in Chicago, visit the brewery to get the beer right from the source.