Best Belgian White Beer: Dive Into the Top White Ales From Belgium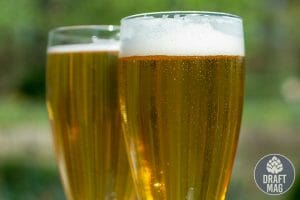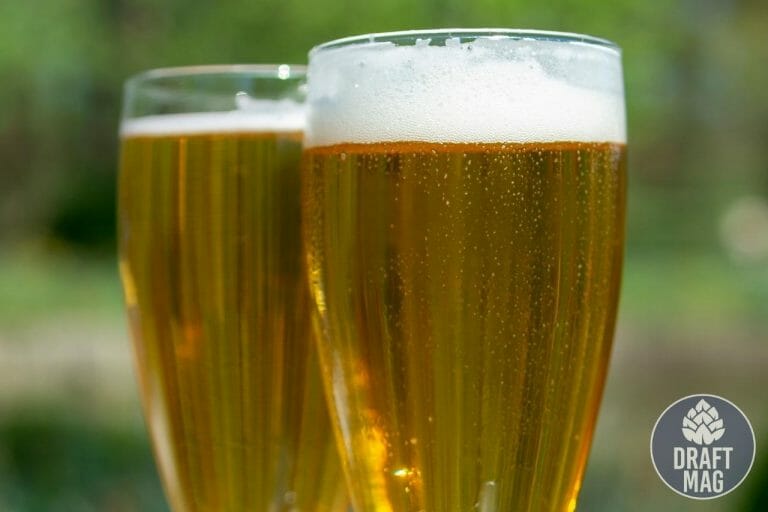 If you're looking for the best Belgian white beer, you won't have to look far.
In this complete guide, we have compiled a list of the best Belgian-style white beers for all beer enthusiasts to enjoy.
From their refreshing taste to their medium alcohol strength, it is easy for any beer enthusiast to fall in love with this brew as long as it's made right. Check out this complete guide for the top Belgian white ales and how best to enjoy these beers.
Best Belgian White Beers
Here are the top Belgian white beers for those who want to try out these brews.
Side Project Biere Blanche
The first beer we are reviewing is the Side Project Biere Blanche, an authentic Belgium beer from the aroma to the taste. As one of the most popular Belgian white beers, the brew is made with a wheat base, orange peels and coriander.
It is also aged in Chardonnay barrels, which adds a ripe citrus acidity to the low bitterness and soft mouthfeel. After being aged for several months, it is naturally conditioned in a bottle. The alcohol content is 5 percent.
Hitachino White Ale
Although this is a Belgian white beer, it is made in Japan and promises a unique experience. The hazy yellow color is obtained from the wheat used to brew the beer, and it offers the expected flavors of coriander and orange.
This is combined with subtle hints of nutmeg in the flavor and aroma and some floral herbs on the nose. The delicious beer finishes dry with medium carbonation and offers an alcoholic content of 5.5 percent.
Blanche De Bruxelles
Another recommended Belgian white beer is the Blanche De Bruxelles with 4.5 percent alcohol. This beer was brewed by farm brewers who want to show off the new wheat harvest, so you can expect top-quality beer from freshly harvested crops.
While 40 percent of the beer is made with wheat, the other tasting notes are of bread, orange peel and coriander. Since the grain is not filtered, it has a cloudy appearance that shows its large amount of wheat.
Western Head Back Beat Witbier
Next on our list is the Western Head Black Beat Witbier, well-known for its hoppy flavor. The hops are well balanced and give off coriander and citrus orange hints to give you a delicious beer.
The hazy brew is highly refreshing and thirst-quenching and offers a smooth mouthfeel. It also has strong head retention with a thick white head, which enhances the brew's aroma with each sip. The alcohol by volume is 5 percent, and it looks excellent in a Weizen or tumbler glass.
Indie Alehouse Sunkicked
Made by Indie Alehouse Brewing Co, the Sunkicked beer is pretty unique. It's an imperial Witbier made with wheat and blood oranges, and it's a pretty potent brew. The ABV is 7.5 percent.
After brewing the beer, half of it is aged in a barrel that once held Cognac, while the other half is aged in a Tequila barrel. Then it is blended together, giving you complex flavors and aromas. It might also taste a bit tart, and its light gold color looks great in a Weizen glass.
Ten Ninety Imperial Witbier
If you're looking for a Belgian white beer that packs a more potent punch, you will do well with the Ten Ninety Imperial Witbier. The beer has 10.1 percent of alcohol, is ideal for when you want to party, and goes well with cheese and light seafood. Made with a high carbonation of barley and wheat, it features a pale and cloudy appearance.
The Imperial Witbier is quite similar to table wine as a highly versatile beer. You can also expect hints of coriander and orange peel encased in a light body. It has an acidic and dry finish, with a lingering tart-like aftertaste.
Anchorage Whiteout Wit Bier
Anchorage Whiteout Wit Bier is another top Belgian white beer on our list, featuring a 6.5 percent ABV and 20 bitterness units. The aroma and flavor combine its subtle bitterness with coriander, lemon peel and black peppercorns.
This beer sets itself apart from traditional Belgian ales as it is aged in barrels that previously held French Oak Chardonnay. The three-fermentation process gives it a complex character: first with Belgian yeast, second in the chardonnay barrels, and finally in the bottle for natural carbonation.
Pipeworks Better a Witty Fool Than a Foolish Wit
Last on our list is this unique Belgian white beer with an artisanal name. The beer is made with unripe mangoes, which distinguishes it from other Belgian white brews.
You can also taste hints of exotic spices and citrus, offering you a slight sting from all the tarty flavors. Enjoyed best in a Weizen glass, it provides 7 percent alcohol in each bottle.
What Is Belgian White Beer?
Belgian white beer is an ale with a straw to light gold appearance and a wheat-based character. It is also called Witbier or Biere Blanche, widely known as a popular brew for summer days. These beers usually have a subtle honey undertone and high levels of carbonation.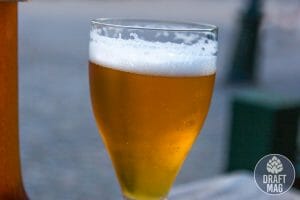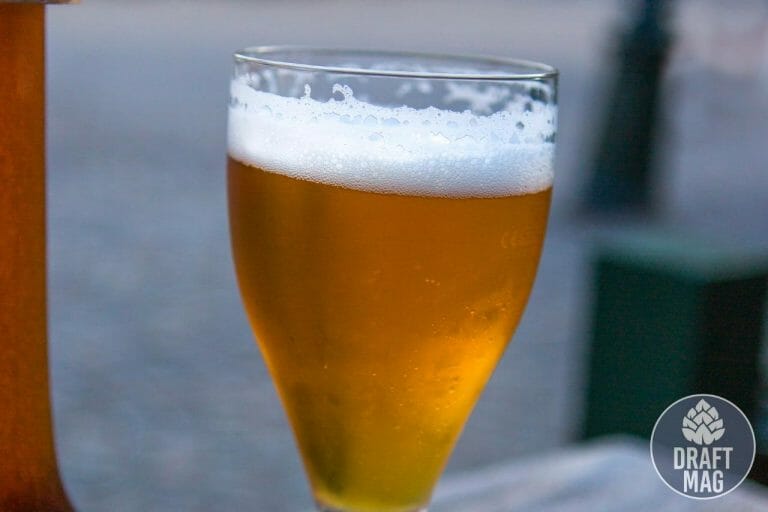 Since the Belgian white beer can be classified as an ale, it is made with a top-fermenting process at a higher temperature than you'd expect for lagers. If you're wondering why it's called a white beer even with its golden appearance, this is due to the suspension of wheat and yeast particles in the final brew, making it look pale.
History
The beer has a long history as it was first brewed in monasteries before breweries were revitalized in the 19th century in Belgium. It has become widely popular in Europe and around the world because of its unique character.
The Witbier was a staple beer in Belgium in the 14th century, although the first versions were made without using hops in the brew. Instead, the brewers used "gruut," a spice blend, to add flavor to the ale. Belgian white beers also historically used barley and wheat equally in the brews.
Belgian White Beer Style Profile
Before buying or making any Belgian white beer, it helps to know the style profile that you should expect. This way, you will already know the aroma and flavor the beer offers with each sip.
– Appearance
The color of this beer can range from pale straw to yellow-gold, depending on the one you purchase. They are also cloudy and hazy because they aren't filtered, although they sometimes look milky. Sitting on the beer is a dense and creamy head with fantastic retention.
– Aroma
When you open a bottle of Belgian white ale, you can expect an aroma of malt, graininess and some tartness. There will also be a whiff of honey, or in some cases, vanilla, combined with coriander. Some other hints include pepper, spice and herbs, but they don't overshadow the prominent scent of the ale.
In some cases, the beer might have fruity hints of orange and citrus, all balanced with spicy, sweet and floral scents. If you taste any vegetal characteristics in your beer, chances are it's gone wrong.
– Mouthfeel
The Witbier has a creamy and smooth mouthfeel on the palate, caused by the unmalted wheat used to brew the beer. The beer features a light to medium body with high carbonation that builds up nicely. There is also a wave of bitterness that makes the beer more refreshing, and it finishes dry.
– Flavor
The flavor follows the nose on a Belgian white beer, offering malty sweetness, fruity tastes from orange and citrus, and subtle hints of honey and vanilla. The beer might have a mix of herbal spiciness, especially coriander. Although this is a pale ale, the hoppiness is low, with spicy and earthy notes.
However, none of these tasting notes overshadow the prominent flavor of the beer, which is the malt, fruit and honey. There is also some subtle bitterness in the taste.
Food Pairing With Belgian White Brews
The best time to have a Witbier is at lunch, so keep the low ABV options and the higher alcohol brews for after dinner. The Belgian white ale goes well with all kinds of salads, regardless of the topping or dressing. You can also enjoy this beer with different types of seafood like lobster, smoked salmon, fish and sushi.
If you're having a quick lunch to get rid of hunger, you can enjoy this beer with eggs, bacon, cheese and ham. It also goes very well with cuisines featuring citrus flavors in their marinades, sauces and desserts.
Remember that you shouldn't have this beer with dishes that are too hot because of its shallow taste.
How Best To Serve Belgian White Beer
If you have a Belgian style white ale, it's best served in a tulip, tumbler or Weizen glass. The best serving temperature for this beer is between 40 and 45 degrees Fahrenheit.
If you have a lot of Belgian white beers at home, you should store them in a cool, dry place and at cellar temperatures. It is best consumed within three to six months, or it would lose a lot of its flavor and develop more vegetal notes.
Final Thoughts: Top Belgian White Ales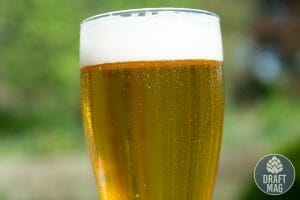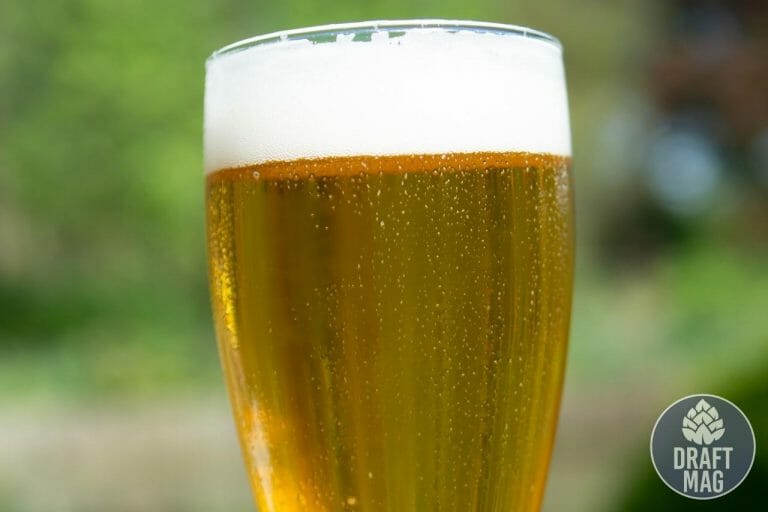 You can check out our top Belgian white beers list and follow the guide to enjoy the experience fully.
The best Belgian white beer on our list is the Side Project Biere Blanche.
Belgian white beer is an ale with a light gold color, loads of wheat, and usually hints of coriander and orange.
It is also called Belgian white ale, Witbier or Biere Blanche.
The beer has a straw to gold appearance, with malty and wheat-like sweetness. It also features fruity tastes from orange and citrus and subtle hints of honey or vanilla on the nose or palate.
It features a creamy and smooth mouthfeel.
The beer goes perfectly well with food for lunch like salads, citrus cuisines, hams, cheese, bacon and eggs.
It is best served in a tulip or Weizen glass at up to 45 degrees Fahrenheit.
You should consume your Belgian white beer within six months of storing it or it will lose its original flavor.
With our complete guide, you can fully enjoy the experience offered by Belgian white beers. Check out our recommended options today and get drinking!