Spindletap Brewery Review: A Look at Houston's Popular Brewing Company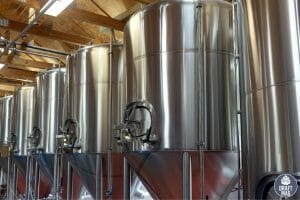 If you're looking for a complete SpindleTap Brewery review, you're probably planning a beer tour in Houston. Although the brewery is pretty new to the beer scene, it has made some impressive waves and was recently voted one of the top-rated breweries in Texas.
There's a lot to expect when you visit SpindleTap in Texas, from their wide range of beers to their parties, events, and even a play space!
Let's take a closer look at the brewing company in this complete and in-depth guide.
Overview
Address
10622 Hirsch Rd, Houston, TX 77016
Hours

Monday: Closed
Tuesday & Wednesday: 4 pm to 9 pm
Thursday – Saturday: 11 am to 10 pm
Sunday: 11 am to 7 pm
Beer To-Go:
Monday-Friday: 9 am to 4 pm
Saturday: 11 am to 10 pm
Sunday: 12 pm to 7 pm

Tours
Saturdays at 12:30 pm, reservations are required
Most Popular Beers
Houston Haze, Honey Hole, Boomtown Blonde
Prices

Pint glass + 3 beer tokens: $15
Pints: $5-$6
6.4oz flights: $10
Keg prices: vary +$100 deposit

Growlers
$10 + different prices for beer
Food
Food trucks are available on weekends and at events. The kitchen is open during the weekends
Kids/Pets
Kids and pets are allowed and well-accommodated
AC
More than enough AC with indoor and outdoor seating
Parking
Free parking, with an average-sized lot
Bathrooms
Clean and well maintained
Beers and Food at SpindleTap Brewery
SpindleTap is well-known for its delicious beers like the Houston Haze or the Honey Hole ESB. There is no specific menu for the taproom because the brewpub is constantly releasing new beers, but there are some fixed names that all their fans are aware of.
If you are visiting Houston for their beer, it's best to check the tap list online in advance. This way, you know what to expect from the menu.
– Year-Round
Here are the beers available at SpindleTap every day of the year.
Houston Haze IPA: 7 percent ABV
Heavy Hands: 8 percent ABV
Hop Gusher IPA: 6.5 percent ABV
Calavera Lager: 4.8 percent ABV
Black Gold Imperial Coffee Stout: 11 percent ABV
Aceite Crudo Russian Imperial Stout: 11 percent ABV
Frost Bite Cryo-Hopped IPA: 7 percent ABV
– Limited Releases
The beers below were made in the past year by the brewers and are often released for a short amount of time.
Haymaker Triple IPA: 10 percent ABV
Spruced Up DIPA: 9 percent ABV
Hirsch Road Hop Heads: 9 percent ABV
Switch Foot DIPA: 9 percent ABV
Juiceton Double IPA: 8 percent ABV
Bull Rush DIPA: 8 percent ABV
Hops Drop IPA: 6.5 percent ABV
Stratospheric Clouds Double IPA: 8 percent ABV
Figure Four DIPA: 8 percent ABV
Diamonds in My Mouth: 8 percent ABV
Black is Beautiful
Draped Up IPA: 6.5 percent ABV
Sticky Fingers DIPA: 8 percent ABV
High Knees DIPA: 8 percent ABV
Choke Slam DIPA: 8 percent ABV
The Stunner: 8 percent ABV
– Houston Haze Makes Waves
One of the most popular beers from SpindleTap is the Houston Haze, an IPA with 7 percent of alcohol. Upon its release in the taproom, the beer was trendy among customers and was praised for setting the local standards for IPA.
Houston Haze is a double-hopped beer featuring Galaxy and Citra, known for their vibrant fruit flavors. Aside from the fruity character, the beer features a smooth, full-bodied, and creamy mouthfeel that anyone will enjoy drinking.
The IPA will linger on your tongue for a bit, too, causing you to crave another glass.
– Food
SpindleTap Brewery added food to its menu so that customers can easily enjoy meals with their top brews. Some meals include burgers, wood-fired pizzas, steaks, and more.
Every day, the brewery makes wood-fired artisan pizzas that go with the flavors of their beers. You can also visit on Tuesdays for tacos or Wednesdays for steaks. Depending on the day you visit, the menu will offer diverse meals with beer.
Although SpindleTap has an in-house kitchen, the brewery also partners with other food trucks in the area to offer food. If you stay updated with their social media pages, you can check which food trucks will be around and plan your visit around that.
A great thing about eating at SpindleTap is that the brewers recommend beers that go with the food you ordered. This allows you to enhance your experience with the beer and try out new things.
Best SpindleTap Brews
Although the Houston Haze made a big impact in Houston and played a big role in the popularity of SpindleTap, the brewery has some fantastic beers that every visitor should check out. If you're unsure what to get when you visit SpindleTap, here are some of their best beers.
– Honey Hole ESB
Honey Hole ESB is what SpindleTap is known for, as the beer left drinkers worldwide impressed. The ESB stands for Extra Special/Strong Bitter so that you can expect a hop-forward and bitter brew. Even if you've never had an ESB before, starting with something popular is never a bad idea.
The beer makes a fantastic summer drink, although the ABV is a bit higher, and although it's meant to be an ESB, it is a little too sweet, so be prepared for that surprise. It features a gold-bronze color with a small, off-white foam that disappears quickly.
The Honey Hole ESB gives a mix of butterscotch and butter pecan ice cream on the nose. You can also expect hints of caramel, bread malt, and peach. The taste follows the aromas, combined with bread malt, sweet bread, and an earthy hop note.
The mouthfeel is creamy with a lot of carbonation that lets it go down nicely. The beer tastes like there is honey in it, but there is still some hoppy bitterness enveloping the taste.
– Hop Gusher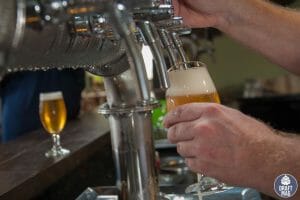 Another popular beer from SpindleTap is the Hop Gusher, an American IPA. The West Coast IPA became very famous for being a refreshing, thirst-quenching beer that makes it ideal for all situations. It is heavy on the tropical notes too.
When poured into a glass, the beer has a clear golden color, with a puffy white head that leaves lacing at the sides of the glass as it goes down. It has excellent head retention, which enhances the aromas of orange, grapefruit, and tropical fruit. The scent smells sweet and similar to herbal hops.
The taste is no surprise since it's similar to the aroma, giving you a herbal hop flavor with a foundation of cracker malt. There is a hint of orange and caramel sweetness that you'd notice throughout the flavor. It leaves a dank and herbal taste on your palate after swallowing. As for the mouthfeel, the beer is light and crisp, with an average carbonation level.
– Heavy Hands
SpindleTap is known for its IPAs, and Heavy Hands is one of the top choices. The New England IPA with 8 percent ABV is a great brew to try if you visit the brewery. It's a must-have for hop lovers.
The beer has a mellow and milky appearance, colored lemon yellow, with a small chalk frothy foam head. The head has high retention and leaves a lot of lacing against the glass. As for the aroma, you are greeted with a dank and sweet smell of tropical and earthy hops.
You can expect a thick malt base enveloped by mango and pineapple flavors when you taste the Heavy Hands beer. The lemon shines through the flavor. The beer has a thick body with low to average carbonation. It also has a dry finish with a hoppy bitterness in the aftertaste.
– 5% Tint
Although you might not get the 5% Tint when you visit SpindleTap today, this is one of the best beers to have graced their taps. The hazy beer was popularized as the only one that works for all drinkers, even those that don't enjoy hazy IPAs.
The sessionable beer features a tropical flavor and aroma, with strong notes of mango and orange. The tropical taste fades quickly as the beer is sharp and crisp, ideal for those who don't enjoy a lingering aftertaste in their brew. Although the citrusy flavor hides the taste of the pale malt, the beer gives you a mild and hoppy flavor.
In terms of the texture, the 5% Tint beer has a smooth and wet mouthfeel, with a medium-bodied feeling. It is refreshing and well-carbonated, but it does not take or remove the flavor.
– Juiceton
Another popular beer offered by SpindleTap is Juiceton, a delicious New England IPA. It is a juicy and thick hoppy IPA and is named one of the best beers you can have in Houston.
The beer pours a hazy milky and yellow color into your glass with a fluffy white head. The head has low retention and leaves minor, patchy lacing against your cup, and the beer has a damp and dank aroma, with peachy, grassy, sweet, and floral hints.
The clean aroma is followed by a clean taste, with many fruity flavors like peach, berry, apricot, and tangerine. There is also an evergreen hop feeling that follows through until the end. As for the mouthfeel, it has a medium-thick body and high carbonation, with a dry finish followed by a bitter hop aftertaste. It's a fantastic choice for those interested in just hops, even when it is overshadowing the malty flavor.
Customer Experiences
SpindleTap is a famous brewery not only because of the delicious and unique beers but also because of the customer service. The brewing establishment does not only offer a taproom and Spindlepark but also welcomes parties and events and sells all kinds of bird-related merch.
– Taproom
SpindleTap features a homely and fun taproom, usually packed with beer lovers looking for a delicious IPA. The company designed the bar to look like a modern restaurant, and it's spacious enough to allow everyone to enjoy their beers and meals.
The taproom has fantastic customer service when you visit, as the brewers and servers are always ready to help you out with a smile. You can also bring your kids and give them child-friendly food.
You can purchase beers and flights from SpindleTap and look out for the guest taps when at the taproom. You can enjoy some cans while drinking in-house, and customers are allowed to buy beers to-go. Aside from beers, you can also get seltzers, wine, cold brew coffee, and RTDs at the taproom. Coffee made by SpindleTap Coffee Co. are also offered, making it a well-rounded bar and fun place.
– Spindlepark
SpindleTap is well-known for Spindlepark, an outdoor entertainment complex open to beer lovers and their friends and family. The entertainment area added 3.5 acres of space to the existing taproom, and visitors are allowed to play all kinds of games. The bar and Spindlepark are open every day and provide a family-friendly environment.
One of the brewery highlights is the SpindlePutt, a 9-hole golf course that allows you to connect with other beer lovers that enjoy golf. It is also free on Thursdays, so you can plan your visit around that.
Aside from golf, the Spindlepark gives visitors access to baseball, basketball, lacrosse, corn hole, kickball, soccer, volleyball, and disc golf. The playing areas are professionally set up, and you can even watch youth leagues play.
– Parties and Events
The SpindleTap Brewery also provides its customers with rental spaces for parties and events. The taproom is open for rent for company events, charity events, birthday parties, wedding receptions, etc.
The brewers provide a fun atmosphere, and you can enjoy drinking delicious craft beer while having your event. They don't only offer indoor space but wide stretches of outdoor areas depending on what you are looking for.
You can go for semi-private or private party plans. Their brewers can also be invited to off-site locations to serve beer, so you can have SpindleTap brews at any event.
– Shopping at SpindleTap Brewery
The brewery also comes with an online store to purchase beers, bundles, and other merchandise. The shop is connected to their official website and gives beer lovers access to the best gifts they can provide other beer enthusiasts.
– SpindleTap Coffee
The brewery recently expanded its company in 2019 and founded SpindleTap Coffee. The coffee company donates 50 percent of all the profits to philanthropic causes in Houston. They also contribute to coffee farmers worldwide and help them improve their business.
History
SpindleTap was founded in 2014 by co-founders Brody Chapman, Shaun Ebersole, Adam Wright, Cameron Banks, and David Miller. They all worked together in a logistics company and had plans to create a small and fun place where they could entertain customers.
So they founded SpindleTap, which gets its name from Spindletop, a gas boomtown located in the southern part of Beaumont. Spindletop was the beginning of the oil boom in Texas, and this gave them the inspiration to start SpindleTap. Cameron Banks coined the name of the company and the beers.
But as time went on, the craft brew company became very popular in Texas, and its small goals became very lofty ones. The brewers have shared stories about their challenges when starting and how they would have started distributing earlier if not for legal hurdles.
SpindleTap is known for its focus on combining art with science in the beermaking process. Now, the brewing establishment has a taproom and a play space for its customers to enjoy brews and have fun. It is also named one of the top brewing companies in Texas and one of the fastest-growing businesses.
– Crazy Brew Day Story From SpindleTap Houston
The brewers at SpindleTap started their company with a crazy brew day. In September 2015, they made a double batch and brewed it for 28 hours on the first day. Although the results were good and none of the beers were wasted, they learned a lot from the process and could successfully reduce the time to 18 hours.
The Future
SpindleTap has had significant success in its past years, and it is expected that it will continue to expand. The brewery focuses on keeping up with their constantly increasing demand while playing with different recipes and flavors.
The brewery has won multiple awards, including Craft Beer Marketing Awards, and was recently voted as one of the top-rated breweries in Texas. With all of these awards, many people who visit Houston or Texas for beer usually check out SpindleTap.
Conclusion
SpindleTap is one of the most popular breweries in Houston, offering an impressive brewing experience for all those who like beers. Known for its hoppy expertise, the company is a great place to check out during your beer tour.
SpindleTap was founded in 2014 and released its beers in 2015.
Some popular beers include Houston Haze, Honey Hole ESB, and Hop Gusher.
The brewery has a fun taproom and play area for all people, kids, and adults.
The company also founded SpindleTap Coffee to expand the business.
SpindleTap specializes in ales, but they also provide delicious lagers.
If you're ever in Houston for beer, you can check out SpindleTap for an impressive experience. The brewery is open during the week and on weekends, and you can take your kids and pets to the brewery.