Spaten Optimator Review: A Sweet and Creamy Doppelbock for Everyone
Spaten Optimator is a creamy and sweet beer for anyone looking for a classic German doppelbock. The bottom-fermented dark beer offers a rich roasted malt flavor and pours a deep dark color that looks great in your glass.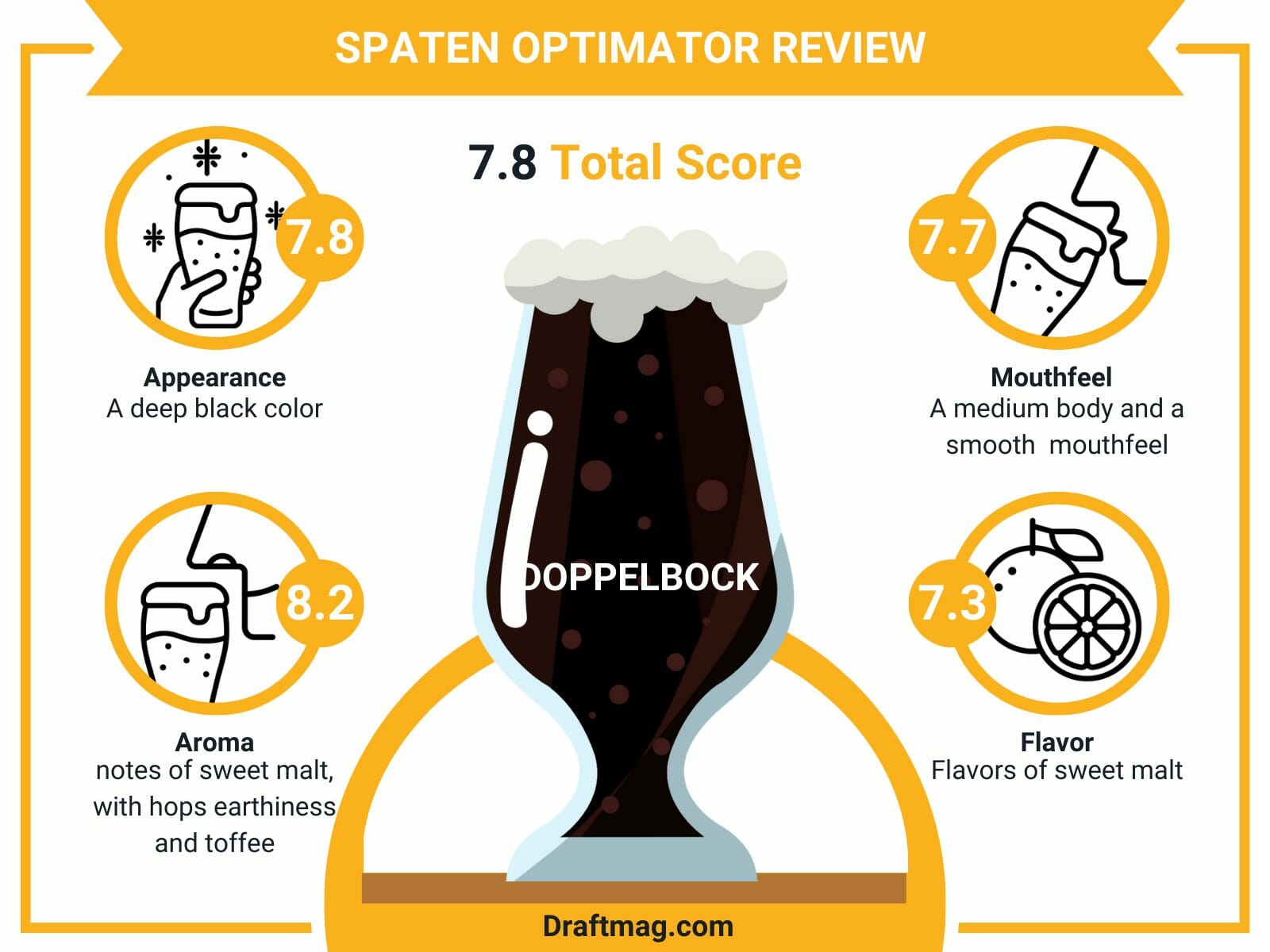 Whether you have it with some fruity desserts or fatty pork, the Optimator beer delivers and remains a favorite among many beer lovers. Our review covers all you need to know about the Optimator, including its tasting notes and food pairings.
Spaten Optimator Stats
| | |
| --- | --- |
| Country  | Germany |
| Brand | Spaten-Franziskaner-Brau |
| Style | Doppelbock |
| Taste  | Balanced, malty |
| Body | Medium body |
| ABV | 7.6 percent |
| Flavors & Aromas | Malty, dark fruit, bready, toffee |
| Serving Temperature | 50 – 55 degrees Fahrenheit |
Tasting Notes
Spaten Optimator Tasting Profile
Spaten Optimator Review
Optimator is a German doppelbock made by Spaten-Franziskaner-Brau with a 7.6 percent alcohol content. The beer is characterized by its deep dark color, with aromas and flavors of sweet malts, dark fruits, and toffee and hints of hops and bread. It is medium-bodied and known for feeling creamy and smooth against the palate.
Pour the Optimator into your pint glass with temperatures from 50 to 55 degrees Fahrenheit for the best results. You can also pour the beer into a stein or pub mug. It pairs well with fruity desserts and pork and might surprise you with its taste that is sweeter than most doppelbocks. The Optimator can be garnished with fruits.
If you're looking for a warm winter beer with a clean taste, the Optimator is an ideal choice.
– Appearance
The Optimator pours a deep dark color into your glass, resembling dark amber or chestnut brown with a two-finger-high tan head sitting on top of it.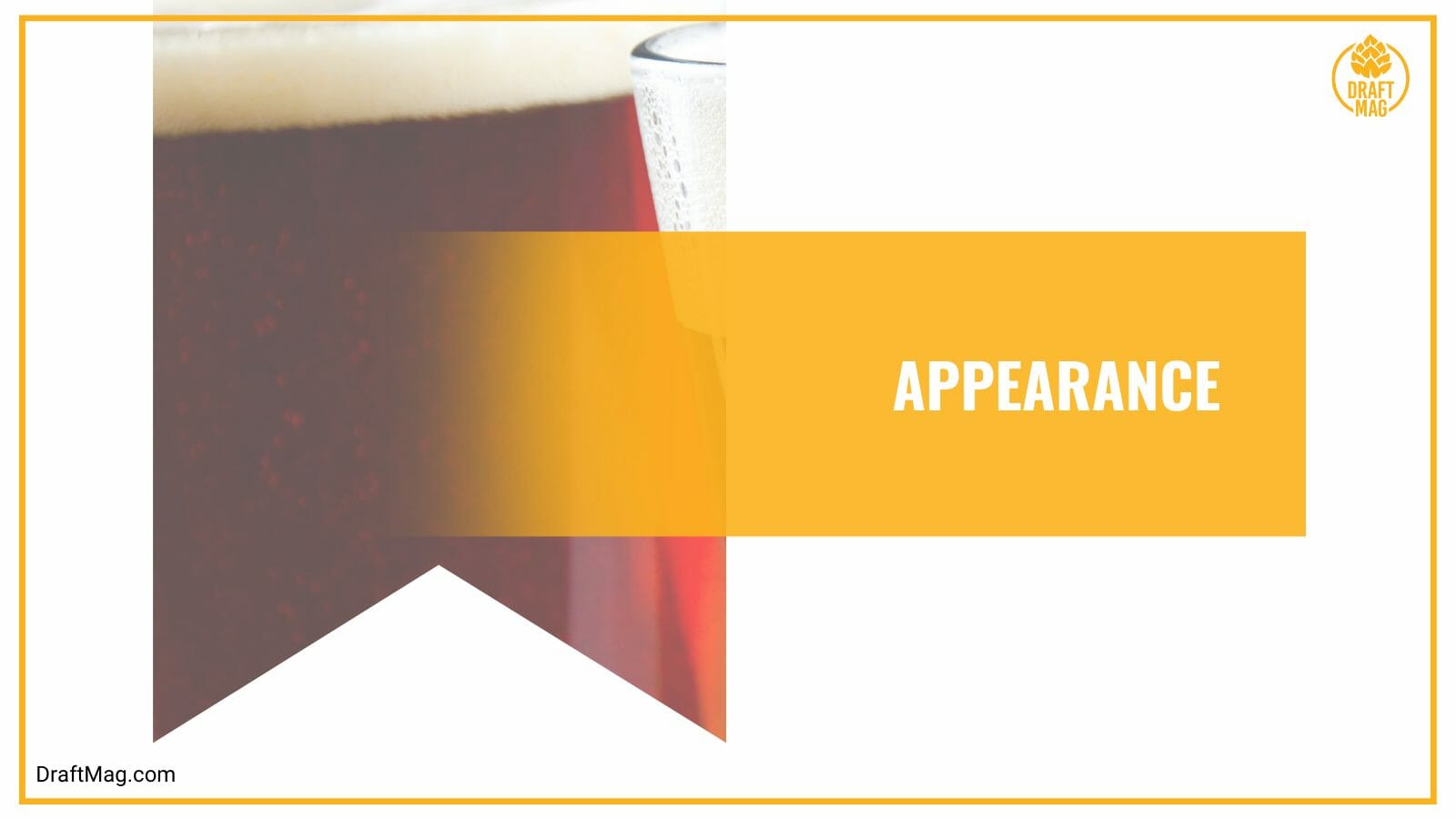 The head has moderate retention and quickly dissipates into a thin cap and barely any lacing. It has weak carbonation, with some bubbles when you pour it.
– Aroma
On the nose, the Optimator doppelbock is subtle and gentle, making room for the sweet and flavorful taste. There are mostly notes of sweet malt in the smell, and you will also notice some hops, earthiness, and toffee. It pulls you in with an alluring nuttiness.
– Mouthfeel
The Optimator has a medium body and a slightly thick mouthfeel that slides against your palate easily. Despite this, the decent carbonation makes it a bit lighter. The craft beer is slightly creamy and luscious, with a bit of clarity accompanying the smooth mouthfeel. In general, it is very rich and full on your palate.
– Flavor
When you taste the Optimator, you mostly get flavors of sweet malt. The flavor later moves on to offer hops and slight breadiness before the hops return towards the end. There is hoppy bitterness in the finish, along with subtle alcohol warming.
The beer's flavor offers layers of caramel notes over the sweet malt and hops and a bit of clarity embedded in the taste. There are hints of dried fruits, roasted toffee, and a juicy flavor that complements the creaminess of the beer. The alcohol notes are not unpleasant but sweet, coupled with the taste of brown bread.
– Food Pairings
If you're having the Spaten Optimator bock, you should consider meaty, rich, and assertive foods. Try out gamey meats like boar, goose, venison, or duck served with a fruity sauce. This beer will also pair well with roast pork with potatoes. Any roasted, smoked, and braised meats and toasted foods will be perfect with the beer.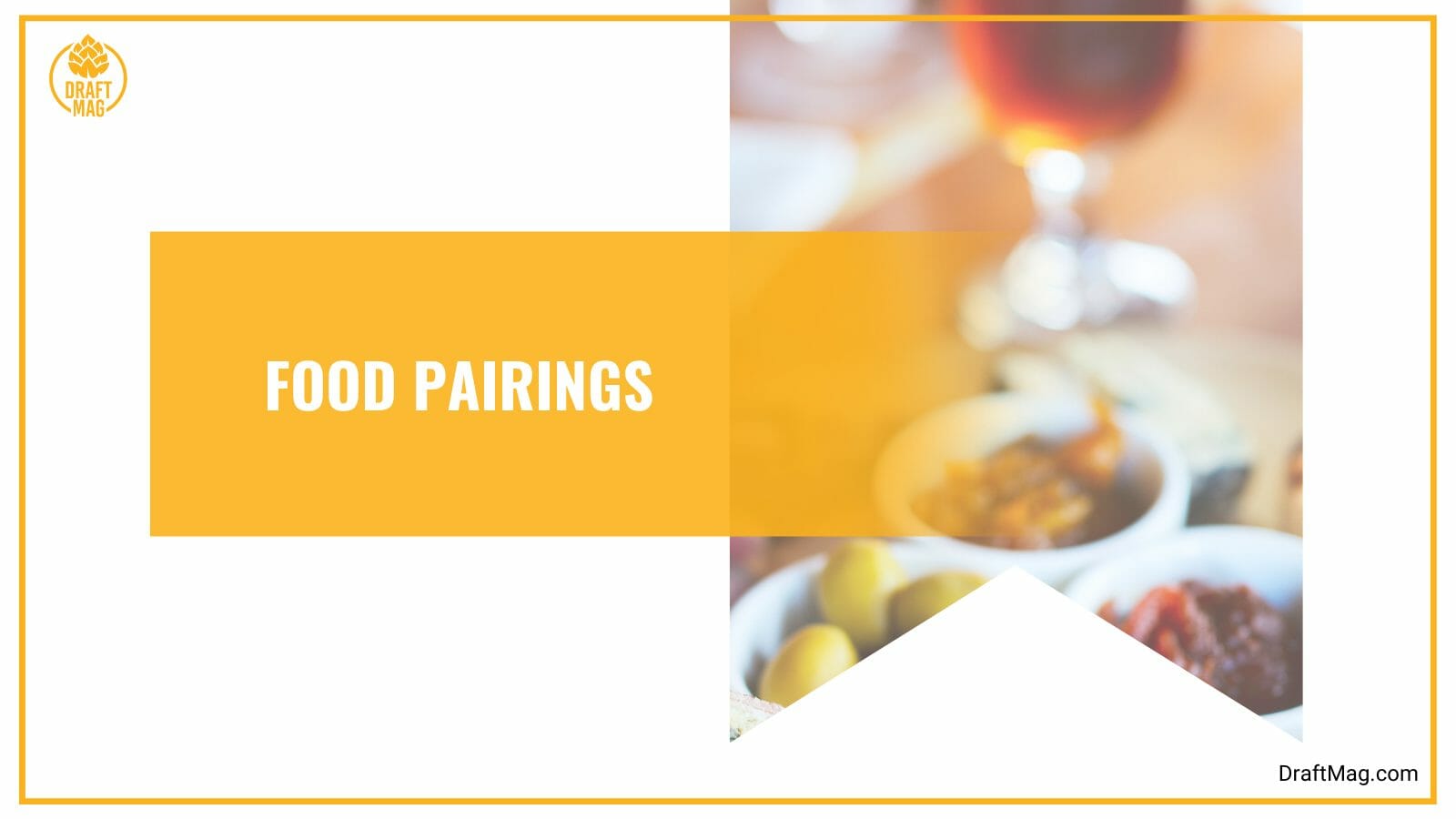 Lean towards foods that have substance and lingering tastes like grilled and meaty foods or saltier meats like ham. You can also have a burger with thick-cut smoked bacon or bready foods like pizza with a thick crust and heavy, meaty toppings.
You can also have the Optimator with Mexican dishes because of the earthiness of the dishes and spicy curry. As for cheese, go for any aged cheeses; match the creaminess with Swiss cheese or try a prosciutto platter. The ideal dessert for the beer will be anything with chocolate or custard.
Ingredients
Spaten beers are made based on the German purity law called Reinhestgebot, giving them a classic, clean, and authentic taste. The Optimator is one of these, and although the exact ingredients are unknown, the general ingredients are barley malt, hops, yeast, and Alpine water. The beer is malt-forward, with the hops playing a background role.
Nutrition Facts
The Optimator beer features a 7.6 percent alcohol content in every serving, and this presents itself in the form of sweet alcohol warming as you swallow. In a 16-oz serving, the beer features 250 calories, which is a pretty high level. It's essential to keep this in mind when calculating your dietary intake.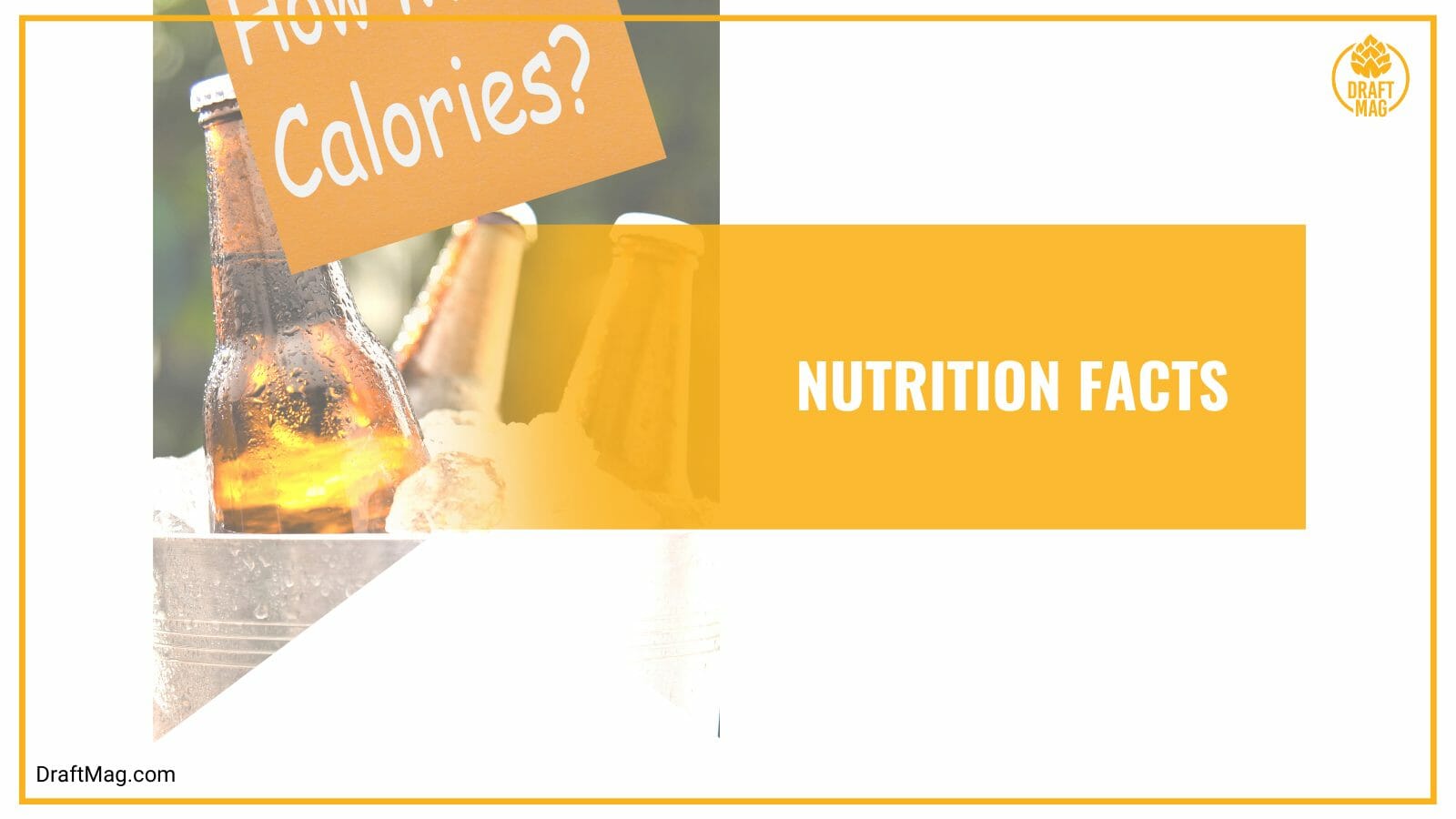 In every 16 ounces, there are 50 grams of carbs. Due to the high carbs content, the beer is not suitable for those on a keto diet. There is no fat, protein, fiber, sugar, or sodium in the beer. It is not gluten-free too.
History
The Optimator is a doppelbock brewed by the Spaten brand under Spaten-Franziskaner-Brau, a German-based brewery. The brewery dates back to 1397 and is known for making all its beers based on the German purity law. It was the first brewery in Munich to make different kinds of beers before others followed.
The Optimator was released in 1999 and has remained one of the most popular beers from the brewery. With its rich history dating over 600 years, you can expect high quality and a delicious drinking experience from the Optimator, like other Spaten beers.
Conclusion
The Optimator is the ideal drinking beer for when you're having a hearty meal, watching a game with friends, or sitting by the fireplace during winter. Here's a summary of our review:
The Optimator is a doppelbock with a 7.6 percent alcohol content made by Spaten.
The beer has flavors and aromas of sweet malt, toffee, dark fruit, and bread, with a smooth and creamy mouthfeel.
It is made under the German purity law, with malt, hops, yeast, and Alpine water.
This beer is best served in a pint glass at 50 degrees Fahrenheit.
Enjoy the beer with meaty and gamey foods, chocolatey desserts, aged cheeses, and Mexican food.
If you're curious about the Optimator, you can purchase it online or at physical liquor stores around you.