New Belgium Summer Bliss Review: An Easy Drinking Wheat Beer
New Belgium Summer Bliss stays true to its name by giving you a thirst-quenching, refreshing wheat beer to cool you down in the hottest summer months. The easy-drinking beer offers delicious notes of citrus, mango, and tropical fruits.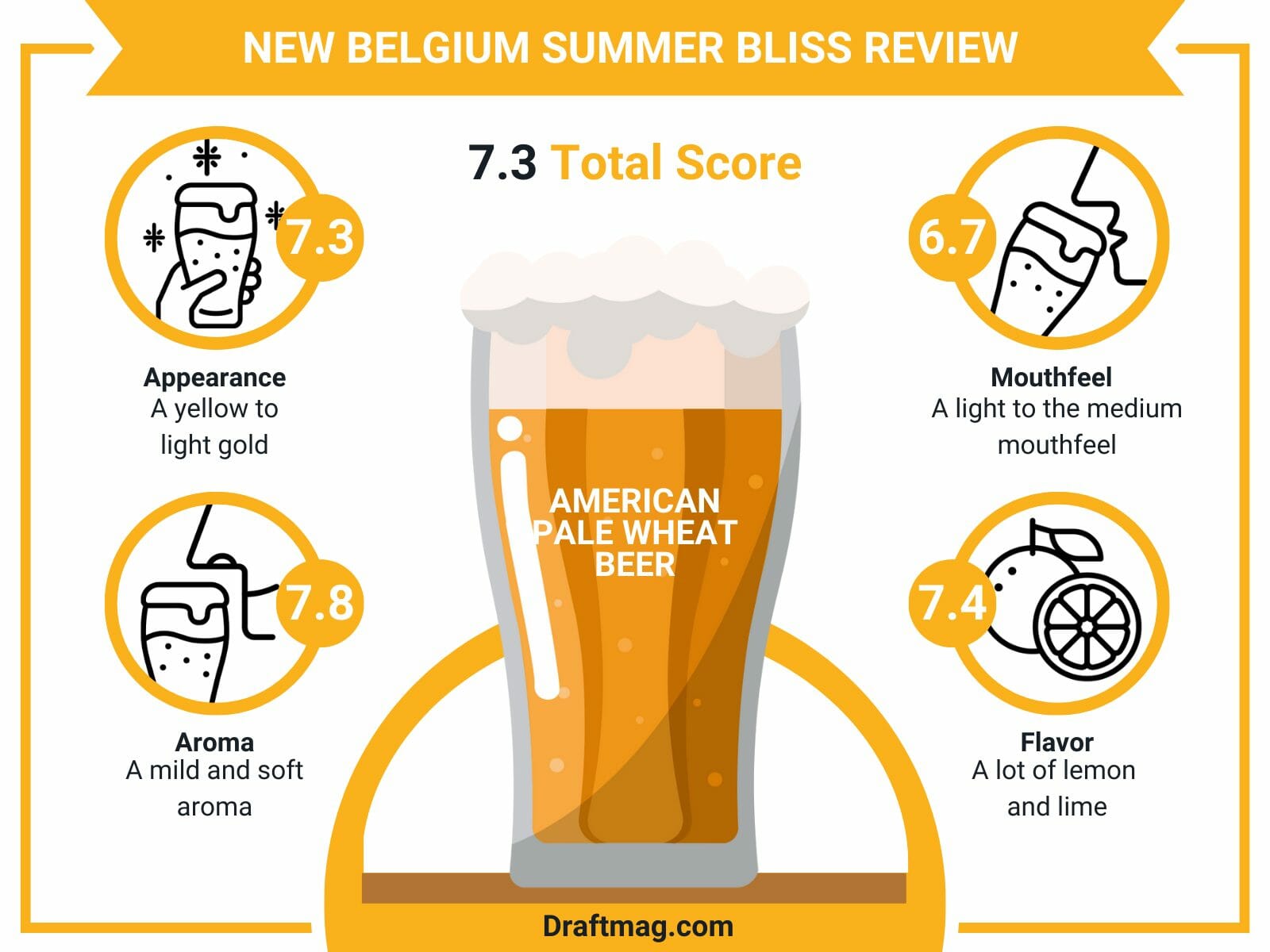 Beer lovers and even newbies will enjoy this American pale wheat beer from the first sip. If you want to try out this beer, read our detailed review first to know more about what it has to offer.
New Belgium Summer Bliss Stats
| | |
| --- | --- |
| Country  | United States |
| Brand | New Belgium Brewing Company |
| Style | American Pale Wheat Beer |
| Taste  | Citrus, wheat |
| Body | Light to Medium Body |
| ABV | 5.5 percent |
| Flavors & Aromas | Citrus, wheat, tropical fruit, nectarine, grainy, mango |
| Serving Temperature | 40 – 45 degrees Fahrenheit |
Tasting Notes
New Belgium Summer Bliss Tasting Profile
New Belgium Summer Bliss Review
This is an American pale wheat beer brewed by New Belgium, with a 5.5 percent alcohol content. The refreshing brew is a good summer drink that goes easy like a seltzer without leaving the true beer character behind. It pours a hazy yellow color with a light to medium body.
The wheat beer has flavors and aromas of citrus, tropical fruits, mango, nectarine, wheat, and grainy notes. It is an effervescent and sweet beer that you should pour into a Weizen glass. It is designed with a curved lip at the top that keeps the foamy head in place. Other options include a pint glass or snifter.
The ideal serving temperature goes from 40 to 45 degrees Fahrenheit and can be garnished with a citrus slice.
– Appearance
The wheat beer pours a yellow to light gold into your glass and has a cloudy appearance that is consistent with the style. It has a moderate white head that recedes quickly, leaving very little lacing against the glass.
– Aroma
Bring the beer to your nose, and you can enjoy a mild and soft aroma of citrus and tropical fruits.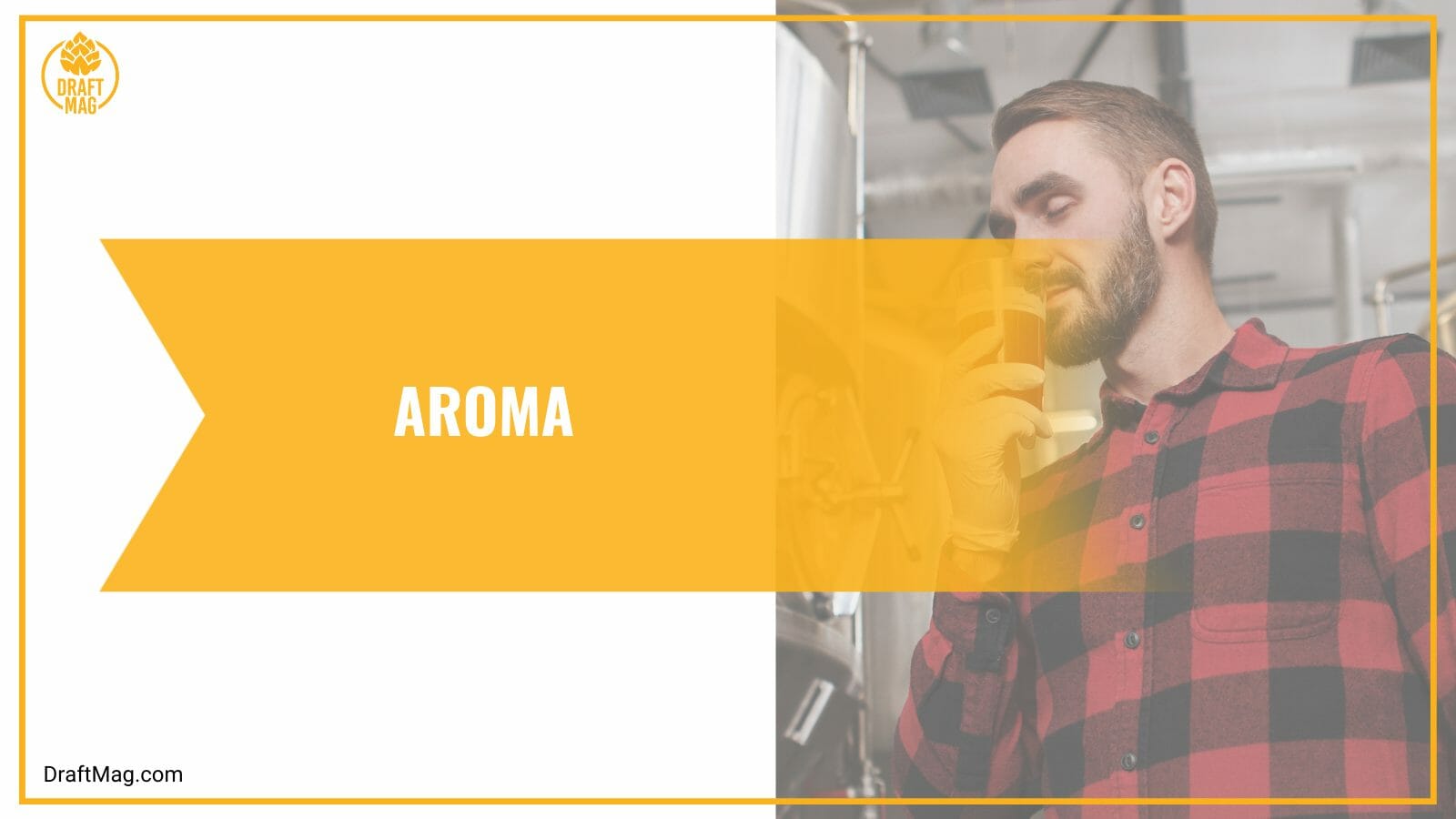 The beer offers soft wisps of lemon, mango, nectarine, pineapple, apricot, papaya, and a toasted wheat grain that sits at the back, pushing the tropical fruit aromas forward.
– Mouthfeel
The beer features a light to the medium mouthfeel that feels smooth and easy on the plate. As you drink the wheat ale, you can expect a refreshing and thirst-quenching feel offered by the moderate carbonation and fizzy bubbles. It feels crisp and lightly dry, with a relatively bitter finish.
– Flavor
The taste of the wheat beer follows the aroma very closely, but even with all the hops, there isn't a lot of bitterness; the flavors of the beer have a lot of lemon and lime from start to finish, with a bit of sweet orange in the background. Towards the end, you get mild bitterness that still doesn't taste unpleasant.
The primary taste of this beer is the mango, and this is accompanied by hints of peach, orange, and bubblegum. You will notice some grainy malt and wheat in the backbone, and the tropical fruits really hit your mid-palate.
– Food Pairings
When drinking the tropical wheat beer, there are so many foods and meals that you can pair with it to fully get the best flavor. Try out buffalo wings that are covered in spicy and sweet sauce or spicy noodles. Seafood and sushi also go great with this beer, as well as sausages and sweet-spicy ribs in a summer cookout.
The beer pairs with light soups, crisp salads with citrus-flavored dressings, vegetarian dishes, and sweet and fruity Asian dishes. Due to the vibrant tropical fruit flavor, the beer also goes great with different kinds of fruit.
If you enjoy a beer with cheese, have this one with some Gruyere cheese, goat cheese, or Feta cheese. It also goes great with fruit tarts for dessert, pastries, or citrus-flavored desserts like banana orange crepes or blood orange sorbet.
Ingredients
The beer is made with wheat, malts, and hops and offers a blend of mango and lemon flavors on a wheat base. The malts include pale and oat malts, while the hops are Nugget hops, offering the vibrant flavor of mango, citrus, and tropical fruits. Other ingredients in the beer include yeast and water.
Nutrition Facts
The beer has an ABV of 5.5 percent, which is a pretty decent level. It is hidden in the flavor and aroma as the wheat beer retains its drinkable nature. The ale has 160 calories in every 12 ounces, which is an expected level from the beer style. Health-conscious drinkers should consider this when calculating their daily dietary requirements.
The beer also has 12 grams of carbs, which makes it unsuitable for those that are on a keto diet. It has 190 mg of potassium, 5 mg of sodium, and 2 grams of protein. It is not gluten-friendly or ideal for vegans.
History
The wheat beer is made by New Belgium Brewing Company and was first released in 2021. It is a seasonal beer, so you won't get it on tap often. Instead, the brewery is better known for its flagship offers like Fat Tire and Abbey Ale.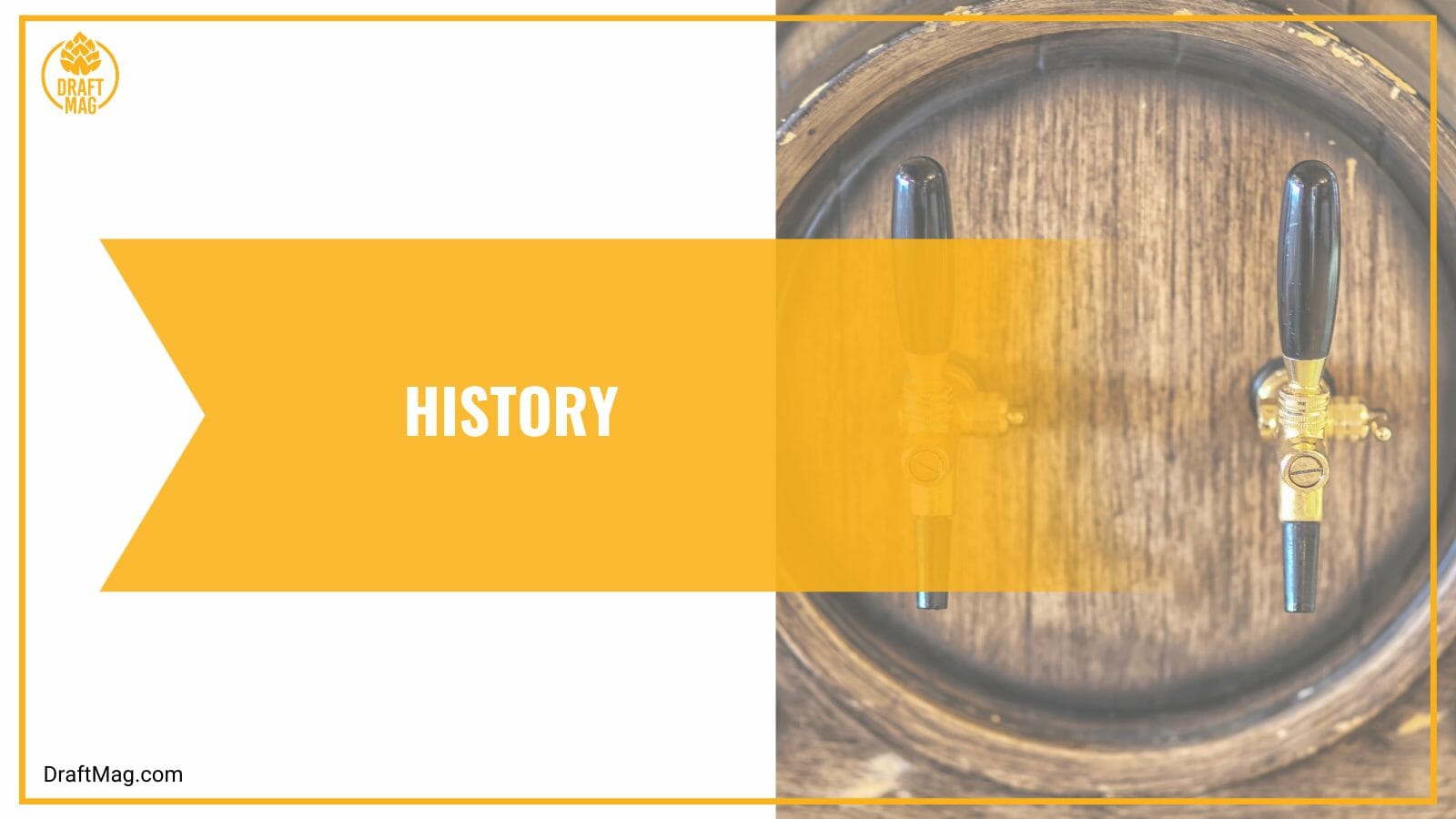 The brewery was first founded in 1991 by Kim Jordan and Jeff Lebesch in Colorado. It started in their basement, and they sold beer for the first time at the Colorado Brewers Festival. Since then, it has remained one of the most popular breweries in the US.
Conclusion
The wheat beer is the ideal beer to have if you're looking for something to kick off your summer fun with. Here's a summary of what we know about this beer:
This is an American pale wheat beer with a 5.5 percent alcohol content.
The beer has flavors and aromas of citrus, mango, tropical fruits, wheat, nectarine, and grainy notes.
It is made with wheat, pale malts, oat malts, Nugget hops, yeast, and water.
The beer is best served in a Weizen glass at 40 degrees Fahrenheit.
Pair it with spicy and sweet foods, barbecue, seafood, crisp salads, fruits, Gruyere cheeses, and fruit-based desserts.
Whenever you're in Colorado, you can check New Belgium to see if this beer is on tap, or you can save yourself some time and order it online.