If you're looking for a tropical and hoppy beer, Tropical Beer Hug is one of the top choices. The imperial IPA is brewed by Goose Island Beer Co and offers a tropical mix of delicious fruits and citrus.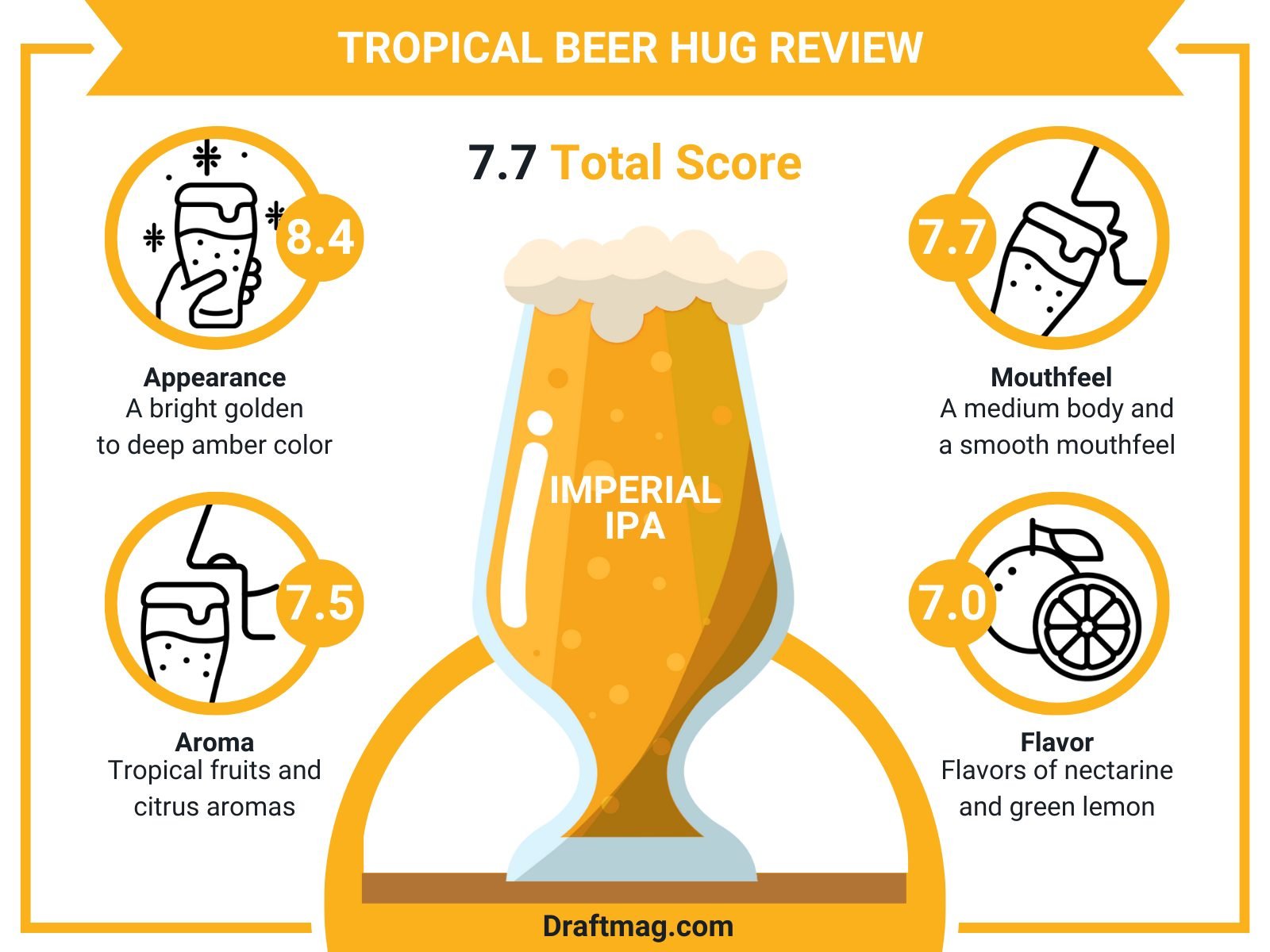 The perfect summer beer, Tropical Beer Hug, is super juicy and feels like a cozy hug but from a beer — all that's missing is a hammock! Our beer review covers all you need to know about this tropical imperial IPA.
Tropical Beer Hug Stats
| | |
| --- | --- |
| Country  | United States |
| Brand | Goose Island Beer Co |
| Style | Imperial IPA |
| Taste  | Tropical fruit, citrus |
| Body | Medium body |
| ABV | 9.9 percent |
| Flavors & Aromas | Citrus, tropical fruits, pineapple, bready malts |
| Serving Temperature | 45-50 degrees Fahrenheit |
Tasting Notes
Tropical Beer Hug Tasting Profile
Tropical Beer Hug Review
Goose Island Tropical Beer Hug is an imperial IPA. The double-hopped beer has a 9.9 percent ABV and is full of hoppy and fruity flavors. With the high ABV, this is the perfect summer party beer to accompany you any time.
The Tropical Beer Hug beer has strong flavors of tropical fruits, citrus, mango, peach, and pineapple, with hints of dank pine in the taste. All of this is on a bready malt base, all coming together to give you a drinkable and refreshing beer. Hop heads will enjoy this brew.
The beer is best served in a snifter, chalice, or goblet, with temperatures from 45 to 50 degrees Fahrenheit. To enhance the flavor, you can garnish it with citrus or pineapple slices.
– Appearance
The Tropical Beer Hug pours a bright golden to deep amber color, with high clarity and an effervescent appearance. Sitting on top of the beer is a foamy, white head, up to three fingers. The head has good retention, with strong lacing left against the glass. With the foamy head and good retention, the aroma remains strong.
– Aroma
The Tropical Beer Hug has tropical fruit and citrus aromas on the nose. There are hints of passion fruit, guava, papaya, and pineapple in the scent that gives it a sweet, fruity, and hoppy smell. You might also notice berries and a slight aroma of bread on the nose.
– Mouthfeel
The Tropical Beer Hug beer has a medium body and a smooth mouthfeel. The beer has fair carbonation, adding a tingly feeling to your palate. With a good balance of flavors and a bit of dryness, the beer does not have a boozy sense despite the high ABV. The alcohol content is completely hidden in the aroma and flavor.
– Flavor
The flavor of the Tropical Beer Hug follows the aroma. At first, you will taste the flavors of nectarine and green lemon. The flavor will later evolve to tastes of passionfruit, pomelo, and lime, all offering a dry and hoppy feeling on your tongue.
Tropical Beer Hug will finish with pineapple, lime, and booze flavors and a little dryness in the aftertaste. There are also hints of papaya, guava, and earthy hops. In the backbone, the beer has a bready malt taste that brings all the flavors of hops, fruits, and booze together.
– Food Pairings
Different delicious foods go well with this double IPA if you're having the Tropical Beer Hug. The hoppy and fruity flavors are well-matched with spicy dishes like Indian curries and Mexican cuisine.
You can also enjoy the IPA with salty and umami foods, fried foods, and grilled meats like steak and burgers. To pair the hoppy bitterness of the beer, you should try out carrot cake which offers a sugary sweetness that balances it out.
Because of the fruity flavor, Tropical Beer Hug also goes well with real fruits. You can have a fruit salad or use a fruit dressing on your salad. Fruit tarts and cakes also go well. Cheese lovers can try out blue cheeses with the Tropical Beer Hug with options like gorgonzola and Roquefort.
Ingredients
Tropical Beer Hug is brewed with malts, hops, water, and yeast. The malt list includes pilsner and carahell malts, which add the bready malt base to the beer.
As an imperial IPA, you can expect a lot of hops used to brew this beer. These include the Nugget, Citra, Eureka, Strata, Sultana, Mosaic, and Azacca. These hops offer strong flavors of tropical fruits and hoppy bitterness, which translates to mango, pineapple, peach, and citrus.
Nutrition Facts
The hazy IPA has an ABV of 9.9 percent, which is pretty high. Luckily, the boozy aroma does not overshadow other flavors and is well-masked. Tropical Beer Hug also has 45 bitterness units caused by the double-hopped brewing process.
In every 12 ounces, the beer has 260 calories, which is a pretty high flavor. With the high calories, those watching their dietary intake should reconsider this before drinking.
Tropical Beer Hug also has 19 grams of carbs in the 12-ounce can, which is pretty high. This makes the beer unsuitable for those on a keto diet. It is also not gluten-free due to the wheat and malt list.
History
Tropical Beer Hug was brewed by Goose Island Beer Company, an Illinois-based brewery in Chicago. It started as a single brewpub in Lincoln Park and was named after an island nearby. Since it opened in 1988, it has become one of the most popular breweries in the state.
The beer opened a larger production brewery in 1995 and another brewpub. The brewery is well-known for kickstarting the craft beer revolution and is also popular for its bourbon barrels.
Tropical Beer Hug is one of their most popular beers and is distributed nationwide. It is available in 6-pack cans and 19.2 cans.
Conclusion
Tropical Beer Hug is a fruity and hoppy beer you can enjoy drinking during the summer, especially on your hammock. Here is a breakdown of what we covered in this guide:
Tropical Beer Hug is an imperial IPA, with a 9.9 percent ABV.
The beer has flavors and aromas of tropical fruits, citrus, pineapple, and a bready malt base.
It was brewed with pilsner, carahell malts, hops, water, and yeast.
When cold, the IPA is best served in a snifter glass, with citrus slices.
You can pair the Tropical Beer Hug with spicy foods, fruity desserts, blue cheeses, and grilled meat.
If you're curious about the beer, you can purchase it in stores near you. The beer is also available at Goose Island.

Latest posts by Draft Mag
(see all)