Samuel Adams Pumpkin Beer: A Complete Review
Samuel Adams pumpkin beer is one of the beers that would taste like fall season and would give a nice flavor for your taste buds. We understand you are planning to buy Samual Adams pumpkin beer very soon and want to know what to expect from this pumpkin ale.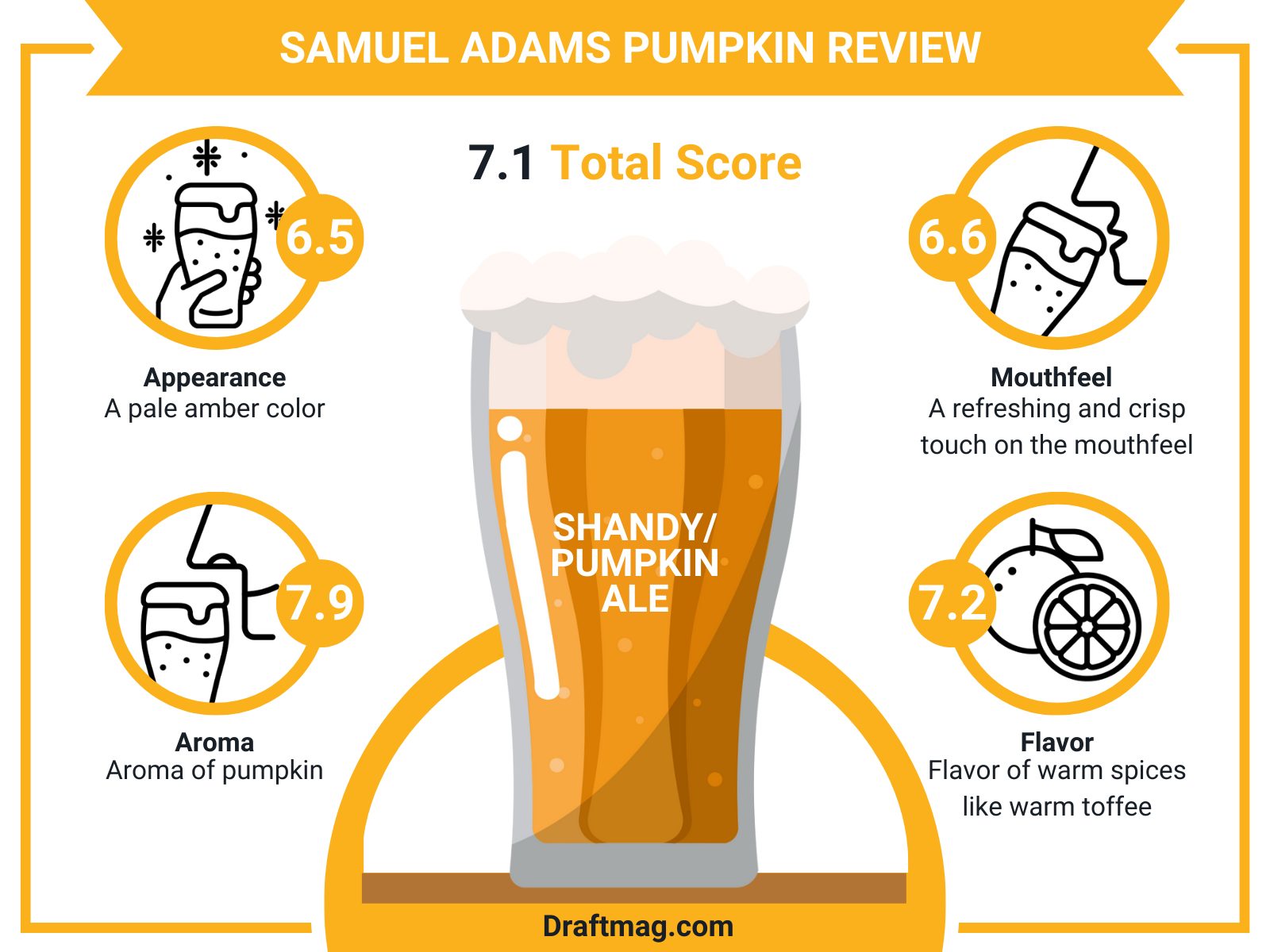 The good news is that you are in the right place, and we have made a complete review of Sam Adams pumpkin beer so that you can determine whether you want to taste it. See the table below for the vital statistics about Jack-O Pumpkin Ale.
Samuel Adams Pumpkin Beer Stats
| | |
| --- | --- |
| Country | United States |
| Brand | Samual Adams (Boston Beer Company) |
| Style | Shandy/ Pumpkin Ale |
| Taste | Pumpkin, spice |
| Body | Medium body |
| ABV | 4.4 percent alcohol content |
| Flavors & Aromas | Pumpkin Pie, Nutmeg, Cinnamon, Brown Sugar, Citrus |
| Serving Temperature | 50 to 55 degrees Fahrenheit |
Tasting Notes
Samuel Adams Pumpkin Beer Tasting Profile
Samuel Adams Pumpkin Beer Review
Pumpkin beer is a type of beer produced with pumpkin and spices, including cinnamon, nutmeg, etc. Samuel Adams pumpkin beer is no different from that. Though Boston Beer Company brews two or three kinds of pumpkin beers, such as Samuel Adams Octoberfest and Harvest Pumpkin Ale, we will mainly focus on Samuel Adams Jack-O Pumpkin Beer in this article.
– Appearance
Samuel Adams pumpkin beer comes in a pale amber color to bright copper color. It appears in a 12 oz bottle that you flow into your pint glass, enjoying a smallish and dense but rapidly fading white head without any lacing on the top of the beer. However, the color of the beer is due to the color of the pumpkin.
– Aroma
The pumpkin beer obviously contains the aroma of pumpkin, but the scent is not so overpowering. Instead, it has the noticeable aroma of cinnamon and nutmeg, along with the fascinating aroma of seasonal spices. However, if you love alcohol in the fragrance of your beer, you will be dissatisfied as due to its low ABV, Adams pumpkin doesn't hold it.
– Mouthfeel
As to mouthfeel, this pumpkin ale is a pinch of a light style; more specifically, it has a medium body. It doesn't feel harsh or intense in the mouth, but the refreshing and crisp touch of the beer will blow your mind, and the spicy taste will make your experience memorable. On the other hand, the light carbonation and its fluffy and bubbly texture will feel great on your tongue.
– Flavor
This pumpkin beer has a lot of great warm spices. The flavors of cinnamon and nutmeg are dominant in Samuel Adams Pumpkin beer, followed by light warm citrus savor, which will be found mainly in the hop. Interestingly, the pumpkin flavor is subtle. Rather, plenty of warm spices add rich flavor to this beer.
You will find the flavor of warm spices like warm toffee and biscuit as well in your pumpkin beer, along with a touch of lemon. All these spices are balanced efficiently to make your drinking experience unforgettable. This beer is not harsh in flavor; you will find sweetness due to the prominent presence of brown sugar. But the more you go to finish the drink, the taste of this brown sugar weakens.
You will taste the cloves and cola's flavor at the end of your drinking. This comparatively sweet beer is enriched in different tastes and flavors of different spices.
– Food Pairings
Though the beer should have made the best pair with pumpkin, surprisingly, it pairs with many items. The makers of Sam Adams beer claim it pairs nicely with a good amount of fall foods such as apple pie or a pork roast. Besides, the people who regularly enjoy this beer say that this Samuel Adams Pumpkin Ale pairs best even with beef stew and roasted beef brick.
Not only does it go with meaty foods, but also it goes with foods like butternut squash ravioli, mashed potatoes mixed with garlic, sweet potato pie, and different mushroom recipes.
However, because of its sweetness, it can also be an alternative to your dessert items. You can pair it with cranberry goat cheese, chocolate mousse, peanut butter, apple cider donuts, etc. The taste of chow mein or noodles can also be paired with it.
Ingredients
Boston Beer Company explores the ingredients it uses to make pumpkin beer. Its hops are Hallertau-Hallertau. No noticeable scent or taste can be found in hops except citrus flavor. Yeast, malts, color, and water are also used to produce this beer. The company utilizes their Ale Yeast as the yeast, which is necessary to make Jack-O.
This company's two-row pale malt blend is used as malt along with Malted Wheat. Toasted pie crust is another ingredient in malt that can be traced in its aroma. When it comes to color, Sam Adams uses Medium Amber, 12 SRM color.
Nutrition Facts
The Samuel Adams Jack-O beer contains 19 grams of carbs in the 12-oz can, which is high and not recommended for people with obesity, diabetes, and high blood sugar. With 4.4 percent ABV, this beer is not strong alcohol and obtains 25 bitterness units.
On the other hand, it has 150 calories, which is low in amount compared to most ales. It has a color of 12 SRM. This Sam Adams Jack-O pumpkin ale is also not gluten-free and should not be taken by those with wheat allergies.
History
Samuel Adams beer is the first beer brand of The Boston Beer Company named after America's Founding Father Samuel Adams. This company was founded in the United States of America in Boston, Massachusetts, in 1984. In the fall of 2010.
It is key to note that Boston Beer Co. Started to brew pumpkin beer for its Samuel Adams "Harvest Collection." Sam Adams Pumpkin Beer is a seasonal beer available from August to October.
Conclusion
If you have read the article, you already know all the necessary facts about Samuel Adams Pumpkin Beer. However, we summarize the preliminary information about the beer for you to review for the last time:
Sam Adams Pumpkin Beer or Jack-O is a beer from Boston Beer Company.
This beer is enriched in aroma, and flavors come from different warm spices, especially cinnamon and nutmeg.
This beer is comparatively sweeter and not strong alcohol due to having 4.4 percent ABV.
Th beer is best paired with different flavors such as garlic, and even with sweet flavored pies. In addition, it would be great to even pair it with cheese of different types, bringing out the flavor of the beer.
Samuel Adams pumpkin beer is seasonal, commonly available in fall, and an excellent drink for the season.
If you think Samuel Adams pumpkin beer resembles your taste bud, go to your nearby liquor store and experience it firsthand. Celebrate your next Saturday night with Sam Adams Jack-O in your hand.