Unicorn Farts Beer Review: Fruity and Bright Kettle Sour
Unicorn Farts beer is literally a glittered sour ale that stays true to its name. The beer tastes as bright and sweet as unicorns look, and since we expect their farts to be glitter, that's already covered with the mineral-based edible glitter used to make the beer.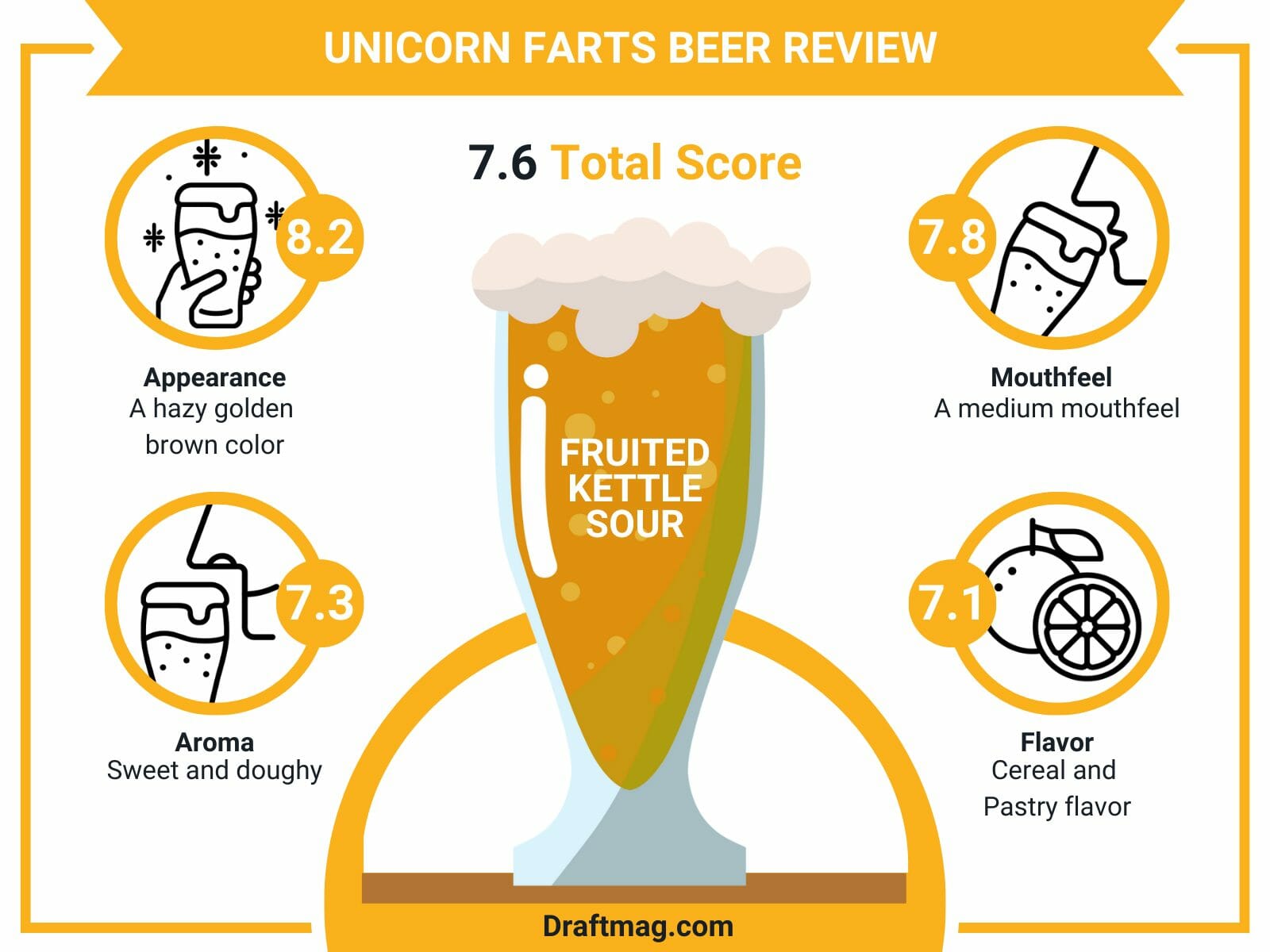 The fruity beer offers delightful surprises throughout the flavor and aroma that will appeal to beer lovers. Continue reading our detailed review below to know more.
Unicorn Farts Beer Stats
| | |
| --- | --- |
| Country  | United States |
| Brand | DuClaw Brewing Company |
| Style | Fruited Kettle Sour |
| Taste  | Fruity, tart |
| Body | Medium Body |
| ABV | 5.5 percent |
| Flavors & Aromas | Lime, orange, tart, sour, sugary dough |
| Serving Temperature | 50 – 55 degrees Fahrenheit |
Tasting Notes
Unicorn Farts Beer Tasting Profile
Unicorn Farts Beer Review
Sour Me – Unicorn Farts is a glittered and kettled sour ale brewed by DuClaw Brewing Company. The beer has two unique ingredients that make it super sweet, fruity, and unique. These include Fruity Pebbles cereal mashed in and mineral-based edible glitter. The sour beer has an ABV of 5.5 percent.
The sour beer features a hazy appearance with glitter dust and a medium mouthfeel. You can enjoy flavors and aromas of lime, orange, and lemon, sugary sweetness, and a sour and tart taste. The beer is best served in a tulip glass, which allows you to hold the fruity aroma from the head but still gives the beer room to breathe.
The ideal serving temperature for the ale is between 50 and 55 degrees Fahrenheit. You can add an orange slice or two to the beer for garnishing.
– Appearance
The ale pours a hazy golden brown color into your glass, and there is barely any head on top of it.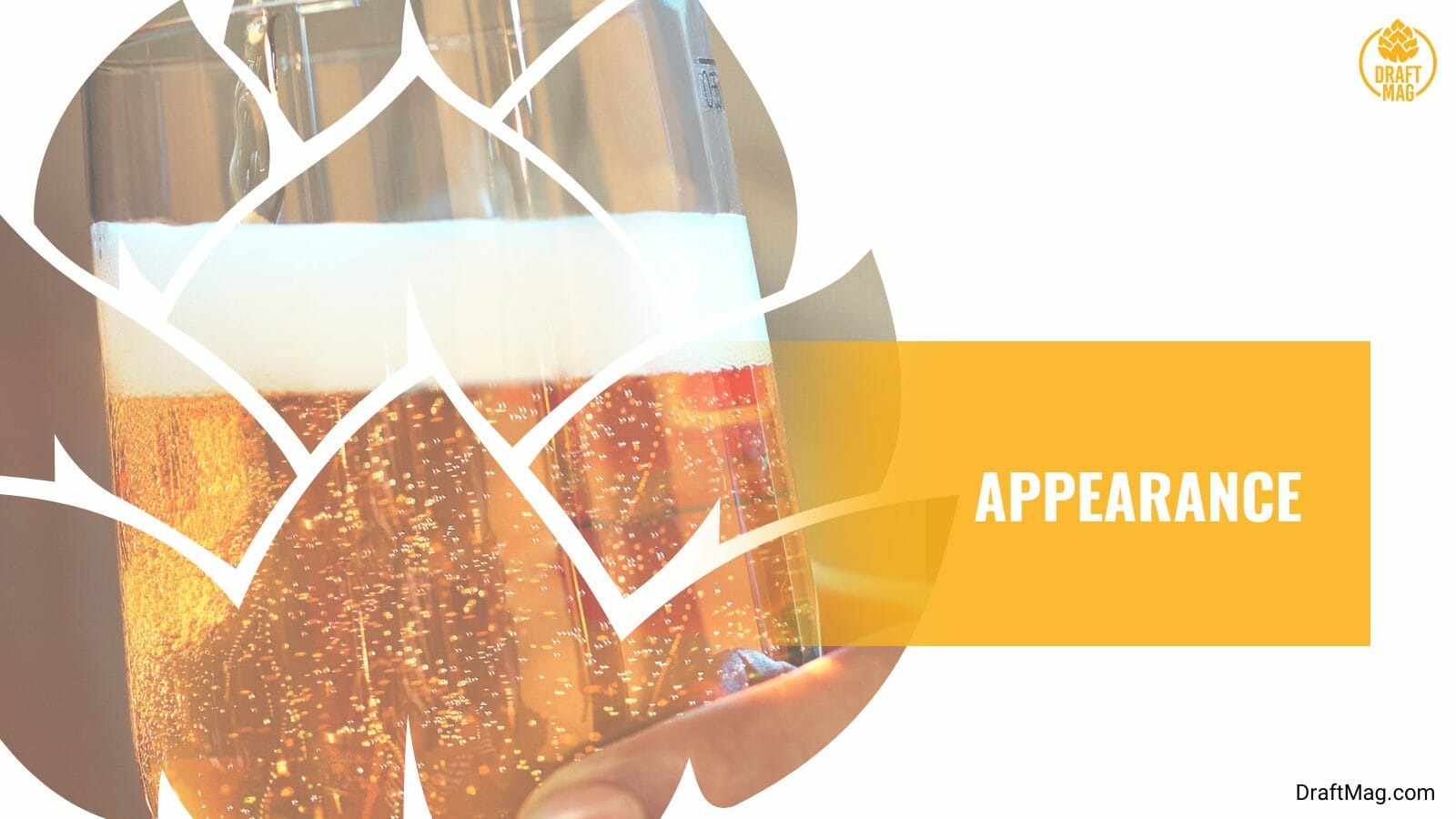 There are bits of cream lacing, and you will notice the glitter dust in the form of streaks within the beer itself.
– Aroma
On the nose, the aroma of the ale smells sweet and doughy. The bread dough offers a basic aroma that remains until the end. You will also notice hints of fruit loops, cereals, salt, pepper, and bread, all balanced to give a delicious aroma.
– Mouthfeel
As for the mouthfeel, the beer has a medium mouthfeel that does not feel too heavy. The beer is bubbly and sour and is quite carbonated on your palate. The flavor notes are well-balanced and will give you a smooth feel. The alcohol content is not too evident, and the beer goes down easily.
– Flavor
The beer tastes sour and tangy, but this is expected from a sour beer.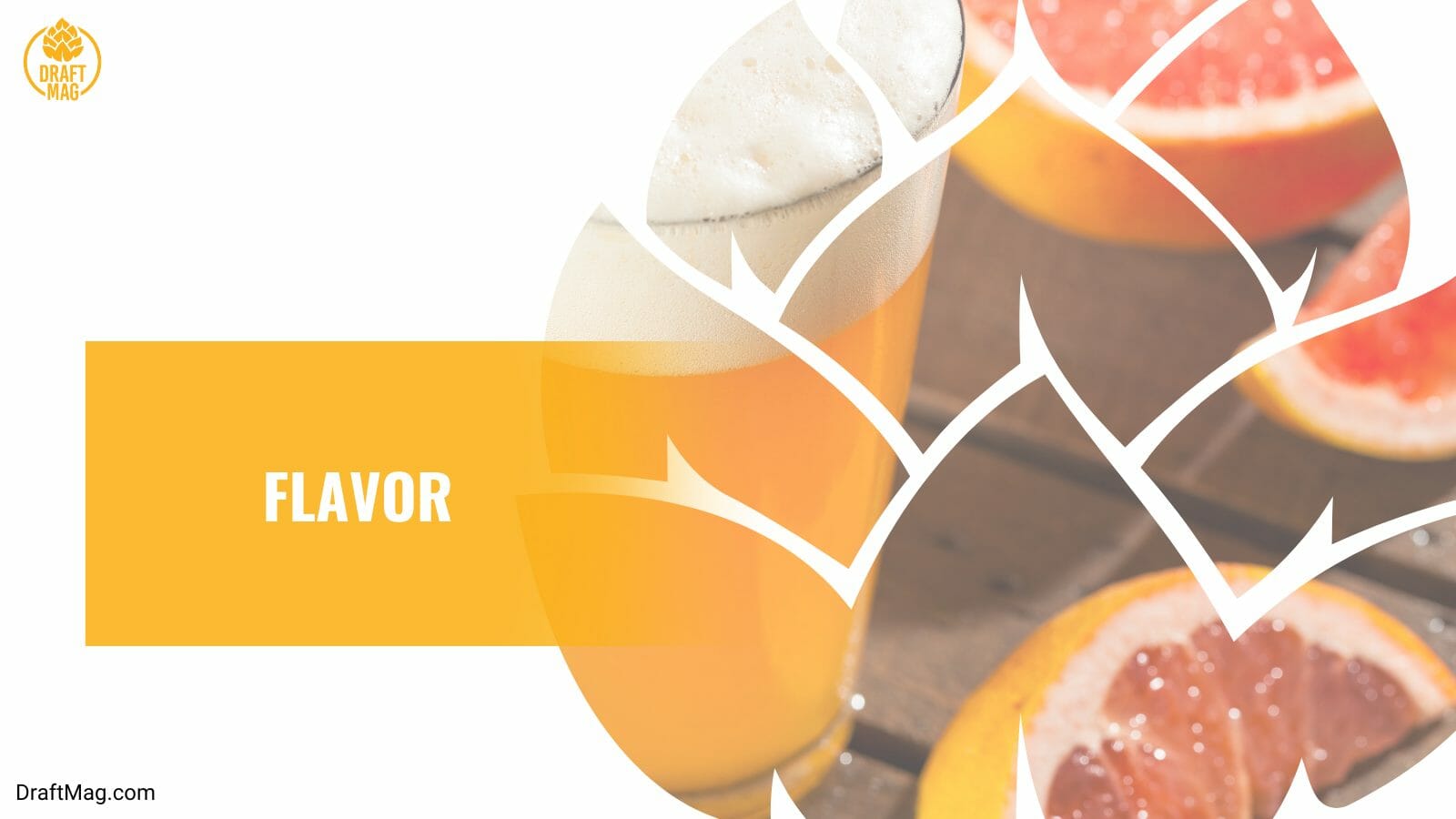 The beer tastes deliciously like cereal and pastry, and the dough provides a balanced base that remains there with every swallow. After the cereal and pastry come a fruity flavor.
You will notice hints of fruits like lemon, lime, oranges, and apples, along with a sugary and honey flavor. The yeast offers slight flavor notes, too, along with hints of biscuits, wheat, and malts in the background. Sour Me has a good balance of fruity and bready notes.
– Food Pairings
The ale goes well with different kinds of food, especially those that match its intensity. You should look out for tangy and tart foods or those with creamy sauces. Try the beer out with omelets and different egg dishes topped with cheese or cream. Also, seafood like mussels can be topped with drawn butter and a squirt of fresh lemon.
Spicy foods go well with the uniquely tart flavor of the ale. You can have the beer with chili or fajitas. Also, fatty cuts of beef like ribeye go well with the light taste of sour beers.
As for cheese, you should go for stinky cheeses like goat or bleu cheese. Plate the cheese with fresh fruits to enhance the creamy taste. If you want to give in to your sweet tooth, you should pair the beer with strawberries and cream or panna cotta with lemon.
Ingredients
The beer is made with a wide range of ingredients. The grains used to make it are pilsner malts, light wheat, and torrefied wheat. As for the hops, it is brewed with Tettnang. It is also brewed with real fruits like cherries, limes, and tangerines, and the fruit cereal is added to the mash. The beer is finished off with a sprinkle of natural, mineral-based edible glitter.
Nutrition Facts
In the beer, you get an ABV of 5.5 percent, which is a pretty decent level. There is no alcohol in the flavor or aroma of the beer, and you won't get drunk quickly. As for the IBU, it is set at 10, as there is barely any bitterness or hoppiness in its flavor.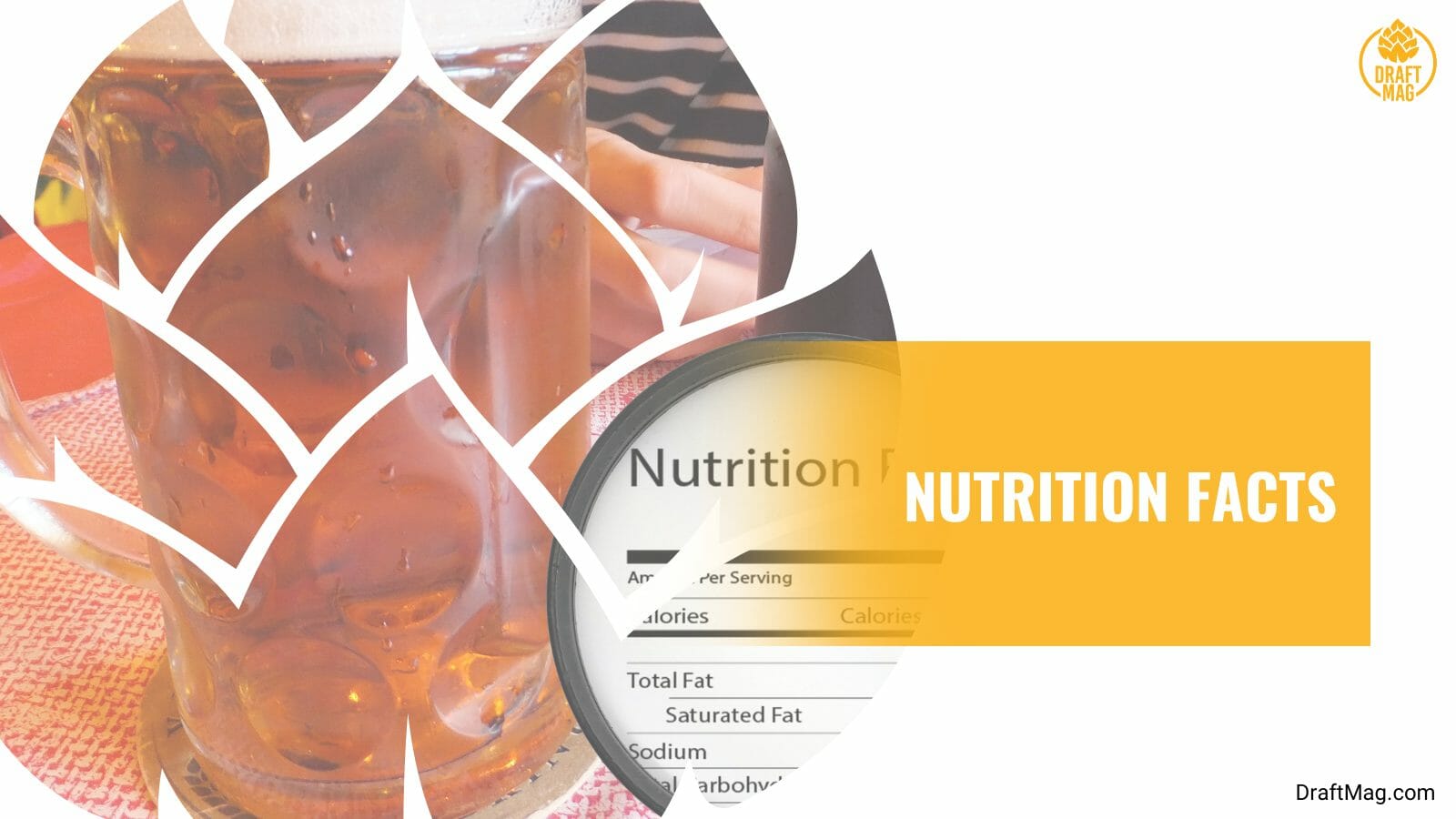 The exact calories and carbs in the beer are unknown, but it is not ideal for those on a keto diet and is not a gluten-free beer.
History
The Sour Me ale is brewed by DuClaw Brewing in collaboration with Diablo Doughnuts. This was in 2019. It was later re-released in May 2021 in collaboration with Brew Pipeline and distributed nationally, so you can find this beer at a wide range of stores in the United States.
DuClaw was founded in 1996 and is based in Baltimore, Maryland. It began as a brewpub in 1996 and then opened a brewery inside. Now, it is one of the most well-known beers, and you can even visit its history museum.
Conclusion
The beer is a unique and delicious beer that enthusiasts will enjoy, especially if they want to try something new. Here's a rundown of what the beer has to offer:
Unicorn Farts is a kettle sour beer with an ABV of 5.5 percent from DuClaw Brewing.
The beer has flavors and aromas of lime, orange, lemon, dough, and sugary sweetness, with a tart and fruity taste.
It is made with malts, hops, yeast, real fruits, and organic, edible glitter.
The beer is best served in a tulip glass with a serving temperature of 50 degrees Fahrenheit.
It is best paired with egg dishes, seafood, fatty beef cuts, spicy food, stinky cheeses, and fruity desserts.
If you're curious about this beer, you can check it out at a wide range of stores and online liquor shops. The beer is also available on tap at the brewery.