Dos Equis Review: A Delicious Blend of German and Mexican Influences
Dos Equis is a Mexican-type pilsner lager beer brewed by the Cuauhtémoc Moctezuma Brewery. The delicious brew is a typical Mexican beach-style beer that represents the golden sunsets of Mexico.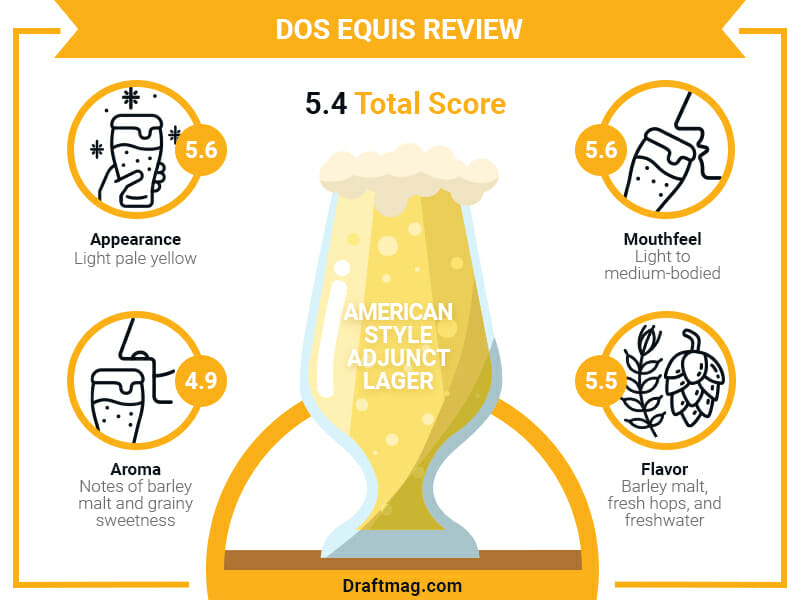 It is spicy, earthen, and light in taste at the same time, bringing about many layers of flavor. But before you make your first purchase of Dos Equis, read this complete and detailed review to understand the whole picture.
Beer Stats
| | |
| --- | --- |
| Feature | Description |
| Country | Mexico |
| Brand | Cuauhtémoc Moctezuma Brewery |
| Style | American style adjunct lager |
| Taste | Spicy, malty and earthy flavor profile |
| Body | Light bodied |
| ABV | 4.2 percent |
| IBU | 22 |
| Flavors and Aromas | Distinct earthen aroma |
| Serving Temperature | 35 – 40 degrees Fahrenheit |
| Serving Glass | Pint glass |
| Varieties | Dos Equis Lager Especial, Dos Equis Ambar Especial, Dos Equis Lime & Salt, Dos Equis Ranch Water Classic |
| Packaging | In pint bottles, cans and draught |
| Availability | Available online and in stores across North and South America |
Tasting Profile
Dos Equis Tasting Profile
Dos Equis Beer Review
Dos Equis is set apart from other Mexican beers by many distinct characteristic features. Check them out below.
– Appearance
The Dos Equis lager is light pale yellow in color. It has a rich golden hue that makes it the perfect spring beer appearance. It also has medium carbonation levels, which gives rise to fast-rising bubbles.
The beer has quite good clarity and forms a thick foamy head when poured into a serving glass. The head does not have great retention and only stays for some time. There is none to minimal lacing around the rim.
– Aroma
The Dos Equis beer smells very subtle and mild and has a very fresh and crisp aroma. It has smell notes of barley malt and grainy sweetness. The use of fresh hops in this beer gives it a mild bitter smell, but that smell is not very aggressive on the nose.
You can also smell the barley malt, which brings almost an almost bread or biscuit-like aroma to the beer. The fresh smell comes from the use of freshwater sourced from live streams and rivers near the brewery. There are also smell notes of corn and lemon-like sourness.
The overall smell is very earthen and rustic, giving it a very beach and springtime feeling. The smell of grainy barley malt and corn lingers on in the nose for quite some time but does not feel overpowering. This beer has a very layered aroma, and all the smells are very subtle; some beer lovers even feel like this is a very light beer for the nose and taste palate.
There are also smell notes of alcohol, but that smell is very mildly present and not aggressive on the nose, giving it a fine balance. It does not hit very hard, which makes it an easy drink for both new beer drinkers and old and veteran beer lovers. Every smell note of this beer reminds drinkers of the sea and Mexican beach, which makes the beer live up to its name and history of origin.
– Mouthfeel
This Mexican beer has a light to the medium-bodied mouthfeel. It also has a fizzy effect on the mouth, which comes from the low to medium level of carbonation present in this beer. It has an overall dry, crisp, and refreshing finish.
– Flavor
The Dos Equis Especial Lager has a very layered flavor profile. It has subtle taste notes of barley malt, fresh hops, and freshwater that are freshly sourced from streams. There is a mild taste of corn and a fresh taste of biscuit. The grainy sweetness can be felt throughout the beer. The main USP of this beer is the spring-like freshness from the freshwater used from nearby rivers and streams.
It also has taste notes of lemon-like sourness, which seamlessly cuts through the mild bitterness of the hops and forms the right balance for the taste buds. The corn's taste lingers for quite some time and leaves a long-lasting effect on the tongue. This beer is termed the Mexican lager beer, which almost tastes like a pilsner. The overall taste is refreshing, like freshly cut grass, and has a layered earthen and rustic taste.
The taste of this beer is very mild, and you can hardly taste the alcohol due to the low ABV level of only 4.2 percent. That is why this beer is called "beach beer," because it can be drunk in the typical Mexican beach tradition. Many beer lovers drink the Dos Equis beer with a wedge of lime and some salt, which adds another layer of flavor to this beer.
Dos Equis Ambar Especial
This beer is another variety of the Dos Equis. It is a modification and taste development of Dos Equis. It is full-bodied and has a very clean and crisp finish. It has a rich amber color, almost like a Mexican sunset on the beaches.
The color is also developed from the beer's rich burnt sugar and caramel flavor. This beer uses roasted malts, unlike the Dos Equis which uses plain barley malt that adds an extra layer of flavor. This is a classic Vienna-style lager beer that leaves a refreshing feeling on the tongue.
Dos Equis Lime and Salt
The Dos Equis Lime and Salt is another variety of the classic Dos Equis. This beer is a tribute to the Mexican beer-drinking style of using a wedge of lemon and salt to enhance the taste of beer. The beer uses a combination of ingredients like lime essence, malted barley, fresh hops, corn starch or corn syrup, salt, and citric acid.
The beer is typically sweet, sour, and salty, which is very unique for a beer. It is low to medium-bodied and has a clean and crisp finish like all the other Dos Equis beers available on the market. The bitterness is lower because of the sourness of the lime. The sweetness from the malt and corn syrup balances it out.
This variety also has a fruity essence, making it a very easy drink. The taste of alcohol is also not overpowering and the ABV is at a minimum of 4.2 percent. But the production of this variety is not huge, so its availability is a little lower than other Dos Equis beers.
Dos Equis RanchWater, Hard Seltzer
This is a seltzer meant for hot summer days. It has a very refreshing taste with a hint of sour lime. The overall taste is very clean and fresh.
– Food Pairings
The Dos Equis is a typical Mexican-style adjunct lager beer, and it pairs well with a lot of food due to its dynamic and layered flavor profile. Here are a few types of food you can pair with.
You can pair it with all kinds of hot, spicy Mexican food like grilled meat, pork, chicken, beef, and more.
You can also pair it with all kinds of beach and seafood like calamari, crabs, lobsters and fresh fish.
Since this is a light lager beer, it also pairs well with other kinds of spicy food like Indian, Asian and Jamaican food.
If you want to keep it light, pair it with nuts and fresh cheese.
This beer also goes well with food like smoked and barbecued food like burgers, grills, and roasts at beach parties.
Ingredients
The ingredients used to make the Dos Equis beer are barley malt, fresh water sourced from streams, fresh aromatic hops, and bottom-fermenting lager yeast. It also uses corn starch or corn syrup and ascorbic acid in the brewing process.
Nutrition Facts
If you are a health-conscious beer lover, here are all the nutritional facts about this beer to guide you better.
Calories – 131
Carbohydrates – 11 grams
History
Dos Equis has a long history that can be traced back to 1897. The Master brewer Wilhelm Haase of Cuauhtémoc Moctezuma Brewery was originally from Germany. He lived in Germany but dreamt of brewing and producing Mexican beer. To realize this dream, he traveled all the way from Germany to Mexico and set up a shop.
His first production was the Dos Equis, their first flagship lager beer, and to date, it is one of their most popular and flavorful beers. Head brewer Wilhelm created this beer with the idea to combine his story of his motherland, German beer, and his love for Mexican beer and bring them together in a bottle.
When it originally started brewing, it was named the "Siglo XX," which literally meant the 20th Century. But in the late half of the 1900s, the scene changed, and the beer was renamed Dos Equis. The XX still remains intact in its label and symbolizes the Roman numeral for 20.
The beer finally became commercially popular across the globe when they launched their famous campaign, "The Most Interesting Man in the World." The beer became popular in America in 1983 and since then has become available across numerous stores.
– Growth
During the 1500s, a leader called Moctezuma, one of the very last leaders of Aztecs, ruled the land, which is currently known as Mexico. In the later years, he became one of the most inspiring factors in the Dos Equis logo. In the last 1890s, a German man called Wilhelm Haase came to Mexico with the dream of brewing Mexican beer in his original German style. He founded the now famous Cuauhtémoc Moctezuma Brewery, which produces the Dos Equis beer.
In 1897, Wilhelm Haase of Cuauhtémoc Moctezuma Brewery first brewed the Siglo XX beer, which is presently popular as Dos Equis. In 1983, the Dos Equis beer was first transported to the USA, sold in the American market, and instantly became an international hit.
By 2009, Dos Equis became the fastest-growing imported beer in the USA, and in 2016, the Dos Equis label underwent a significant change and became more refreshing, also overhauling the taste of the beer. The label took inspiration from the Centenario, a Mexican coin.
– Advertising
Dos Equis first saw soaring popularity when they launched the ad campaign called "The Most Interesting Man in the World." This ad started featuring in the USA around 2006 and became a sensation due to its catchy one-liners, making the beer quite popular among the masses.
They had other famous taglines like "I don't always drink beer. But when I do, I prefer Dos Equis" and "Stay thirsty, my friends," which gave them immense publicity. These lines started getting used for social media memes and other kinds of puns and jokes, giving them a lot of free publicity in the process.
FAQs
– Is Dos Equis a Mexican or German Beer?
Dos Equis beer is purely Mexican, produced by Cuauhtémoc Moctezuma Brewery which is owned by Heineken. But the original head brewer, Wilhelm Haase, was from Germany, which brings in the signature German brewing style. The mix of two cultures causes confusion about the origin of this beer.
– What Is Dos Equis Stand For?
Dos Equis stands for the Roman numeral for the number 20 (XX). In the initial days, the beer was named Siglo XX, which literally meant the 20th Century, as a tribute to its origin and history behind it. Later, it was named Dos Equis XX, which also originates from the Roman numeral twenty (XX).
– What Kind of Beer Is a Dos Equis?
Dos Equis is a pilsner-style lager beer. It has the typical golden color and has the light and refreshing taste of a signature lager beer. It has a balanced composition, none of the tastes are aggressive, and it has a clean and fresh finish.
Final Takeaway
We covered a lot of ground about the Dos Equis beer in this article. But before you try your first bottle of this refreshing lager, here is a quick recap of everything we learned.
The Dos Equis Especial Lager is a typical Mexican-style beer. It has a well-balanced flavor of barley malt, corn starch, hops, and fresh water.
This beer is very refreshing, clean, and crisp in taste. It also has a low to medium-bodied finish.
The barley malt's sweetness balances out the hops' bitterness, making this beer well-balanced and subtle in taste.
Before you form an opinion about this beer, we recommend you try a bottle or two of all the varieties of this beer to understand the true depths of its flavors.