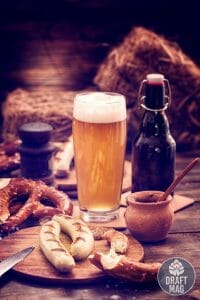 Read our Shock Top Twisted Pretzel Review before trying out this unique beer from Anheuser-Busch. Although you might be surprised to see that it's a pretzel-flavored beer, the beer executes its flavor perfectly, reminding you of a movie theatre.
With the creamy and sweet flavor, Shock Top's Twisted Pretzel beer retains its wheat ale nature despite its pretzel character. Keep on reading our complete review to know more about this delicious beer.
Shock Top Twisted Pretzel Stats
| | |
| --- | --- |
| Country  | United States |
| Brand | Shock Top Beer/Anheuser-Busch |
| Style | Belgian Wheat Ale |
| Taste  | Creamy, sweet |
| Body | Medium Body |
| ABV | 5.2 percent |
| Flavors & Aromas | Pretzel, salt, bready, buttery, caramel |
| Serving Temperature | 45 – 50 degrees Fahrenheit |
Tasting Notes
Shock Top Twisted Pretzel Tasting Profile
Shock Top Twisted Pretzel Review
The Shock Top Twisted Pretzel is a Belgian wheat ale with a twist, giving you a unique and delicious flavor. The beer has a pretzel flavor, bursting with caramel, biscuits, and toasted malts. The copper-colored ale features a large, foamy head with a delicious balance of sweetness and bitterness.
The ale features a 5.2 percent ABV and is best poured in a pint glass. You should serve it cold, preferably with citrus garnishing like an orange or lime slice. The pint glass has a wide opening that becomes narrow at the bottom. This gives room for the head to form.
If you're looking for something sweet or unique, you should try the Twisted Pretzel beer. It's a refreshing and sessionable beer, easy to drink with a low ABV.
– Appearance
The Twisted Pretzel beer has a dark golden to brown color and a clear appearance. The beer is slightly hazy, too, and has a foamy white head up two fingers high. The beer's head retains well as you drink, giving you a strong aroma.
– Aroma
When you first smell the Twisted Pretzel beer, you'll perceive the aroma of buttered popcorn. This is balanced with the aroma of salty and soft pretzels. You might also notice hints of candy and a sweet smell that follows into the flavor. In general, it smells like soft bread and pretzels.
– Mouthfeel
The Shock Top Twisted Pretzel on your palate features a soft and creamy feeling that caresses your tongue. It has a medium-light body and a sweet finish that goes into the aftertaste. The beer is not thick or heavy and finishes as an ale.
– Flavor
As for the flavor, the Twisted Pretzel beer has a salty taste upfront. The salt is the first flavor you taste before it moves to buttery and bready. After that, the flavor of the buttery Pretzel will hit you with a balance of sweetness.
The malt list offers you a caramel flavor, with some grassy hints offered from the hops schedule. The Shock Top Twisted Pretzel will deliver on its promise to taste and smell like pretzels. The flavor is a little more subtle than the aroma, all enveloped in a light bready taste.
In the finish, you will taste a true ale flavor. The beer is drinkable with a wheat backbone.
– Food Pairings
If you're drinking the Shock Top Twisted Pretzel beer, you can get the most out of it by having crunchy popcorn or soft, salty pretzels. The beer goes well with buffalo wings, spicy noodles, and other spicy food. With a clean taste, it will enhance the flavor of your food.
You can also have the Twisted Pretzel beer with crunchy salads that enhance the crisp taste. Look out for salads with fruity dressings. The sweet beer also goes well with pastries and fruit tarts as these are similarly sweet foods.
The wheat beer will go well with fresh, light cheeses like goat cheese. You should enjoy the Twisted Pretzel beer as it is pretty flexible regarding food pairings. It easily goes with different kinds of food, including everyday foods like pasta, burger, pizza, and tacos.
Ingredients
The Twisted Pretzel Wheat ale is made with wheat, caramel malt, orange peel, and a rich pretzel flavor that gives it its dark caramel color, soft mouthfeel, and pretzel flavor. The ingredients also include hops, yeast, and water.
The hops in the beer will give it a slightly grassy taste, but this is barely noticeable. The main flavor is the Pretzel, which is added during the unique brewing process.
Nutrition Facts
The Twisted Pretzel Wheat ale has a 5.2 percent ABV, a pretty low alcohol level. The bitterness units are low while the calories are only 156 in every 12-ounce can. It does not have a lot of calories and is ideal for health-conscious drinkers.
As for the carbs, there are 16 grams and 1 gram of protein in a 12-ounce serving. If you're on a keto diet, you should avoid this beer due to its high fat content. It is also not ideal for those on a keto diet.
History
The Twisted Pretzel beer is brewed by Anheuser-Busch and is under the Shock Top brand. It was released in 2014, just before National Pretzel Day on the 26th of April. It is a limited-edition beer, and when it was first released, it was available on draught at particular locations and over 150 beer festivals nationwide.
Shock Top is a brand under the Anheuser-Busch brewing company. The beer is only available for a limited time. The brewmaster at Shock Top stated that they made the beer since pretzels are everyone's favorite snack. Using quality ingredients, they made unique beers that their fans will enjoy.
Conclusion
The Shock Top Twisted Pretzel beer is the perfect choice for those looking for something different but still want the authentic beer flavor. Here is a summary of what we covered in our review: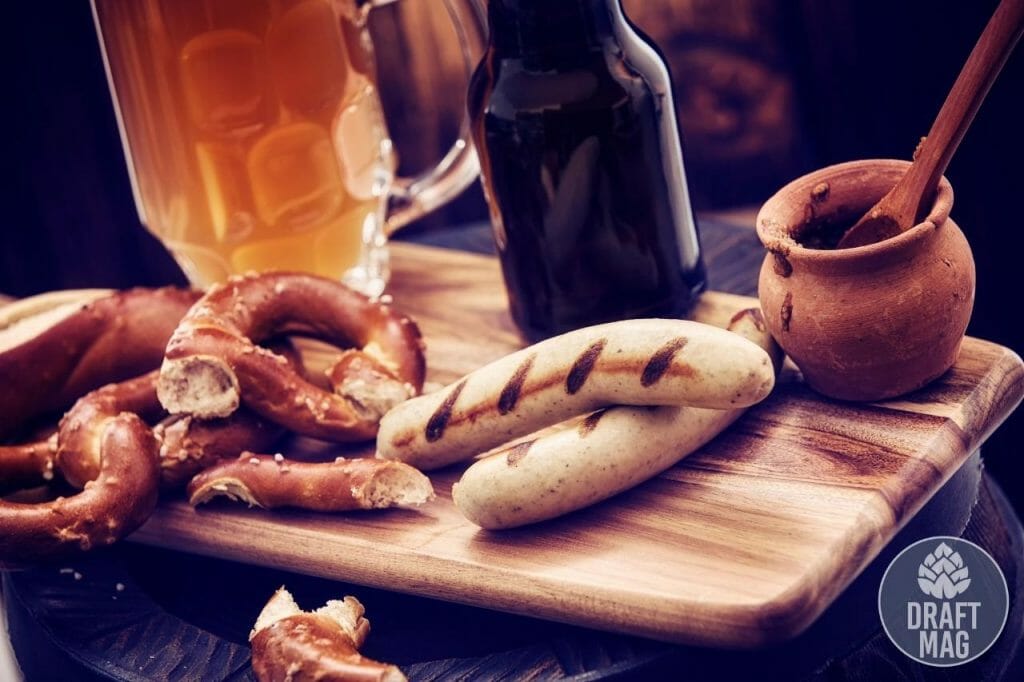 Twisted Pretzel is a Belgian wheat ale with a 5.2 percent ABV from Shock Top.
It features aromas and flavors of pretzel, buttery popcorn, salt, caramel, and bread, with a soft and smooth mouthfeel.
The beer has wheat, caramel malt, hops, yeast, orange peels, and a rich pretzel flavor.
It is best served cold in a pint glass, with a citrus garnishing like an orange slice.
Twisted Pretzel beer goes well with spicy foods, salads, pastries, and light cheeses.
If you're curious about the Twisted Pretzel beer, you can purchase it from liquor stores near you and online stores.

Latest posts by Draft Mag
(see all)