Neon Beer Hug Review: A Beer That Tastes Like Summer in a Can
Neon Beer Hug is a beer that contains over 10,000 volts of flavors. A brilliantly easy-drinking and smooth beer with a high ABV, this beer is a tropical and citrusy explosion on the palate. This beer is shockingly smooth to pour, brilliantly easy to drink and will make you want for more.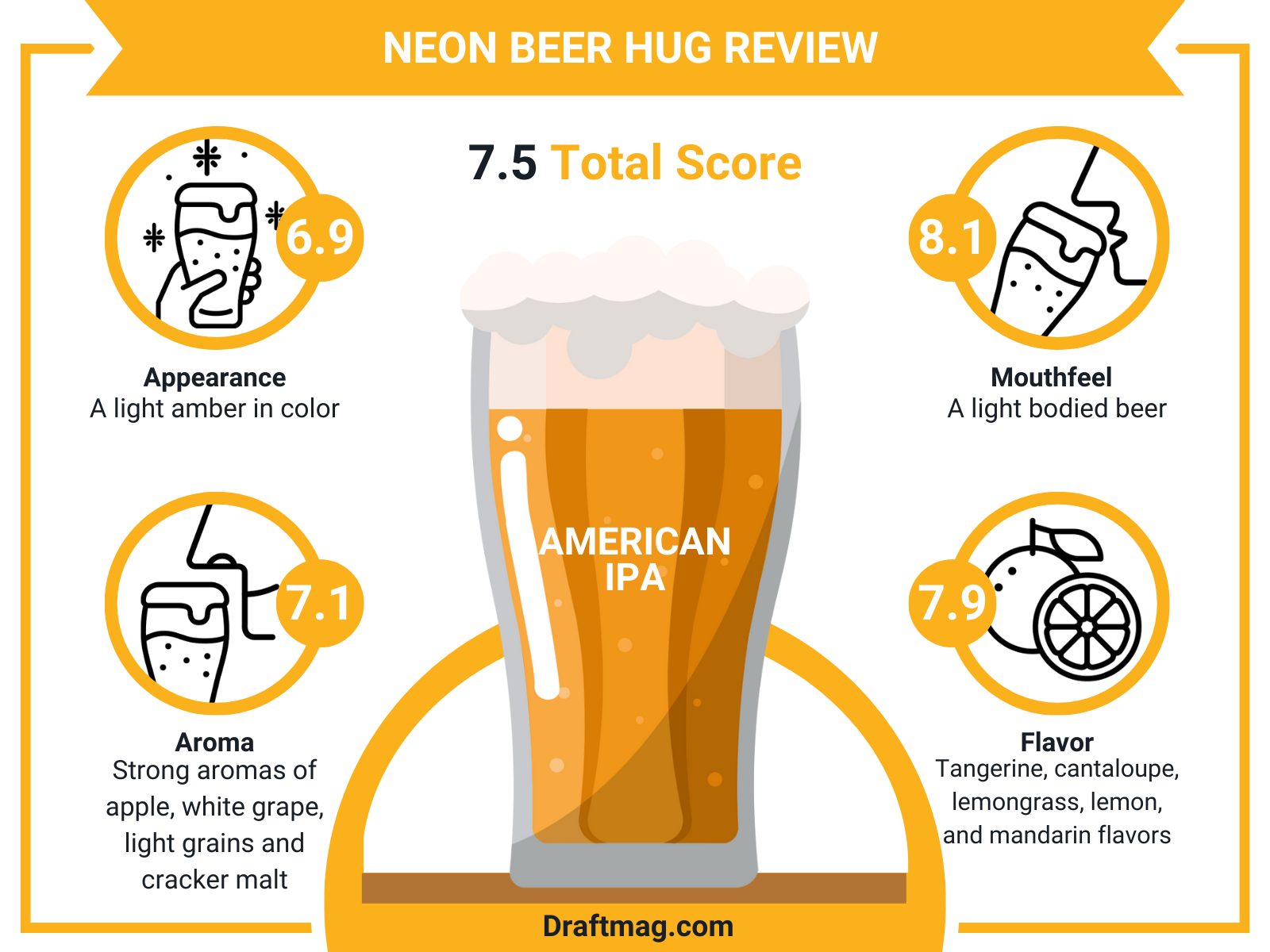 This is a peculiar blend of East and West Coast IPA with mild bitterness and a well-balanced base. Keep reading this article to get a better insight of this spectacular beer.
Neon Beer Hug Stats
| | |
| --- | --- |
| Country | United States |
| Brand | Goose Island Beer Company |
| Style | American IPA |
| Taste | Pale Malt base. Grapefruit, light hops, bitter, mango, orange |
| Body | Light body, refreshing |
| ABV | 7.0 percent |
| Flavors and Aromas | Tropical, fruit-forward, floral, citrusy, pine |
| Serving Temperature | 45 to 50 degrees Fahrenheit |
Tasting Notes
Neon Beer Hug Tasting Profile
Neon Beer Hug Review
Ever heard of a beer brewed with a mad mix of hops? With a blend of Mosaic, Citra, Sultana, Nugget and more hop varieties, this beer is like summer in a can. Here is every key feature that you need to know about this stunning brew.
– Appearance
The beer appears to be gold to light amber in color. It is a stunningly clear beer with absolutely no haze. The white head is large and long-lasting followed by a good amount of lacing. The fizzy white foam is quite thick and bubbly. With medium head retention, the foam dissipates into a nice white lace on the sides of the glass.
The packaging of the beer is quite alluring, with bright colors popping on the can and a cool bear graffiti that can be presumed for the loudness of the beer.
– Aroma
On the nose, the beer has strong aromas of apple, white grape, light grains and cracker malt. There is some presence of grapefruit felt at the back. Some hidden aromas include notes of peach and apricot alongside light tangerine bitterness and mango sweetness. There is also some dankness in the beer.
The overall sense that comes to your nose from this beer is quite fruity and loaded with everything tropical. However, some of the floral notes are lightly translated on the palate. Citrus and pine aromas with some light sweet malt character speak for the beer. The hoppy fruitiness gets hidden under light bitterness. From the hop perspective, the beer smells complex in that Mosaic stands out.
– Mouthfeel
On the palate, this beer feels extremely smooth and crisp. Goose Island Neon Beer Hug ABV is 7.0 percent. For a beer with a high ABV, the body of the brew is quite breezy and crisp. There is medium to light carbonation which also makes the beer extremely clean. The thin body is a sidekick to the crisp flavors of the beer making it an easy drink.
Overall, the beer is refreshing and light bodied with decent carbonated mouthfeel and a clear,  dry and mildly astringent finish.
– Flavor
This beer is a tropical and citrus abode to name it in two words. On the placate there is an obvious presence of notes of grapefruit, pine, lemon, and orange with hidden hints of mango and passion fruit. There is a light pepper-like finish in the beer, but the tropical sweetness and bitterness hide it in a subtle way.
There is some herbal and citrus swing to it. Some other light backend flavors include tangerine, cantaloupe, lemongrass, lemon, mandarin, and some light and airy botanical flavors. This is the perfect summer beer that you have been looking for.
– Food Pairings
This is a classic American IPA that goes perfectly well with spicy dishes. The beer is tropical and citrusy in nature and acts as a perfect side to salty and spicy foods like Indian curries and Pan-Asian food.
Moreover, you can try and pair it with any type of food, from Indian cuisine or pair it with some tangy Mexican food, and you are good to go. Some other foods to try this beer with are grilled chicken, steaks, burgers, shellfish, limburger, cheddar and spicy pizzas.
The reason why you can pair it with such a variety is that it will bring out the flavor of the beer and the food in a complementary way.
Ingredients
This classic American India Pale Ale beer is brewed at 7.0 percent using Nugget, Citra, Sultana, Mosaic and Eureka hop combinations where the Neon Beer Hug IBU is 40. This perfectly blended mixture of unique and loud hops makes this beer a tropical and citrus fest in the mouth. With a well-balanced malt to hop ratio, this beer is all spark and sunshine.
Nutrition Facts
Goose Island Neon Beer Hug calories are about 210, out of which Neon Beer Hug carbs constitute 25 units. If you are someone who is on a calorie deficit diet, this beer may not do the job. As it is high in carbs, this is also a clear no for people on a Keto diet.
History
The idea of this brewery came to reality when the founder John Hall took a tour of Europe and savored European styles of craft beer pint by pint. He then decided to brew some stellar beer and invited his customers to come to watch the brewing process bringing in the BTS much before it even became a thing.
The fascination for craft beer grew amongst the locals and the brewery grew more. The brewery was built in 1995, and today they package over 500 bottles every hour. They have a stockroom and 143,000-square-foot brew house.
Conclusion
This stunning IPA brew is a well-blended West and East Coast IPA with a crisp mouthfeel, clean finish and light carbonation. The predominant flavors include pine, citrus and tropical fruits.
The beer is a stunning mix of the best of East and West Coast IPAs.
The multitude of flavors include tangerine, cantaloupe, lemongrass, lemon, mandarin, grapefruit, pine, lemon, orange and hidden notes of mango.
This beer is best paired with spicy Indian, Mexican, and Pan-Asian food.
On the nose, it is flooded with floral, fruity and lemony flavors, on the palate, it is refreshing and juicy, and super light in mouthfeel.
So what are you waiting for? Grab this tropical explosion and experience tasting the best of American summers.