Wild Blue Beer Review: What Experts Have To Say About This Lager
Wild Blue beer is a fruit-style lager that has astounded beer lovers across the country. Produced by Anheuser-Busch, it is a fusion of blueberries, a variety of hops, and grains to create a spectacular fruity taste.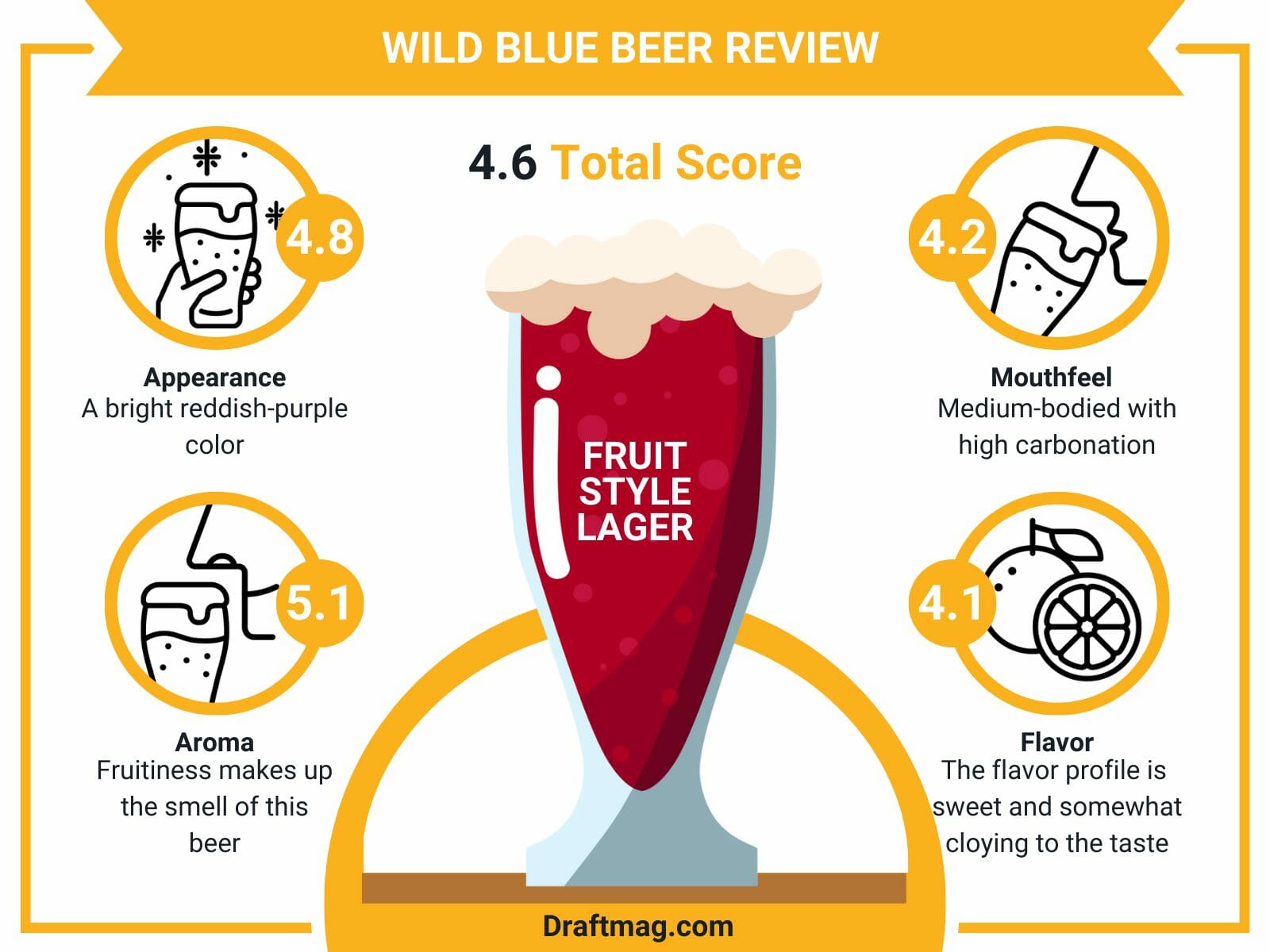 Since it was launched into the beer market, beer drinkers have had much to say about it, with many rating it highly. If you're eager to taste it, then our detailed breakdown is all you need to read to know if it's worth having.
Wild Blue Beer Stats
| | |
| --- | --- |
| Country | United States (Missouri) |
| Brand | Anheuser-Busch |
| Style | Fruit-style lager |
| Taste | This beer is sweet all throughout, with only a very mild malty taste at the base. There's no hop present, and there's a very subdued hint of alcohol. |
| Body | This beer is light-bodied with high carbonation. It is crisp and smooth with a slick, syrupy finish. |
| ABV | Eight percent |
| Flavor and Aroma | Its flavors and aroma are of blueberry, malt, slight grains, and a few aromatic hops. |
| Serving Temperature | 45 – 50 degrees Fahrenheit |
Tasting Notes
Wild Blue Tasting Profile
Wild Blue Beer Review
Many beer drinkers have described this beer as pleasant and simply irresistible. Our review provides detailed insight into this fruit-forward beer to let you know if it's worth the hassle.
– Appearance
Perhaps one of the most striking things about this beer is its color. The beer pours a bright reddish-purple color. It has high carbonation with a noticeable fizziness that causes a purple foam head to rise to the top of the glass. This purple foamy head was a huge surprise for us, as it is rare to find a lager beer that looks like this.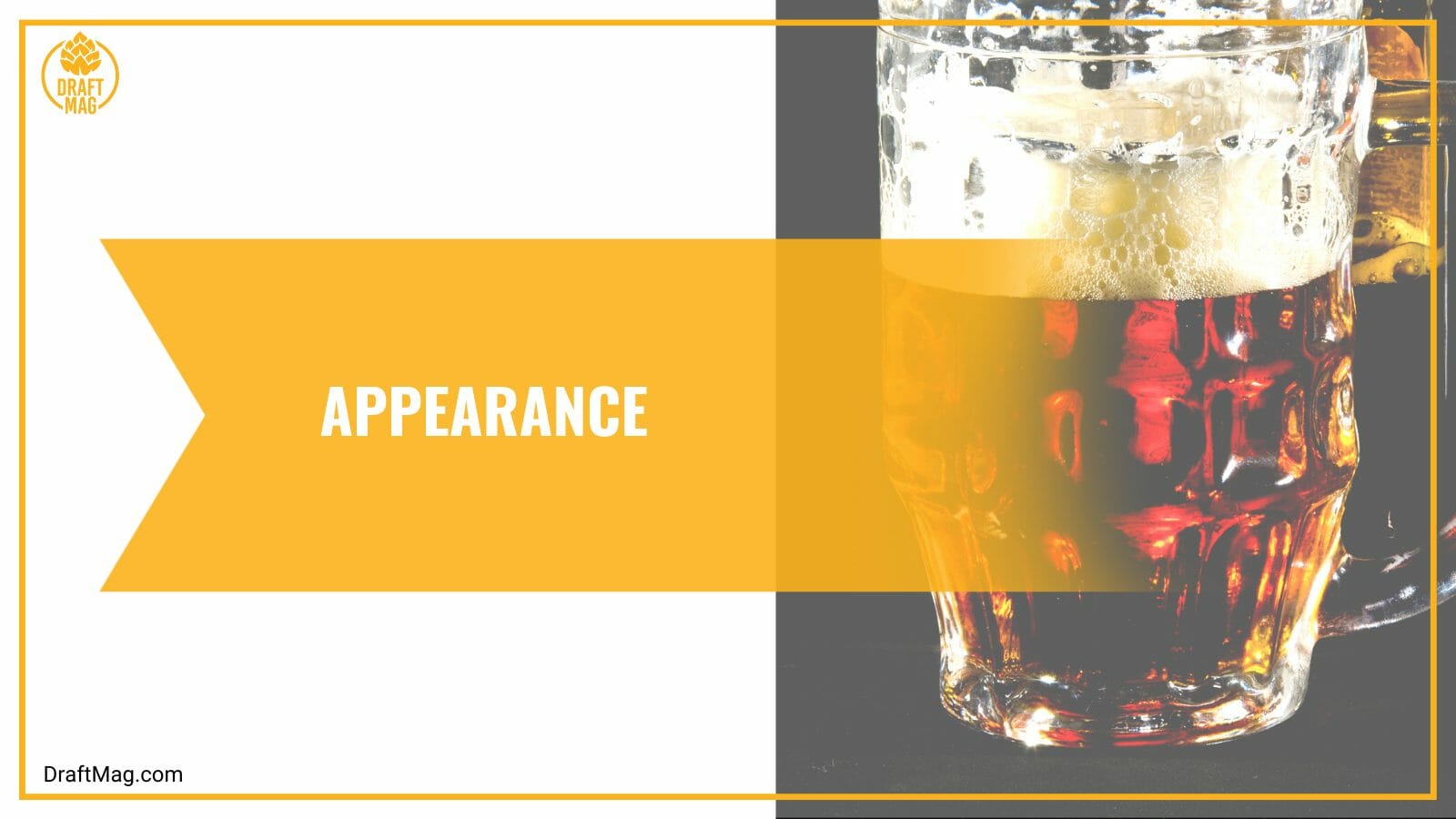 In fact, this beer doesn't look anything like a beer and leans more towards wine or grapefruit juice. The head retention is commendable, and a thick lacing surrounds the glass from the moment you start drinking until the end.
– Aroma
Just like its appearance, this lager smells nothing like beer. The aroma is strong on fruits, especially blueberries. This fruitiness makes up the smell of this beer, although there's a subdued maltiness at the base. For some reason, this beer also smells like wine stored for a long time.
Once you get past the fruity note of this beer and pay close attention, you can catch a whiff of the alcohol in it alongside a bit of grain. Considering that this beer has a high ABV of eight percent, we like that the fruity scent masks the high alcohol content, making it enticing to drink.
– Mouthfeel
This beer is medium-bodied with high carbonation that adds a commendable depth to its body. A rich, fruity sweetness hits your taste buds immediately after you take a gulp. The sweetness remains all throughout, although the beer is quite crisp and there's a noticeable tartness.
A minimal maltiness comes through once you get past all the smoothness. Although this beer contains a variety of hops, there is no noticeable hoppiness at the finish. Overall, the beer is sweet and leaves a smooth and slick finish.
– Flavor
The flavor of this beer is a very strong blueberry. There is also a subdued malty flavor and a grainy character that is easily discernible. Although slightly subdued, you can make out an aromatic hop flavor that compliments the beer's overall character. The flavor profile is sweet and somewhat cloying to the taste buds.
Somehow, the flavors of this beer are pretty bold yet manage to be simultaneously subtle. We appreciate that the flavor profile isn't overboard, considering that its appearance, aroma, and taste are already quite over the top for a lager.
– Food Pairings
Although lagers are generally known to be versatile brews, this fruit-style lager tastes a lot better with certain dishes. First, fruit-style beers like this one are best paired with citrus-flavored meals or those that have a moderate spice. You can pair this beer with cakes, fruit salads, apple pies, and gummy worms.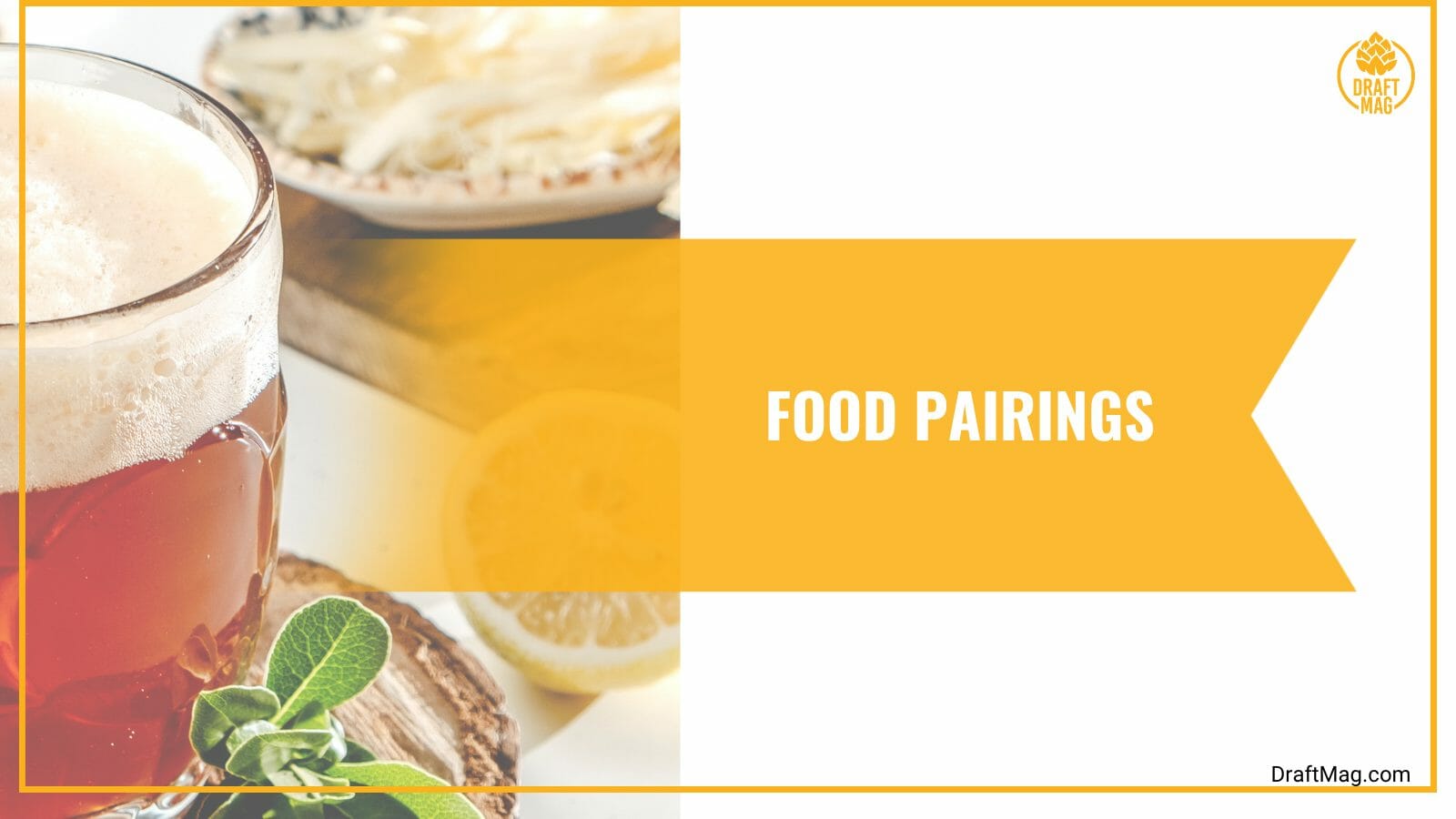 For variety, you can also pair this beer with lightly seasoned meat, pork, and salads. You can also pair it with pasta that has a mildly flavored sauce. Furthermore, fruity desserts are a simply delightful way to enjoy your beer.
Ingredients
This beer is made with premium beer ingredients that include American and German Hallertau Hops, although they appear to be used in minimal quantities. This brew also contains cereal grains, blueberry syrup, and two-row and six-row barley malt. Aside from these, it also includes the regular yeast and water beer ingredients.
Nutrition Facts
This lager contains 260 calories and 26.6g of carbohydrates per 12-oz. serving. It has zero grams of proteins, zero grams of fat, and a massive eight percent alcohol content. Due to its high carbs, it isn't the best option for those actively trying to lose weight or those on a Keto diet. It also has a high ABV, so you must go slow with this craft beer or you'll be buzzy in minutes.
History
Wild Blue blueberry lager was first released to the American beer market in 2008. It is produced by Blue Dawg Brewing Company, a subsidiary of Anheuser-Busch. It is a fruit-style lager that consists of blueberries, hops, and cereal grains.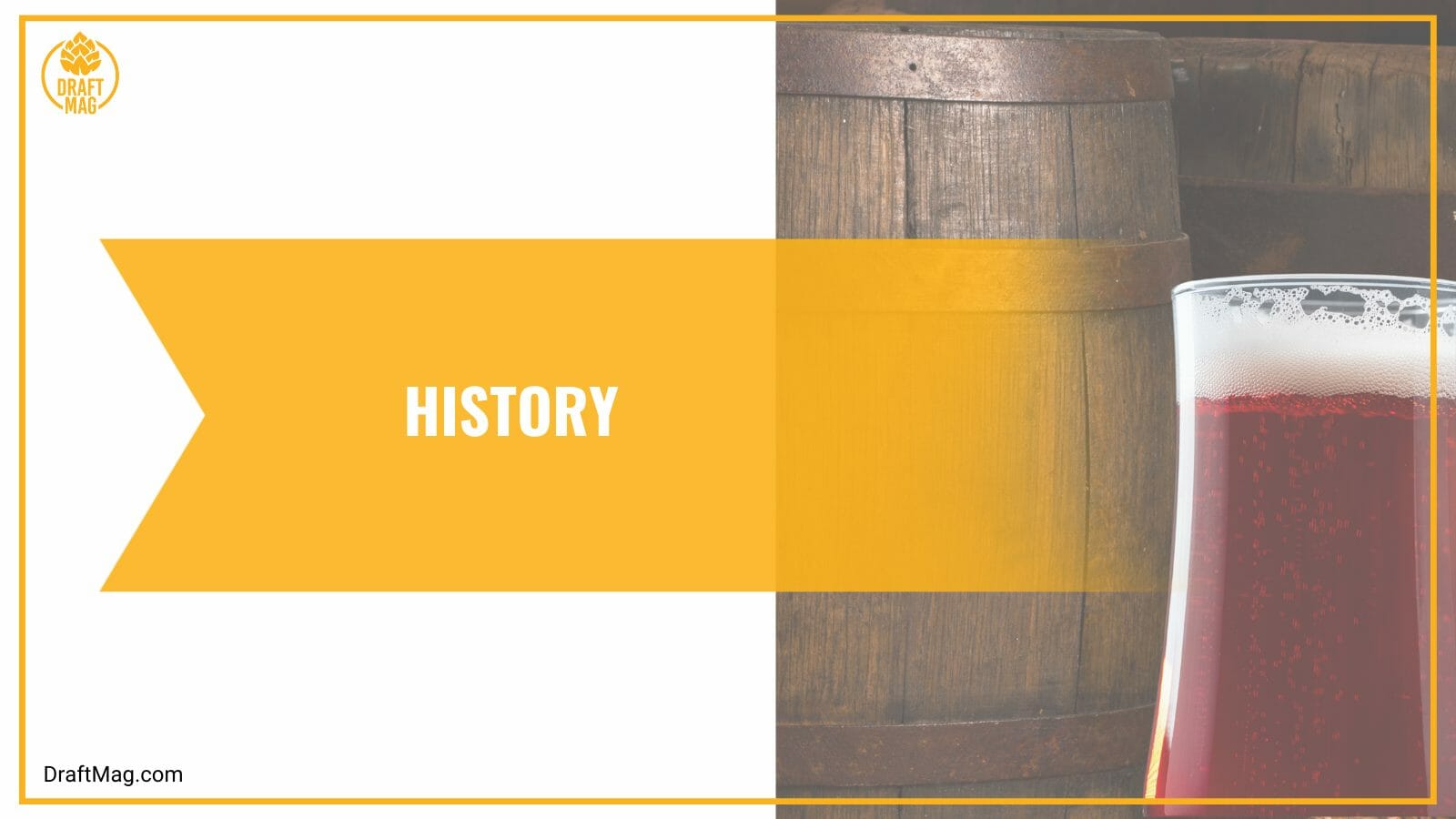 Overall, it has an exciting aroma and taste that makes it a favorite among beer drinkers. Unfortunately, this lager is no longer brewed by Anheuser-Busch.
Conclusion
This beer earned its rights as one of the premium lager beers to have graced the American beer market, and here's a quick summary of all we discussed in this review:
Wild Blue beer is a fruit-style lager with 8 percent ABV produced by Anheuser-Busch.
Its aroma, flavor, and taste are made of blueberry, cereal grains, hops, and malt character.
The beer is light-bodied, with high carbonation and a sweetness that lasts all throughout. There's a slight maltiness at the base without any hop presence.
You can pair this beer with fruity desserts, salad, lightly seasoned meat, and pasta. You can also pair it with cakes, pies, and even gummy worms.
If you are a huge fan of fruity beers, there's absolutely no reason not to have loved this beer. From its appearance to its taste, this beer was top-notch, and while some may have described it as a fruit soda, it was still a great beer. It would have been on our list of highly recommended beers to try out if it had not been discontinued.