Lagunitas Night Time Review: Everything To Know About This Black IPA
Lagunitas Night Time is the opposite of the brewery's DayTime IPA offering. As the name and style suggest, this black IPA with complex flavors is a perfect beer for the night.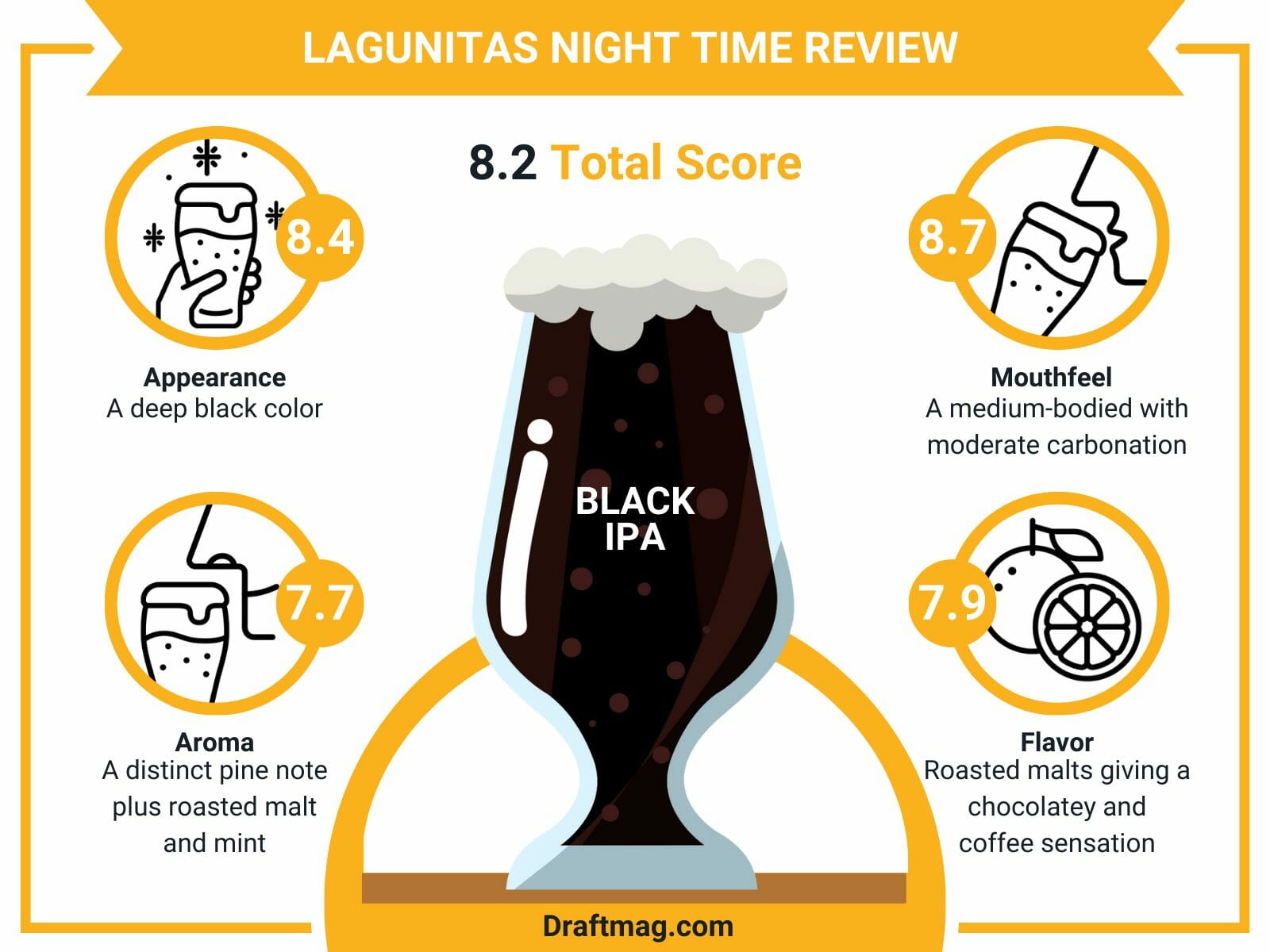 And in this review, we'll reveal the beer's specific taste profile, aroma, mouthfeel, and ingredients used in brewing. Also, we'll discuss the beer's nutrition facts, history, and dishes that go well with it.
Lagunitas Night Time Stats
| | |
| --- | --- |
| Country | United States |
| Brand | Lagunitas Brewing Company |
| Style | Black IPA |
| Taste | Roasted malt |
| Body | Medium |
| ABV | 8.2 percent |
| Flavors & Aromas | Roasted malt, pine, citrus hops |
| Serving Temperature | 45-55 degrees Fahrenheit |
Tasting Notes
Lagunitas Night Time Tasting Profile
Lagunitas Night Time Review
While this is a brief overview of the beer style, let's look at the characteristics specific to Lagunitas Night Time beer in this section.
– Appearance
The beer pours a deep black color with a finger-thick tan head. The head hangs around for some time and clears slowly, leaving a few lacing on the beer glass. Also, it has moderate carbonation with bubbles hidden in the darkness.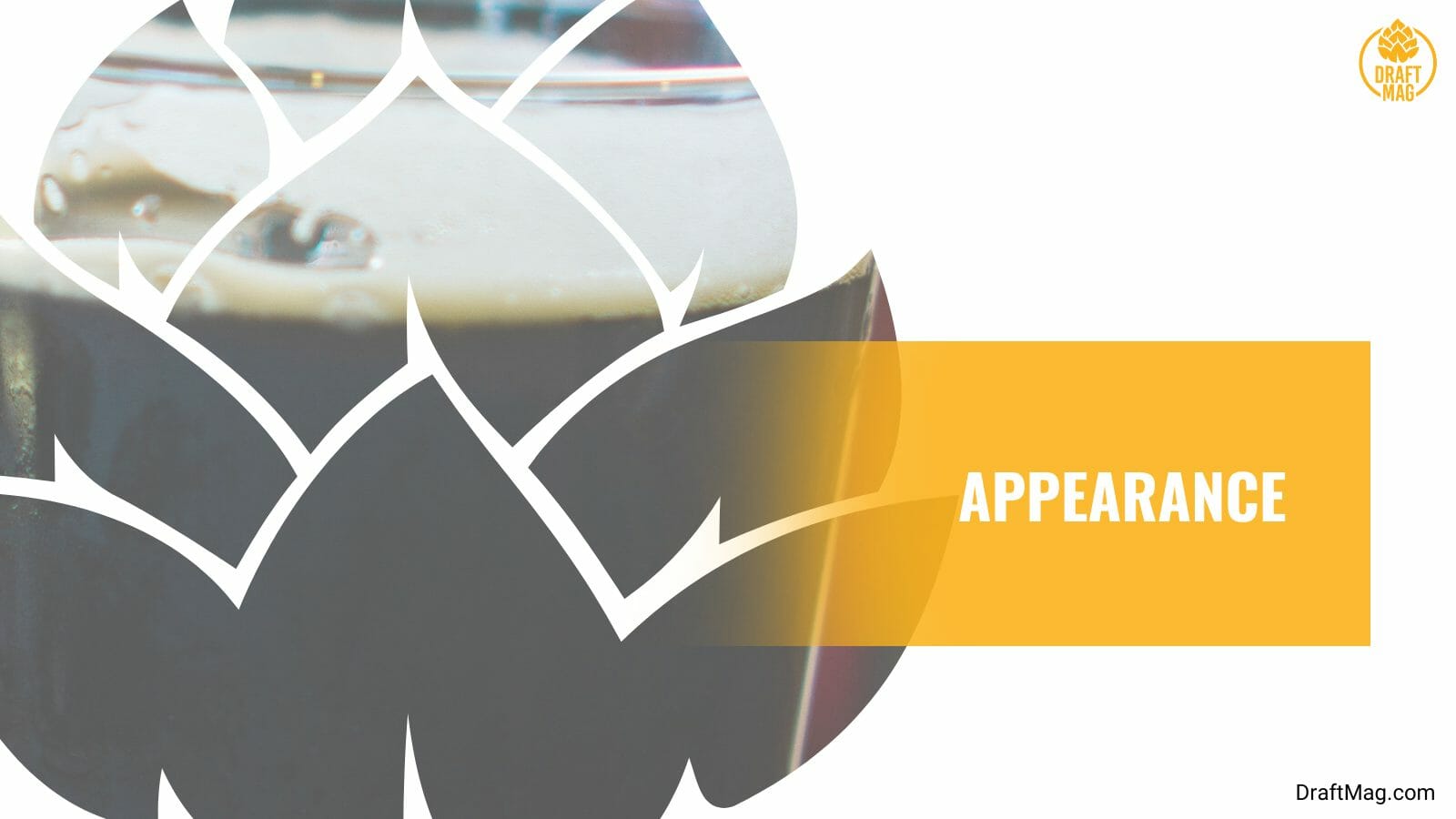 Black IPAs have existed for over a century, and beers brewed with this style are typically deep brown or hazy black and are hoppy and robust.
– Aroma
The first approach on the nose is a distinct pine note plus roasted malt and mint. Also, a more curious sniff will capture the aromas of caramel balanced by citrus hops with grassy notes. And if you are a beer enthusiast, you don't need a long guess to confirm that this is a black IPA.
– Mouthfeel
The beer is medium-bodied with moderate carbonation giving it a slightly creamy feel. First, it's smooth on the palate with a light astringency that lingers as the pine, citrus, and floral hop surfaces.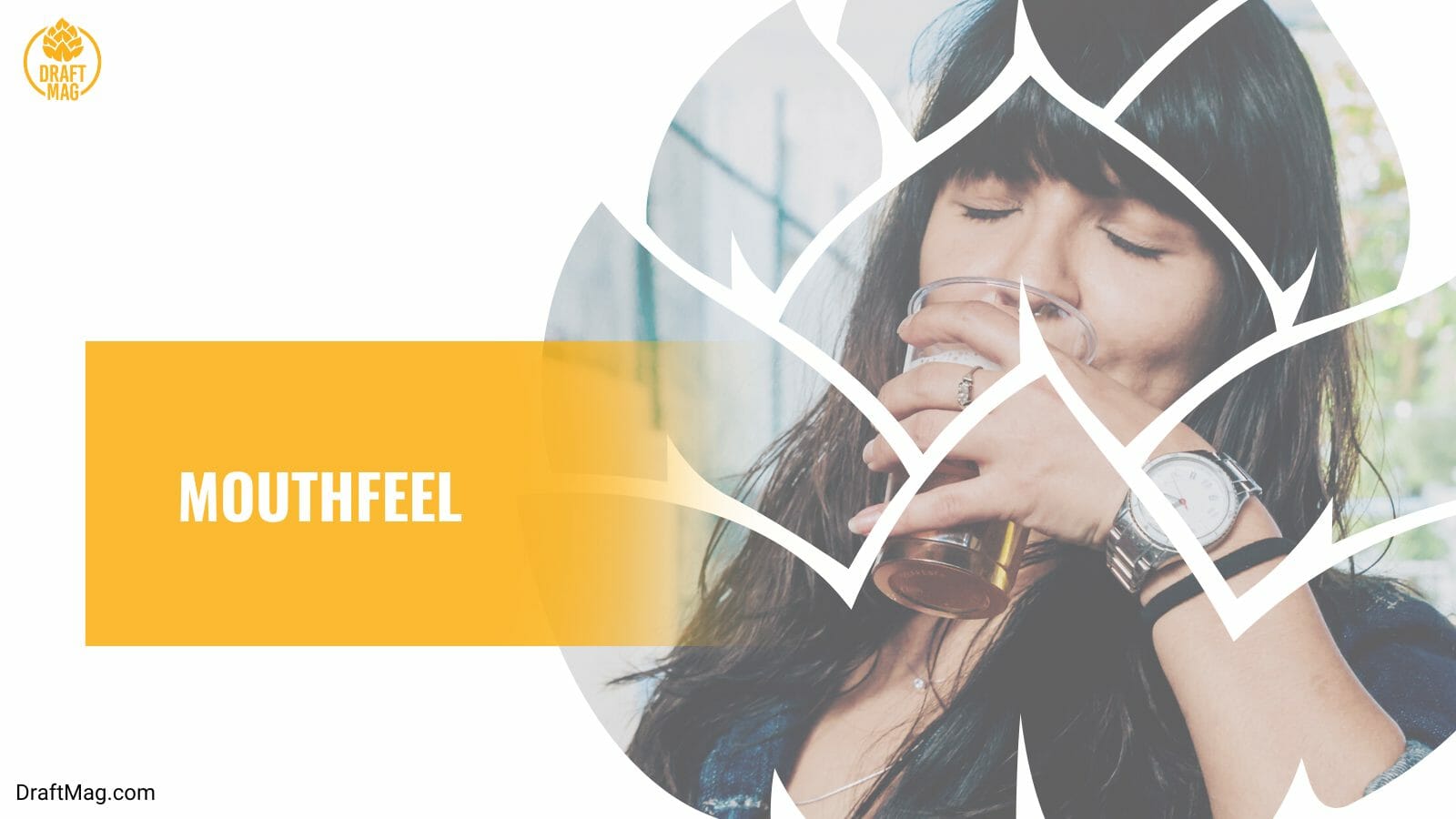 Also, on the back end is a roasted malt note. Overall, the brew is easy to drink, and it finishes clean.
– Flavor
Lagunitas Night Time has a flavor of roasted malts giving a chocolatey and coffee sensation; this is then balanced by the hops. Also, its citrus notes impact some juiciness with piney notes that linger to the finish. The alcohol surfaced on the back end with some warmth.
– Food Pairings
Lagunitas Night Time is a strong beer and pairs with similar intense flavors, so it goes well with spicy barbeque games like pheasant, bison, quail, short ribs, creamy steak, fried turkey, and chicken. And if you love cheese, go for the likes of cheddar, Roquefort, stilton, aged gouda, gruyere, and Spanish cabrales.
The reason is that these foods coat the palate with cream and oil, so the hops and carbonation come in to cleanse the palate between bites.
Also, this beer pairs well with grilled shellfish like shrimp, oysters, crab, and lobsters. This is because the beer's chocolate flavor blends with the iodized sides of these fish, making the palate a playground for sweet versus salty. Other possible pairs include sausage, braised dishes, and rich stews.
When considering dessert, don't think for long; go for anything chocolate. Consider chocolate cake, dark chocolate, brownies, and chocolate truffles. Other perfect desserts include carrot cake, cheesecake, tiramisu, apple pie, banana pudding, caramel flan, and cookie butter pie. Remember to serve this beer between 45-55 degrees Fahrenheit to appreciate it better.
Ingredients
Lagunitas is tight-lipped on the exact ingredients used in this brew, possibly to maintain a competitive edge. But a typical black ale is brewed with the following ingredients:
Dark malt
Hops
Water
Yeast
Nutrition Facts
Details of the Lagunitas Night Time nutritional values aren't revealed, but it's a beer with 8.2 percent ABV. And comparing this with the regular ABV to calories chart, its calorie content is likely to be around 237 for a 12 fl. oz serving.
Black IPAs generally have a high-calorie range, and this beer isn't an exception. Thus, you can't drink it if you're on a keto diet.
Also, be mindful of how much you drink because the beer has a high alcohol content. Like porter beers, Lagunitas Night Time comes with fullness, so you may not be able to drink roo much. Above all, drink responsibly.
History
Night Time is one of the limited-release beers of the California-based Lagunitas Brewing Company. Tony Magee established the company in 1993. Since its inception, Lagunitas has been committed to brewing different beer styles, from American IPAs to black IPAs and hard seltzers, in limited and unlimited editions.
In 2015 Heinekin acquired 50 percent of Lagunitas brewing stake with the aim of expanding the brand reach. But today, Lagunitas beers are a subsidiary of the famous Heineken brewing company after total acquisition in 2017. However, the company still operates with Tony Magee as CEO and continues to serve the public with excellent beers.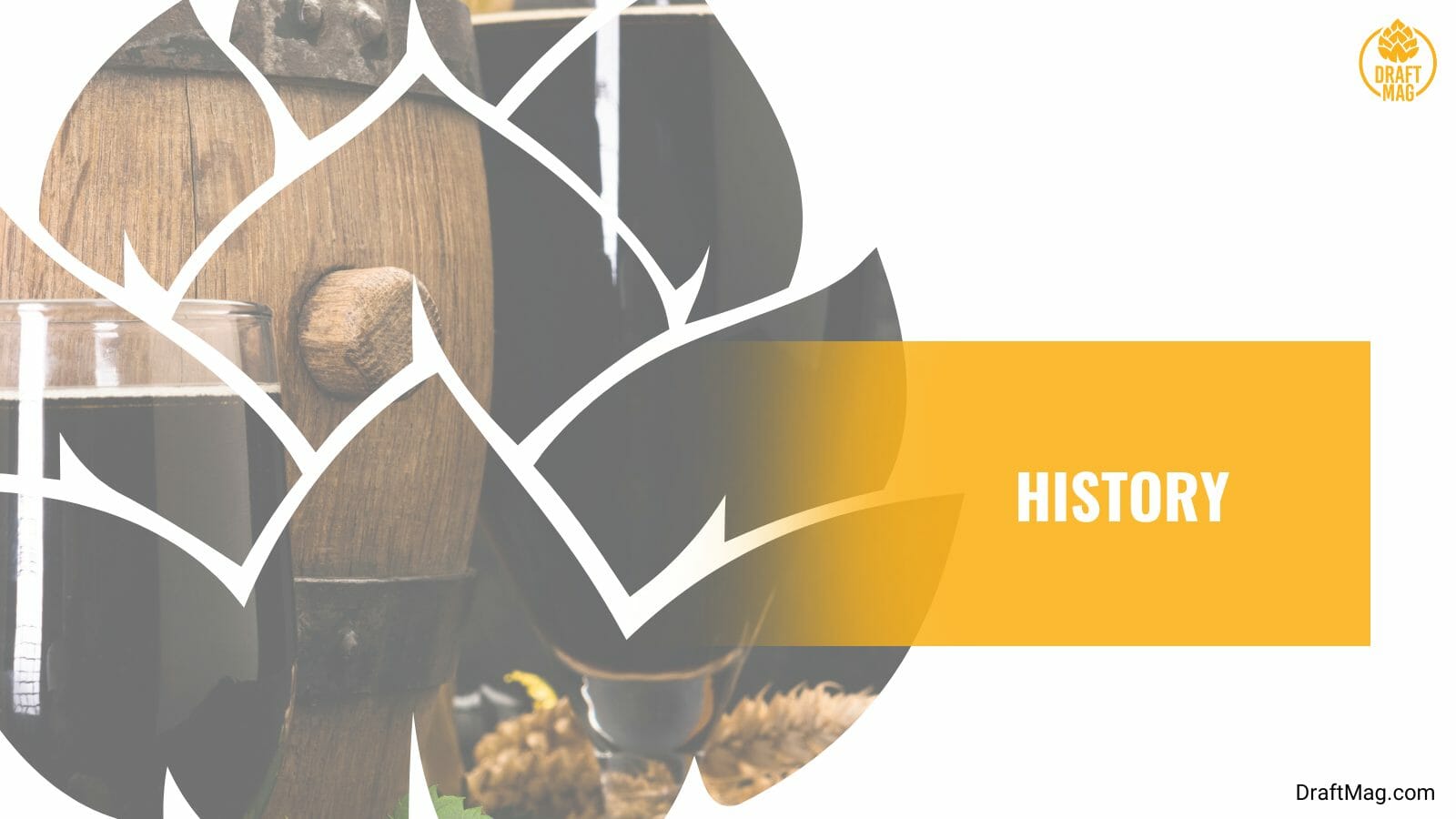 Some unlimited edition beers include Lagunitas Super Cluster, Hazy Wonder, Maximus, and Daytime which is vaguely referred to as the opposite of the limited-release NightTime Black IPA. Other limited-edition beers from Lagunitas include Willetized, Waldos, and the Sterohopic series. Also, there are Lagunitas non-alcoholic beers like Ipna and Hop Refresher.
Frequently Asked Questions
– Does Lagunitas Make a Light Beer?
Yes; an example is the Lagunitas Daytime, an American IPA with 4 percent ABV, 98 calories, and 3 grams of carbohydrates.
– How Much Did Heineken Pay for Lagunitas?
While the terms of the complete acquisition were not revealed, the first 50 percent stake was allegedly about $500 million.
Conclusion
As we promised at the beginning of this review, we have detailed Lagunitas Night Time's unique characteristics. Sadly, being a limited-release beer, it's currently out of the market, but here is a recap of our review:
Lagunitas Night Time is a Black IPA with 8.2 percent ABV.
The beer appears dark in color with a creamy tan head that's about a finger thick.
The beer is medium-bodied with average carbonation.
Lagunitas Night Time beer has a high-calorie content, so it is not recommended for those who are on a strict diet.
Although you may not be able to encounter this specific beer, when served with a black IPA, you can pair it with the various foods mentioned in this review. But the food pairing list is not restrictive, so it would also do well to explore other alternatives.