Sam Adams Holiday White Ale Review: A Flavorful Witbier 
Sam Adams Holiday White Ale is a fantastic ale that is able to balance its complex flavors with being mellow and slightly bitter. The witbier made by the famous Boston Beer Company offers delicious and unexpected notes of citrus, spice, and malts.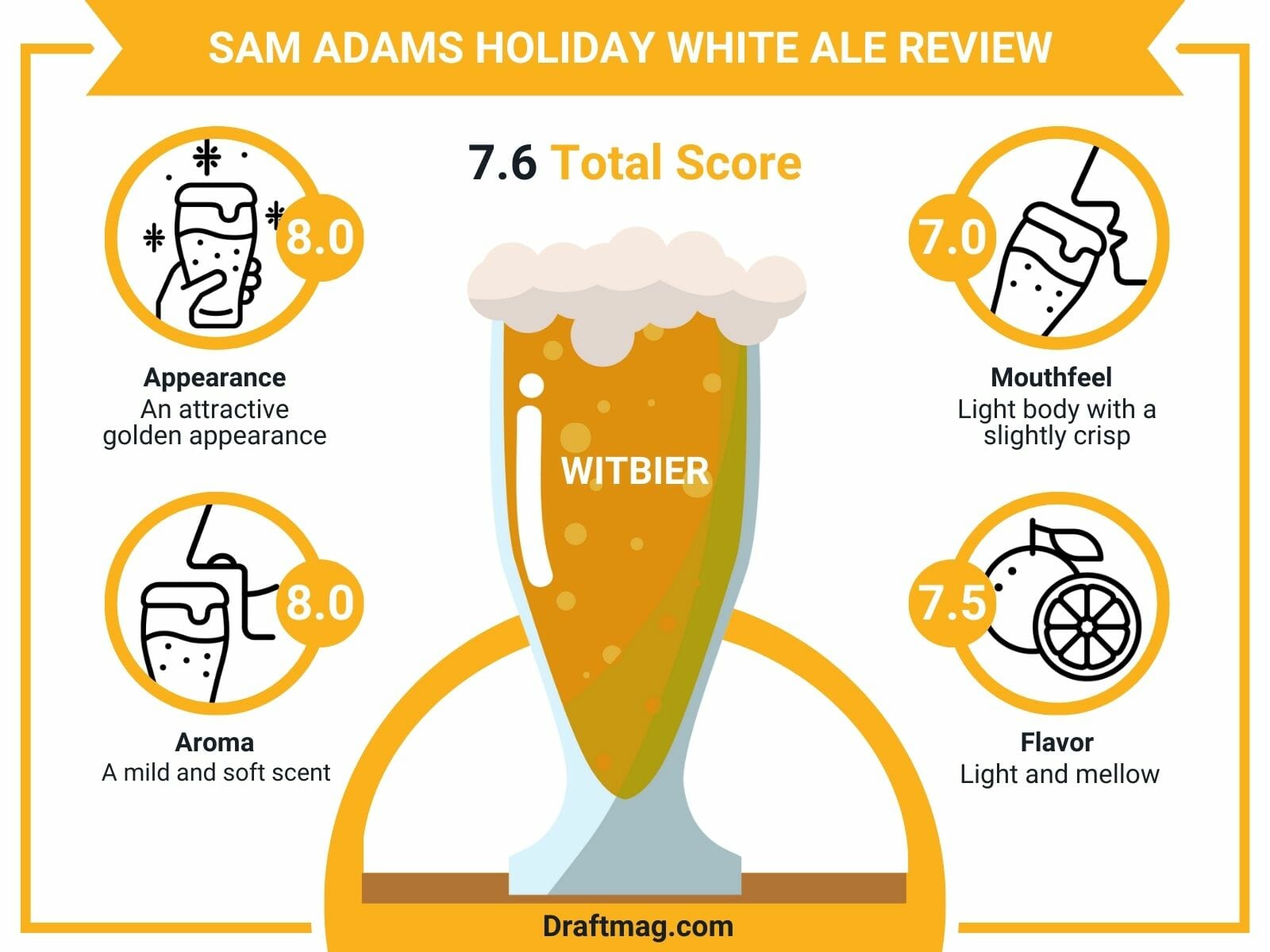 Previously known as the White Christmas, the beer was made for cold days but will be refreshing regardless of the weather. We've put together a complete review of the winter ale below, so continue reading to know more. 
Sam Adams Holiday White Ale Stats
Country 

United States

Brand

Boston Beer Company (

Samuel Adams

)

Style

Witbier 

Taste 

Citrus, malty

Body

Light body

ABV

5.8 percent

Flavors & Aromas

Orange peel, citrus, spicy, coriander, malts, cracker,

Serving Temperature

40 – 45 degrees Fahrenheit
Tasting Notes
Sam Adams Holiday White Ale Tasting Profile
Sam Adams Holiday White Ale Review 
Appearance: 8/10

Aroma: 8/10

Mouthfeel: 7/10

Flavor: 7.5/10
Holiday White Ale is a witbier made by Boston Beer Co under the well-known Samuel Adams brand. The wheat beer features an alcohol content of 5.8 percent, which is a pretty decent level. It is quite complex and mellow, with festive spice and a balanced taste of citrus and malts. 
The beer features flavors and aromas and wheat malts, citrus, orange peel, coriander, crackers, and some spicy hop notes. It has a hazy golden appearance and a light body that is bubbling with carbonation. Enjoy the beer on any occasion, as it is drinkable and refreshing despite being initially advertised as a Christmas beer.
You should serve the witbier in a tulip glass at temperatures from 40 to 45 degrees Fahrenheit. Tulip glasses are designed with a short stem and a bulbous shape that allows you to twirl the beer and enhance the aroma. It can be garnished with a juicy orange slice.
– Appearance 
On the pour, the Holiday White Ale has an attractive golden appearance that tends towards orange. You might notice some orange hues when you place them in the light. The appearance is a bit hazy because of the unfiltered wheat.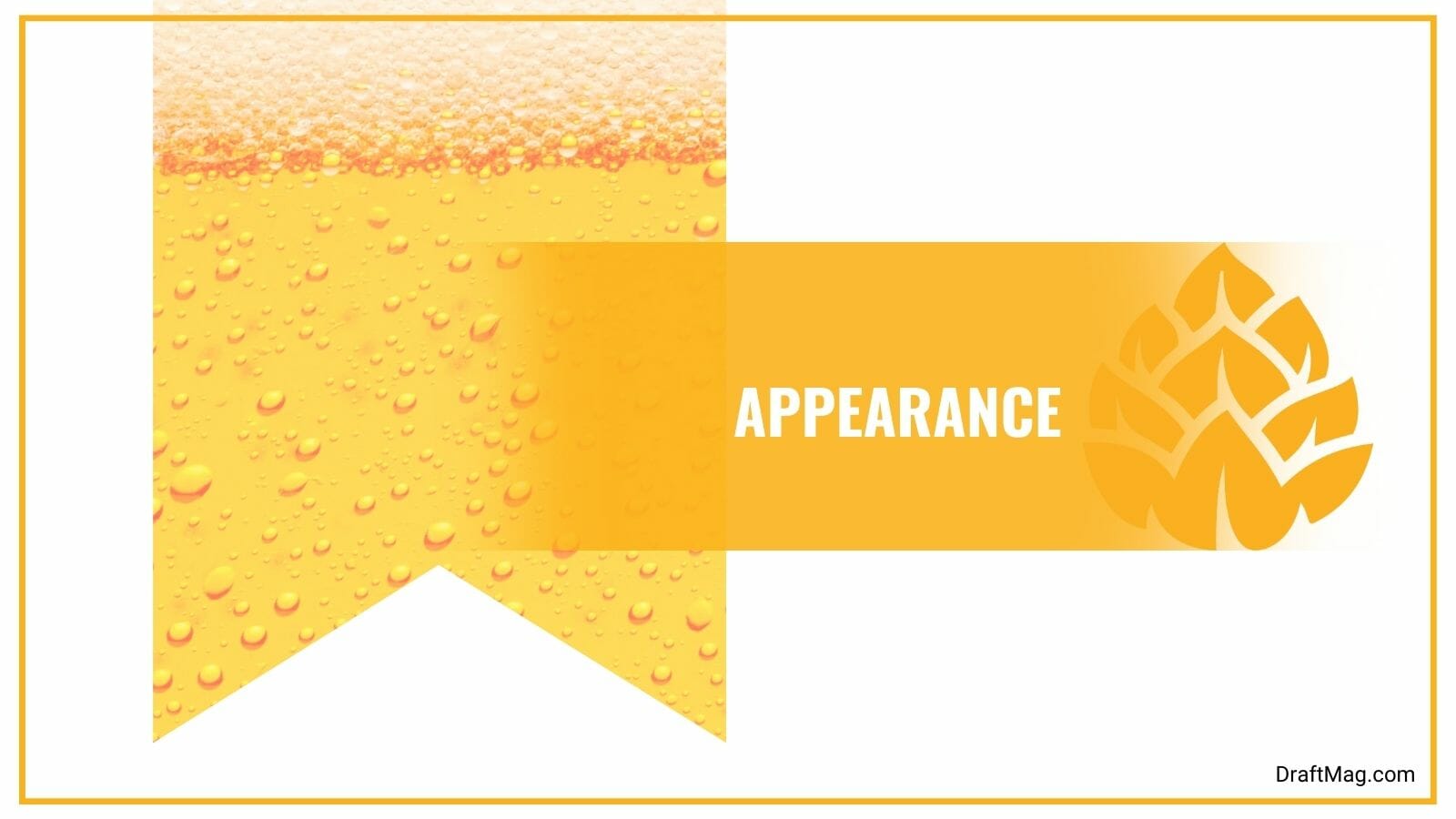 Atop it is a two-finger white head that offers some decent retention. The dense foamy head will remain strong for a while before dissipating a bit, leaving sticky lacing behind. 
– Aroma 
As for the aroma, witbier has a mild and soft scent that offers a lot of promise for what the flavor will give you. The citrus notes are the most prominent, and you will also have a bit of coriander prickling your nose. 
The spicy aroma consists of some nutmeg, cinnamon, and spicy hops, balanced out with citrus hops. You might notice a bit of light wheat and crackers on the nose.  
– Mouthfeel 
On the palate, the Holiday witbier offers you a light body with a slightly crisp finish. The mouthfeel is very light and surprising for a wheat beer, and the carbonation keeps it tasting fresh as you drink. It also allows it to go down easily with a bubbly feel.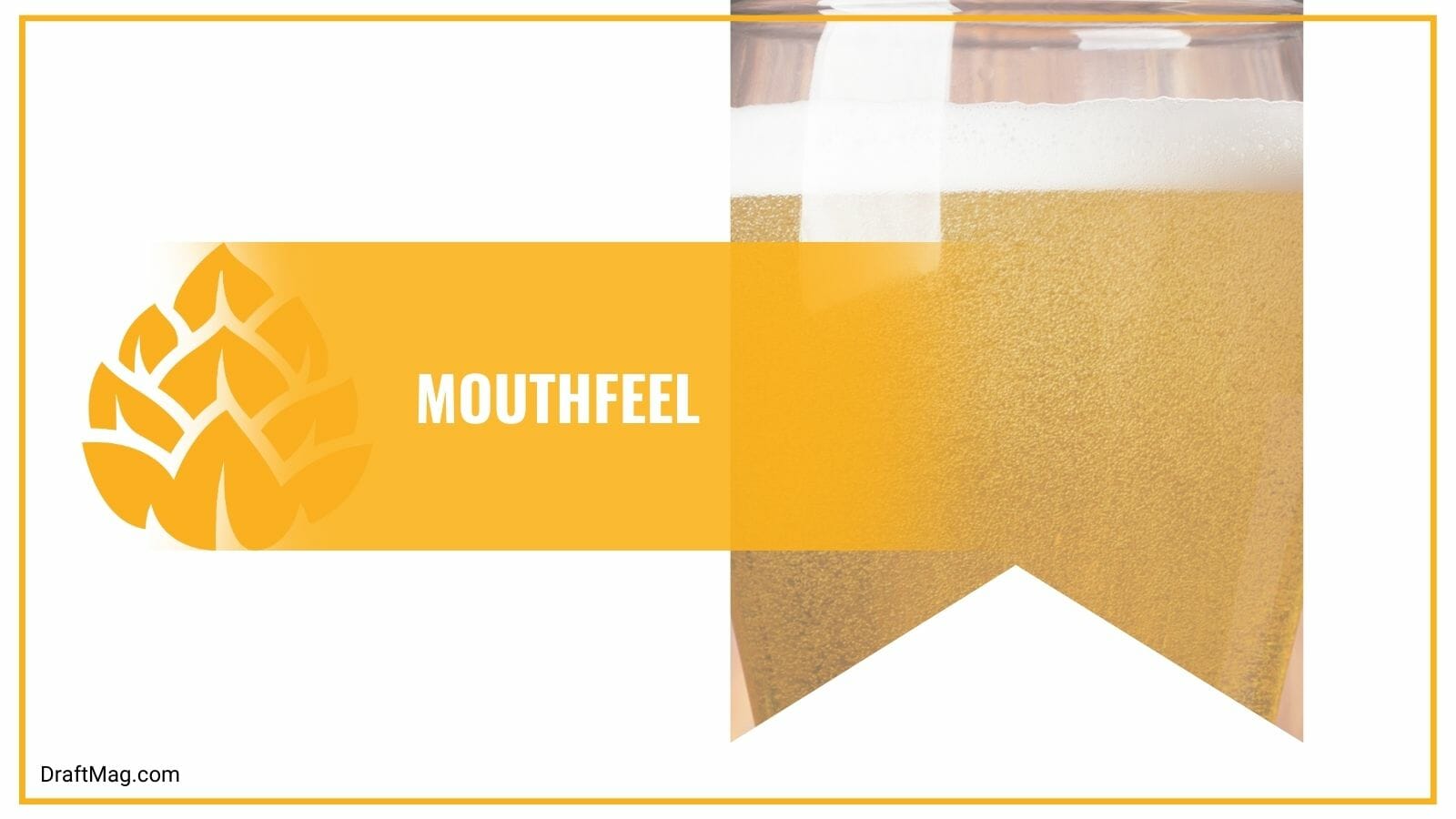 The flavors of the beer are low-key, and like other Sam Adams beers, it is drinkable. It is refreshing and crisp, with a spicy finish that will please your palate. 
– Flavor 
The flavor of the witbier follows the aroma very closely, but it is not as spicy as the nose might have made you think. Instead, it is light and mellow, not as vibrant as you might have expected. The citrus is the first thing you taste when drinking this beer, giving you a bitter, hoppy taste and some orange peel. It has a basic and simple flavor from there.
After the bitter citrus, you get some wheat malts and crackers in the middle of the palate, but the coriander emerges towards the end. It tastes like sweet toasted bread with citrus, nutmeg, cinnamon, and clove, and the finish is smooth. The orange zest shines through in the finish, along with a bit of spice. 
– Food Pairings
The citrusy nature of the witbier pairs well with a wide range of foods, and if you're one for daytime drinking, you can pair this with an American-style brunch. It will go great with omelets, quiches, pies and tacos, and any food with a fruity flavor.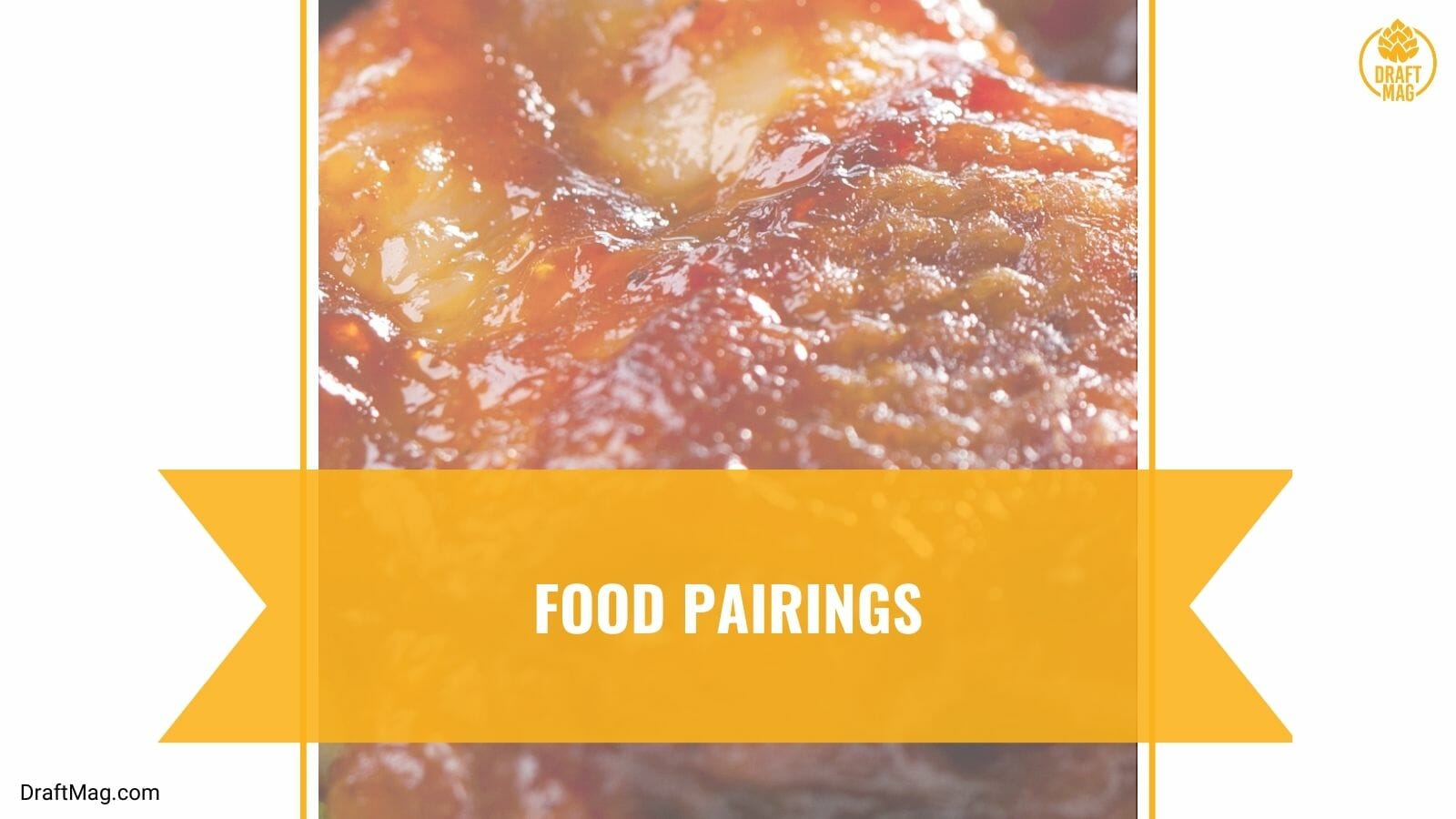 The beer goes great with a different kinds of seafood, so consider having lobster, smoked salmon, sushi, and other light fish dishes with it. Also, the beer will go great with salads that have a citrus dressing, spicy noodles, and sticky-sweet buffalo wings. It also goes great with chicken dishes, whether it's roasted, grilled, smoked, or fried.
If you want dessert with this ale, you can have it with fruit tarts like a lemon tart or pastries. Also, spicy desserts like a cinnamon roll or a coriander cake would be great. It goes great with light and fresh cheeses like brie and mozzarella. 
Ingredients 
The witbier is made with malts, hops, yeast, and water to give you a well-balanced and delicious brew. It was brewed with a Samuel Adams two-row pale malt blend, and this offers the solid malt base and wheaty crackers that you will taste and smell. The other malt used to make the beer is IdaPils.
As for the hops, the beer was made with Spalt Spalter Noble hops, offering some citrusy and spicy hops as you drink. Like any other witbier, the Holiday White Ale is a bit yeasty and is made with the ale yeast to ferment.
Nutrition Facts 
The witbier features an alcohol content of 5.8 percent, which is a pretty decent level. The alcohol content is well masked, so it does not affect the flavor or aroma of the beer. You can expect only mild bitterness from the hops as this beer has 8 IBUs.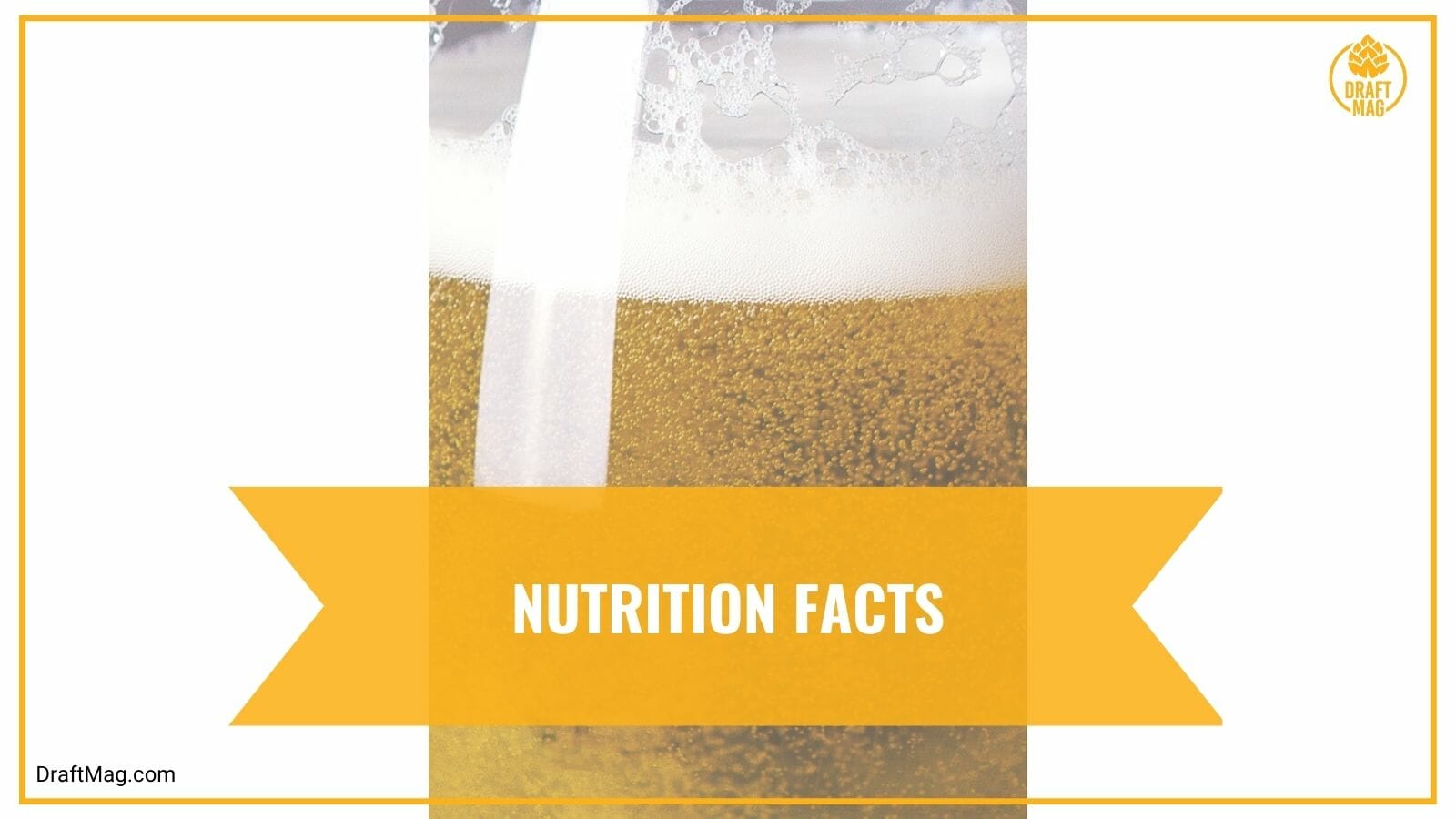 The beer features 190 calories in every 12-ounce serving. The other nutrition facts include 18 grams of carbs and 2 grams of protein. If you're on a keto diet, you should reconsider taking this beer since it is high in carbs. Also, it is not suitable for gluten-intolerant drinkers. 
History
The Samuel Adams Holiday beer is under the brand made by the Boston Beer Company. It was released in 2003 and is a seasonal beer, so you can only purchase it from November to January. The beer is known as one of the longest-running seasonal beers in the USA.
The Boston Beer Co was founded in 1984, and this was its first brand, named after one of the founding fathers. Other brands include Angry Orchard and Twisted Tea. The company was launched by Jim Koch And Rhonda Kallman and is one of the largest breweries in the United States. 
Conclusion
This witbier is the ideal choice for anyone who needs a refreshing, drinkable, and mellow beer for any occasion, including the winter season.
Here's what we covered in our review:
Holiday White Ale is a witbier with a 5.8 percent alcohol content.
The beer has flavors and aromas of orange peel, spicy hops, citrus, cracker malts, wheat, coriander, and a light body.
It is made with a two-row pale malt blend, ale yeast, and Spalt Spalter Noble hops.
Serve the beer in a tulip glass at 40 degrees Fahrenheit.
Enjoy drinking this beer with an American-style brunch, seafood, spicy foods, salad, chicken dishes, fruit tarts, pastries, and mozzarella cheese.
From November to January, you can look out for this beer at different stores and online. It is sold on draft and in 12-oz bottles.