Brother Thelonious Beer Review: A Tasty Dark Ale Everyone Must Try
Brother Thelonious beer is no doubt an enjoyable beer with a sweet and complex character that will caress your palate. Inspired by a monk, this beer is robust and rich and will definitely offer a unique experience.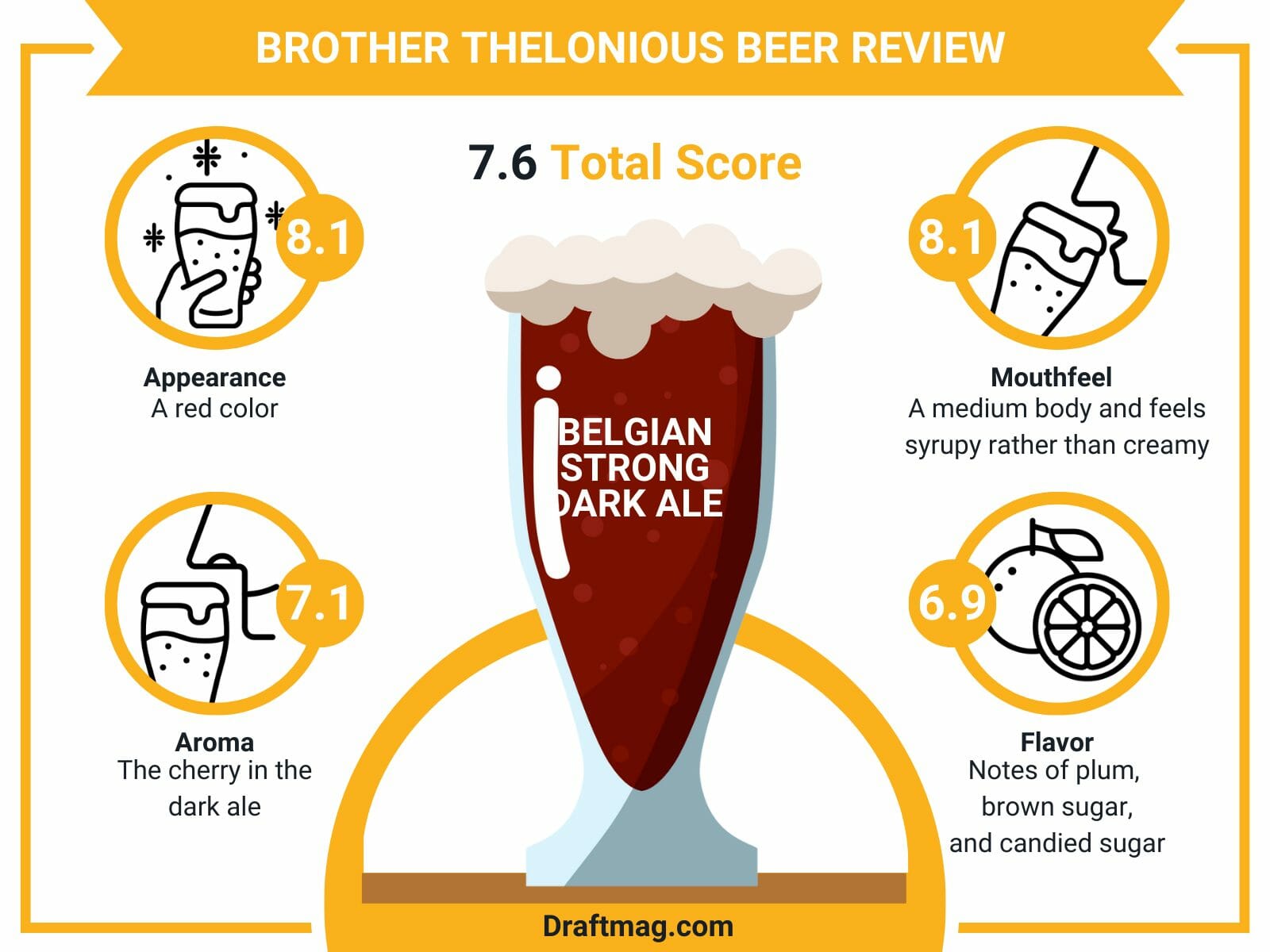 Enjoy this 9.4 percent ABV beer when partying with friends or after dinner, and settle in the delicious flavor. Know more by checking out the complete Brother Thelonious review below.
Brother Thelonious Beer Stats
| | |
| --- | --- |
| Country  | United States |
| Brand | North Coast Brewing Company |
| Style | Belgian Strong Dark Ale |
| Taste  | Cherry, malts |
| Body | Medium body |
| ABV | 9.4 percent |
| Flavors & Aromas | Cherry, molasses, sugar, chocolate, spice |
| Serving Temperature | 50 – 55 degrees Fahrenheit |
Tasting Notes
Brother Thelonious Tasting Profile
Brother Thelonious Beer Review
Brother Thelonious is a Belgian strong dark ale with a 9.4 percent ABV from North Coast Brewing Co. The enjoyable beer might be a bit sweeter than what you'd expect from a dark brown ale, but it's a fantastic experience. With its red-brown appearance and zingy mouthfeel, it offers flavors and aromas of cherry, molasses and malts, candy, chocolates, and spice.
The beer is best enjoyed when poured in a snifter, chalice, or goblet, and you should aim for a serving temperature from 50 to 55 degrees Fahrenheit. It can be garnished with berries or cherries and paired with a wide range of food.
You can have this all-season beer at any time, although it's especially great for cold days as it'll warm you right up.
– Appearance
The North Coast Brother Thelonious ale pours a red color with hints of brown hues and is quite dark in color.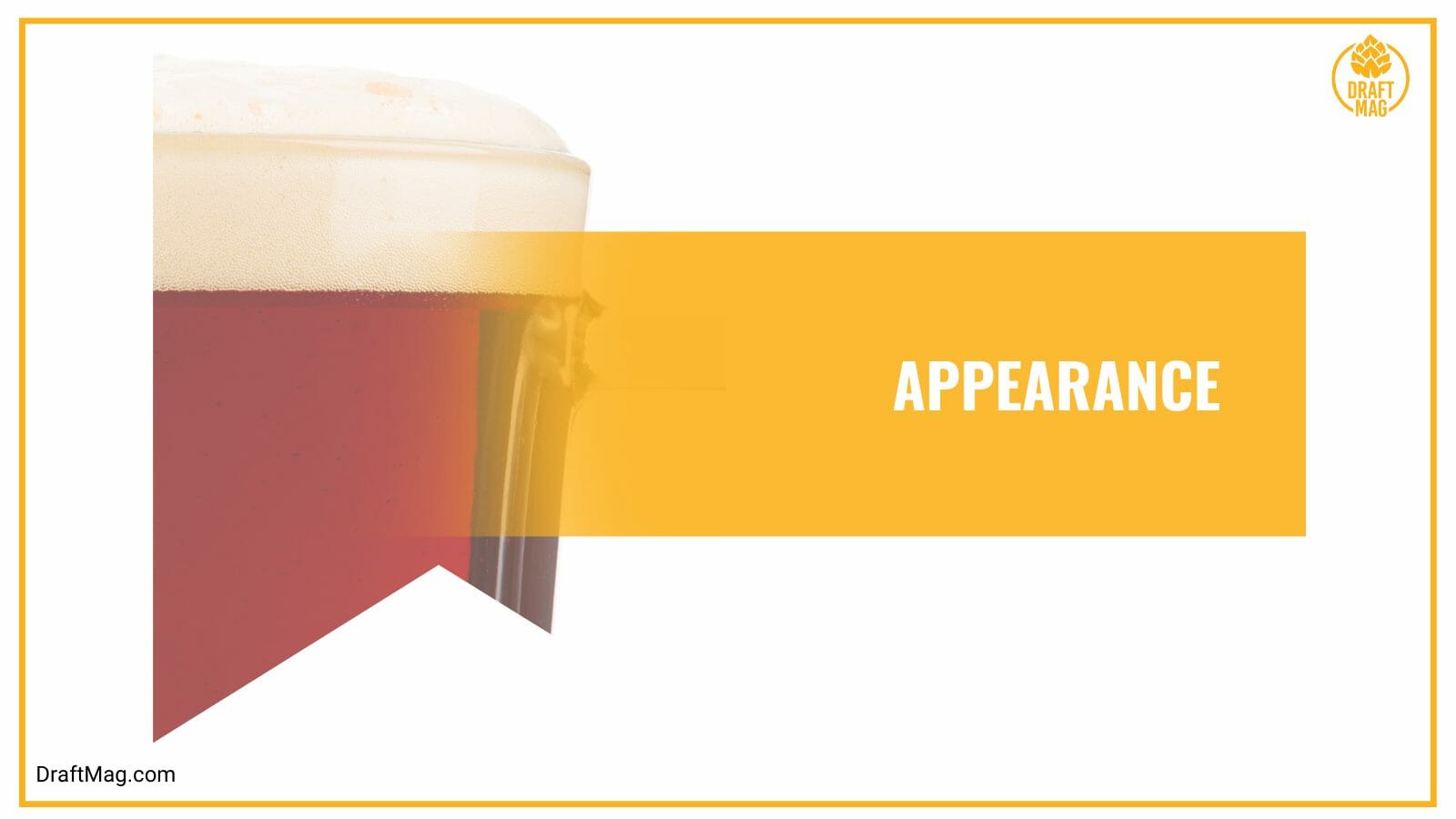 It appears clear with no particles or haziness and features a sand-colored foam up to one finger high. The head is quite rocky, with a lot of big and small bubbles, and has poor retention. It barely leaves any lacing behind.
– Aroma
On the nose, you'll mostly taste the cherry in the dark ale. It has a sweet aroma that weaves the cherry with some malt, presenting itself in candied molasses. There's also some spice and hints of berries, light clove, dark fruit, and bubblegum.
– Mouthfeel
The Brother Thelonious Belgian abbey ale features a medium body and feels syrupy rather than creamy. It has a good consistency, and the carbonation gives you a slight zingy feeling on the palate. The beer is bittersweet and astringent, leaving a warm finish and the sweetness following into the aftertaste.
– Flavor
When you drink the Brother Thelonious Belgian style ale, you might notice that it's a bit sweeter than expected from this style. It follows the aroma with a lot of cherry and malts. There is also a sweet flavor of dark chocolate, which transforms to bitterness on the finish. As it warms up, the flavor of coriander and peppercorn comes out.
You can expect flavor notes of plum, brown sugar, candied sugar, cream, toffee, and tickling spices like allspice and nutmeg. The hops are light and buttery. There's a hint of vanilla, raisins, grapes, brown bread, and cloves.
As you drink the beer, there's a vinous character and alcohol warming while you swallow.
– Food Pairings
If you have the Brother Thelonious ale, you can't go wrong with some desserts to match the sweet and fruity flavors of the beer. The toffee and molasses notes go well with oven-baked pears and apples, orange glaze, shortbread, sultanas, and shortbread.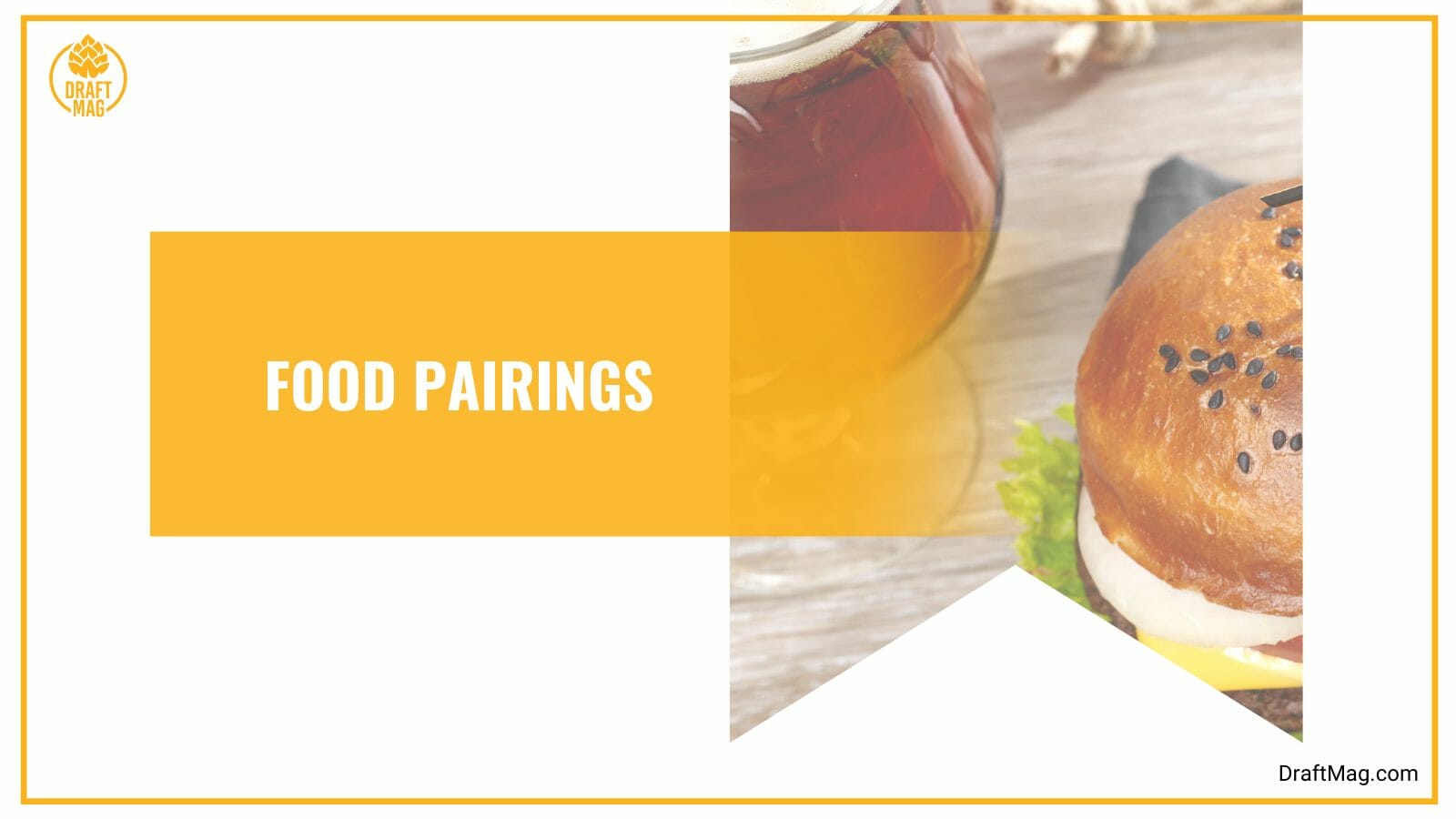 Furthermore, you can focus on pairing savory dishes with their rich and robust chocolatey flavor. You can't go wrong with barbecue, sausage, sushi, different kinds of fish, and roast pork. Also, hearty stews, pizza, burgers, and some European dishes like potato dumplings go well with this beer.
The Belgian style abbey ale also pairs well with fried finger foods, so try out popcorn chicken or breaded shrimp. Salads with spicy greens like arugula will also go well with the beer. If you enjoy cheese, you can't go wrong with some aged cheddar, as the tanginess can keep up with the sweet intensity of the ale.
Ingredients
The Brother Thelonious ale is brewed using water, malts, hops, yeast, and brown sugar from the cane. The latter is what gives it its sweet, candied flavor that reminds you of bubblegum. The malts offer you flavors of molasses, bread, and toffee, while the hops flavors are mild.
Nutrition Facts
The beer features an ABV of 9.4 percent, and this is a pretty high level. There's no doubt that you will feel alcohol warming as you swallow and get drunk rather quickly. As for the IBU, it is 24 since the hops are minimal and the beer is mostly sweet.
It features 250 calories in every 12-ounce serving, and this high level should be considered by those who are health conscious. The beer also has 12 grams of carbs and 3 grams of protein. It is not gluten-free and should be avoided on a keto diet because of its high carbs.
History
The Brother Thelonious beer is brewed by North Coast Brewing Co in California, USA, and was released in 2006. The beer is based on the jazz legend Thelonious Monk, and you can even see his portrait by Eric Grbich on the label of the beer. The beer is made under a licensing agreement with Thelonious Monk Estate.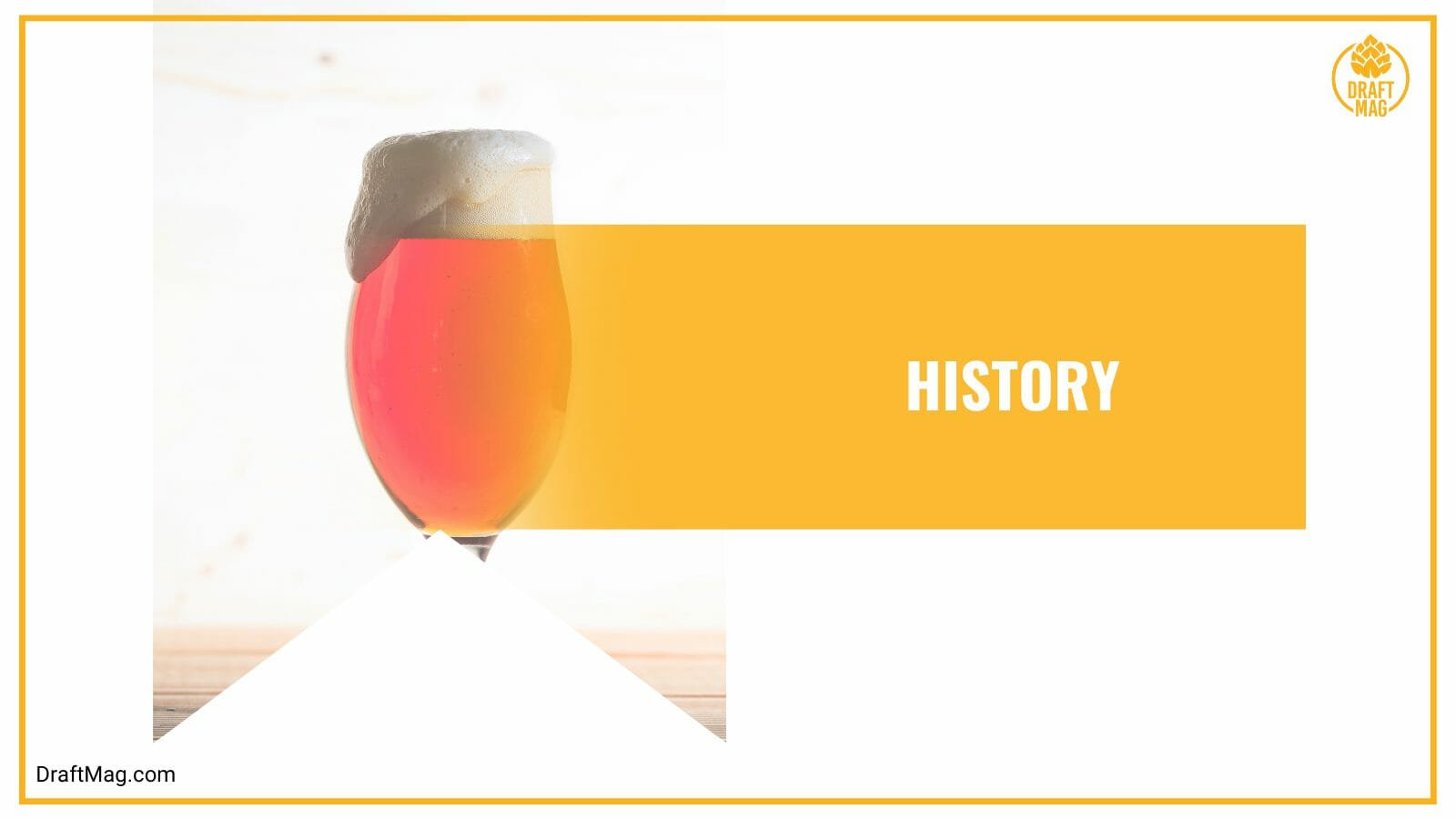 Also, the brewery makes a donation to the Monterey Jazz Festival education programs each time someone buys a bottle or keg. It is also an award-winning beer, bagging silver at the 2006 World Beer Championships and gold at the 2015 European Beer Star.
Conclusion
Brother Thelonious is definitely a fantastic experience for beer lovers, especially if you haven't tried a strong dark ale before. Here's a summary of our review:
Brother Thelonious is a Belgian strong dark ale from North Coast with a 9.4 percent ABV.
The beer has flavors and aromas of cherries, molasses and malts, sugars, dark chocolate, and tickling spices, with some alcohol warming.
It is brewed with water, hops, malt, yeast, and brown sugar.
The beer is best served in a snifter, chalice, or goblet, with berries or cherries as garnishing.
Have it with sweet desserts, hearty and meaty foods, European dishes, fried finger foods, and tangy cheeses.
You can always get the Brother Thelonious ale online and at physical liquor stores near you, or check out North Coast Brewing Company the next time you're in California.