Warka Beer Review: Simple Pale Lager for All Beer Lovers
Warka Beer is a pretty simple European pale lager that does not stray far away from the style. From the toasted malts and bread to the slight hops in grassy notes and lemon, this is a classic pale lager that is ideal for chugging down with friends.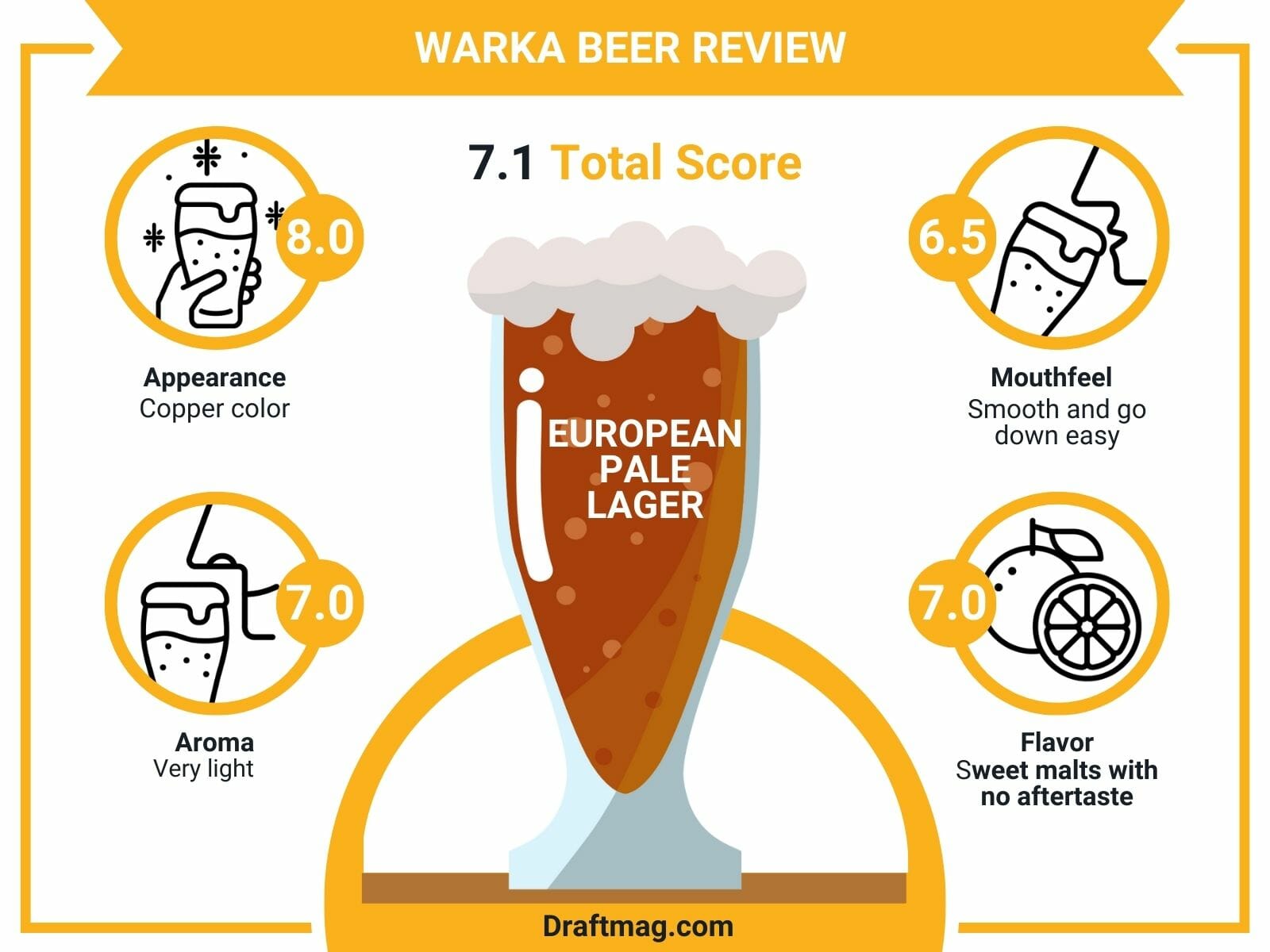 With its average ABV and clean taste, the lager is the ideal lawnmower beer so it is great for drinking on any occasion. If you're thinking about drinking this beer, you should read our complete review below to know more. 
Warka Beer Stats
| | |
| --- | --- |
| Country  | Poland |
| Brand | Browary Warka SP.  |
| Style | European Pale Lager |
| Taste  | Toasted malts, bread |
| Body | Medium Body |
| ABV | 5.5 percent |
| Flavors & Aromas | Toast, bready malts, grassy grains, lemon |
| Serving Temperature | 35 – 40 degrees Fahrenheit |
Tasting Notes
Warka Beer Tasting Profile
Warka Beer Review 
Appearance: 8/10

Aroma: 7/10

Mouthfeel: 6.5/10

Flavor: 7/10
Warka Classic is an European pale lager made in Poland by Browary Warka. The clean and crisp lager features an alcohol content of 5.5 percent. It offers a balanced taste of toasted malts and bread and will give you a dry finish. It's an ideal entry-level beer for beginners and versatile enough for all occasions.
The beer features a clear copper appearance and a medium body. It has flavors and aromas of toasted and bready malts, grains, and slight grassy notes and lemon from the hops. The lager gets skunky after a while, so it's important to drink it while it's fresh. 
It is best served at a very cold temperature if you want to make it refreshing and enjoy the malts. The perfect serving temperature is 38 degrees Fahrenheit, but it should generally be from 35 to 40 degrees Fahrenheit. You can serve it in a pilsner glass to show off the sparkling carbonation. 
– Appearance 
The Warka lager features a golden amber to copper color, but some might see it's just a deep yellow. It has the ideal appearance for a European lager and a clear appearance that shows off the sparse ring of bubbles floating to the top.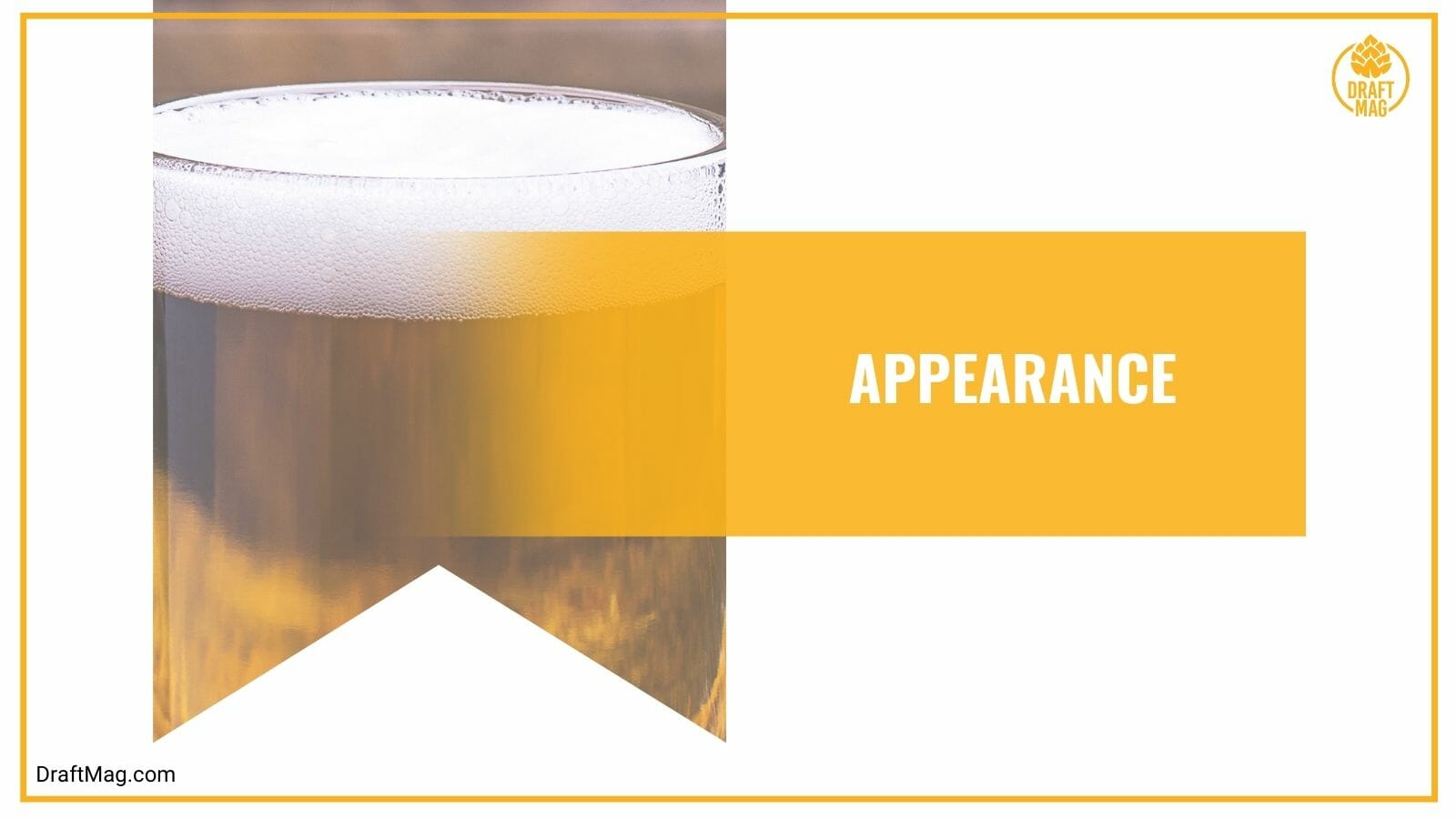 The beer features a bright white head up to a finger high, and it does not last long. It dissipates quickly and will leave spotty lacing around the glass. 
– Aroma 
On the nose, the pale lager is mild and malty. The aroma is very light, so you can barely pick up the scent notes, but it seems to offer a little hint of what you can expect when you finally drink. The beer mostly tastes like toasted malts, as expected from its style.
You might also notice some slight grassy notes on the aroma, peeking from behind the malts,but the toasted malts remain a dominant aroma. 
– Mouthfeel 
The mouthfeel of the beer is not completely clean, but it does not offer an unpleasant aftertaste. It finishes the moment you swallow. The mouthfeel is a medium body, but the malts make it a little thicker than you might have expected. It makes it smooth and go down easy.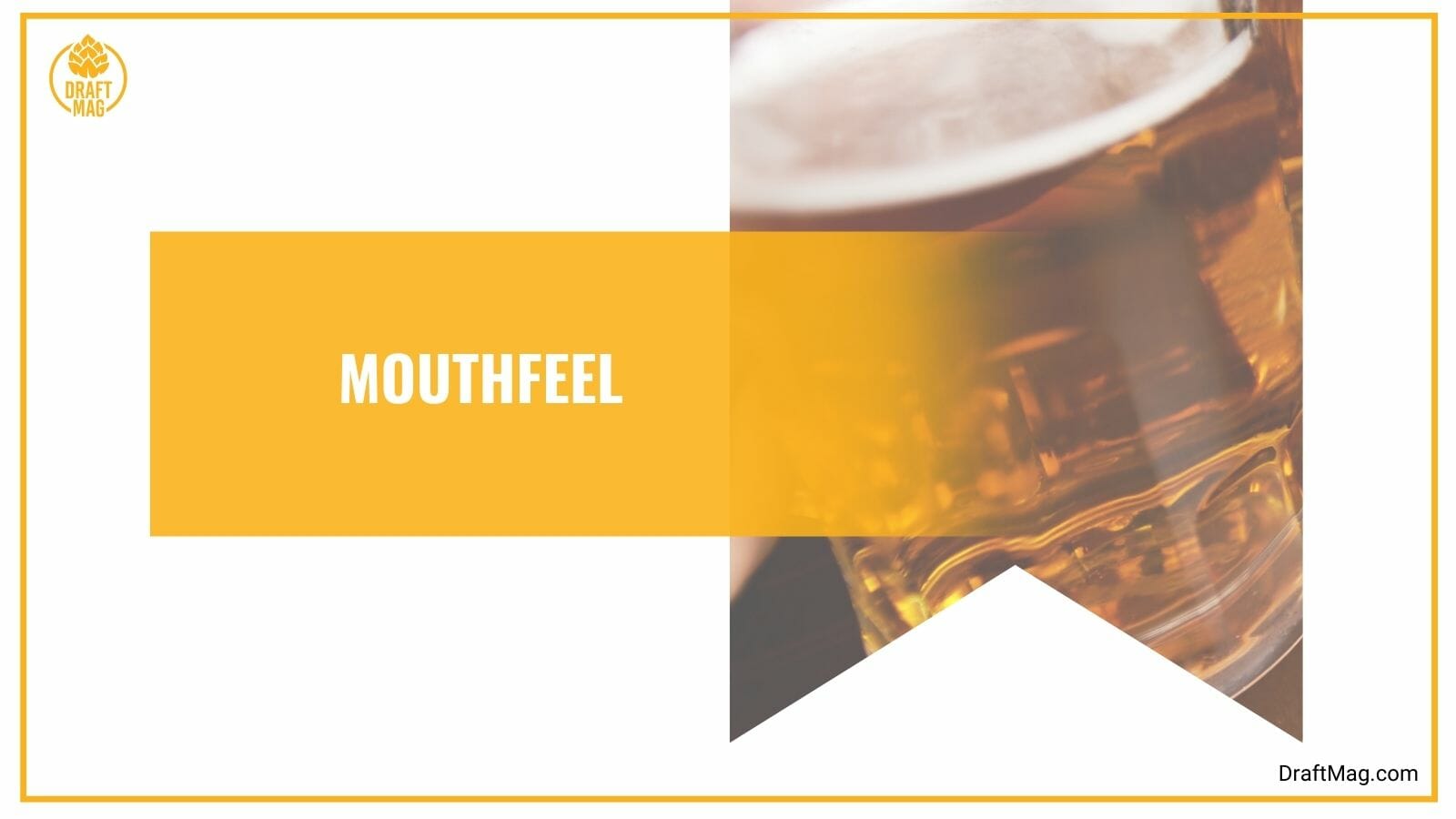 Despite feeling smooth, the lager is also pretty crisp and light. It is lightly carbonated, giving you a slightly fizzy feeling when you swallow. Also, it features very little alcohol warming since the ABV is moderate.
– Flavor 
The flavor of the Warka Classic follows the nose, giving you a taste of malts when you first start drinking. The malts follow the malty aroma closely, but it tastes more like toasted malts and toasted bread. The maltiness is light but also sweet. You might also notice some bright grains as you drink it, with some cereal notes. 
Towards the middle of the palate, the hops come in to balance out the malts. You will notice some grassy hops and notes of lemon, with some corn and biscuity hints from the malts. There is low bitterness in the beer, and it features a long finish of sweet malts with no aftertaste. 
– Food Pairings
You can enjoy the Warka lager best when you pair it with the right foods. The beer generally pairs well with spicy foods, so try out Indian and Mexican cuisines. The crisp and malty nature of the beer will cleanse your palate when having spicy food.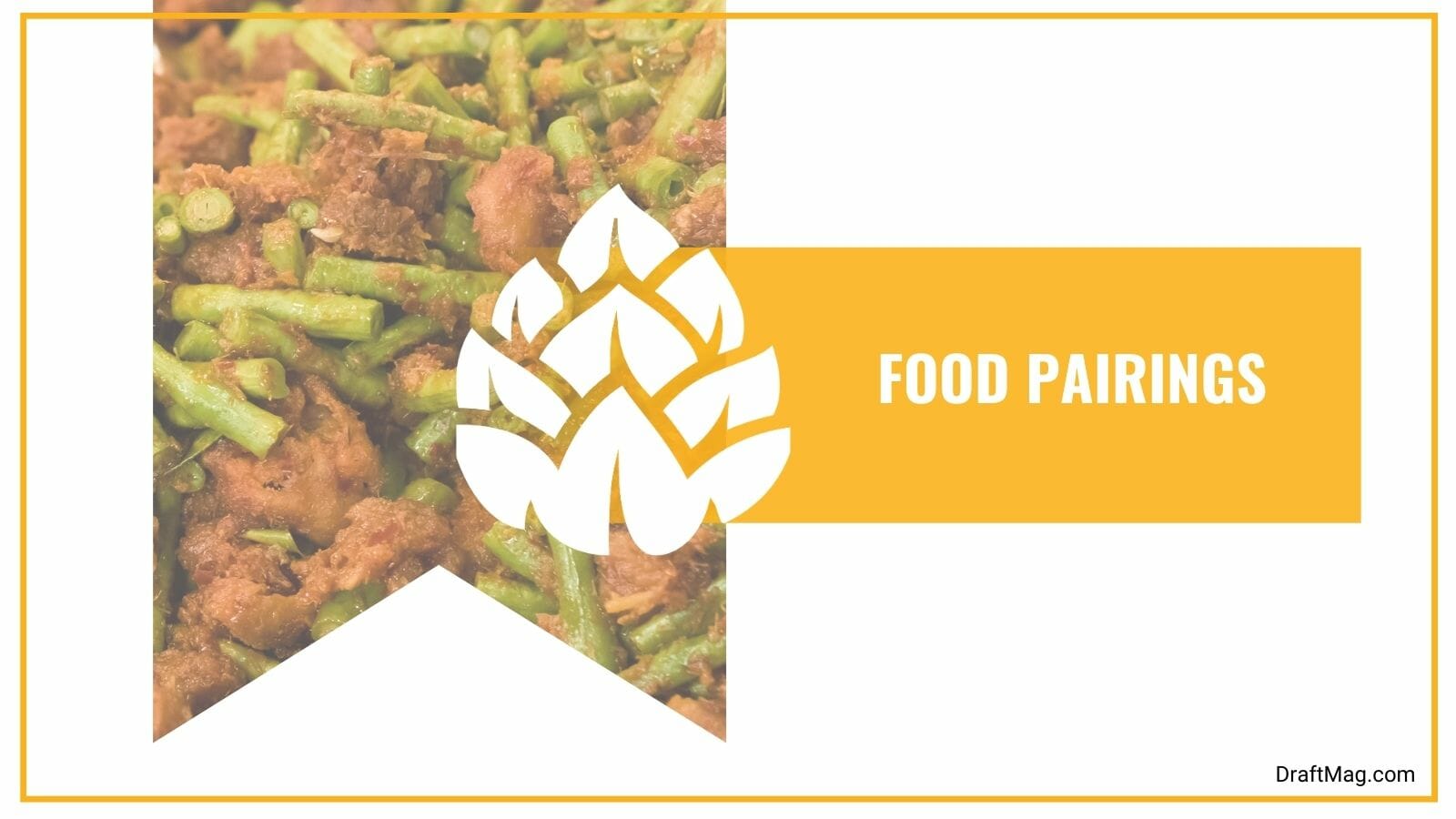 With the light body, the beer also goes great with other light dishes. Try out a Caesar salad with a lemon-based dressing to accentuate the citrus notes in the beer. Also, light seafood dishes like shrimp, shellfish, sushi, and more, will pair great with the beer. You can also consider grilled chicken or pork.
Your everyday food like hotdogs, tacos, burgers, French fries, buffalo wings, noodles, pasta, taters, and more pair well with the simple taste of the Warka brew. For your cheese pairings, try out fresh burrata, mozzarella, or chevre, as they are light. For your dessert, have strawberries and cream or panna cotta with lemon. 
Ingredients 
Warka lager is made with traditional ingredients that date back to the 1400s. The beer is made with natural ingredients of malts, hops and yeast, and spring water. The malt used in the brewing process is a pale barley malt, which gives you the toasted, bready, and biscuity notes with hints of corn.
As for the hops, the brewers use Polish Magnum hops, which impart a unique taste to the beer. You will notice the hops with the grassy and lemony notes. The beer is not yeasty, and it is brewed in Poland. 
Nutrition Facts 
Every serving of the Warka Polish beer<span style="font-weight: 400;"> gives you an alcohol content of 5.5 percent, and this is an average level. It is expected from the beer style and will not overshadow the taste. You can barely taste the alcohol except for the slight warming. It also has low bitterness units since the hops barely have a presence.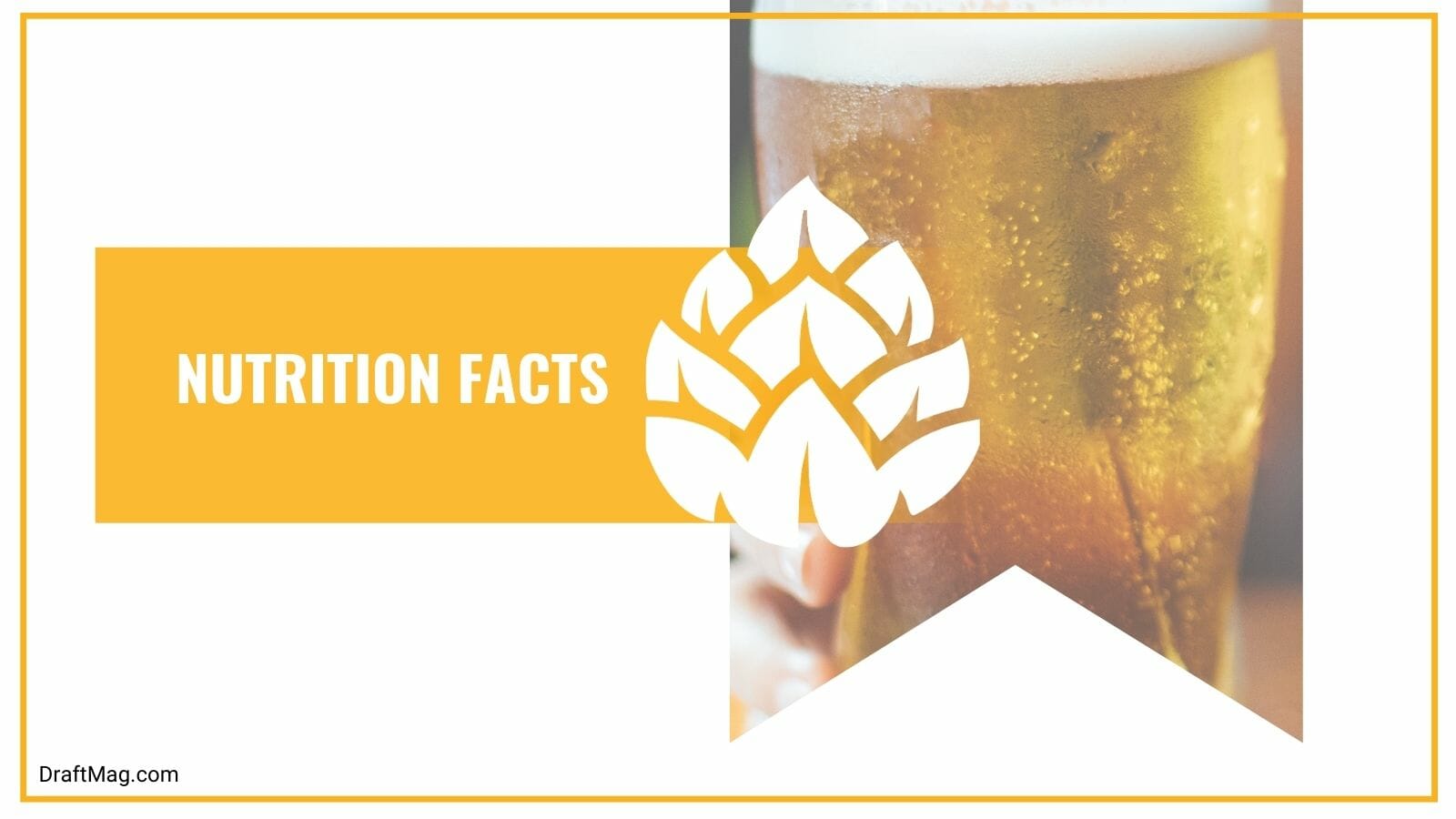 In every 12 ounces, the beer has 125 calories and 20 grams of carbs. It is not suitable for drinkers on a keto diet because the carbs level is pretty high. The ingredients also make it unrecommended for gluten-intolerant drinkers. In general, check the nutrition facts before you drink. 
History 
The Warka lager is a classic lager that dates back to 1478. The beer was released in the United States in 2002 and has remained one of the popular options from Poland. It is also called Warka Jasne Pelne. In 1478, Warka brews were exclusively supplied to the royal court in Warsaw. This was given by the Duke of Mazovia, Boleslaw V.
The brewery still uses the traditional recipes that have been passed down since then, giving its drinkers a classic lager experience. The Warka Brewery, or Browary Warka, is one of the main breweries in Poland and belongs to the Zywiec Group. If you visit the historic center of Warka, you'll definitely see this brewery. 
Conclusion
For your classic lager needs, whether when hanging out with friends or making your first beer, the Warka lager is the ideal choice.
Check out our review summary below:
Warka is a European pale lager with an ABV of 5.5 percent.
The beer has flavors and aromas of toasted malts, bready malts, grassy hops, cereal grains, lemon, and corn.
It is made with pale barley malts and Polish Magnum hops.
Enjoy it at a cold temperature of 38 degrees Fahrenheit in a pilsner glass.
It pairs well with spicy dishes, light seafood, salads with citrus dressings, grilled chicken and pork, American foods like burgers and hotdogs, and burrata cheese.
The best way to purchase this lager is online, so you can check out retailers for Warka or Warka Jasne Pelne.