Goose Island IPA Review: Here's Why This Hoppy Ale Is Buzzing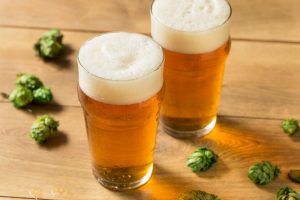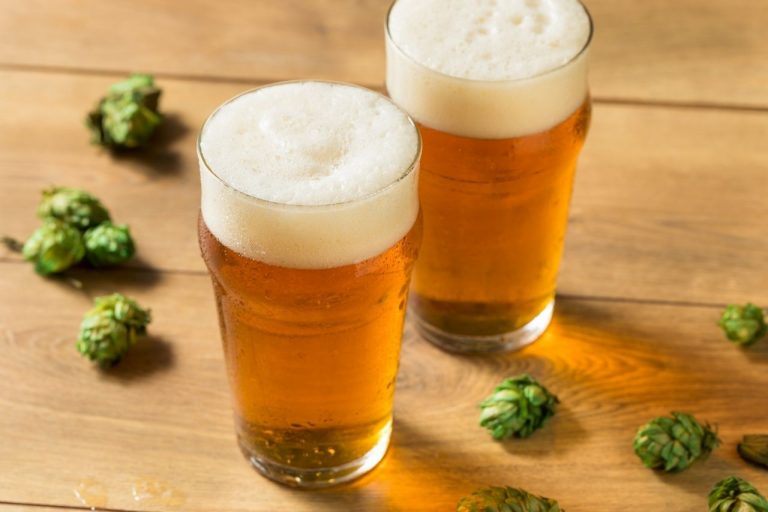 Goose Island IPA review is here, lo and behold! This English-style beer pours a sparkling amber-yellow color with subtle hints of biscuit malts and a fruity aroma that ends with long and pleasant hop flavors. Want to know more? This article calls for your taste buds to go on a beer tasting journey with an enhanced flavor profile of Goose Island IPA.
Goose Island IPA Stats
| | |
| --- | --- |
| Country | United States |
| Brand | Goose Island Beer Co. |
| Style | Indian Pale Ale |
| Taste | Smooth, bold yet balanced with a sweet linger |
| Body | Extra-full with a creamy texture |
| ABV | 5.9 percent alcohol content |
| Flavors & Aromas | Hoppy, with notes of pine, grapefruit and flowers |
| Serving Temperature | 45-50 F |
Goose Island IPA Review
Great breweries start with a vision to serve beer with a well-cultivated flavor palate to the beer aficionados. One such brewery is Goose Island, offering Goose Island IPA, which is considered symbolic of a perfect marriage of hopheads and drinking explorers. It is a blend of traditional English style with a contemporary, full-flavored IPA.
– Appearance
This beer has a dark yellow color accompanied by a fluffy white head and bubbles fizzing to the surface, giving it a refreshing appeal.
– Aroma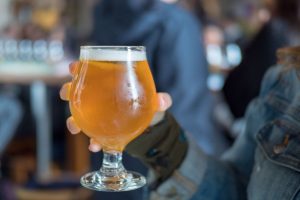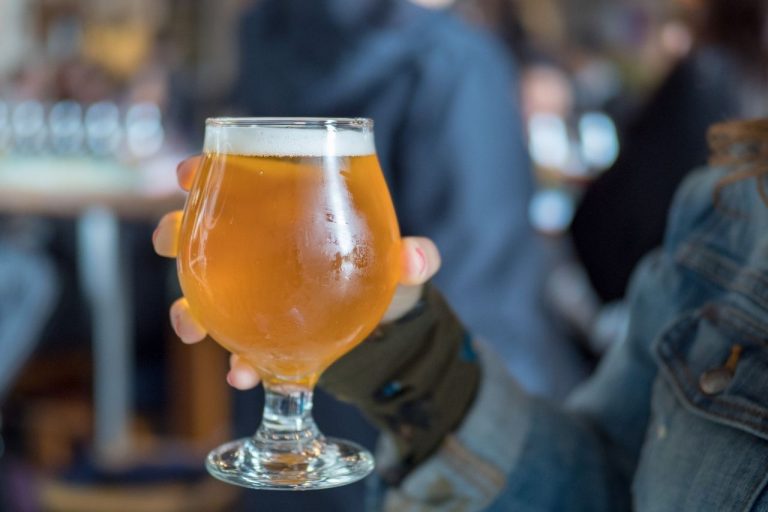 Talking about the aroma, this Goose Beer IPA opens with a medium intense hop aroma with notes of citrus, fruity, floral, and woodsy, some pine and grapefruit rind. There are hints of peach and raspberry, probably from the yeast. The accompanying malt aroma is grainy with a light hint of toffee.
– Mouthfeel
The mouthfeel of this beer has a slightly astringent aspect about it that adds to its profile.
– Flavor
Ranking a 55 in the International Bitterness Units, this IPA has a bold flavor of woodsy, citrusy with grapefruit rinds. There have been tones of lychee, pineapple, and orange also detected. It is best to drink it cold.
Moreover, its texture is smooth with a light body, and brings out the fine balance of malt and hops, adding character to the beer. The carbonation is on point.
Finally, the after flavor is where it gets tricky. Some beer enthusiasts have experienced a gentle and light aftertaste with a sweet lingering suggestive of grapefruit and citrus. In contrast, the others have experienced a contrasting dry finish with a firm bitterness towards the end.
– Food Pairings
We recommend that you pair this beer with delicious curries or even other traditional Indian dishes that have cardamom, coriander and tamarind as their central flavors. These types of dishes go exceptionally well with the hop flavors of the Goose Island IPA.
Ingredients
Amongst all the Goose Island IPA ingredients, the main heroes are hops and malts.
Malts:  The malts that Goose Island IPA consists of are 2 Row, Bon. Munich, C 20.
Hops: The hops used in Goose Beer IPA are Pilgrim, Styrian Golding Celeia, Cascade, and Centennial.

Pilgrim Hops: Bittering hop but not too overpowering. It gives a robust flavor with a pinch of versatility. It has a refreshingly full-bodied and hoppy aroma, with subtle hints of citrus, fruity and spicy.
Celeia Hops: The triploid offspring of Styrian Golding, Celeia is a versatile hop used in lagers and English-style ales. It gives a finely balanced flavor profile with excellent storage stability.
Cascade hops: The hop that started a revolution with its trademarked citrusy and fruity grape aroma, cascade hops are one of the best flavor additions.
Centennial Hops: Similar in flavor and sometimes known as super Cascade, Centennial has an elevated bitterness and a less floral palate despite the flavor descriptors being —citrusy, grapefruity, and floral.
Nutrition Facts
A 15oz bottle of Goose Island IPA has the following nutrition facts that you should consider as well:
Calories: 197
Fat: 0g
Cholesterol: 0mg
Sodium: 16mg
Potassium: 85mg
Carbs: 6.6g (0.4g from sugars)
Protein: 1g
Goose Island IPA ABV Percentage
Most of the beverages of Goose Island have an alcoholic content of about 5 to 7 percent. This is because of the buzzing trend of beverages that are low in ABV and low in calories. Maintaining this classic character, Goose Island alcohol content in this IPA ranges up to 5.9 percent.
History
Let us look at the glorious history journey of the Goose Island Beer:
– Early Days
Starting in 1988, with a small brewpub in Chicago's Lincoln Park neighborhood, Goose Island Beer Co. has successfully marked its territory in the beer industry. It all started with John Hall's life-changing trip to Europe that helped him develop a great sense of appreciation for the locally crafted beers.
This appreciation was accompanied by a profound realization of the demographic of the beer industry in America. At that time, the American beer markets did not offer many options and flavors to their consumers. With fewer than 90 breweries that opened between 1967 to 1988, people were surely rethinking beer.
Then happened the year 1988, a combination of great beer and good fortune, which was a stepping stone in the modern beer era we sip in today. Thus began the legacy of Goose Island in the windy city. Along with other players, Goose Island Beer Co. had a significant influence on the craft beer segment of the market.
– Subsequent Acquisition and Impact
In 2011, Goose Island was acquired by Anheuser-Busch InBev. The buy-out was not only for the 42 percent stake in Goose Island, which was previously owned by Craft Brew Alliance, but also for the remaining 58 percent, at $38.8 million.
Following this acquisition, the portfolio of Goose Island Beer Co. involves more than 50 styles of beer, including Bourbon County stouts, Classic Ales, Seasonal Beers, and 312 Urban Ales, along with an expansion on the bourbon barrel-aging program.
Before we dissect the flavor profile of Goose Island IPA, it is essential to understand the basics of India Pale Ales (IPAs).
FAQ
What Is the History of IPA?
Born from reason than intention, the history of India Pale Ale (IPA) started when it became the beer solution for the British Empire. Brewing was becoming impossible owing to the hot climate of India. That's when Hodgson, a London brewer, sent a strong and heavily hopped beer intended to age like wine.
This beer not only survived the six-month-long journey but was found to have an improved taste. Gradually, considering the changing climate of India, this IPA prototype was alerted, making it refreshing with each change.
However, IPAs are often misunderstood in the beer world for either being too bitter or too alcoholic. Interestingly, neither of the statements is entirely true. Therefore, it would be unfair to throw blanket statements over an extremely wide arena of the beer industry.
Having been born at sea, this beer has been explored, experimented and evolved with the addition of tropical fruits and pine along with malts, offering an assertive balance of a bitter-sweet end. IPAs now come in a wide range of styles with a modern approach for inculcating hops.
Has Goose IPA Won Any Prizes?
Yes, it has! Goose IPA is a six-time winner of the Great American Beer Festival (GABF). Established in 1982, GABF is a U.S. beer festival that brings together all the brewers across the U.S. and contributes to making America the greatest brewing nation globally.
Each year GABF witnesses the most extensive collection of beers brewed in the U.S. accompanied by tasting events and a private competition with public participation.
How Many IPAs Does Goose Island Beer Co. Offer?
Goose Island Beer Co. offers a variety of other IPAs in its variety pack. Here is other Goose Island Beers review:
– Next Coast IPA
This sparklingly clear golden beer is not like the other IPAs you have had. It pours with a fluffy white head and a good amount of carbonation. It presents a tropical bouquet of citrus with piney hop flavors and a balanced sweet-to-bitter ratio that blends well with a medium body with a 7 percent ABV.
– Paper Umbrella
This is another tropical style IPA with a sunset golden color and a pronounced grainy feel. Its appearance is indeed hazy and unfiltered, but it pours into bright white foam that reduces into a lace.
The flavor palates are pretty refined, with hints of orange and pineapple and a subtle lemony tinge. The hop bitterness is medium, and so is the body. The aftertaste is a pleasant lime flavor. The distinctive feature that sets this one apart is its sour taste.
– Dank Detector
This medium-bodied beer is a mosaic bomb with a 6.5 percent ABV. Appealing orange color with a yellow tinge with a creamy white head, this beer is a delight to smell with its earthy tropical aroma. This 'dank' beer is juicy with its resinous tropical flavor palate consisting of melon, apples, and dense berry. It finishes thick with a sweet aftertaste.
– Today's Haze
This new IPA is a sunset-colored hazy delight with its fresh mango, citrus, and stone-fruit notes. Brewed with its own hop with 4.6 percent ABV, it is a perfect combination of summer and swimming.
– Midway
This newly launched session IPA is a low alcoholic content tropically hopped beer. It offers a punchy aroma with fresh notes of mandarin, melon, and pink grapefruit alongside a light body. The grainy malt adds character to the beer while balancing the bitterness.
– So-Lo
This low-cal full-bodied IPA offers citrus and herbal aroma with Idaho 7, mosaic and Chinook hops. At 3 percent ABV, it offers 9g carbs per can and 98 calories. Maintaining the character, Goose Island Co. has come with a low-calorie beer without compromising the taste. This new addition has been received very well in the beer market.
Endnote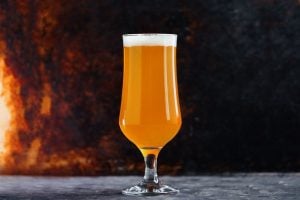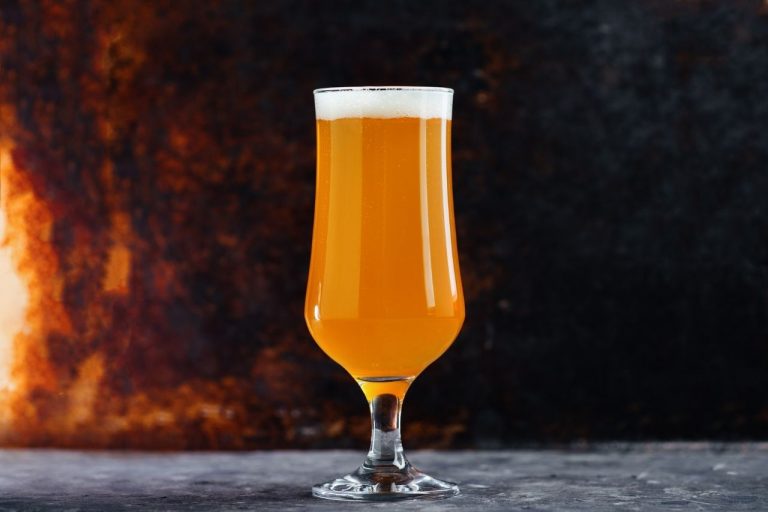 With a diverse take on craft beers, the portfolio of Goose Island Beer Co. indeed translates the traditional brewing techniques of German, English, and Belgium with an American twist of innovation. Furthermore, through our review of Goose Island IPA, you have understood that, as well as the following points:
Goose Island IPA interprets the English-style beer with an American taste

With its

bourbon color, citrusy flavor palate,

this hoppy ale, and its smooth texture strike a delicate balance of sweet and bitter

Some beer experts also argue that it has an astringent quality to it, that adds to its overall profile
We recommend that you try this beer with traditional Indian dishes that have cardamom, coriander and tamarind as their basic ingredients, as it complements them perfectly
Now, when you try the Goose Island IPA, you will be able to both understand what you are savoring as well as pair it with the right food!