Ice House Beer Review: Everything About This Light Adjunct Lager
Ice House beer was first launched in 1993, and the brewmasters of the Ice House beer believe in retaining the authentic flavors of the malts and hops to get the most authentic taste. With nearly three decades of existence and being one of the oldest known ice beers and adjunct lagers of America, it has become quite popular among beer lovers over the years.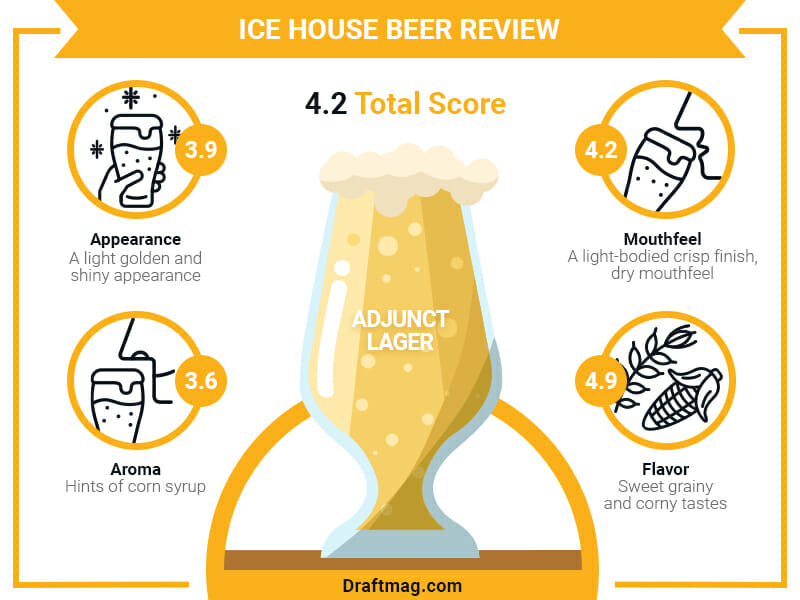 This beer is perfect for lazy days and fun nights with friends and family, and anyone from beer beginners to enthusiasts will find this flavorful brew delicious. Read our complete guide to find out every detail about the Ice House beer as we do a deep dive into its characteristics, history, sales, and more.
Ice House Beer Stats
| | |
| --- | --- |
| Features  | Description  |
| Brand | Miller Brewing Co. |
| Origin | Wisconsin, United States |
| Year of Origin | 1993 |
| Color | Pale Golden |
| Style | Adjunct lager |
| Taste | Strong grainy malt flavor and mild sweetness |
| Body | Light-bodied and crisp finish |
| ABV | 5.5 percent |
| Aromas | Malty aroma with mild bitterness |
| Serving Temperature | 35 – 40 degrees Fahrenheit |
| Suggested serving glass | Pint glass |
| Commercial packs | Pack of 6/12 cans |
Tasting Notes
Ice House Beer Tasting Profile
Ice House Beer Review
The Ice House beer is a refreshing adjunct lager beer from one of the oldest breweries in America. It is brewed and produced by the Miller Brewing Co., which is owned by the Molson Coors parent brand. Beyond this, many core characteristics of an Ice House Beer make this beer unique. Check them out in this extensive review section.
– Appearance
The typical Ice House beer from the Plank Road Brewery has a light golden and shiny appearance, almost bordering pale yellow in color. The beer has a clear texture and has an almost polished look due to the layers of filtration it goes through.
When poured out on a serving glass, it forms a thick and white foamy head. However, the head does not have great retention. It forms a lace around the glass and forms a constant collar around the glass rim. There is mild carbonation in this beer, which makes fast-rising bubbles visible.
– Aroma
The grainy aroma of the barley malt is quite prominent. There are also hints of corn syrup and a slight bitterness from the hops used. The aroma is quite bold for a lager but is not necessarily aggressive. There is also a fine aroma of freshly crushed pepper that is almost like an afternote.
You will also find some smell of a sour and citrus fruit that resembles lemon or lime. The malt barley flavor has a mild roasted grainy essence. The overall smell is very earthen and rustic and has an added freshness.
All the smells together work cohesively and form a very rejuvenating aroma in the Ice House beer. The fresh water used in the brewing process of this beer brings in a very refreshing smell, which cuts through the bitterness of the hops. The layers of aroma are very subtle and make for a classic iced lager beer.
– Mouthfeel
The Ice House beer has a light-bodied crisp finish and has an overall dry mouthfeel. The fizzy effect from the carbonation also leaves a refreshing effect on the tongue. You can feel the bitter notes of the hops on your tongue, which leaves a long-lasting after effect, but the sweet taste of the malts cleans the palate and balances out the bitterness.
The overall mouthfeel is very light, clean and crisp, making it a very easy-to-drink beer.
– Flavor
The typical taste of the Ice House beer comes from its brewing process. It usually is brewed and fermented in the traditional way like other adjunct lagers, but right before aging begins, it is sent into a cold chamber that is below freezing temperature. This gives beer the name "Ice House beer" and also helps form the unique flavor profile. This exclusive aging process below the freezing temperature forms actual ice crystals in the beer, giving it an extra added flavor that is unique in lagers.
This beer has a very unique combination of sweet grainy and corny tastes. The malty barley flavor is quite distinct but not overpowering and forms an outstanding balance with the slight bitterness from the hop used. This beer is a little hop forward but not very aggressive, and there are slight flavor notes of crushed pepper, which is almost an aftertaste.
There are also taste notes of lemon or lime, which has a slightly sour undertone, but it is very mild and can sometimes be lost amidst the malt and hop flavors. The overall taste is very subtle, with hints of toasted malt grains and has an earthen feel that is fresh like grass.
It is easy to drink this beer because of the low alcohol percentage and mellow bitterness, and the makers take pride in the fact that their beer is never watered down like other beers. Though they use the icing technique, they have still managed to pack this beer with lots of flavors and never let the water overpower the other tastes.
– Food Pairings
Over the years, Ice House beer has become a major party beer due to its exclusive flavor profile and subtle taste. There are a lot of food pairings for this beer that can make your Ice House beer drinking experience more holistic.
It pairs well with all kinds of outdoor food like smoked and barbequed meats like pork, chicken, ducks, and lamb.
It also works well with quick party burgers and grilled fish dishes.
As this beer is very light, it also pairs well with hot and spicy food and cuts down on some of the spices with its icy cool refreshing effect.
Some beer advocates also like to pair the Ice House beer with various kinds of nuts like salted cashew nuts and smoked peanuts or roasted almonds.
This beer also marries well with different kinds of cured meat like sausages, ham, bacon, pastrami, and smoked and spicy salamis.
Another great use for Ice House beer is making culinary recipes with it. You can make a classic vegetable or meat stew with this beer. Chop up your favorite vegetables like zucchini, carrots, bell pepper, onions, tomatoes, potatoes, beans, etc, and you can also add diced chicken if you want a non-vegetarian stew. In a one-pot cooker, add one tablespoon of butter, add a bay leaf, add some ginger garlic paste and fry a little.
Add the onion and stir fry, then add all the vegetables and the chicken and stir for 2 minutes. Add some salt, pepper powder and sugar to taste. Lastly, add a bottle of Ice House beer, then close the lid and cook for a good 45 minutes to 1 hour, depending on the quantity of your vegetables and meat. In the end, you can top it off with some freshly crushed pepper and half a tablespoon of butter — make sure to serve it hot!
Ingredients
The ingredients used in this Ice House beer are simple. It uses bottom-fermenting yeast like most lagers. It also uses roasted barley malt, bitter hops, and corn syrup. The hops are carefully chosen by the brewmasters at the Miller Brewing Co., and they bring in the exclusive bitterness that is not too strong but leaves a very layered flavor in the beer.
The barley malt used in the beer is also sourced from exclusive farmers and is one of the best-kept secrets of the Miller Brewery. The exclusive barley malt is what brings about their flagship taste. The corn syrup used in the brewing process brings in the added sweetness that cuts through some of the bitterness from the hops and makes a balanced flavor profile.
Nutrition Facts
The nutritional facts of the Ice House beer in every 12-ounce can are as follows:
153 calories
10 milligrams of sodium
10.6 grams of carbohydrates
1 gram of protein
The carbs are really low, so if you are trying to control your carb intake, this beer is ideal. Moreover, It is a great drink for the vegan community, but this beer is not recommended for people with yeast intolerance.
History
The Miller Brewing Company has been in existence since 1855 and was started by the famous German brewer Federick Miller. He traveled all the way from Germany with some exclusive German yeast in his pockets. Most beers produced by Miller are famously known to use and reuse the original line of yeast carried by Federick Miller.
The Ice House beer was first released as an experimental line of beer in 1993. Whether the same original yeast is used in the Ice House beer is not known to the general public.
There are many other lager beers that the Miller Brewing Company is famous for. Through two centuries of its existence, it has created many exclusive flavors that beer advocates swear by.
– Availability
This beer is available in various packs like commercial cans of 6 to 12 packs. All their beer is exclusively brewed in their Plank House Brewery and distributed in different packs across America. Here are the various prices of Icehouse beer:
24 oz can – $1.79
16 oz 4 pack – $5.00
12 oz 18 pack – $14.5
The makers of the Ice House beer take pride in the fact that it is "never watered down" like other lager beers in this category. Even though it is a light beer, the depth of flavor is great, which defines its primary advertising and marketing strategy.
They used to run another advertising campaign called, "What the Heck is Ice Beer?" which caught the attention of beer lovers and got them drinking. Making an ice beer was a very new concept when it was introduced and became an instant hit among the people. After that, this beer brand sponsored many sports events and sports teams to support its brand and increase sales over the years. Though their sales decreased a little some years back, it has again picked up in the last few years.
– Discontinuation Rumors
To date, the Ice House beer has not been discontinued by Miller Brewing Co. There had been talks of continuing it due to a decline in sales a few years back, but the Millers decided to continue its production after it picked up sales again.
Though the parent brand Molson Coors is discontinuing some of its oldest and most classic beers like Keystone Ice, Icehouse Edge, and Miller High Life Light, rest assured that the production of Ice House beer will go on. This is great news for all avid fans and lovers of this unique beverage.
FAQs
– Is Icehouse Beer Any Good?
Yes, Icehouse beer is a good beer. Ice House falls under the typical American lager category of beers, and its subtle taste and flavor profile make for a very refreshing beer. It has subtle taste notes of roasted and malted grains and a mild aromatic hoppy bitterness, followed by a crisp and dry finish and a smooth mouth finish. Overall, this beer is well-balanced and is fairly liked by beer lovers across America.
In addition, Ice House beer does not have more alcohol than any other average lager beer. Its ABV is 5.5 percent, making it an easy-drinking mild lager beer. It is a medium-bodied finish due to its unique brewing process. Its easy drinkability adds to the popularity of the beer.
– Who Brews Icehouse?
The Molson Coors Brewing Company owns and brews Ice House beer. It is the second-largest beer manufacturer and shipper in America. Coors discontinued some of its beer, and Ice House lovers feared that they would stop its production as well, but Coors has decided to keep on with Ice House's production.
– Is Icehouse a Budweiser Product?
No, the Ice House beer is not a Budweiser product. The Ice House beer is brewed and produced by the Miller Brewing Co., which is owned by the parent brand, the Molson Coors Brewing Company. Miller Brewery is a smaller company, so they teamed up with Molson Coors Brewery to expand their production and take their brand and exclusive beers national.
– Is Icehouse Beer or Malt Liquor?
Icehouse is a beer that is brewed and produced by the Miller Brewing Company. It gets its interesting name from the unique aging process the brew goes through, where the temperature is dropped to below the freezing point right after fermentation. This leads to the development of ice crystals, giving the beer its unique taste and properties.
Summing Up
The Ice House beer has a lot to offer to both ardent beer connoisseurs and new beer lovers — from the fermentation style to the exclusive taste, there are a lot of exclusive aspects to this beer. Here is a quick recap to remember all the core aspects of this beer before you try your first can.
The Ice House beer is a flagship beer by the Miller Brewing Company and is mainly produced in their Plank Road Brewery. This beer can be bought directly from the brewery, at stores, or you can place an online order.
The Ice House beer gets its unique name due to its aging process. After fermentation and right before aging, the temperature of the beer is dropped below freezing point to form ice crystals.
This beer has a roasted, malty, grainy taste and aroma from the barley malt used in the brewing process. The overall taste is light and refreshing, with some mild hints of hops.
There is a slightly spicy taste and aroma notes of freshly crushed pepper with an overall earthy essence. All the flavors work to complement each other and none of it outshines the other.
It is an easy-to-drink beer that can be paired with barbecue or smoked food products like meat and vegetables.
Preferably you should try out the Ice House beer before forming your own opinion about this beer. It is a unique experience to drink this beer and a must-try for all beer lovers!