Bobcat Golden Review: A Pleasant, Flavored Sipping Brew
Bobcat Golden is a flavorful and drinkable American ale that is the ideal choice for any beer lover who enjoys a solid brew. Made in celebration of Montana State University, the delicious beer offers an attractive body and unique taste.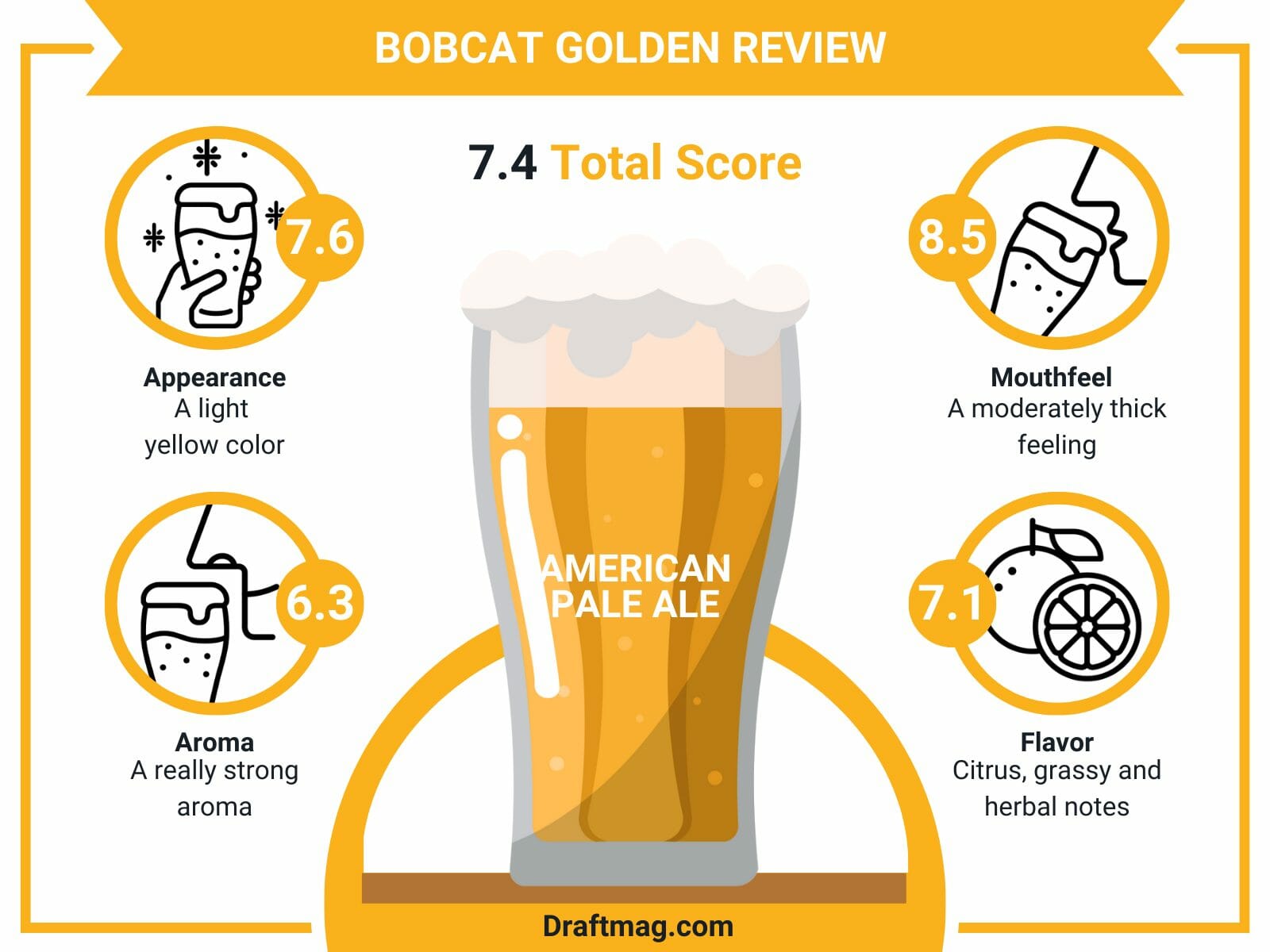 What makes the taste of the golden ale stand out is the real honey added to the brewing process. Before you give this beer a try, check out our detailed review below.
Bobcat Golden Stats
| | |
| --- | --- |
| Country  | United States |
| Brand | Jeremiah Johnson Brewing Co |
| Style | American Pale Ale |
| Taste  | Citrus, bread |
| Body | Medium body |
| ABV | 5.4 percent |
| Flavors & Aromas | Bready, dough, citrus, tropical fruits, yeasty, hops |
| Serving Temperature | 45 – 50 degrees Fahrenheit |
Tasting Notes
Bobcat Golden Tasting Profile
Bobcat Golden Review
Golden Bobcat is a bright American pale ale with a 5.4 percent alcohol content. The beer is made by Jeremiah Johnson Brewing Co, with an easy to drink character and a lot of flavors despite the simple nature. It is a sipping brew with a refreshing taste that will linger on your tongue.
The ale has aromas and flavors of bread and dough from the malts, citrus, tropical fruits, yeast, and floral, grassy and herbal hops. It is best served in a tulip glass, which is designed with a bulbous body and a flared lip. The short stem allows you to swirl the beer into the glass and get the most from the aroma.
Serve it at temperatures from 45 to 50 degrees Fahrenheit, and you can enjoy the ale better with a juicy orange slice added for garnishing.
– Appearance
The beer pours a light yellow color into your tulip glass, and has a hazy appearance that you cannot see through. Even with an aggressive pour, the beer has a one-finger, white foamy head that dissipates rather quickly. It leaves behind lacing on the sides of the glass.
– Aroma
On the nose, the ale has a really strong aroma, with the bread and dough coming forward. This is balanced with the aromas of citrus and yeast. As the beer warms, it smells more hoppy and offers some lighter notes of tropical fruits on the nose. Although the aroma is bold, it is not overwhelming or unpleasant.
– Mouthfeel
When you drink the ale, you get a moderately thick feeling on your tongue from the medium bodied beer. There is some carbonation in the beer too, translating into a fizzy and slightly tingling feeling. It is rather smooth and easy to drink with no alcohol warming.
– Flavor
Although the American ale has a thirst-quenching and refreshing character, that doesn't stop its flavorful taste that surprises you with different notes as you drink. The most prominent thing you taste when you drink is the bread and slightly fruity taste. These fruits are in the form of tropical fruits and citrus.
Mid-palate, the bready nature of the beer becomes more prominent, and you get more yeast too. The tropical fruits almost disappear, leaving behind some hoppy tastes of citrus, grassy and herbal notes. The transitions from note to note is smooth and easy drinking, and ends with a refreshing taste that lingers on your tongue.
– Food Pairings
When having a flavorful beer like the Golden Bobcat, you can't go wrong with some of the American classic foods like burgers, pizza, grilled steak or fried chicken. The beer will pair well with American pub snacks too, so try out sauce-covered buffalo wings, sliders, bacon cheeseburger, corn dogs, or a clam chowder.
The ale is also ideal with spicy foods like a pot of chili, Mexican food, or Asian cuisines like Thai, Indian, or Vietnamese. You can try some hot Italian dishes too, especially one with pasta. Pairing the beer with fried foods or grilled meat can never go wrong due to the way it can cleanse your palate.
While the ale goes well with most cheeses, you should go for firm and full flavored cheese like Cheddar and Manchego to enhance the flavors of the beer. As for dessert, try out a carrot cake, a vanilla bread pudding, or a bananas Foster.
Ingredients
The Golden Bobcat ale is made with malts, hops, adjuncts, yeast and water. The malts include Montana Pale 2-row malts, white wheat malts, Vienna malt, Honey malt and Mild ashburne malts. As for the hops, they are CTZ, Centennial, Idaho 7, Cascade, and Citra hops. It is also brewed with locally harvested honey.
Nutrition Facts
In this ale, you get an ABV of 5.4 percent. The alcohol content is well masked in the flavor and aroma of the beer, without any unpleasant burning. As for the IBU, it is 20, as there is barely any bitterness while the hoppiness is moderate and pleasant.
The exact nutritional facts of the beer are unknown, but you should avoid taking this if you cannot consume gluten or are on a keto diet.
History
The ale is brewed by Jeremiah Johnson to celebrate Montana State University on its 125th anniversary. Since the brewery is owned by alumnus of the university, they used Montana malts to make the beer. It was unveiled on February 16th, 2018, and is meant to showcase Montana agriculture.
Another ingredient in the beer is the honey, which is produced by Smoot Honey Company, also in Montana. On the beer is the 125th anniversary artwork made by Kelsey Dzintars, also an alumnus of the school who is now a professional designer.
Conclusion
The Bobcat Golden ale is the perfect choice for beer lovers who are looking for a sweet ale with the perfect amount of hops. Here's a rundown of our beer review:
The beer is an American ale with a 5.4 percent alcohol content.
It has flavors and aromas of bread and dough, tropical fruits, citrus, and some grassy and herbal hops, all in a medium body.
It is brewed with malts, hops, honey, yeast and water.
Serve the ale in a tulip glass with an orange slice to garnish.
It is best paired with American foods and pub snacks, spicy foods, Asian dishes, firm cheeses and fruity desserts.
You can easily purchase this beer from online or physical liquor stores, or check it out whenever you visit the brewery in Montana.