The Kirkland Citra Hop Session IPA is a delicious American IPA giving you a classic taste of malts and citrus. The refreshing, lightly hoppy beer is a good example of an India Pale Ale, with a 4.9 percent ABV.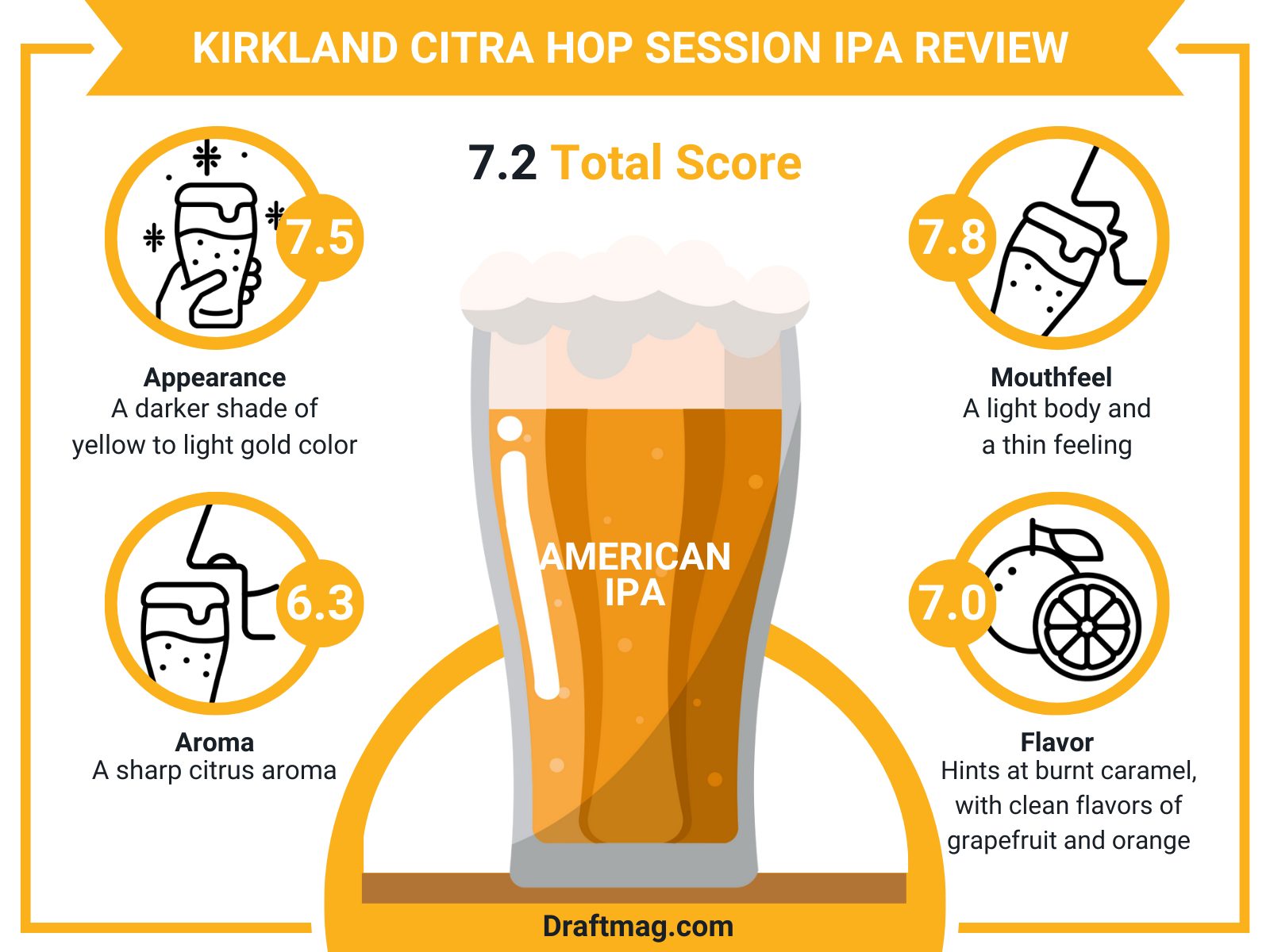 If you're looking for a clean and crisp IPA that will cleanse your palate, the Citra Hop Session IPA is always a good choice. This review covers the tasting notes, food pairing, and nutrition facts for anyone curious about this beer.
Kirkland Citra Hop Session IPA Stats
| | |
| --- | --- |
| Country  | United States |
| Brand | Kirkland Signature/Costco Wholesale Corporation |
| Style | American IPA |
| Taste  | Malts, citrus |
| Body | Light Body |
| ABV | 4.9 percent |
| Flavors & Aromas | Malty, light hoppiness, citrus, grass |
| Serving Temperature | 45-55 degrees Fahrenheit |
Tasting Notes
Kirkland Citra Hop Session IPA Tasting Profile
Kirkland Citra Hop Session IPA Review
The Citra Hop Session IPA is an American IPA brewed by Costco Wholesale Corporation. The beer has a light gold color and a malt-forward flavor and aroma. Its character includes aromas and tastes of hops, citrus, grass, and a caramel backbone.
You can best enjoy the Citra Hop Session IPA when poured in a tulip glass because of its wide opening at the top and the thin stem below it. You can easily hold the glass and mix the IPA to enhance its aromatic hops and citrus. Generally, any glass with a bulbous shape that goes inward at the top will work. For garnishing, you can use citrus slices.
The ideal summer beer, the Citra Hop Session IPA has a refreshing flavor with light hoppiness. It has a nice flavor and a drinkable character, making it a sessional IPA.
– Appearance
The Citra Hop Session IPA pours a darker shade of yellow to light gold, with one finger head of foam on the top. The white foamy head will dissipate rather quickly and leave a decent amount of lacing against the glass.
The beer has a decent amount of carbonation which you will notice in the appearance as the loose bubbles float to the top. It is not hazy but has a crystal-clear appearance.
– Aroma
The Citra Hop Session IPA has a sharp citrus aroma on the nose. This is accompanied by many toasted grains in the scent, offering a well-balanced aroma. There are hints of light grass in the beer, with some lemon zest and a rich caramel undertone from the malts.
– Mouthfeel
As for the mouthfeel, the Citra Hop Session IPA has a light body and a thin feeling. Due to the high carbonation, the beer has a fizzy feeling on your palate that will cleanse your tongue. It has a crisp and clean flavor and is highly sessional.
– Flavor
The Citra Hop Session IPA is a malt-forward beer, so this is the first thing you taste when you drink the beer. This is followed by a light hoppy bitterness and will linger into the aftertaste, ending with a clean finish.
The beer has sharp citrus flavors and some sweet caramel from the malts. The crisp taste of the beer offers medium bitterness and finishes with a dry, grainy flavor. The beer hints at burnt caramel, but it will transition into clean flavors of grapefruit and orange.
The beer's malt is balanced with the pleasant bitterness, giving you a refreshing flavor even when you take big sips.
– Food Pairings
There are different kinds of foods that you can have with the Citra Hop Session IPA. Some top food pairings include roast beef dip, Korean BBQ short rips, Ahi tacos with avocado, and Caribbean jerk-style chicken wings.
You should also consider having your Citra Hop Session IPA with fatty and heavy foods like deep-fried meats, sausages, and French fries. The hoppy flavor of the IPA will balance out the salty, fried tastes of these meats.
The beer also goes well with everyday foods like sticky-sweet chicken wings, spicy burgers, and flavorful pizzas. It acts as a palate cleanser with its clean and crisp flavor. As for desserts, the beer goes well with rich and sweet desserts like chocolate hazelnut torte, chocolate peanut butter cookies, and a toffee caramel cheesecake.
You can have the Citra Hop Session IPA with real fruits or a fruit salad. The beer also goes well with different cheeses like the earthy Cambozola, which will balance out the pungent pine hop aromas.
Ingredients
The Citra Hop Session IPA is brewed with water, malt, and yeast. As the name implies, the beer is made with Citra hops, which gives it its fruity flavors and citrus character.
The Kirkland light beer is also malt-forward, although the exact malt list is unknown. The strong flavors of malts manifest in sweet, burnt caramel, and malty sweetness. There are also hints of grass in the flavor obtained from the yeast.
You can also make the Citra Hop IPA at home by brewing a clone.
Nutrition Facts
The Kirkland Signature Citra Hop Session IPA has a 4.9 percent ABV and will give you a sessional character. The alcohol level is well masked, so you don't have a boozy beer. It does not have any carbs, fat, or protein, but the beer features 122 calories in every 12-ounce serving.
It does not have a high-calorie level and can be consumed on a keto diet as long as you take a small amount. The beer is not gluten-free due to the malt list.
History
The Kirkland Signature brand brews Citra Hop Session IPA in partnership with the Costco Wholesale Corporation. Kirkland Signature is a private label brand under Costco's trademark and is based in Kirkland, Washington.
The brand makes a wide range of products, one being delicious beers.
Conclusion
The Citra Hop Session IPA is a drinkable, delicious American IPA that offers a refreshing character. Here is a summary of what we covered in this review:
The Citra Hop Session IPA is brewed by Kirkland Signature and has a 4.9 percent ABV.
The beer has flavors and aromas of malts, light hoppiness, citrus, grass, and caramel.
It is brewed with Citra hops, malts, yeast, and water.
The beer is best served in a tulip glass with citrus garnishing.
You can enjoy the beer with a wide range of foods including wings, burgers, sweet desserts, and pungent cheeses.
If you're curious about the Citra Hop Session IPA, you can check the beer at liquor stores or purchase it online.

Latest posts by Draft Mag
(see all)