Italian Lager: Best-selling Lagers You Should Not Miss Out On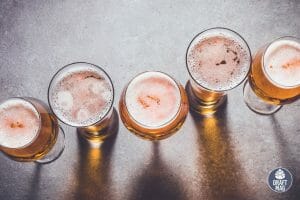 Italian lager bottles have been known to travel all over the world just like their wine. Many old breweries have constantly been in the brewing process of slowly brewing lager beer, each having its distinctive method.
Brewed in style, these lagers are truly Italian in every sense, and this guide will help further elaborate on the different types of Italian lager brands available in the market so that you find your unique brew. Read on to know more about the best Italian lagers.
| | |
| --- | --- |
| Italian Lager | Why It's the Best |
| Birra Moretti | A lager that is extremely well balanced in taste and comes in a divine golden yellow hue. It pairs pretty well with all food items. |
| Peroni Libera | This high-quality pale lager with zero alcohol is your all-time drink that is extremely refreshing and versatile. |
| Menabrea 1846 | This refined lager brewed slowly has a floral aroma with a rich taste characteristic taste and is a great choice if you are looking for a strong flavor. |
| Peroni Nastro Azzurro | Made from superior quality corn, the quality of this lager is premium and easily one of the best to go for. |
| Peroni Red Label | Made from the finest ingredients, this lager is a dark golden color and tastes delicious when served chilled. |
| Birra Moretti La Rossa | Brewed traditionally, this lager is higher in alcohol percentage and pairs well with salty and spicy foods. |
| Castello Premium | This golden-colored lager produces a fine taste that is balanced and is your lager for all occasions. |
| Forst Premium | Crisp, refreshing, and one of the finest in the country, this lager combines lemony notes with that of grains and is a delight for your palate. |
| Birra del Borgio LISA | A delicious spicy note is what is promised by this lager, which complements the slightly malty flavor well. |
List of the Best Italian Lagers
Here is an expert-curated list of the best Italian lagers in the market!
– Birra Moretti
Authentically Italian, Birra Moretti L'Autentica is made from the finest ingredients available. This golden yellow fine quality lager is brewed using the same Italian lager recipe that has been in use since 1859. The recipe stays intact to this day, leading to the production of one of the finest quality Italian lagers available in the market. The traditional process has kept the taste and quality unchanged, and one can get the original taste, which is rich and fruity.
Taste-wise, this lager is very well balanced, hinting at some fruity notes and the bitter taste is not that strong. Moderately bitter, Birra Moretti produces a clean aftertaste that suits many palates. The taste is such that it complements a delicious plate of food, including pasta and pizza. The ingredients include water, malted barley, maize, and hops.
The content of alcohol present is 4.6 percent volume and can easily be consumed at any part of the day. Founded almost 150 years ago, this high-quality Italian lager is now a leading beer brand in the country and exports to more than 40 countries worldwide. Such is the desirability of the lager.
– Peroni Libera
A lot of passion and craftsmanship goes into making this Italian lager. Italian Lager Peroni has years of expertise and skill when it comes to making good quality lager that can be enjoyed well with Italian cuisine.
Peroni Libera is an Italian lager free from alcohol, i.e., containing 0.0 percent alcohol content. The smell is fruity and delicate. This alcohol-free lager also mixes notes of citrus and hops to give that unique taste that is not too bitter yet has the right amount of punch. Being alcohol-free, it is a very refreshing beverage to drink during the day.
This beer has been made in the same process using the Nostrano dell'Isola maize variety, which is used in another famous Italian lager named Peroni Nastro Azzurro. However, a yeast strain used in this lager imparts the added citrus aroma and hoppy taste. Light golden to straw yellow in color, this Italian lager is light-bodied and perfect for people who want a refreshing drink yet want to stay out of the alcohol zone for the week.
The taste is defined as refreshing and crisp, while the bitterness is little. The taste is quite clean and can be paired with many food dishes. The taste of this alcohol-free lager is very similar to that of alcoholic lagers, with very minute differences.
– Menabrea 1846
Menabrea 1846 is a premium quality strength lager beer with an alcohol percentage of 4.8 percent. Probably the only Italian beer that lives up to the slow fermentation brewing process, Italian Lager Menabrea 1846 has a subtle hoppy taste.
The ingredients used to make this lager are brought from France, Germany, and the Czech Republic. Care is taken to bring the finest ingredients and incorporate them into the brewing process. Spring water added to the beer is brought from the Alps and the concentration is not diluted further, unlike in other beers. This produces a fine taste with a strong flavor and a good body.
The rich and complex taste is achieved by the natural and slow fermentation of malt, maize, and hops. Only the finest quality ingredients are used for making this Italian lager. The color of the lager is pale, and the taste is moderately bitter. The flavor is grainy with a hint of a citrus note, and there is also an underlying floral note to this premium quality Italian lager.
This delicious lager has won a lot of international awards, namely, the Gold Medal Award at the London International Exhibition in 1925 and also the top prize for two years running at the Chicago International Beer Championships (1997 & 1998).
– Peroni Nastro Azzurro
Created with a passion and flair that is uniquely Italian, Peroni Nastro Azzuro is the gold standard of Italian lager. A symbol of Italy, Peroni Nastro Azzuro is made from the finest quality Italian corn named Mais Nostrano. This prestigious corn variety is exclusive as it is grown for making this high-quality Italian lager only. The corn is fermented slowly with the help of a process that has remained intact using the highest quality skill and Italian craftsmanship.
The taste of Peroni Nastro Azzuro is super clean and uplifting. The superior quality ingredients lend this pale golden-colored Italian lager a rich aroma and taste. The notes produced are a mixture of citrus and aromatic and are known to be quite refreshing. The crisp taste is a testimony to the quality of the ingredients, from the superior quality corn to the high-quality water.
Known for its freshness, this light lager has a distinct taste that is not too sweet and not too bitter. The taste is very well balanced and lives up to its fame. The fragrance is beautiful, leaving behind an aromatic palate. Besides the corn, barley and malt are also used in this beer.
This beer pairs well with many food items and can be enjoyed with almost anything. Nastro Azzuro boasts of being one of the most well-known Italian lagers.
– Peroni Red Label
Created with passion by Giovanni Peroni, this premium quality Italian beer has a darker color than the Nastro Azzuro beer, with a taste that is slightly more hoppy and malty. At 5.1 percent volume of alcohol, this Italian beer has more fruit and floral notes than Peroni Nastro Azzuro. The taste is clean, and the finish is quite smooth. Probably the most selling beer in Italy, Peroni Red label is the very definition of Italian lager.
This fine quality Italian lager is made from the finest barley malts that add extra richness to every sip you take. The flavor is crisp and the taste refreshing. This delicious beer has an aromatic flavor, and the texture is full-bodied. The aroma is of light bready malt and there is a lingering lemon and black pepper note.
This premium lager is best served chilled to get the refreshing taste and feel. The aftertaste is that of bread with a grassy hint. Being the most famous Italian lager, it has always lived up to its quality worldwide and in Italy since its creation in 1846.
– Birra Moretti La Rossa
Made from the highest quality barley malt, this Italian lager has higher alcohol content. Containing a 7.2 percent volume of alcohol, Birra Moretti La Rossa produces a distinct caramelized malt flavor. The aroma is intense and bears a resemblance to that of roasted malt. This beer is best served at temperatures ranging from 50 to 55 degrees Fahrenheit.
The distinct color of this Italian lager is produced by the brewing of a special type of malt that is first dried and then roasted to achieve a distinctive taste. Hops are added to give that refreshing hoppy aftertaste and slight bitterness. The hops used for this Italian lager are very aromatic, lending a beautiful fragrance that is not too strong. The delicate flavor and slightly bitter aftertaste are what makes this beer special.
Like any other Italian Lager Moretti, this beer is made using a traditional method that has been in place for ages. Also, only the finest quality ingredients are used to produce this Italian lager to suit thousands of Italian and international palates.
– Castello Premium
Delicately hoppy, Castello Premium has a warm golden color. This lager is produced by low fermentation and has a very well-balanced flavor. The taste is harmonious, and the alcoholic content is medium. There is a distinct smell of malted barley that flows through the entire palate.
The alcohol content is just right at 4.8 percent volume so that it can be consumed throughout the day and on special occasions. The aftertaste is slightly bitter, and the smell is not fruity or citrusy. The malted taste is predominant, and the zingy taste continues throughout.
This Italian lager is very easy to drink, giving a subtle aftertaste. Unlike many Italian lagers, the taste is quite simple and uncomplicated. This lager works excellent for people who enjoy a good light lager with a simple hoppy taste. If you are looking for a beer for all occasions, then Castello Premium is the right lager for you.
– Forst Premium
This premium Italian lager is produced by the Forst brewery, founded in 1857. The brewery, located in the Italian Alps foothills, uses only the best quality natural spring water to produce Forst Premium lager.
The quality is maintained consistently and contains a 4.8 percent volume of alcohol. Pale yellow in color, this Italian lager is clear with a decent white head. The notes following the bitter taste are that of lemon, grain, and a floral touch.
Thinner than other beers, this Italian lager is made by one of the most famous and largest breweries in Italy.
– Birra Del Borgio LISA
Beautifully golden, Birra del Borgio LISA is one of the finest quality lagers in the Italian market. Rich original taste drives it apart from the rest of the Italian lagers. Prepared beautifully, this Italian beer produces a light fizz that feels great on the tongue. The hoppy flavor and aroma of Birra del Borgio LISA have a lovely floral aroma.
The taste is light and slightly hoppy, with a lingering citrusy and spicy note. It is a delight to taste this beer which is a perfect complement to any dish. The best thing is that the taste is simple and not too complex.
Containing 5 percent volume alcohol, LISA is a hazy golden beer produced by brewing an ancient Italian grain known as Cappelli wheat grown in the countryside of Puglia. Another ingredient used to flavor the lager is orange peel. The elegant modern taste results from the finest ingredients used in the brewing process.
The bitterness is quite soft, and the finish is clean and dry. This Italian lager has a unique freshness that imparts a modern taste profile.
Conclusion
Even though Italy is most known for its wine and is situated in the wine belt of Europe, Italian beers are vastly becoming popular thanks to its ages-old breweries that have perfected the art of brewing the finest quality pale lagers. Here are some of the important points we learned today: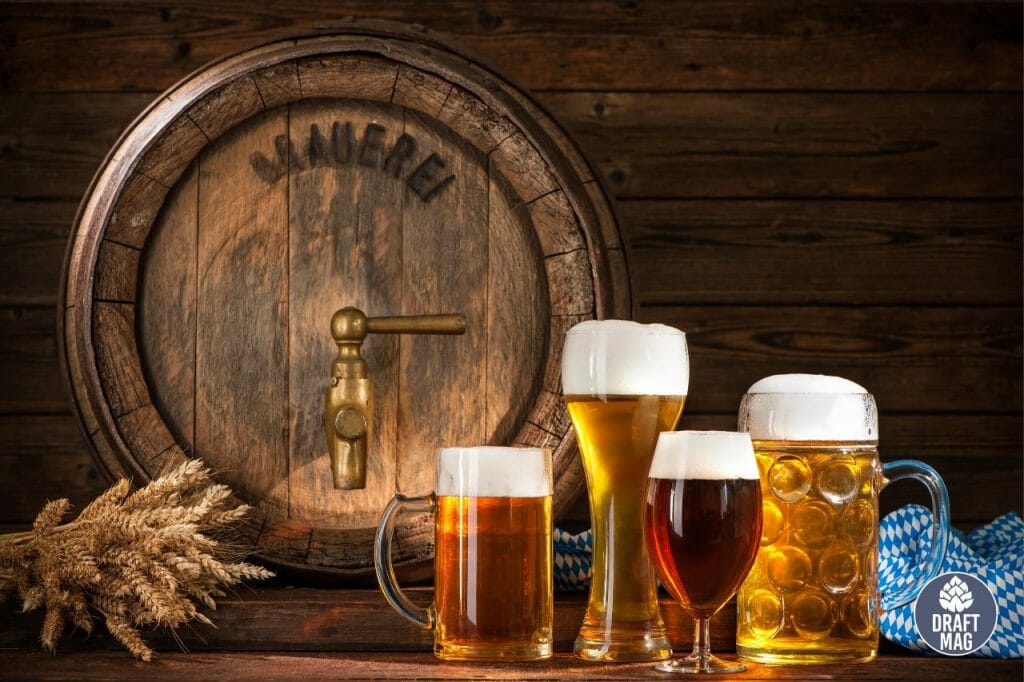 Italian lagers have seen a meteoric rise over the past few years for beer connoisseurs around the world.
If you are on the hunt for a prime Italian Lager, Birra Moretti as one of the most popular Italian beer brands will be your best bet.
The well-balanced fruity flavor with bitter notes pair well with classic Italian fare and is a rage among beer lovers.
Castello Premium is produced by low fermentation and has a very well-balanced flavor, making it perfect for special occasions.
These lagers are available across most bars and pubs in Italy and Europe, so make sure to add them to your list of beers that are a must-try.
Make sure to go through our list of the best Italian lagers and choose which one to try today!