Best Beer for Michelada: Top Seven Beers To Make This Refreshing Drink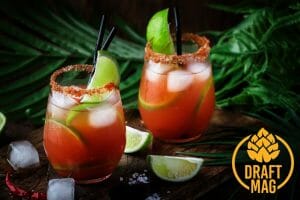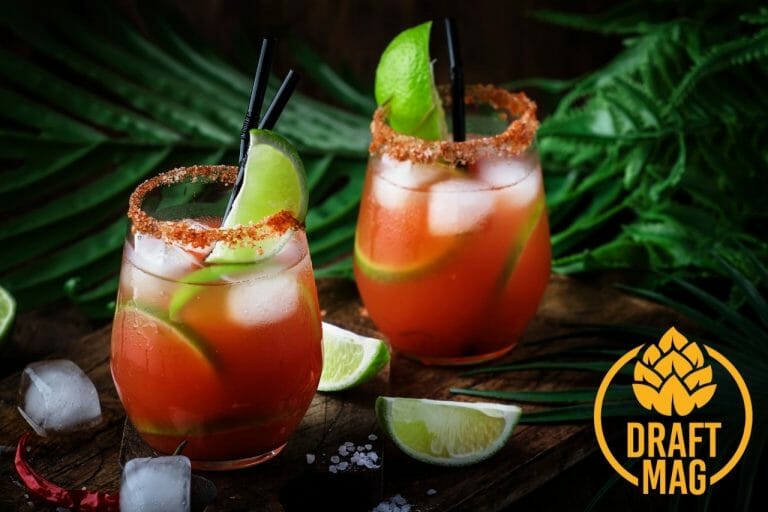 Choosing the best beer for michelada can be tricky as it is the main ingredient along with a combination of fresh lime juice, light beer, spicy sauce, and a spicy ingredient like Worcestershire sauce.
However, the key is finding the correct balance of flavors.
This Mexican cocktail amps up the flavor of the beer. This low-ABV brunch drink is significantly refreshing, especially in hot weather. However, if you've ever made a michelada, you'll know that not all beers work in this cocktail.
In this article, we'll spill the beers for preparing micheladas.
Best Beers for a Michelada
Let's look into some of the best beers to use in a michelada: 
– Corona Extra 
Corona Extra is the most popular Mexican beer and the most famous imported beer in the US and Canada. This beer, like many others, is made up of a blend of hops, malted barley, yeast, and water, giving it a fruity aroma with distinct malt overtones.
It is frequently served in bars in export markets with a slice of lime inserted into the bottle's neck. 
With corona beer, you will get a less spicy Michelada along with lemon and lime flavors that carry through to a light, crisp palate. The Michelada with corona beer is one of the most balanced.
ABV:

4.6 percent

Color:

It pours a pale straw hue with a medium white head that is exceptionally clear.

Taste Profile:

These cervezas have a crisp, gritty, dry, and light flavor that is easy on the palate, especially for beginners or those seeking a smooth drink. 
– Tecate
Tecate is a light-flavored Mexican lager akin to other Mexican beers sold in the United States. It is the most well-known michelada beer, and it's often served as a foundation in restaurants and pubs. 
Tecate is the ideal canvas to build a cocktail: light, crisp, and mildly malty. Try adhering to the basic formula of a bit of tomato, hot sauce, and freshly squeezed lime when making this Michelada instead of getting too crazy with the ingredients.
ABV:

4.5 percent

Color:

It pours a brilliant golden lager that is perfectly balanced. 

Taste:

They have a well-balanced malt flavor, medium bitterness, and a light, clean finish.
– Pacifico
Pacifico, sometimes known as Clara, is a pilsner-style beer from Mexico. This imported beer was discovered in the 1970s by surfers along the Baja coast and carried back to the United States. 
This beer becomes even more thirst-quenching and refreshing with a touch of fresh lime juice.  It's better to avoid the tomato juice when preparing a michelada with Pacifico. Instead, use lime, Valentina spicy sauce (Cholula also works), and a touch of fish sauce or Maggi flavor in the beer with michelada. 
ABV:

Five percent

Color:

The color of this beer is a clear golden color.

Flavor

: Pacifico Clara is a robust and crisp Mexican beer with a hint of grassy citrus and coastal mist.
– Modelo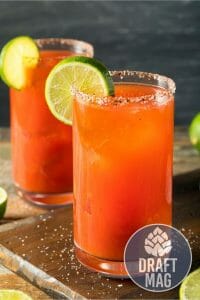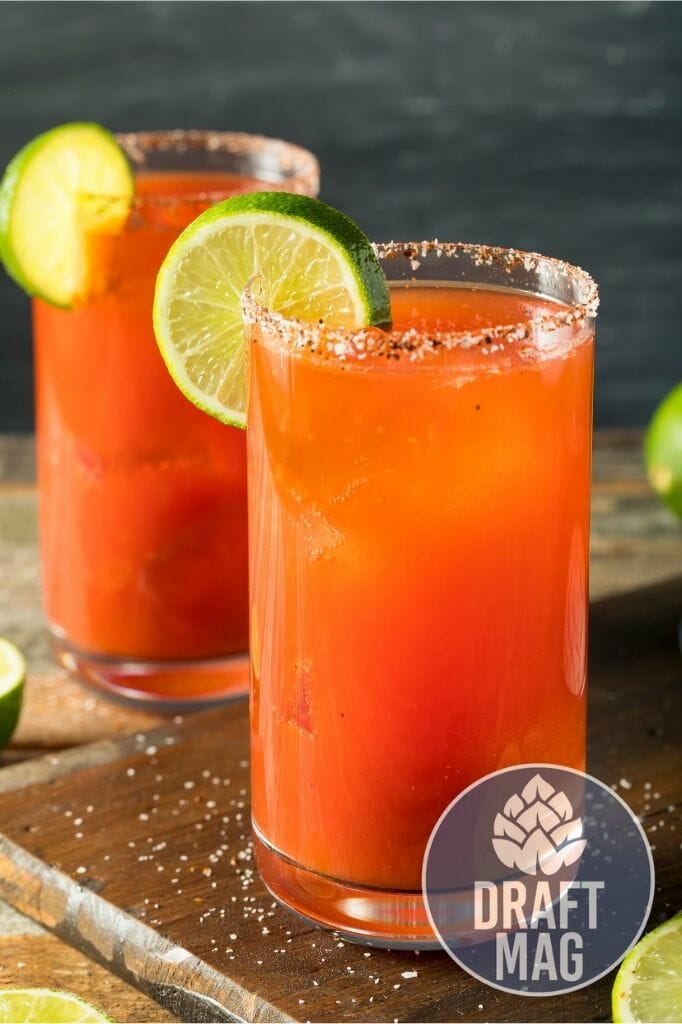 Modelo Especial is another famous Mexican beer for michelada. It is a creamy and full-flavored pilsner. This easy-drinking beer has a mild hop flavor, enticing sweetness, and a crisp, clean finish, making it ideal for your next BBQ.
This cerveza is brewed with combativeness using barley malt, unmalted grains, and hops for a balanced flavor.
This beer produces one of the lightest, most refreshing versions of the drink. Modelo Especial is nearly like beer-flavored seltzer on its own, but with the addition of fresh lime and spicy sauce, it becomes a flavor avalanche.
Since it allows the components in a michelada to show through entirely and rise well above beer's flavor, this beer is the ideal receptacle for them. 
ABV:

Five percent 

Color:

This lager pours a golden tint.

Flavor:

It has a well-balanced and mild hop flavor with a crisp, clean aftertaste. It also has an orange blossom honey scent with a tinge of herb that characterizes Modelo Especial.
– Session Cerveza 
Freshness and drinkability are the primary characteristics of a session beer. This American lager, made by Full Sail Brewing Co., is flavored as the best Mexican beer. 
A Session Beer is a beer with an alcohol by volume (ABV) of less than five percent, a balance of hop and malt flavors, and a crisp, clean aftertaste. Sesión Cerveza is quite refreshing, especially on a hot summer day, and it's as delicious as a michelada. 
This beer pairs well with stronger, fruitier habanero hot sauces and pinches of fresh lime and orange juices since it's bright, crisp, and zesty with a hint of a hoppy punch. The hops add delicate flavors of lemon and spice for balancing the crisp malt body. 
ABV:

Five percent

Color:

The beer is gold in color, absolutely transparent, and has a white head that swiftly fades.

Flavor:

Session has a light body, a crisp mouthfeel, with toasted grain and some hop bitterness towards the end. 
– Sol Cerveza
Sol Cerveza is a light lager beer from Mexico. This beer is light and simple to drink, with a clean taste and smooth finish ideal for sipping with a cocktail. 
It's full-bodied with a pleasant palate and a subtle creaminess. Sol is mildly bitter and doesn't go near the sweet end of the spectrum. 
The name is extremely fitting: bright and refreshing, with no skunkiness. Another appealing feature of this beer is its continuous froth layer that, according to the company, lasts until the last sip.
Sol smells fantastic and delivers a glimpse of the flavorful taste thanks to its malted barley combination.
ABV:

4.2 percent

Color:

Sol is a light, pleasant golden pilsner with a crisp, lemony aftertaste.

Flavor:

The rich taste is rounded out with delicate citrus notes and a hop accent. The mouthfeel is well-balanced, and the finish is crisp and clean.
– 21st Amendment El Sully 
This craft beer is made as a Mexican pilsner and is brewed in San Francisco. The 21st amendment el sully is the best base for a Michelada, somewhat like a heavier, more complicated Pacifico. 
The beer is best served with a brighter, fresher jalapeno-based hot sauce like Yucateco, pureed green tomato juice, and a garnish of cilantro for aromas. With an excellent smoothness and crisp finish, it's enjoyable, light, and refreshing. This medium Pilsner and honey sweetness, as well as the mild hops, works well together.
ABV:

4.8 percent

Color

: The beer has a bright golden straw tint to it.

Flavor:

It has a medium-sweet biscuit flavor that isn't too sweet. With a low-key mild bitterness, the flowery, earthy hops tastes fit right in. It has a bright body with a fresh carbonic bite and a subtle apple flavor at the end of the sip.
FAQ
– What Is a Michelada?
A michelada is a Mexican red beer cocktail poured in a pint or Pilsner-style glass. Sometimes spelled chelada, this cocktail is most famous during the summer months, especially during Cinco de Mayo, the Mexican holiday commemorating the country's independence from the French.
The elements in a michelada are what set it apart from other cocktails. While you may make a michelada with any light Mexican-style beer, the fundamental ingredients are a light Mexican-style beer, salt, lime juice, chili powders, or a soy-Worcestershire sauce combination. 
A michelada is evolved naturally from the common Mexican technique of squeezing fresh lime juice into a beer and seasoning it with a pinch of salt.
The micheladas flavor is robust, and the beer carbonation is most likely visible. It's normally brewed with a lighter beer, and the citrus and tomato flavor combination makes it a refreshing drink on a hot, dry day.
It has the added benefit of the nutritious vitamins in tomato juice and lime, which will keep you energized and hydrated even while you're drinking it.
– What Is a Michelada Mix Made of?
A michelada mix is made of your favorite light Mexican beer with a touch of salt and citrus. The beer to make micheladas should be 'light' and 'crushable.' Avoid beers with a lot of alcohol and well-defined flavors since the tomato juice and spices dominate this drink.
Sol, Corona Light or Extra, Modelo (Light), and Tecate are a few excellent Mexican beers to pair in this recipe. Bud Light and other light American beers also make a good michelada. It will also taste fine if you use an American or other light beer, but it won't be the same. 
A michelada is a drink that is supposed to be enjoyed on a patio throughout the day. You want the spice, the ice, and everything good, so IPAs are a no-no. 
How Do You Make the Best Michelada?
– It's Best if You Serve It Cold
Micheladas should be refreshing, so make sure your beer (and glass) is cold. You may top your drink with some ice if your beer isn't ice cold.
– Customize Your Tastes
Use your favorite combination of spicy sauce, spices, and citrus juice to over-season your michelada beer. If it tastes uneven or overwhelming, simply add additional beer to balance it out.
– Season With a Pinch of Salt
You may keep your drink as simple or as spicy as desired. Add some chili powder to the salt if you want a little more spice.
Endnote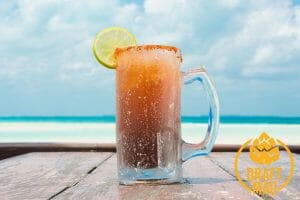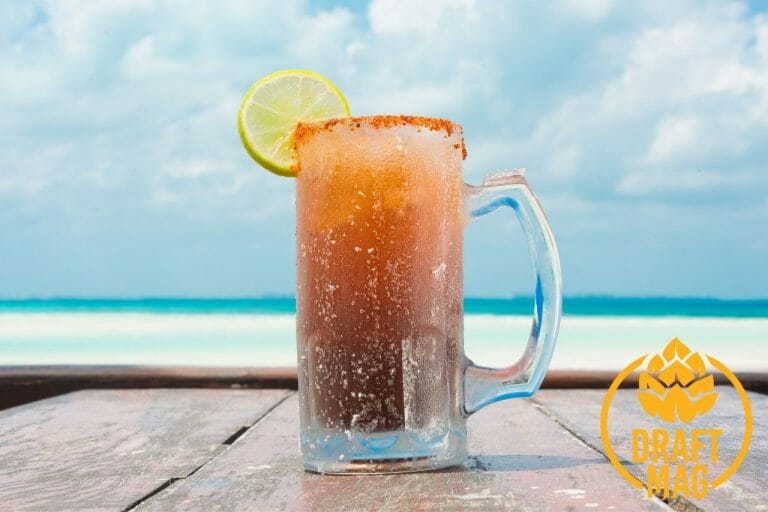 When prepared properly, a michelada is one of the most refreshing and tasty summer beer beverages available. It's a spicy, tart drink created with ice-cold Mexican beer.
Here's what we've learned:
Beers that are bright, clean, crisp, and refreshing with a dry finish are best for micheladas.

Tomatoes and spices usually dominate this drink.

This refreshing cocktail is best during the summer season.
This simple drink is ideal for a hangover breakfast or tacos in the afternoon even if you don't usually enjoy the taste of beer!