Hopping Nomad IPA Review: A Flavorful and Balanced Session IPA 
Our Hopping Nomad IPA review will detail all you need to know about this American IPA before taking your first sip. Brewed by Octopi Brewing, Hopping Nomad expertly balances fruitiness and hoppy bitterness with malts.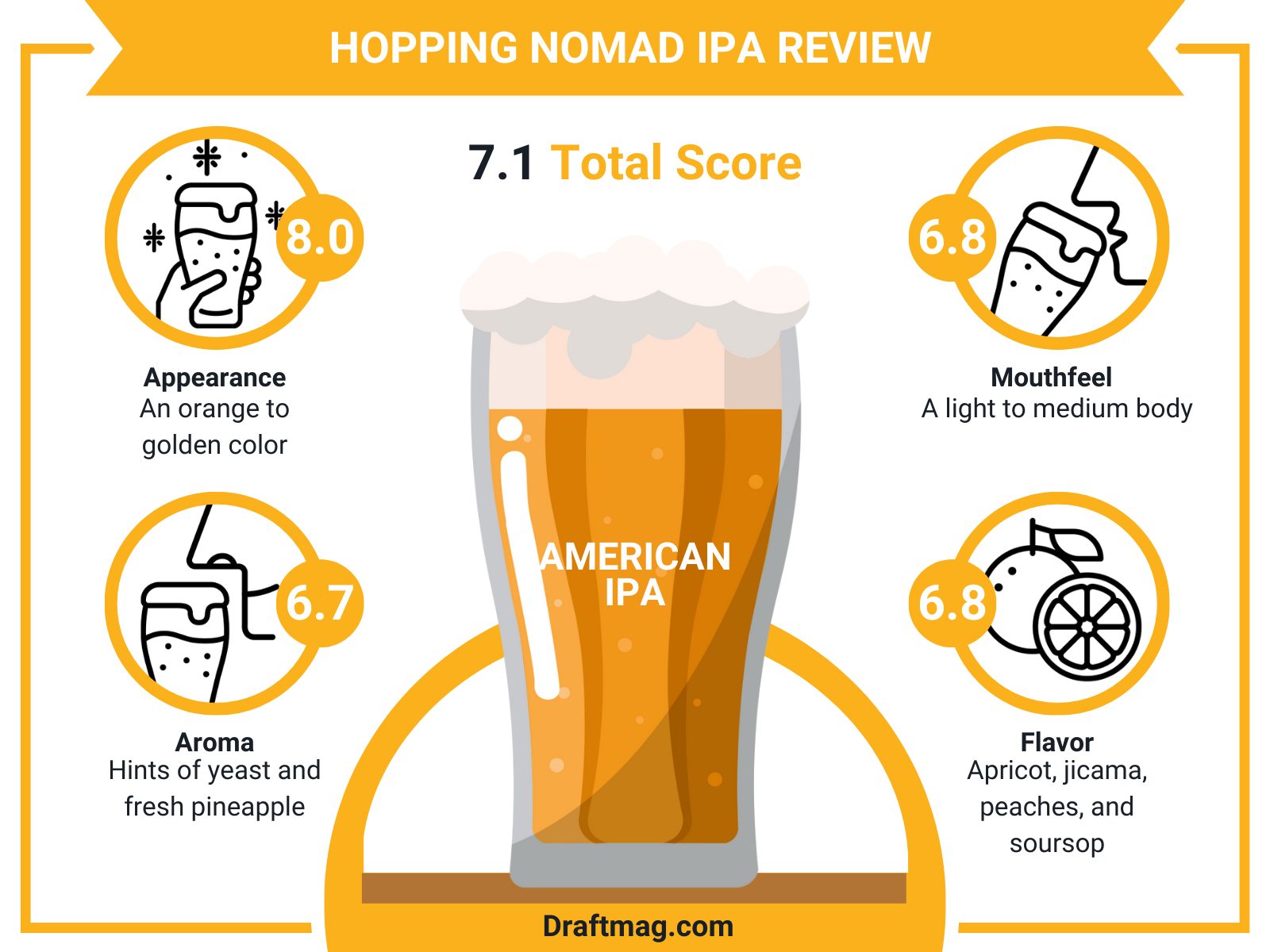 It definitely over-delivers on the American IPA style and offers a rich and full flavor. Continue reading our full guide to know more about drinking this Hopping Nomad IPA.
Hopping Nomad IPA Stats
| | |
| --- | --- |
| Country  | United States |
| Brand | Octopi Brewing |
| Style | American IPA |
| Taste  | Fruity, bitter |
| Body | Light to medium body |
| ABV | 4.5 percent |
| Flavors & Aromas | Apricot, peach, greens, biscuit malts |
| Serving Temperature | 45 – 50 degrees Fahrenheit |
Tasting Notes
Hopping Nomad IPA Tasting Profile
Hopping Nomad IPA Review
Hopping Nomad is an American IPA brewed by Octopi Brewing with a 4.5 percent alcohol content. The beer has a light gold color, with a fruity aroma and flavor of apricot, bananas, peach, jicama, and soursop, ending with a dry and intriguing finish. It is a well-balanced and highly drinkable IPA and an excellent example of the style.
When having the Hopping Nomad India Pale Ale, you should serve it in a snifter, chalice, or goblet. The serving temperature is from 45 to 50 degrees Fahrenheit. You can garnish the beer with an orange or lemon slice or add berries and ice to it for a better drinking experience.
The Hopping Nomad beer is an all-season beer as it is highly sessional and easy to drink. The low ABV allows you to enjoy drinking it from afternoon to evening.
– Appearance
The Hopping Nomad beer pours orange to golden and has a hazy appearance. The beer is a bit copper and has a thick beige head with great retention, meaning you can enjoy the aroma for a while. The decent head leaves a bit of lacing against your glass.
– Aroma
When you smell the Hopping Nomad craft beer, the first thing you notice is the underripe apricot. The beer has a fruity aroma of peach yogurt, jicama, soursop, and leafy greens. In the backbone, you will notice hints of yeast and fresh pineapple and some biscuit malts. There is a note of pine bitterness too.
– Mouthfeel
On the palate, the Hopping Nomad session IPA has a light to medium body and is very sessional. Some drinkers might find it a bit thin, and it barely leaves any aftertaste in your mouth. The carbonation is decent too, and the beer finishes a bit dry.
– Flavor
As for the taste, the Hopping Nomad IPA follows the aroma, with juicy apricot, jicama, peaches, and soursop. There are also notes of banana cream, watermelon rind, and dried mango that accompany the flavor from the hops. This gives you a fruity and juicy ale.
The tropical fruit flavor is combined with citrus and bitter pine notes and a bready backbone obtained from the malts. Even after drinking, the complex flavor leaves lingering notes of tangerine, red grapefruit, peach, lemon, and other fruits, while the malts offer toasted biscuits and light caramel.
The robust flavor has an earthy and dry finish. Despite the many flavors and fruity notes, the Hopping Nomad IPA is well-balanced and moderate, with no taste overpowering the other. It is a classic hopped IPA with mild residual sweetness, a nice bready malt backbone, and a low ABV.
– Food Pairings
When having the Hopping Nomad IPA, you should pair it with similarly tasting foods so you won't overwhelm the dish. The bitterness of an IPA will cool things off when having a spicier dish, so look out for barbeque and burgers with hot sauce. You can also try out tacos or a pizza with barbeque sauce as the IPA acts as a palate cleanser.
You can also pair the session IPA with your usual snacks like chicken wings, chips and dips, sausages, jalapeno poppers, sliders, nachos, salted nuts, and fries. If you have a sweet tooth, you can have the Hopping Nomad beer with light desserts like key lime pie, dark chocolate truffles, strawberry shortcake, chocolate raspberry mousse cake, or a fruit trifle.
Cheese lovers can look out for pungent and earthy cheeses like triple cream cheese or gorgonzola, which will go well with the pine hop aromas of the session ale.
Ingredients
The Hopping Nomad IPA is made with the usual ingredients of malts, hops, yeast, and water. The exact malts and hops used to make the beer are unknown. The hops provide the flavor of diverse fruits like apricot, watermelon, banana, mango, and pine bitterness. On the other hand, the malts offer you malty sweetness, light caramel, and toasted biscuits.
Nutrition Facts
The Hopping Nomad IPA features an ABV of 4.5 percent, which is a pretty low level. This makes it easy to drink and highly sessionable for any drinker. There are 150 calories in every 12 ounces of the Hopping Nomad beer, so health-conscious drinkers should consider this when calculating their dietary intake.
As for the carbs, there are 13 grams in the 12-ounce bottle. The beer is not suitable for those on a keto diet due to its high carb content. It is also not a gluten-free beer, so keep this in mind before purchasing.
History
The Hopping Nomad beer is a production of Octopi Brewing based in Wisconsin, United States. The beer was released in 2020 and is one of the most popular options from the brewing company. Octopi focuses on producing quality beverages for its clients and is known for adapting to the needs of the industry.
Conclusion
If you're looking for a complex American IPA, the Hopping Nomad beer is the ideal choice. Here's a summary of what we covered in the Hopping Nomad IPA review above:
Hopping Nomad is an American IPA from Octopi Brewing with a 4.5 percent ABV.
The beer has flavors and aromas of fruits like apricot and bananas, caramel and biscuit malts, and offers an earthy, dry finish.
The IPA is made with malts, hops, yeast, and water.
It is best served in a chalice or snifter when cold, with citrus garnishing.
You can pair the IPA with spicy foods, normal snacks like sliders, light desserts, and pungent cheeses.
You can have the Hopping Nomad IPA by purchasing it online or at nearby liquor stores. You can also have it at Octopi Brewing on your next visit to Wisconsin.