Earthquake Beer Review: Is the Brew as Memorable as Its Name?
Earthquake beer, commonly referred to as Earthquake, is a memorable lager that gives you just enough of a rush to keep you going. Earthquake Lager should be your go-to beer if you prefer malt liquors due to its rich and powerful flavor.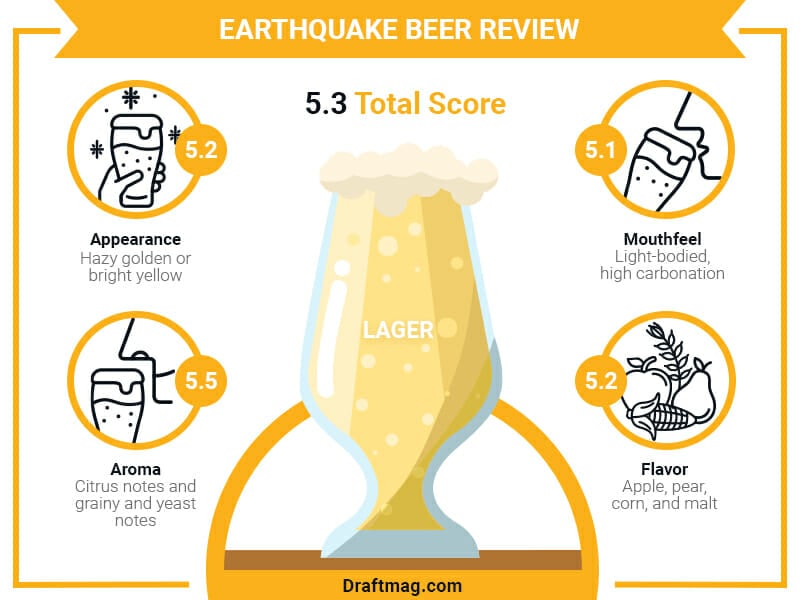 Surprisingly, hardly many beer enthusiasts have tried this outstanding craft brew. You can find everything you need to know about the Earthquake beer in this complete review.
Earthquake Beer Stats
| | |
| --- | --- |
| Country | United States (Wisconsin) |
| Brand | Drink Four Brewing Co. |
| Style | Lager – malt liquor |
| Taste | It has a corny taste alongside hints of citrus notes like apple or pear. It also has a strong alcoholic taste. |
| Body | The beer has a bright yellow or golden color with an off-white foam head that dissolves slowly. |
| ABV | 10 percent |
| Flavors and Aromas | Its flavors are grainy with hints of alcohol and citrus. It has a corny aroma that is strongly accompanied by alcohol. The hoppy aroma is well concealed. |
| Serving temperature | 45 – 50 degrees Fahrenheit |
Tasting Notes
Earthquake Beer Tasting Profile
Earthquake Beer Review
Our in-house beer experts have compiled this review based on categories such as appearance, taste, and flavor. This should give you a good feel for the beer.
– Appearance
Earthquake Lager comes in a 24-ounce can that has an appealing, eye-catching design. When poured in a pint glass, this beer has a hazy golden or bright yellow color that's quite fascinating. It is accompanied by an off-white fluffy foam head that's quite thick and doesn't dissolve easily. The foam head takes about four to seven minutes before dissipating.
As the foam head dissipates, it leaves a thick foamy lacing on the glass. There are also tiny bubbles that are visible when you pay closer attention to the glass.
– Aroma
Earthquake Lager has quite a unique scent profile. It is almost impossible to tell each specific note. However, when you pull the pint glass closer to your nose, you'll catch a nice combination of citrus notes alongside grainy and yeast notes. The beer combines apple, pear, corn, biscuits, malts, caramel, and an almost herbal scent.
You can also catch a tiny whiff of spice that smells like pepper and grass. Due to its high ABV, the strong smell of alcohol is also very present. It's slightly difficult discerning any hoppy aromas.
– Mouthfeel
Although this beer is light-bodied, it has quite a high carbonation. It is also very easy to drink and has a balanced mouthfeel that encompasses malt, corns, and hops. Earthquake beer leaves a lingering bitterness and a burning sensation from the alcohol that is almost too much.
Another thing to note is that Earthquake beer has a clean and dry finish. If you're a beer beginner, this Lager might not be the best beer to start with because of its complex profile and very high alcohol by volume.
– Flavor
Just like the aroma, the flavors in Earthquake Lager are quite fruity and mixed with grainy and earthy flavors. The apple, pear, corn, and malt, as well as a yeasty flavor are impossible to miss.
You can also catch hints of alcohol although it's not overwhelming. The flavors are all balanced in a way that doesn't mask the true purpose of this lager, which is to leave you feeling buzzy.
– Food Pairings
It's possible to pair Earthquake Lager with almost any meal. However, if you're seeking to enjoy this beer with meals that won't completely mask its taste, you should try it with grilled meat. The beer goes with grilled chicken wings, lamb, pork, buffalo, and even fried fish. You can also try it with seafood like shellfish, grilled salmon, and shellfish.
Another great way to enjoy this beer from Drink Four Brewing is to have it with spicy Mexican, Asian, or even Latin dishes. Pasta without cream also makes for an enjoyable food pairing with Earthquake beer.
Ingredients
Earthquake Lager is brewed from the regular ingredients used for most beers. Its ingredients include water, grains, cereals, malt, yeast, and hops.
Nutrition Facts
When it comes to its nutrition facts, Earthquake High Gravity Lager sure packs a lot of calories. It has 296 calories, 23 grams of net carbs, zero grams of fat, zero grams of protein, and 6.2 carbs. If you're not interested in gaining weight, then a bottle of this beer is enough for you.
A 24-ounce can of Earthquake can get you drunk. However, it's a bit difficult to tell how fast it would get you drunk, as different people have different alcohol tolerance levels. Two or more cans of Earthquake beer will surely get you very drunk.
History
Not much is known about the history of Earthquake Lager. It is produced by the Drink Four Brewing Company located in Wisconsin, United States. This brewing company brews other great beers, including the Popular Four Loko beer series. Some Drink Four Brewing Co. beers to try out include Signature Cocktails Moscow Mules, Four Loko Gold, Four Loco Watermelon, Four Loco Fruit Punch, Four Loco Sour Apple, and Four Loco Frost.
You can purchase this beer from any bar, microbrewery, or liquor store around you. You can also get it from the Drink Four Brewing Company when you visit them for a drink.
Frequently Asked Question
– Is Earthquake a Good Beer?
Yes, Earthquake is a relatively good beer. Although preferences aren't the same for every drinker, Earthquake can be considered a decent beer. Note that the lager has a very high ABV of 10 percent, so it's important to drink responsibly.
However, this beer is not great for a keto-friendly lifestyle because it contains a high amount of carbs. With about 23 grams of net carbs, most people practicing keto should avoid this beer.
Conclusion
This is a great beer despite its high ABV. Below are some of the points we discussed in the review:
Earthquake beer is produced by an American brewing company known as Drink Four Brewing Co. in Wisconsin.
It has a high ABV and is known for its distinctive blend of fruity, grainy, and malt aromas and flavors.
The beer has a unique mouthfeel that lingers for a long time. It is also easy to drink and leaves a clean, dry finish.
The best meals to have with the lager include grilled meat, pizza, burgers, and spicy Mexican and Asian delicacies.
With this detailed review discussing all you need to know about Earthquake beer, you can now know what to expect when you purchase a can or two. Be careful and watch out for the buzzy feeling that comes with this super beer brew!