Best Beer for Bbq: Top Pairings To Complete Your Grilling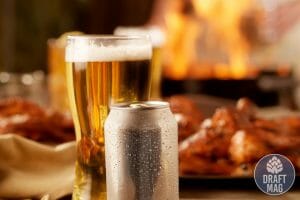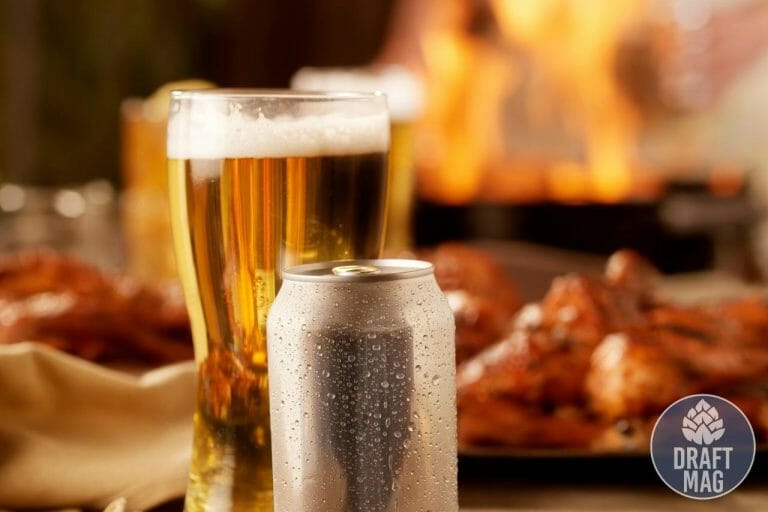 The beer for Bbq include pale lager, porter, blonde ale, pale ale, IPA, brown ale, Irish red ale, amber ale, hefeweizen and stout beers. You want something that will please everyone and at the same time will go well with the different types of food on the grill.
If you're planning a BBQ get-together and you need help choosing suitable beers, we've got you covered!
We've compiled a list of the best beers that go well with barbeque, as well as helpful tips to keep in mind as you enjoy your cookout.
Best Beer for Bbq
Here are the top 12 beer choices that go well with barbeque:
Smuttynose Old Brown Dog Ale
This brown ale is at the top of our list and is a fantastic choice if you're trying to pair barbeque and beer. The Old Brown Dog Ale is a highly versatile beer for all kinds of barbeque, as it offers a caramel, nutty flavor against your tongue. The maltiness combined with the caramel notes goes well with Bbq's smoky and spicy flavors.
One of the most popular beers for craft brewing enthusiasts, the Smuttynose brown ale is an old-time favorite. It features 30 bitterness units from the hops and a 6.5 percent alcohol content. The bold flavor goes well with ribs, steaks and sausages, and even vegetarian burgers.
Fat Tire New Belgium Amber Ale
Aside from brown ales, amber ales are also a good pairing with grilled food. You can enjoy drinking the Fat Tire New Belgium Amber Ale with your favorite barbeque food, and it's also an excellent beer for marinating your ribs. Fat Tire beers are widely popular in the beer scene in the United States, so you can easily find this delicious beer anywhere.
The New Belgium Amber Ale is made with four different malts, three hops and ale yeast from the brewery to give you a delicious balance of spice, fruit and sweet flavors. It has subtle bitterness with 22 IBUs, while the ABV is 5.2 percent.
Ommegang White
If you have grilled fish, ribeye and other smoked food, you can easily pair it with the Ommegang White beer. With a brewery based in New York, this beer is a delicious variant of a Belgian witbier, so for those who enjoy Belgian beer, you would also like this one. It is a fantastic beer to use in making spicy barbeque sauces.
The beer is brewed with a bottle conditioning process, so it improves with time. It is made with unmalted and malted wheat and Hallertau hops. On your palate and nose, you can enjoy the orange, citrus and coriander spice character. It is barely hoppy and bitter, with 11 IBUs and a wheat background.
Deschutes Black Butte Porter
Every beer enthusiast knows that dark porter always goes well with meat, whether it's smoked or grilled. It's a perfect beer for a hot afternoon, especially when served cool, and pairs well with the deep char from the grill.
This porter features a 5.5 percent alcohol by volume and 30 IBUs, making this much softer and lighter than most dark beers. It is made with five malts and two hops: Cascade and Tettnang, giving you a complex and delicious taste. Enjoy the notes of chocolate and coffee on the malty wheat base, which shape this dark beer.
Schlafly Raspberry Hefeweizen
Next on our list is the Schlafly Raspberry Hefeweizen, a fruity beer that goes well with barbeque. During the summer months, the best beer to have during a cookout is a fruity beer, and this pink beer is the ideal choice. It also goes well with most side dishes.
The beer might be a hefeweizen, but it thinks outside the box as a German wheat beer. You can taste the berries and underlying sweetness as you drink this beer, especially since the real berries are fermented into the beer. The Raspberry Hefeweizen tastes like natural fruit, offering 4.1 percent ABV and 16 IBUs.
Founders Solid Gold
Many beer enthusiasts enjoy drinking a cold lager while working the grill, and the Founders Solid Gold is a perfect choice for this. It's a good beer to go for if you want to try something new with your friends and family during your cookout.
It features 4.4 percent ABV, ideal for day drinking, and 20 bitterness units. You can enjoy drinking this gold lager as it has a refreshing, clean and crisp mouthfeel that goes well with spicy, smoked and grilled food.
Pilsner Urquell
If you're planning on grilling hot dogs, spare ribs or brats with homemade barbeque sauce, you won't do better than a Pilsner Urquell. The beer is well-liked among beer lovers, giving you a thick white head when you pour it into your cup and an aromatic character to enhance your barbeque experience.
The Pilsner Urquell is well-known for its unchanging recipe, which has been around for almost two centuries. The Czech pilsner is made with Saaz hops, giving a balance of sweet malts and subtle bitterness.
Its crisp taste would also take you through dessert and its refreshing taste is perfect for hot days. The alcohol content is 4.4 percent.
Shipyard Monkey First IPA
One of the best ales to pair with your Bbq is an IPA with a hoppy flavor, regardless of how spicy, saucy and tangy your barbeque is. Whether you're making steak or ribs, the Shipyard Monkey First IPA is the ideal style for your cookout.
As a well-rounded beer, it is a highly refreshing beer for a hot summer day by the grill. Brewed in Portland, Maine, this beer includes notes of tropical fruits and citrus in its flavor and aroma.
This is highly balanced with the bitterness from the three hops and the grainy base. It is a bit bitter, with 50 IBUs and 6 percent of alcohol.
Kona Light Blonde Ale
The Kona Light Blonde Ale is a perfect beer for barbeque cooking for those watching their calorie intake. This beer goes very well with vegetable kebabs and grilled seafood, and you can even enjoy the delicious beer with some grilled fruit. If you are planning on serving fruits with your barbeque, the beer goes seamlessly well with watermelon or pineapple.
The feel-good beer features 99 calories, with 4.2 percent ABV and 18 IBUs so that you can enjoy the sweet beer with a punch of tropical flavor. It is also brewed with caramel and pale malts.
Paulaner Non-Alcoholic Weizen-Radler
If you don't feel like having alcohol with your barbeque, you can go for the Paulaner Non-Alcoholic Weizen-Radler. The Radler goes well with grilled and smoked food and offers an authentic beer character even if it contains no alcohol.
It is made by one of the major breweries in Germany, as they combine their delicious hefeweizen with lemonade. You will taste the sweet malts balanced with citrus flavor and enough carbonation for a refreshing drink with your Bbq on the palate.
Signature Brew Roadie All-Night IPA
Another session IPA on our list is the Signature Brew Roadie All-Night beer, which features 4.3 percent ABV and a decent level of bitterness that pairs well with barbeque. With a combination of tropical fruits and pine flavors, the beer will not overpower the taste of your chicken or meat.
St Austell Proper Job
Last on our list is another IPA, the St Austell Proper Job, which features 5.5 percent ABV. It is a refreshing beer that feels great when you're under the sun and beside the heat of the barbeque grill. The beer combines its malty base with hoppy flavors for a clean taste. It goes especially well with lamb and other meaty food.
How to Pair Beer With Bbq
When trying to pair beer and Bbq, the top types of beer you should use include pale lager, porter, blonde ale, pale ale, IPA, brown ale, Irish red ale, amber ale, hefeweizen and stout. These types of beer go well with a wide range of food, but knowing which one to pair with the particular food on your grill is the most important.
– Bbq Burger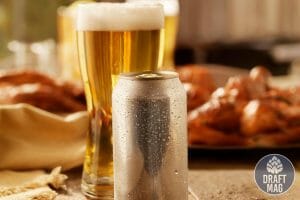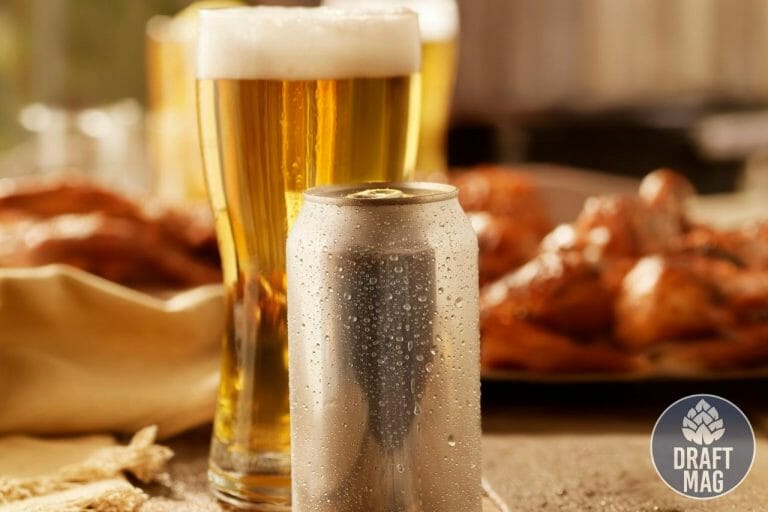 Most of the time, what people make on the grill is a burger, and you will need suitable beers for this. Burgers are usually juicy and offer diverse flavors from its meat, cheese, ketchup, pickles and mustard. There's no bitterness in burgers, so you can pair them with hoppy beers like pale ales, pale lagers, and IPAs. These beers also have fruity notes and a dry finish, preparing you for your next burger.
– Bbq Chicken
Chicken is also an essential part of any barbeque experience, and it's always best to pair it with a subtly flavored beer. Chicken usually has a medium taste, rather than being overpowering, and drinking beer that's too strong can take away its flavor. You should also consider the sauce used when grilling the chicken, but beers with crystal malts are the ideal choice. These include amber ales, dark lagers and brown ales.
– Bbq Lamb
You might also have lamb on the grill during your barbeque cookout, and it's always best to have this with something strong. Lamb has a strong flavor and pairs well with complex beers like strong ale, porter and malty stouts. You can also have the lamb with a black IPA for hoppiness, which provides bitterness with the umami flavor, or a stout if you have lamb ribs.
– Bbq Beef
When looking at barbecued beef, the different options include steak burger, prime rib, ribeye, sirloin, hanger and filet mignon. These dishes go well with a wide range of beers such as smoked porter, amber ale, IPA, pale ale, brown ale and light lagers, respectively. You can also choose your beer pairing depending on the kind of sauce you're serving with the beef.
– Bbq Seafood
If you're grilling seafood during your cookout instead, it's always best to go for beers with fewer bitterness units. The subtle bitterness would go well with the sweetness and oiliness you taste when you eat seafood such as salmon and mackerel. You can enjoy your Bbq seafood with pilsners, lagers, pale ales and brown ales.
– Bbq Pork
Pork is also a popular food eaten on the grill, and it's essential to think of the spices and sauces used when making it. The best beer for ribs without any sauce is a hefeweizen, especially if you have dry-rub pork ribs.
On the other hand, if your ribs are drenched in saucy molasses, you can enjoy it with stout. German beers like brown or amber lagers are perfect to pair with Bbq sausages like hot dogs.
– Grilled Vegetables
If you have any vegetables on the grill, you will do well with a delicious bottle of hefeweizen. Wheat beers come with a good balance of aroma and flavor, which go well with the sweetness of vegetables.
Marinating Ribs With Beer
You can use different kinds of beers for flavorful marinating when making your ribs. Remember that the alcohol in beer is meant to add flavor rather than make the meat softer, so you should consider this when choosing a beer for marinating ribs.
In most cases, dark beer is used in marinating ribs, so you can go for a pilsner or saison if you're unsure of what to choose. When using alcohol, it's best to cook it first before marinating your ribs. It's not advisable to add all the flavor from the beer into your ribs, so cook off the alcohol for a few minutes then let it cool down before using it for cooking.
Here is a simple guide to marinating ribs with beer.
– Smoky Beers With a Lot of Flavors
If you're using German lager beers like Rauchbiers, also called smoke beers, you can add smoky flavors to your marinade. You won't need a grill or smoker to do this, and it's a perfect choice if you have a barbeque in the winter. It's also a good choice if you can't grill or live in an apartment. These beers are made with dried malt and smoked over an open fire.
– Sour and Fruity Beers
If you want a juicy and fruity flavor in your ribs, you should go for sour beers like Kriek lambic and other fruit-flavored beers. These beers are usually very hoppy and flavorful, with less alcohol content, making them ideal for marinating ribs. It also introduces a sour flavor that is suitable for creating a spicy marinade.
– Oktoberfest Beers
Another popular beer used for marinating ribs is Oktoberfest or Marzen beers. These beers have a toasty and malty character with hints of caramel in the flavor and aroma. If you want a more subtle marinade for your ribs, you can use these beers instead.
To make a more tangy marinade, you can mix the beer with soy, mustard, garlic, fresh herbs and Worcestershire sauce.
How To Make Beer Bbq Sauce
Since beer and barbeque are an ideal pairing, you can't go wrong with adding beer to your sauce. When making homemade Bbq sauce, you can add some beer for a more flavorful taste. From the tips mentioned earlier in this guide, you can also choose the right kind of beer depending on the type of barbeque you're making.
Here is a simple recipe for making beer Bbq sauce that you can try during your next cookout.
Ingredients
1/2 cup of beer of your choice
1 tablespoon of olive oil
1 tablespoon of minced garlic
1 tablespoon of Worcestershire sauce
1 tablespoon of yellow mustard
2 tablespoons of diced onions
4 tablespoons of brown sugar
1/4 cup of apple cider vinegar
1 can of tomato paste
1 can of plum tomatoes
Directions
Place a saucepan over medium heat.
Add the olive oil, onions and garlic, and cook for about two minutes.
Add the mustard, tomato paste, Worcestershire sauce and brown sugar.
Add the apple cider vinegar.
Leave to simmer for 1 minute.
Add the canned tomatoes and beer, and blend the entire mixture.
Put it back in the saucepan over low heat and simmer for 45 minutes.
Stir occasionally and stop when it is thick and properly blended.
Enjoy it with your barbeque.
Enjoy Your Bbq With Our Top Pairings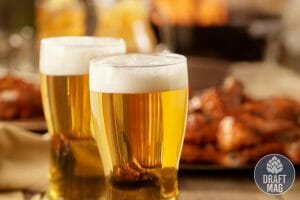 If you're planning to have a barbeque or cookout with friends and family any time soon, you can check out the stores close to you for our top 12 beers. No barbeque is complete without a delicious, refreshing beer in your hand.
The best beer for barbeque is Smuttynose Old Brown Dog Ale.
Beers that go well with barbeque include pale lager, porter, blonde ale, pale ale, IPA, brown ale, Irish red ale, amber ale, hefeweizen and stout.
You should consider the ingredients and sauce used in making the food before pairing it with beer.
You can also marinate your ribs with beer to make them more flavorful.
Smokey and fruity beers, as well as Marzen beers, work well for marinating.
Since beer and Bbq go well together, you can always try making barbecue sauce with beer.
Check out the top beer brands to enjoy with your barbeque from our list of recommendations today!