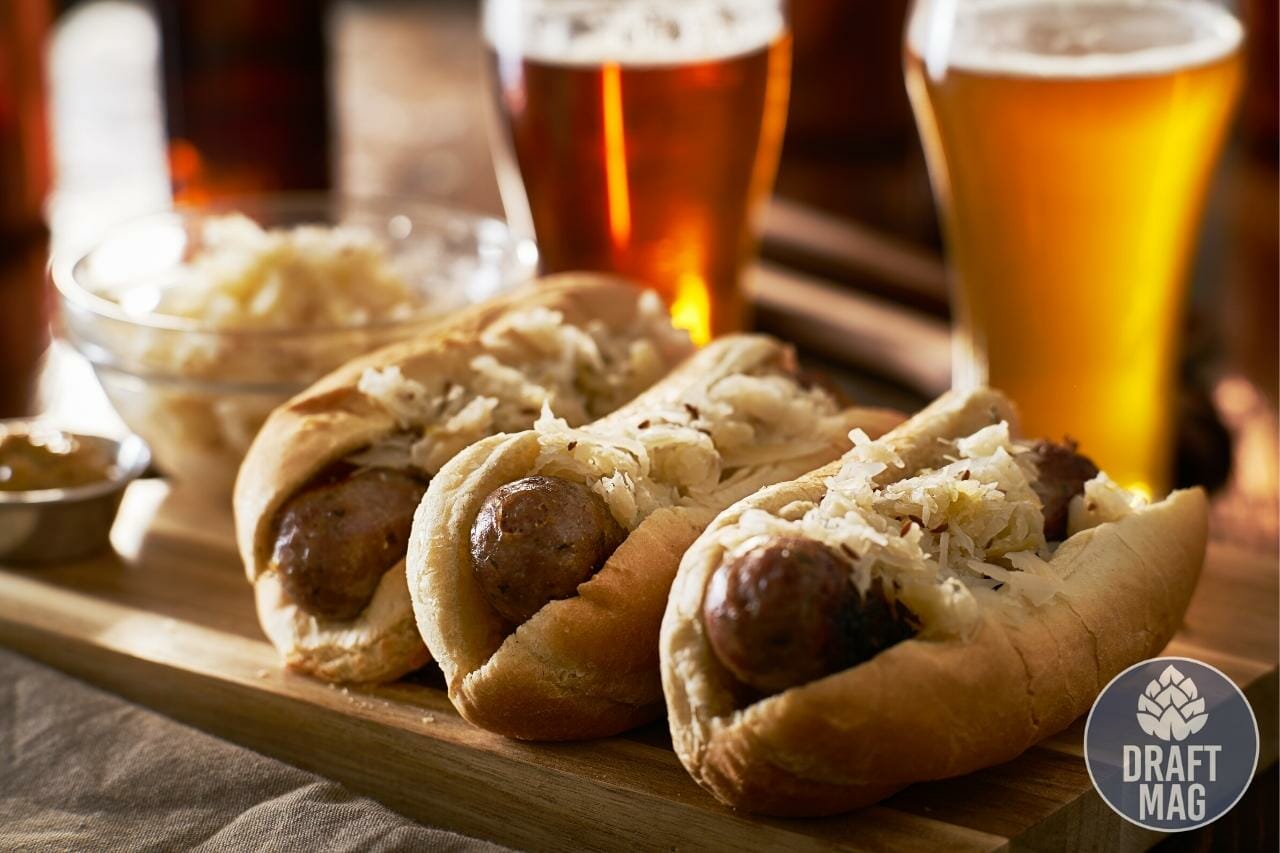 Making the best beer for brats is a staple at cookouts, grill parties and family gatherings. These brats are easy to make, low-maintenance, and budget-friendly, not to mention they're delicious.
However, most people wonder what the best beer for making bratwursts is and how best to go about it.
Our guide will cover everything you need to know about the best beers for bratwurst sausages, so keep reading to learn more!
The Best Beer for Brats
After extensive research, we have compiled a list of the top beers for brats.
Miller Lite
At the top of our list is the Miller Lite beer, one of the most popular pilsner-style lagers in the U.S. The best beer style for cooking brats is a pilsner or lager beer, especially when you're unsure of what to choose. Our top options are pilsners, starting with the smooth and refreshing Miller Lite.
The Miller Lite brew is an American-style lager with a light to medium body and a solid malt character. The barley malt goes well with its hop-forward character, adding a bit of bitterness, which will bring out the flavor in your brats recipe. It is also a low-cal beer from its nutrition info, with a 4.2 percent ABV.
Aside from having a smooth and delicious taste as a beer, the Miller Lite also goes great with grilled foods or barbecues, making it great for pairing with your bratwursts.
Coors Light
Another popular American lager is the Coors Light, and you can't go wrong with this when you cook bratwurst. It is a light beer but isn't as dry as other light lagers, making it more flavorful in your beer. It also features a 4.2 percent ABV.
The Coors Light beer has a balance of sweetness and bitterness in its taste, which is obtained from the malt and hops. This is enhanced by the carbonated mouthfeel, which gives it a fizzy character. You might also notice some hints of mineral water in the taste.
You might also notice grassy, corn and unbuttered popcorn tastes. Because of the beer's sweetness, it is a great choice when cooking beer brats. Since it is light and flavorful, it does not overshadow the taste of the sausage but complements it instead.
Bud Lite
When mentioning light lagers that are perfect for cooking brats, you can't do it without mentioning Bud Lite. Bud Lite has amazing drinkability, which makes it a perfect choice when having a cookout with friends and making a recipe.
The beer is brewed with barley malts, rice and hops. This gives it a refreshing and clean taste with subtle hop aromas. You can enjoy the malt sweetness, as this would enhance the flavor of your sausages. When drinking, it also has a crisp finish. Whether you want a beer boil bratwurst or grilled, you can use the Bud Lite.
Pabst Blue Ribbon
The Pabst Blue Ribbon is a popular brew from Pabst Brewing Co. Since it was first made in 1876, it has won multiple awards and is a great fit for bratwursts. The American lager is German-inspired, giving you a flavorful and vibrant character that goes well with your sausages, regardless of the beer brats recipe. The beer is also easy to drink and tastes great with grilled brats.
The PBR, as fans fondly call it, features a flavor of bread and corn with hints of peppery spice. The flavor is dominated by malt and bread, but you can still taste the hints of corn when drinking. The malt flavor goes well with roasted and grilled flavors too.
Morning Wood
Another type of beer that goes well with bratwurst when cooking is the Morning Wood, an Imperial Porter. Imperial Porters usually feature a caramel presence, which will bring out a unique flavor when you cook brats.
It also has a strong smoky coffee and maple flavor, which go well with grilling foods. Its sweet flavor would also be noticeable in the food. You can enjoy the Morning Wood beer when you use it to make bratwurst or drink it with grilled beer brats. It features a very high ABV of 10 percent and is aged in whiskey barrels.
Stone Xocoveza Stout
You can't go wrong with delicious stout if you're making bratwurst during the winter months. We recommend the Stone Xocoveza Stout, a mocha stout that has gained a wide following from beer lovers because it has won multiple awards.
The flavor is dominated by roasted malt and roasted coffee beans, two ingredients that would go well with the smoky taste of beer brats. The Stone Xocoveza Stout is inspired by Mexican hot chocolate so it has a sweet and creamy taste that goes well with Italian sausages, whether cooking or drinking. It features a low ABV percent, so you can cook it on high heat.
Funky Buddha More Moro Blood Orange IPA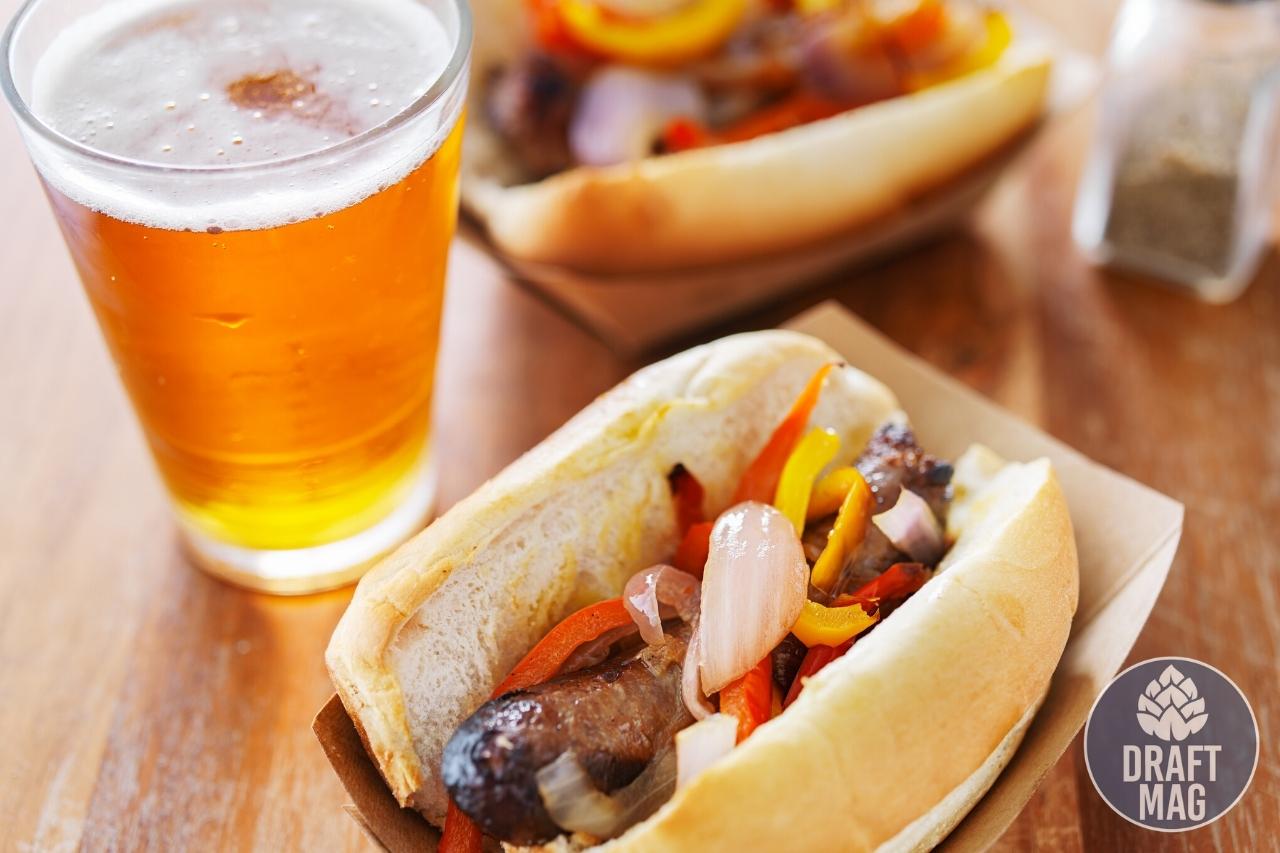 Another delicious bratwurst is a citrus-flavored Indian Pale Ale, especially perfect when making bratwursts during the summer months.
The Funky Buddha More Moro Blood Orange IPA is highly recommended as it offers a refreshing taste that goes well with bratwursts, whether you're cooking or drinking.
The citrus IPA is brewed with sliced moro, or American blood orange. This infuses a rich, juicy taste into your bratwursts, especially when you marinate it before grilling. The citrusy taste also makes this Funky Buddha beer very refreshing, so you can enjoy it on hot summer days during cookouts, whether grilling or in a slow cooker.
Almanac LOVE Hazy IPA
The LOVE Hazy IPA is one of the most popular beers from Almanac, and they release this as a regular brew. But during holidays, their beers receive a complete makeover. The beer has a delicious taste that goes fantastic with bratwurst when cooking. It's good to use New England IPA, especially craft brews, for beer brats.
The LOVE beer is brewed with pilsner malt and rolled oats and a diverse range of hops for a bitter and vibrant taste. The hazy beer has very juicy notes, which infuse a lot of flavor in your bratwurst before cooking.
Guinness Draught
Guinness is always a good option when you're unsure what type of brew to cook beer brats with. You can go for Guinness Draught, although Extra Stout is also a good choice if you need something stronger when cooking. The Draught beer has a creamy and rich taste, with a good balance of sweet and bitter flavors.
As we have established in this guide, it has a dominant taste of malt, which goes well with bratwurst. You will also notice hints of coffee and barley in the flavor and aroma. The Guinness Draught has a smooth and velvety mouthfeel and goes well when drinking smoked or grilled food or simple dishes like potato salad.
Copper Legend Oktoberfest
If you're making beer brats during the fall, we highly recommend an Oktoberfest/Marzen-style beer. The Copper Legend Oktoberfest is a delicious brew by Jack's Abby Craft Lagers. Although made in the US, this brew replicates the authentic German style, giving you a rich and creamy taste.
The Copper Legend has a dominant malty taste, which brings out the flavor in bratwurst but does not overshadow the meaty flavor. It is also highly drinkable and smooth, giving you a delicious flavor to enjoy with those around you.
Hazy Little Thing
Finally, Hazy Little Thing from the famous Sierra Nevada Brewing is on our list. The Hazy Little Thing Pale Ale has a citrusy, fresh and juicy flavor, great with bratwurst. It is made with Citra, Magnum, Comet, El Dorado, Simcoe and Mosaic hops, which give it an orange-style taste with some hints of bitterness.
As for the malts, it is made with two-row pale malts, Munich malts, oats and wheat. When cooking, the malty taste combined with the fruit-forward flavor will add a rich taste to your bratwurst.
Frequently Asked Questions
Here are the answers to some questions you may have about beer for brats.
– Should You Boil Brats in Beer Before Grilling?
No, do not boil brats in beer before grilling. You can soak the brats in beer to get the flavor out, but simmer it in the beer after grilling.
– How Long Do You Soak Brats in Beer?
Brats can be left soaking in beer for 12 to 24 hours. Soaking brats in beer, whether overnight or for a few hours, is one of the best ways to start cooking it. This is especially true if you're going to grill the brats.
– Can You Use Corona as the Best Beer for Brats?
Yes, Mexican beers like Corona work great for bratwursts.
– What Does Marinating Brats in Beer Overnight Do to The Meat?
Marinating brats in beer adds the beer flavor to the meat, so you will always taste the beer in your sausage whether you grill it or bake it. It also enhances the flavor of brats.
– What Is the Best Condiment To Put On a Grilled Bratwurst?
Some good condiments for bratwurst include relish, ketchup, onions, mustard and sauerkraut.
Conclusion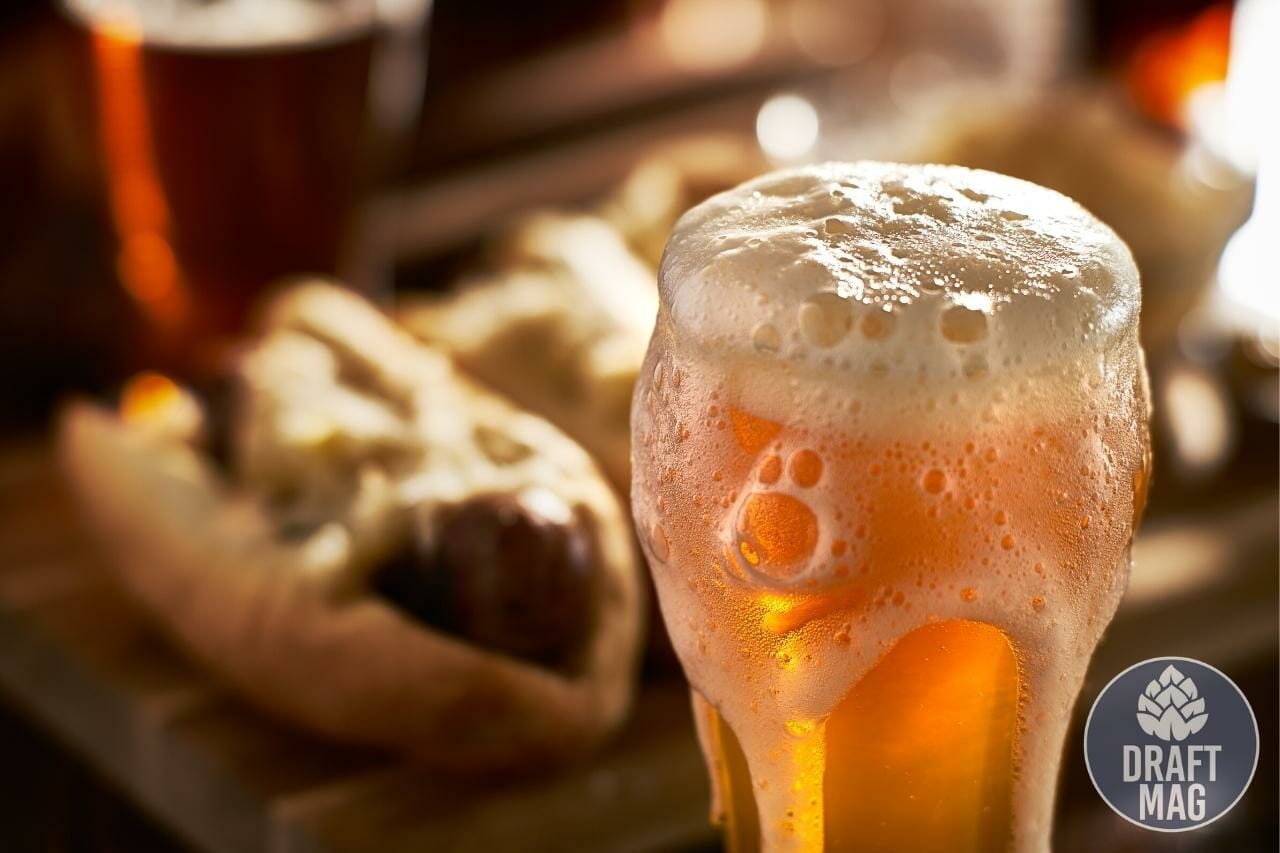 Enjoy a delicious meal of bratwursts with a delightful lager or pilsner in your recipe. Here's a rundown of what we explored in this guide:
Lagers like Miller Lite and Coors Lite are the best beers for brats.
Citrus IPAs and New England IPAs are great for bratwursts.
Guinness is the best beer for bratwurst when you don't know what to use.
Stouts are best for making brats during the winter months.
Oktoberfest beers are best for making brats during fall.
During your next gathering or cookout, bring out the beer and add brats to your plates to enjoy the experience!

Latest posts by Draft Mag
(see all)