Michelob Ultra Amber Max Review: Is This Beer Worth the Hype?
Michelob Ultra Amber Max is the latest product of Anheuser-Busch under the Michelob brand. It is a light lager loved by many beer drinkers because of its rich flavor and low calories.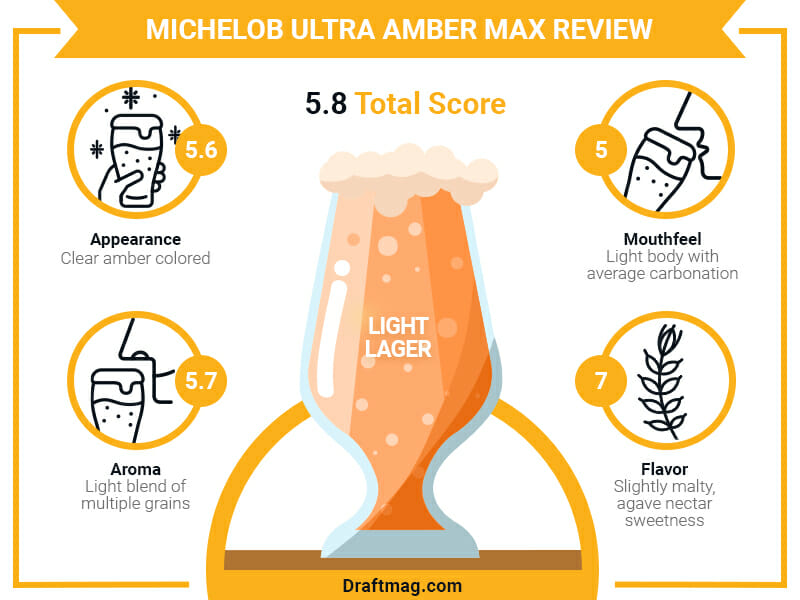 This review aims to shed light on the beer's appearance, flavor, nutrition facts, mouthfeel, aroma, and ingredients. Keep reading as our experts also discuss this popular beer's history and food pairings.
Michelob Ultra Amber Max Stats
| | |
| --- | --- |
| Country | United States |
| Brand | Michelob Ultra |
| Style | Light Lager |
| Taste | Sweet nutty |
| Body | Light |
| ABV | 4 percent |
| Flavors & Aromas | Grainy, slightly malty |
| Serving Temperature | 35–40 degrees Fahrenheit |
Tasting Notes
Michelob Ultra Amber Max Tasting Profile
Michelob Ultra Amber Max Review
As mentioned earlier, Michelob Ultra Amber Max is a Michelob light beer lager. There has been a series of products before the release of this beer. Amber Max is a new product of Michelob Ultra, a brand of the Anheuser-Busch brewing company. Other related products are Michelob Ultra light beer and Michelob Amber Bock.
So what are the significant characteristics of Michelob Ultra Amber Max? Let's dive right in!
– Appearance
When poured into a beer glass, Michelob Ultra Amber Max appears clear amber colored with rising bubbles and a thick off-white head. The head fades rapidly with little to no lacing.
– Aroma
Michelob Ultra Amber Max's aroma is a light blend of multiple grains. It has a light but sweet bready maltiness typical of light lagers.
– Mouthfeel
The beer has a light body with average carbonation. The overall mouthfeel is smooth with nutty and sweet maltiness that finishes dry, inciting another sip.
– Flavor
It is slightly malty similar to its aroma but including agave nectar sweetness with no distinct bitterness. Also, its flavor is richer than the regular "Ultra." The flavor seems too rich for a beer with low ABV.
– Food Pairings
When it comes to pairing beers with foods, it is necessary to match strengths, find harmonies and consider the bitterness and flavor profile of the beer. Talking about strength and as a rule of thumb, light beers are best paired with delicate dishes. The Amber Max light beer can contrast grilled food, spicy food, burgers, fries, and light creamed cheese. Also, the beer creates magic with pizza kebabs.
Appetizers prepare the mouth for the intense flavors of the following meal courses. So by nature, beers with a light body like Amber Max and not too bitter are well suited to appetizers like salads, crackers, potato skins, mussels, and canapé. Also, light lagers combine perfectly with white meat like chicken, turkey, hotdogs, rabbit, and veal.
In addition, the Michelob Ultra Amber Max's moderate carbonation cuts through fatty foods, thus cleansing the palate between bites. You can enjoy a chilled can or bottle of beer with french fries, risotto, tuna, buffalo wings, fried fish, and swordfish tartare.
Ingredients
Michelob Ultra Amber Max ingredients is a blend of traditional beer adjuncts contributing to its rich flavor and taste. These include:
Rye Malt
Hops
Water
Agave Nectar
Barley Malt
Rice
Oats
The sweetness felt when drinking this beer is from the agave nectar. Also, the grainy flavor is from the rice and oats adjuncts. Many of these adjuncts are used in brewing to produce a light beer.
Nutrition Facts
When it comes to Michelob Ultra Amber Max nutrition facts, a 12 oz serving of this beer contains 99 calories, 4.8g of carbohydrates and 0.5g of protein. These values show that it is a low-carb beer; thus, you can enjoy it while maintaining a keto diet. The low carbs and calories are due to the minimal amount of hops and barley used in brewing.
Michelob Ultra Amber Max alcohol content is 4 percent which is low, thus making it a go-to beer if you're a light drinker; a few bottles shouldn't mess with you. There is no known information about the beer's IBU. However, it has little to no bitterness. But being a light beer, its IBU would be between 8 and 12.
This beer does not contain any fat, vitamins, or cholesterol. Also, the brewing of Amber Max involves special procedures that introduce enzymes that reduce its gluten content.
History
In 2002, Michelob Ultra, a low-calorie bottled beer with 4.2 percent ABV, was released and has since become a famous brand in the US. After that, the company brewed other low-calorie beers. In 2007, the canned version of the Ultra beer was released, and in 2012, the company introduced another brand, the Michelob Ultra Pure Gold. Later in 2020, Michelob ULTRA Organic Seltzers were launched in different fruit flavors.
In a quest to produce a light beer with a richer flavor than the previous products, the company introduced "Michelob Ultra Amber", a light calorie beer with 4 percent. However, the product did not gain the love of consumers. The reason is that the company went overboard brewing a beer with a poor, too-light taste and an unfriendly aftertaste.
After a few months of release, Anheuser-Busch discontinued the product. Then later in 2021, the company returned with a better and more refreshing light beer rich in flavors, the "Michelob Ultra Amber Max." While it has the same ABV as the former, Amber Max added more carbs and calories. Today, beer is available in bottles and cans in online and local retail stores.
Conclusion
If you are a light drinker or a beer lover trying to regulate your carbs intake, the Michelob Ultra Amber Max is your best bet. It is loved by many because of its rich flavor and low alcohol content. Here is a summary of our complete review:
Michelob Ultra Amber Max is a light beer with 4 percent ABV.
The beer has reduced gluten and is brewed using barley malt, agave nectar, water, rice, oats, and hops.
In a Michelob Ultra Amber Max glass, it appears clear amber colored with rising bubbles and a thick off-white head that fades rapidly.
The flavor is slightly malty similar to its aroma, with agave nectar sweetness and no distinct bitterness.
Michelob Ultra Amber Max is best served chilled to unravel its rich flavors, so don't be shy while drinking this beer — accompany it with the food suggestions discussed in this review!