Bud Select 55 Review: A Low-cal Brew for Health-conscious Drinkers
Bud Select 55 is the perfect choice for those who want to enjoy beer without all the extra calories and carbs. From Anheuser-Busch, this sweet light lager focuses on giving you the flavor of the popular Bud Select, but with only 55 calories.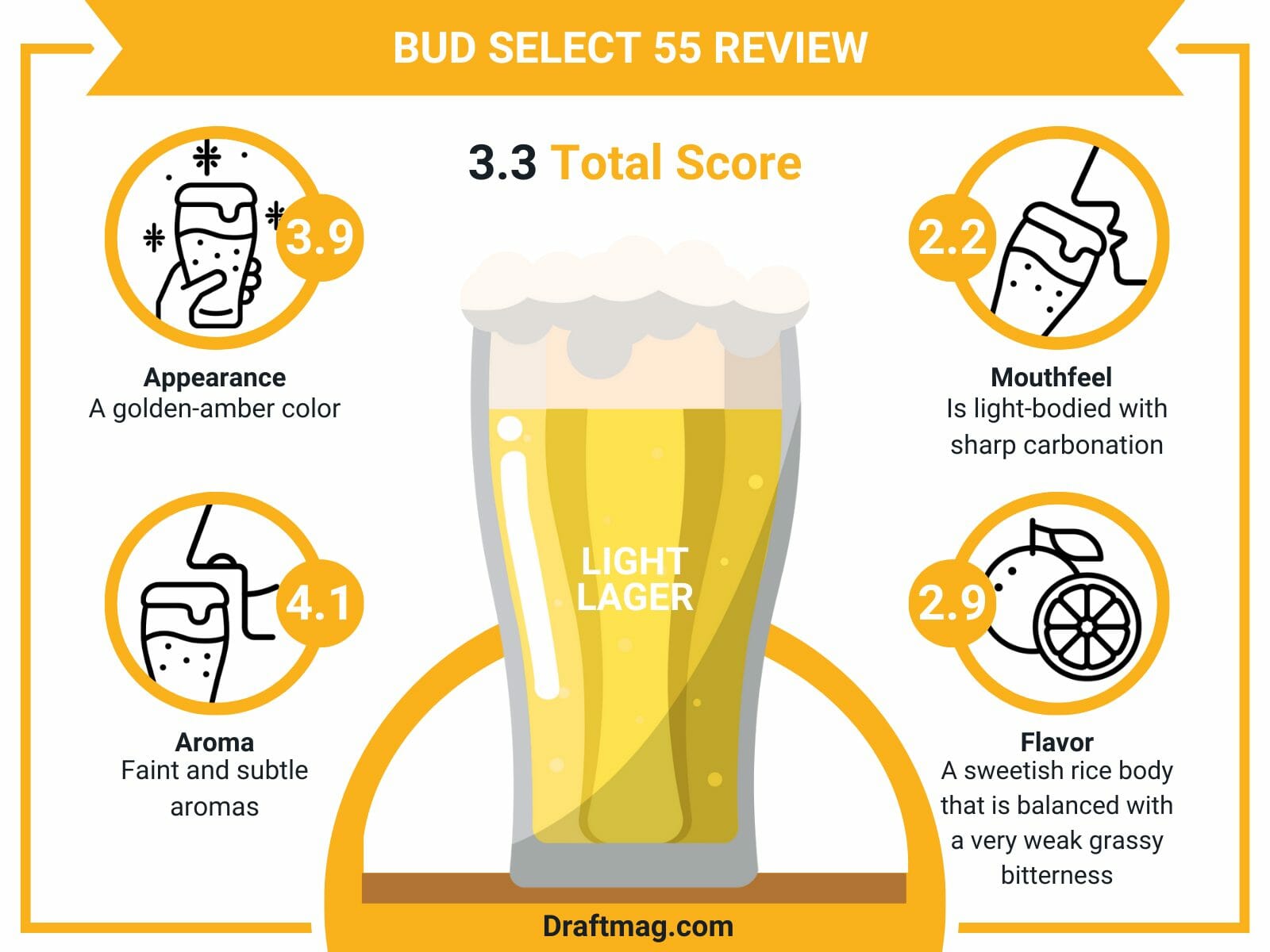 With the Select 55, you can enjoy a highly drinkable and refreshing beer for any occasion. Our review covers all you need to know about the Budweiser Select 55, so continue reading below.
Bud Select 55 Stats
| | |
| --- | --- |
| Country  | United States |
| Brand | Anheuser-Busch |
| Style | Light Lager |
| Taste  | Honey malt, crisp |
| Body | Light Body |
| ABV | 2.4 percent |
| Flavors & Aromas | Honeyed malt, grassy grains, baked flour |
| Serving Temperature | 35 – 40 degrees Fahrenheit |
Tasting Notes
Bud Select 55 Tasting Profile
Bud Select 55 Review
Budweiser Select 55 is a low-cal light lager from Anheuser Busch with a 2.4 percent alcohol content. The beer mostly tastes of honey malt and has a crisp character. It pours a golden amber color with flavors of grass, grains, and baked flour, finishing dry and sweetened. As a low-cal beer, you can expect that the Select 55 is quite watery and light.
You can pour the Select 55 into a pint glass, which has a slightly wide opening that becomes slimmer as it goes down. Make sure you serve it cold, from 35 to 40 degrees Fahrenheit, and add some citrus garnishings like a lemon or lime slice to the rim of the glass.
While the Select 55 is an ideal choice for health-conscious drinkers, it's an ideal choice for all beer lovers. It offers a refreshing and highly drinkable character, and with the super low ABV, you don't have to worry about getting drunk quickly. Have it on hot summer afternoons while working on the lawn, with your dinner, or when hanging out with friends.
– Appearance
The Select 55 pours a golden-amber color and appears as clear as glass, sparkling through the pint glass.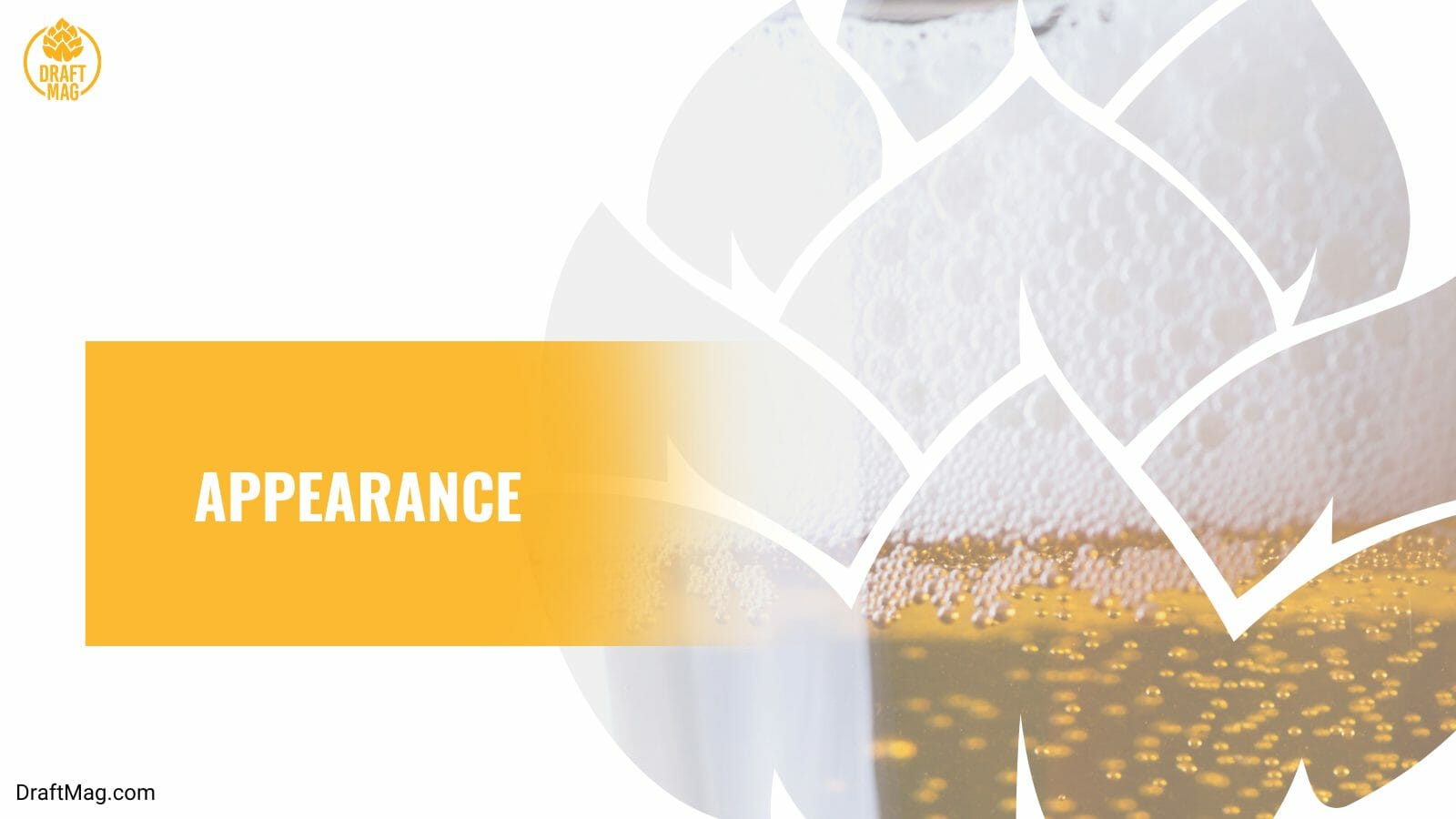 Once you pour it, there is a fizzy white head, but this will immediately dissipate into a thin ring on top of the beer. It leaves a small streak of lace, but this will slide into the beer.
– Aroma
Bring the Select 55 to your nose and you can enjoy the faint and subtle aromas that don't overpower the taste. The beer has a scent of honeyed malt syrup, pushed forward by the smell of grain. There is also a hint of grassy hops mixed with the faint sweet grains.
– Mouthfeel
The Budweiser Select 55 is light-bodied, as expected from a lager with this style. It also features sharp carbonation that presents itself in a restrained, sudsy sizzle on your tongue. The beer is mostly dry towards the end and is watery.
– Flavor
The dryness of the Select 55 is evident in the flavor too, as it follows the aroma. You will taste the watered-down version of the Bud Select, except that it manages to be lightly sweet and flavorful. Look out for flavors of lightly baked flour and carbonic bitterness while the cereal offers a lightly sweetened taste that lingers to the end.
Select 55 has a sweetish rice body that is balanced with a very weak grassy bitterness. It's more sweet than bitter, with a crisp and clean flavor over your tongue. The aftertaste is barely there, aside from some implied sweetness.
– Food Pairings
If you're having the Bud Select 55, there are different kinds of food that you can pair it with. The refreshing flavor is ideal for spicy food but can be enjoyed with any other dishes. Try it with buffalo wings, hot dogs, fried fish, French fries, and noodles. Spicy foods, burgers, and salads are also a good pairing.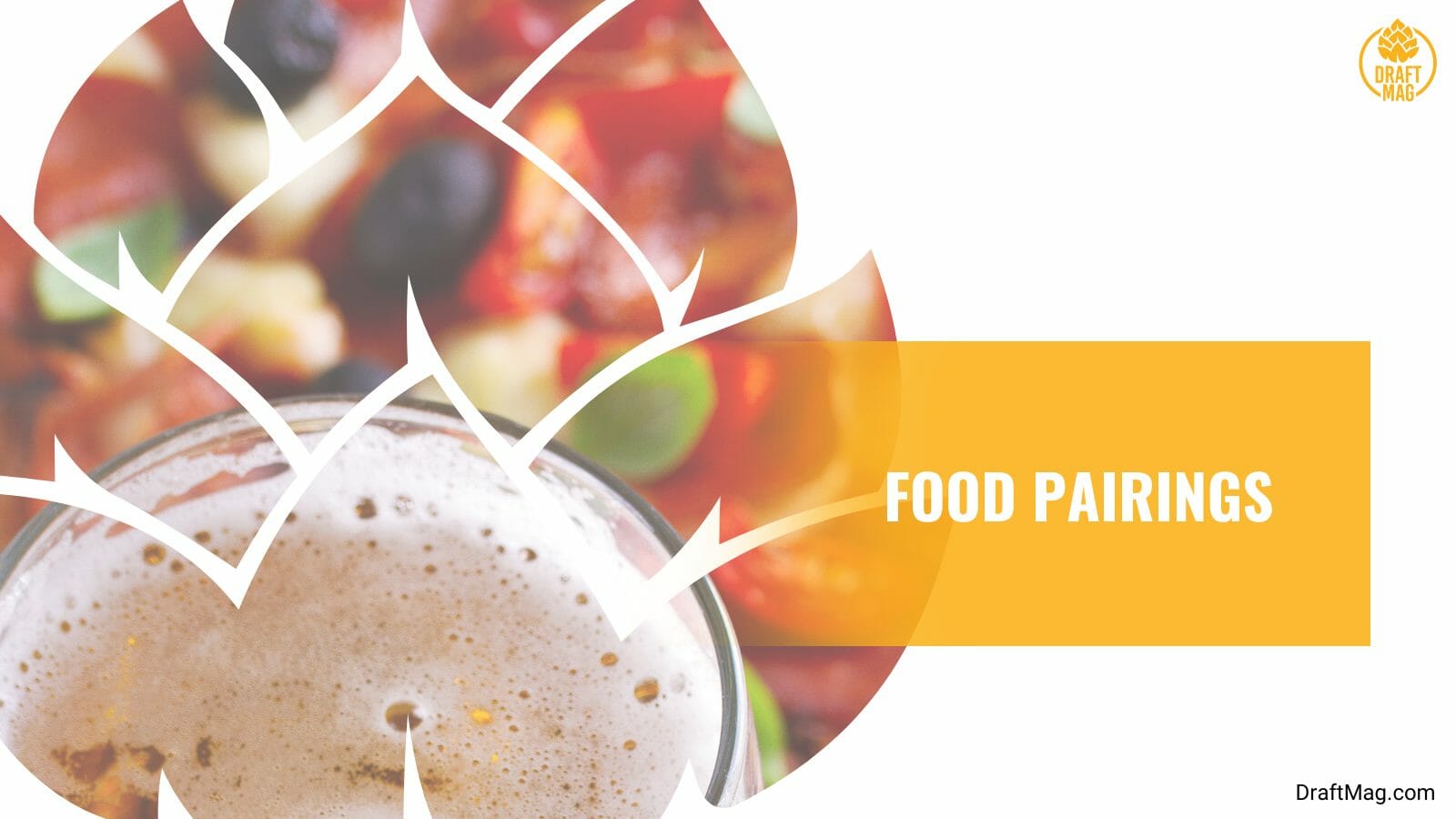 The light nature of the beer makes it a good pairing with Thai and Mexican dishes, Szechuan chicken, roast chicken or pork, bratwurst, or fish and chips. Also, it will pair well with a Monterey jack cheese or street food.
Satisfy your sweet tooth with chocolate-flavored desserts like a mousse or a chocolate cheesecake. The light beer pairs well with fruits too, and you can have a fruit salad. If you're looking for healthy options, you can't go wrong with any pasta without cream or meat sauces, chicken, or seafood.
Ingredients
The Budweiser Select 55 is made with four main ingredients that give it its sweet and refreshing flavor. The beer is made with two-row and six-row barley that has been hand-selected, fresh verdant rice, filtered water, and aromatic hops. All of these come together to give the flavors of wheat, honeyed malts, and grains.
Nutrition Fact
The Select 55 features an ABV of 2.4 percent, which is one of the lowest you can ever find for a beer that is alcoholic. You can't taste any alcohol burning, and it will take the longest time to get drunk. It also features 16 IBU due to the hop presence that is barely there. The highlight is the 55 calories, as the beer stays true to its low-cal nature.
Furthermore, there are only 2 grams of carbs per 12-ounce serving and no fat at all. The beer is a perfect choice for those on a diet, including the keto diet, due to its low carbs content. But it is not suitable for people that cannot consume gluten.
History
The Select 55 is a production of Anheuser Busch under the Budweiser brand. The beer was released in 2009 as a low-calorie version of the Bud Select, which has 99 calories and 3.1 grams of carbs.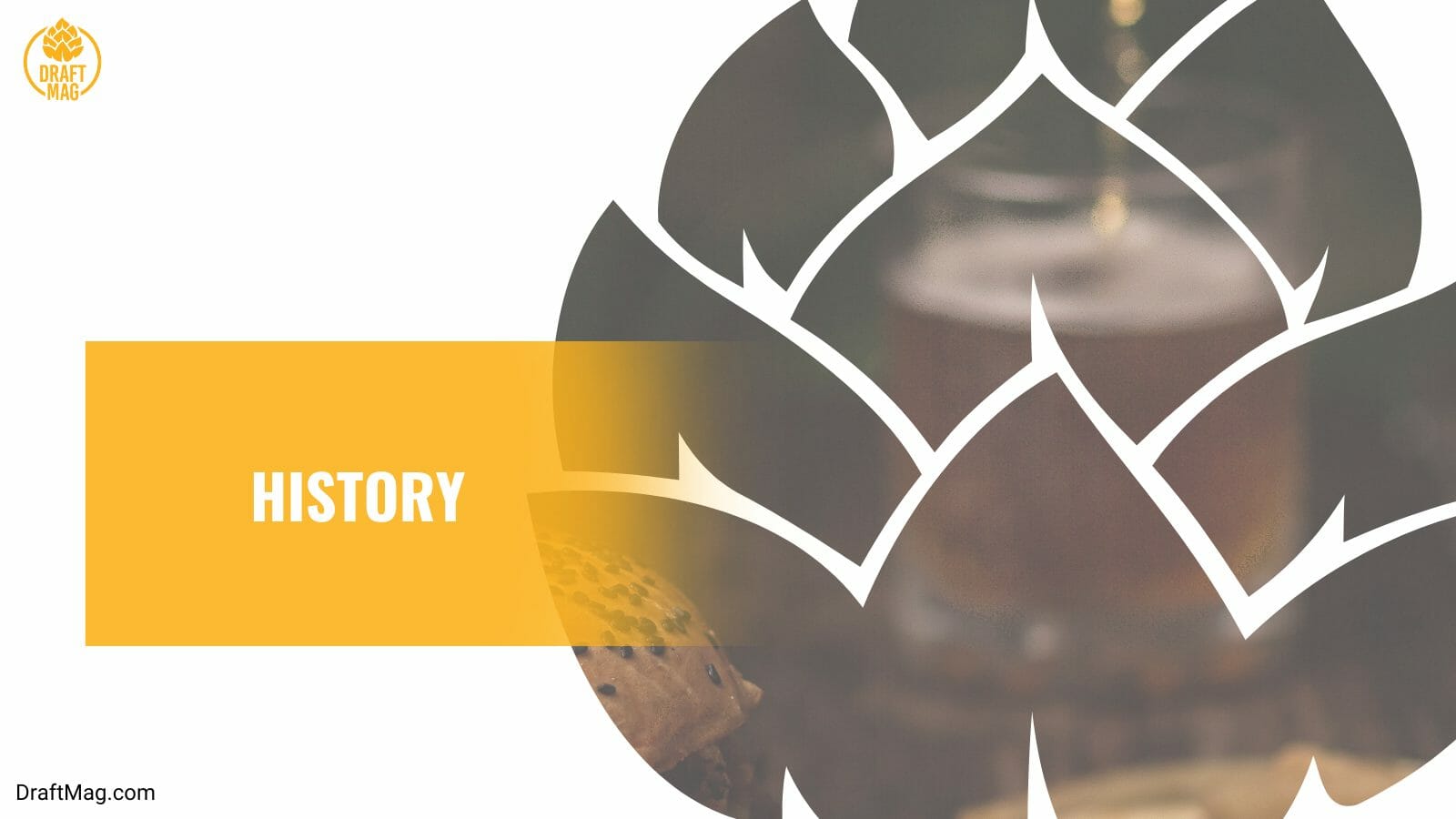 Budweiser is a popular beer brand that has been around since 1875 and offers a wide range of beer styles. It is well known for its lagers like the Bud Light.
Conclusion
The Select 55 is a flavorful and sweetened beer despite its low carb and calorie content, making it the perfect choice for health-conscious individuals that still want to enjoy beer. Here's a rundown of what we covered:
Select 55 is a light lager with a 2.4 percent ABV from Budweiser.
The beer has flavors and aromas of honeyed malts, grains, grassy hops, and baked flour, all in a light and watery body.
It is brewed with barley malts, rice, hops, and water.
You can pour the beer into a pint glass and serve it cold.
It pairs well with a wide range of foods, including spicy dishes, salads, burgers, chocolate desserts, Monterey jack cheese, and pasta.
It's easy to get this beer at any liquor store in person or online. If you're curious about this beer, you can try it out today!