Voodoo Ranger Juice Force Review: A Juicy DIPA To Try
Voodoo Ranger Juice Force hazy imperial IPA is a brilliant example of the New England IPA style, with a fruit juice flavor and a delicious taste all around. Its smooth body is easy to drink despite the ABV, making it a popular option among beer lovers.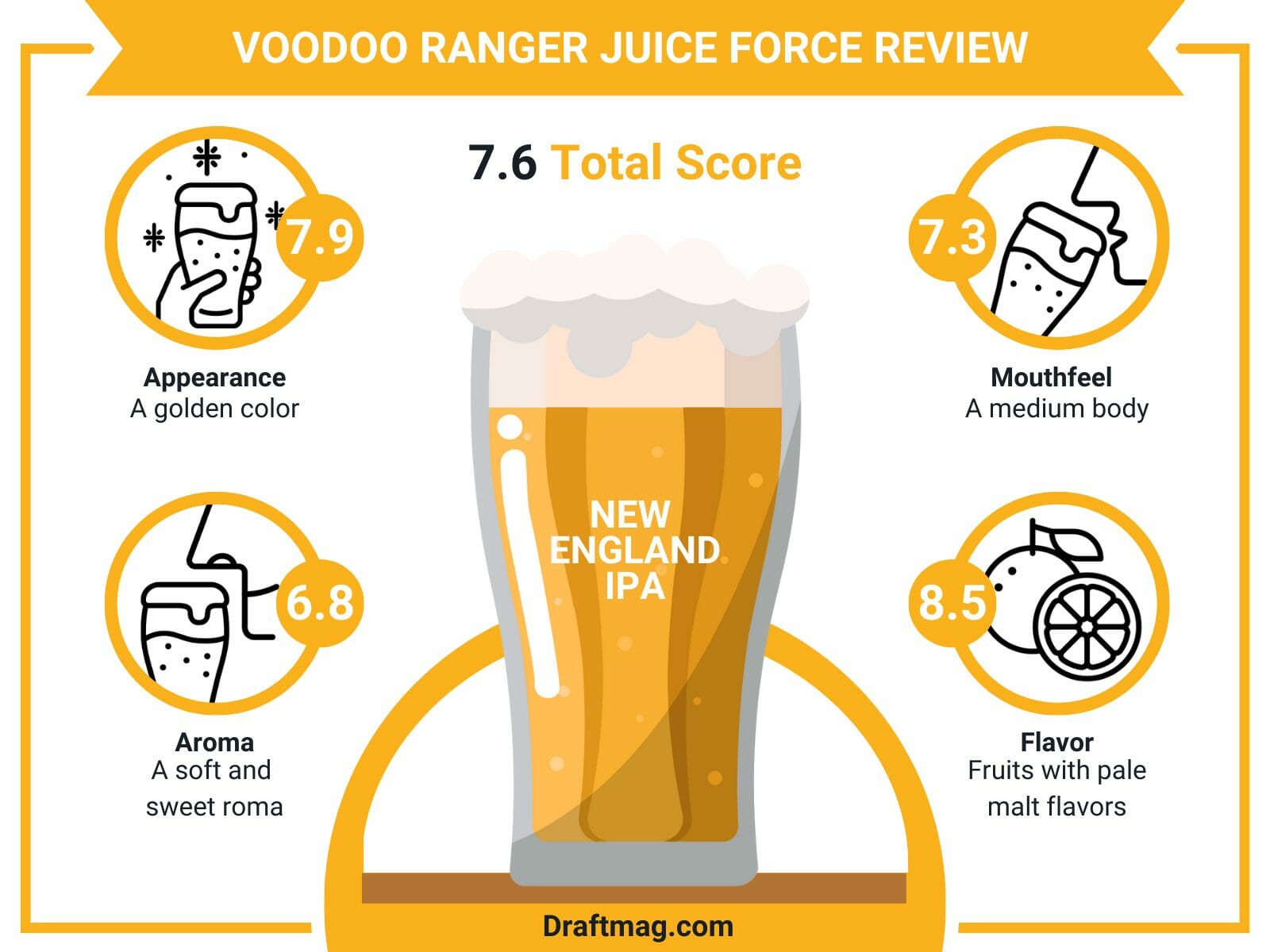 The IPA is the ideal party beer, but it will also be a delicious nightcap with a hearty meal. Take a closer look at this DIPA by reading the detailed review below.
Voodoo Ranger Juice Force Stats
| | |
| --- | --- |
| Country  | United States |
| Brand | New Belgium Brewing Company |
| Style | New England IPA |
| Taste  | Citrus, bready |
| Body | Medium Body |
| ABV | 9.5 percent |
| Flavors & Aromas | Bready malts, citrus, grapefruit, orange, fruit juice, berry |
| Serving Temperature | 45 – 50 degrees Fahrenheit |
Tasting Notes
Voodoo Ranger Juice Force Tasting Profile
Voodoo Ranger Juice Force Review
This is a New England India Pale Ale with an impressive ABV of 9.5 percent that will get most drinkers buzzed after two cans. The juicy IPA is cloying, with fruity sweetness, loads of citrus, and a fruity finish that stays true to its name. It pours a hazy appearance and has a medium body.
The beer has flavors and aromas of fruit juice, including orange citrus, grapefruit, pineapple, passionfruit and berry, bready malts, and a hoppy undertone. Serve the beer in any glass with a bulbous shape, including a snifter, chalice, or goblet. It tastes best when served between 45 and 50 degrees Fahrenheit.
The IPA is a super fruity beer that will appeal to IPA lovers.
– Appearance
The Juice Force IPA pours a golden color into your glass and features a slightly hazy appearance that is expected of the style. Atop the beer is a frothy and sticky off-white head that goes up to two fingers high. The beer has decent retention and multiple streaks of lacing as it dissipates.
– Aroma
On the nose, the New England IPA has a soft and sweet aroma and is mild without overshadowing the flavor.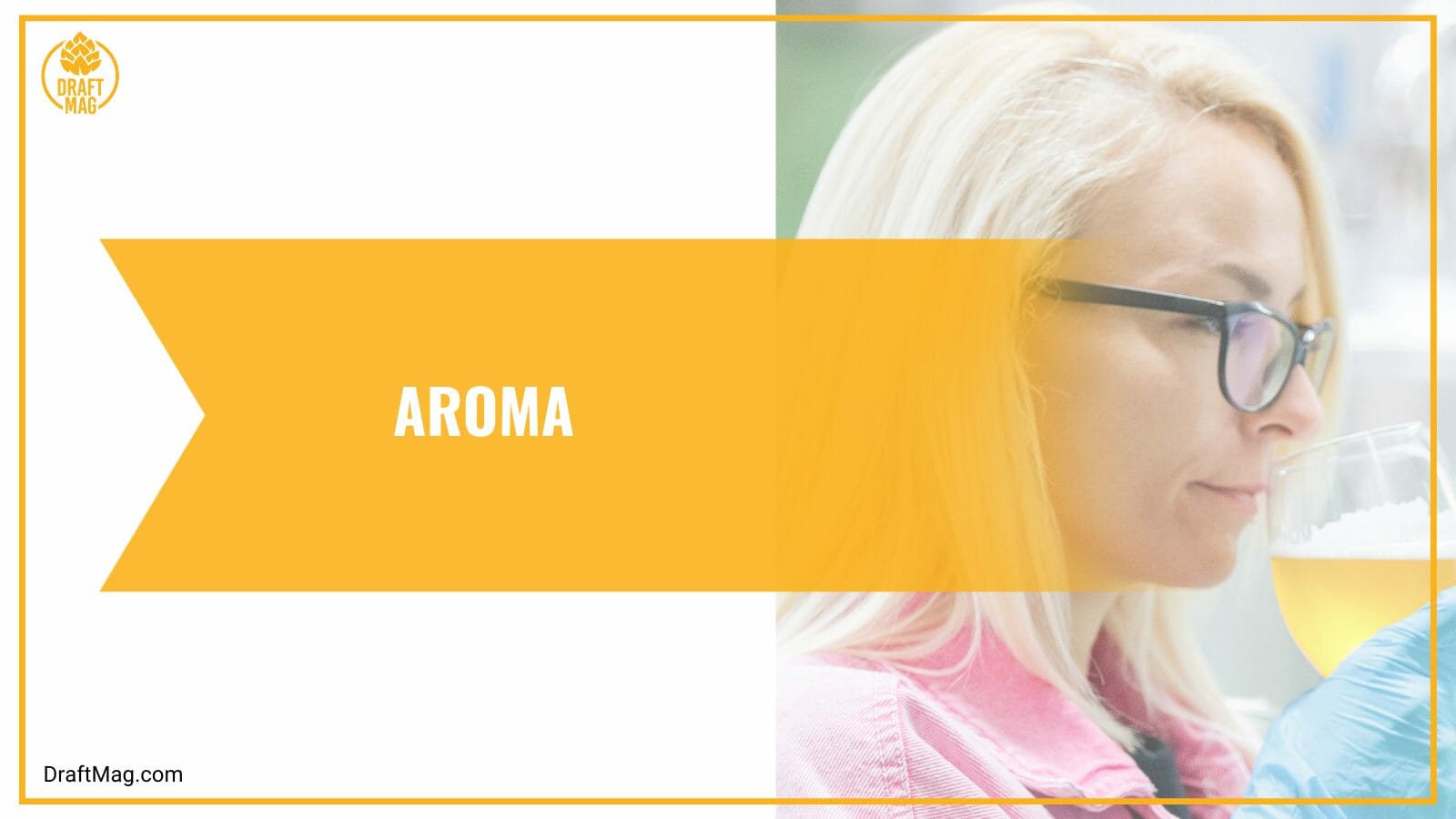 You will notice a balance of pineapple juice and red grapefruit in the flavor, with slight hints of passionfruit. The malts are barely there in the aroma.
– Mouthfeel
The beer features a medium body and is highly drinkable despite having an ABV of 9.5 percent. It offers decent carbonation in the form of some tingly bubbles, which you have to differentiate from the slight alcohol warming. The IPA finishes relatively dry for the style, with hints of fruit juice.
– Flavor
The flavor of the beer follows the aroma but is more wholesome. The beer tastes like a good balance of fruits with pale malt flavors. When you take a gulp, the first thing you taste is the integrated fruit juice flavors like citrus orange, grapefruit, pineapple, berries, and passionfruit.
Mid-palate and towards the finish, the pale malts shine through, tasting a bit bready and biscuity. You can barely taste the esters as they are overwhelmed by the fruity element, and bitterness is low. This doesn't make the beer too sweet, as it is mostly juicy, fruity, and hazy. There are slight hoppy undertones.
– Food Pairings
It's always a good idea to pair your beer with similarly tasting or contrasting foods. For the imperial IPA, you should try pairing it with oily fish like salmon or mackerel. These fish can be served with traditional lemon, salsa verde, or mango salsa to bring out its nuances.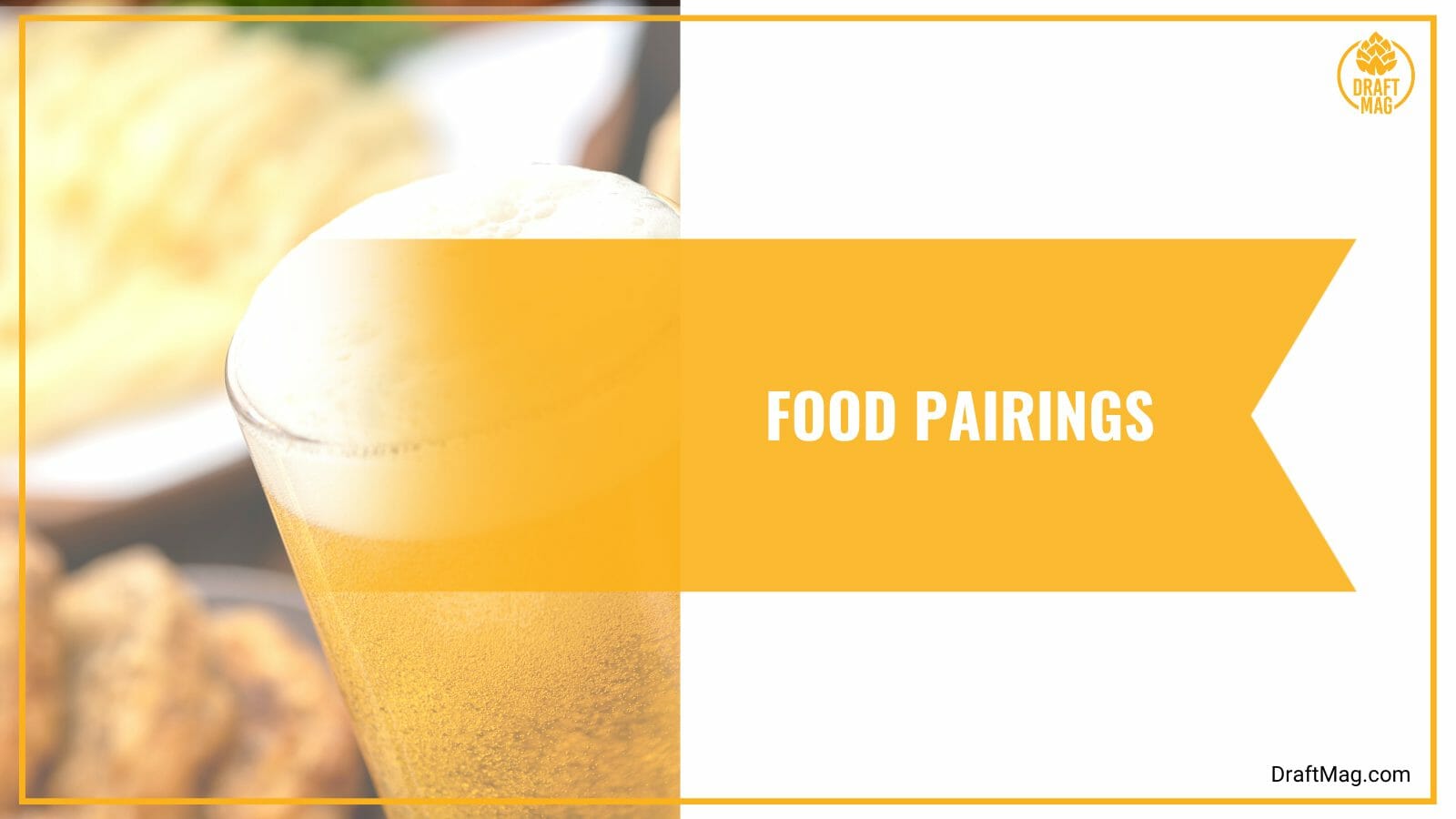 Crunchy dishes will pair well with this hazy IPA, so you can try out corn on the cob, fried and crispy chicken, a crisp potato salad, or chips. Pair the beer with a juicy steak and spicy dishes like Indian curry, noodles, or hot wings. You can have it with your usual fast food like burgers, pizza, French fries, and more.
The beer goes well with aged Cheddar, and the sweet cream of the cheese goes well with the fruity and citrus notes of the IPA. As for dessert, you can have this beer with some carrot cake, brownie and chocolate cake, and fruit-based dessert.
Ingredients
The New Belgium Voodoo Ranger juicy haze IPA is made with malts, hops, yeast, and water. The malts that are used to make the beer are pale malts, wheat, and oats. As for the hops, the beer is made with Mosaic, Phato, Strata, Sabro, Chinook, Galaxy, and Lotus hops. The yeast is ale yeast, and it all comes together to give a fruity and sweet beer.
Nutrition Facts
In the IPA, the beer has an ABV of 9.5 percent, which is expected from the double IPA style. The beer will get you drunk quickly, although the ABV is well-masked. The beer also has 30 IBU due to the vibrant hoppiness, but there's a lot of sweetness instead of bitterness.
There are 12 grams of carbs in the IPA, with 240 mg of potassium, 2 grams of protein, and 10 mg of sodium. It contains 250 calories in every 12 ounces. This should be considered when calculating your daily dietary requirement. It is not ideal for those on a keto diet and is not gluten-free.
History
The imperia IPA was released by New Belgium Brewing Company in 2022. It is made in Colorado and is one of the most popular beers from the breweries.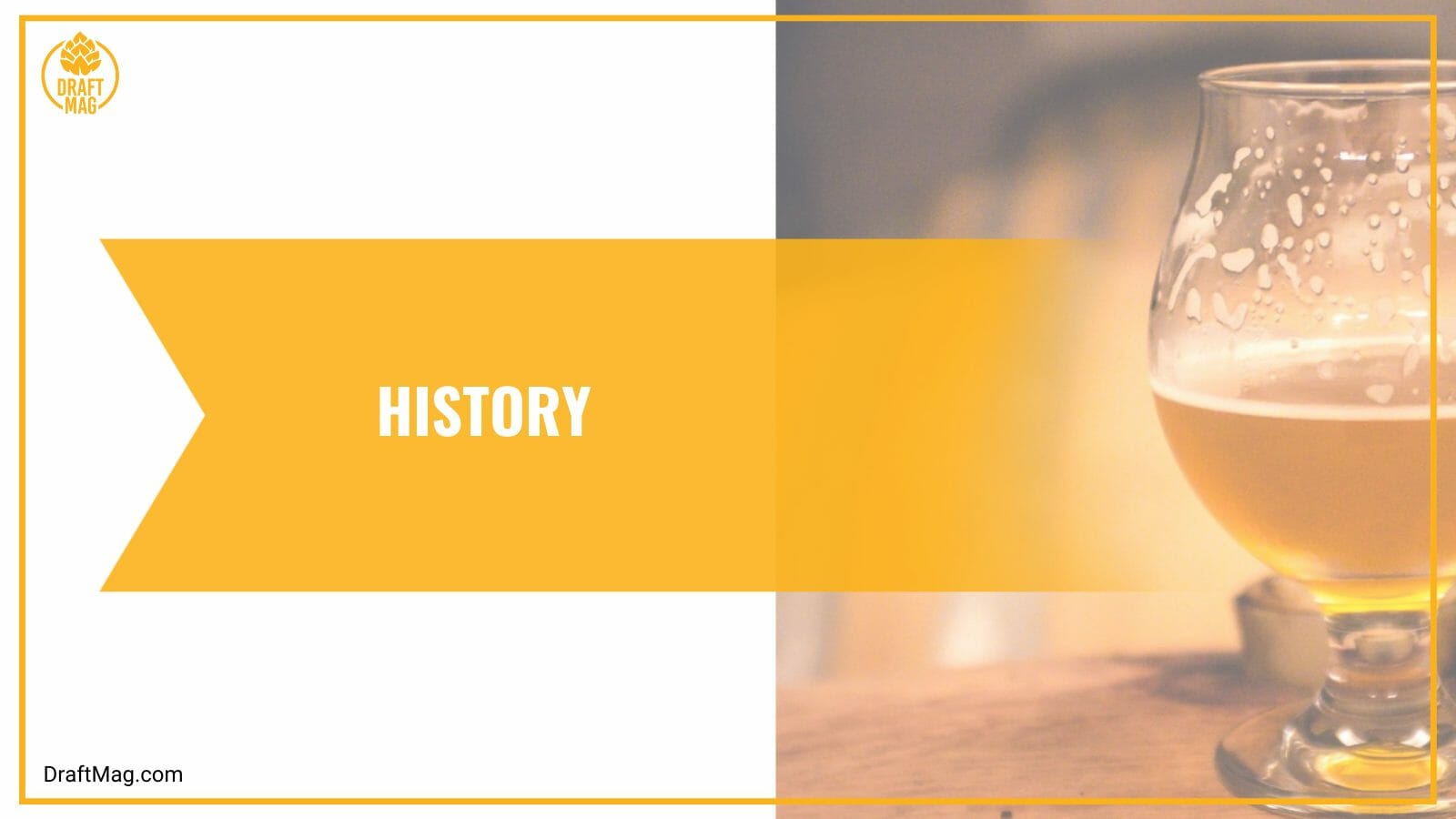 It joined the Voodoo Ranger imperial series as a year-round offering and received a lot of feedback.
The brand manager even reported that the beer was exceeding their highest expectations. It is sold in 6-pack 12-oz cans, and single-serve 19.2-oz cans and is distributed nationwide.
Conclusion
This is a brilliant IPA with aromatic hops and a fruit-forward flavor that will appeal to any beer lover, especially since there is low bitterness. Here's a rundown of our beer review:
It is a New England IPA with a 9.5 percent alcohol content.
The beer has flavors and aromas of bready malts, citrus, grapefruit, orange, berry, and fruit juice, with a smooth and wet feel.
It is made with malts, ale yeast, and different hops.
The beer is best served in any glass that has a bulbous shape at 45 degrees Fahrenheit.
It pairs well with oily fish, crunchy dishes, spicy food, fast food, aged cheddar cheeses, and fruity desserts.
You can easily purchase the IPA at a wide range of physical stores and online stores near you. It is also available on tap whenever you're in Colorado.