Konig Pilsener Review: A Clean and Crisp German Pilsner
Konig Pilsener is a well-balanced, simple, and excellent example of the German Pilsner style, made by the renowned Konig Brewery. The classic German pilsner does not stray away from the style profile and has all the typical qualities that beer lovers are looking for.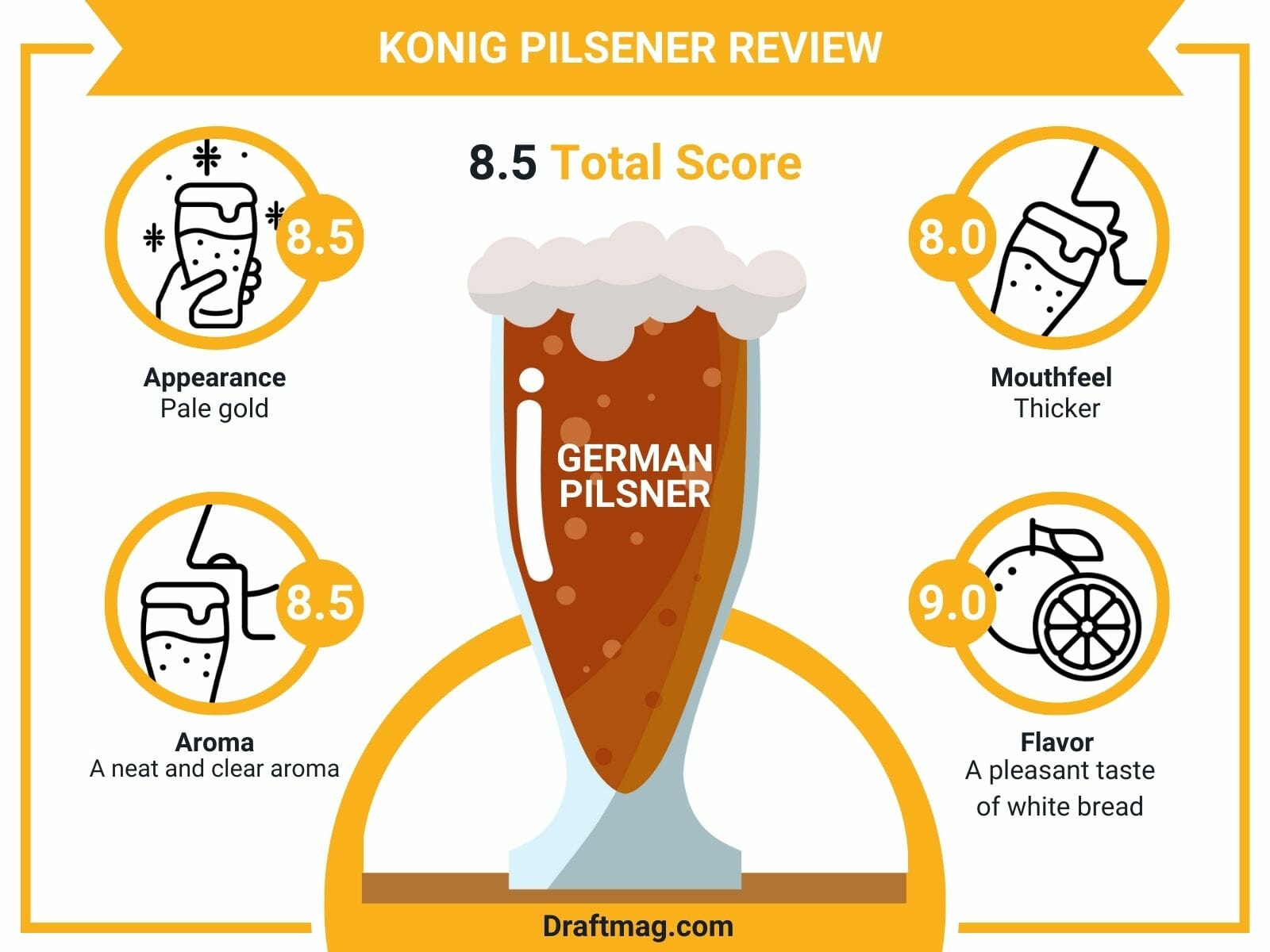 The pilsner has a clean, crisp, and malty profile, with malty sweetness and slight hoppy bitterness coupled with a dry finish.
If you want to know even more about the beer, take a quick look at the detailed review below. 
Konig Pilsener Stats
| | |
| --- | --- |
| Country  | German |
| Brand | Konig-Brauerei GmbH |
| Style | German Pilsner |
| Taste  | Crisp, malts |
| Body | Light to medium body |
| ABV | 4.9 percent |
| Flavors & Aromas | Sweet malts, crackers, bread, hop spice, fruity, honeyed biscuit |
| Serving Temperature | 43 – 47 degrees Fahrenheit |
Tasting Notes
Konig Pilsener Tasting Profile
König Pilsener is a German pilsner with a crisp and malty taste. The beer features an alcohol content of 4.9 percent and is made in accordance with the German Beer Purity Law made back in 1516. It is an award-winning beer made with master brewers and carefully selected ingredients, giving its drinkers a unique taste of balanced malts and hops.
The beer features flavors and aromas of sweet malts, crackers and bread malts, hop spice, floral hops, fruity notes, and honey biscuits. It features a light body and a pale yellow appearance. The clean pilsner has decent carbonation and finishes dry, exactly what you would expect from a German pilsner.
To get the most out of the beer, purchase it with the Exclusive Glass made by the brewery. It is made of thin glass and has a round body that slims toward the top. If you can't get this, you can serve it in a classic pilsner glass. The ideal serving temperature is from 43 to 47 degrees Fahrenheit. Each beer has its ideal temperature to get stored and served.
– Appearance 
On the pour, the König Pilsener features a light yellow body that moves towards pale gold. It has a crystal clear appearance and visible carbonation that makes it look bright and sparkly when you pour it into the glass.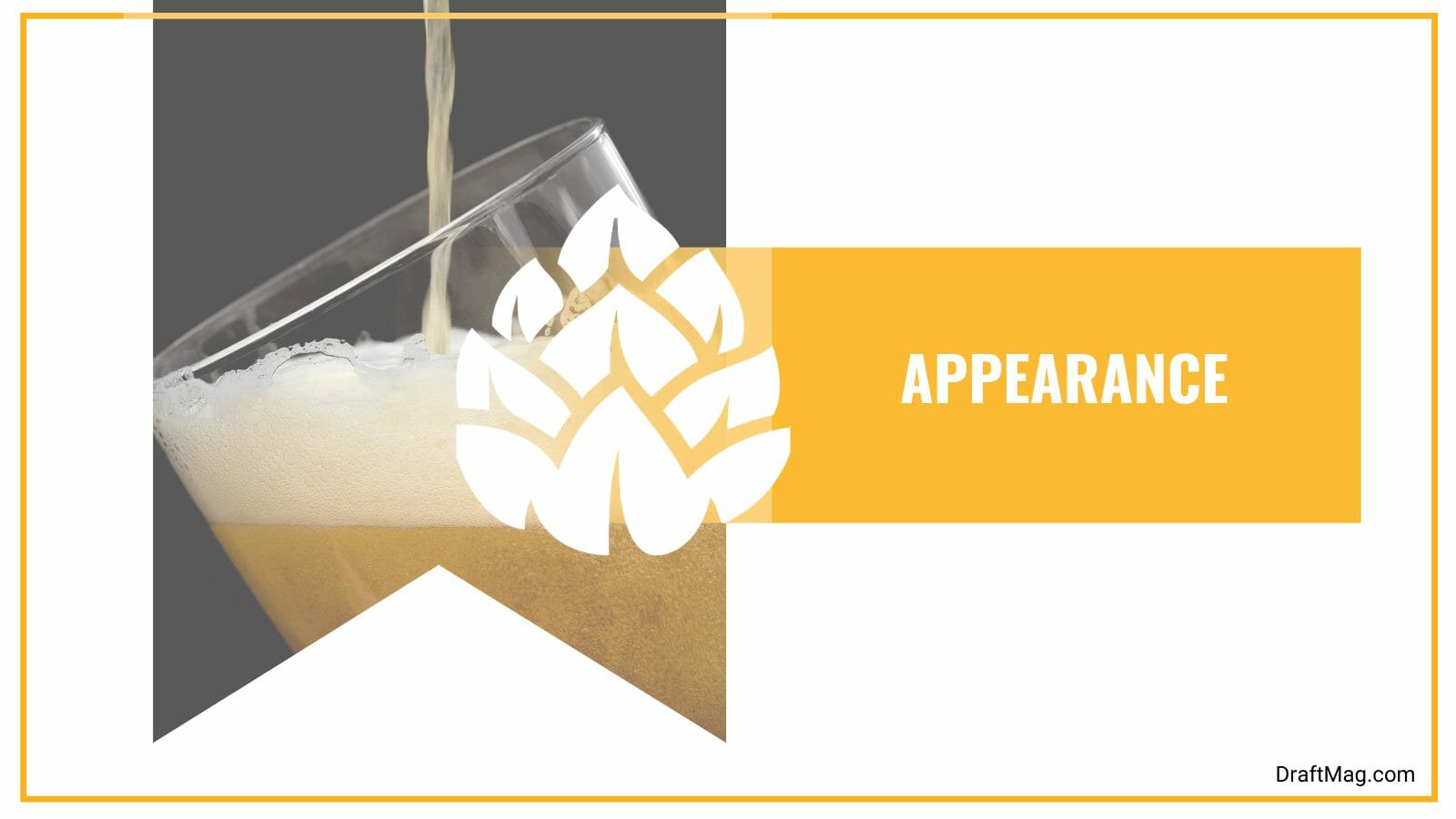 Atop the beer, you get a thick, rocky white head that will stay seated for a long time. The head retains the aroma and leaves a sticky lacing against the glass as you drink. 
– Aroma 
The Pilsener has a neat and clear aroma, so you can easily pick up the scents. It first smells of sweet crackers, and there is a pleasant aroma of hop spice or peppery notes. The hops also offer grassy notes that prickle your nose.
You might also notice a bit of citrus and wheat dough in the aroma, as well as the floral hints. In general, the aroma of the beer is bready and spicy. 
– Mouthfeel 
The beer features a light body that tends toward the medium. Despite being crisp and well-carbonated, the beer also features a creamy body that makes the mouthfeel thicker than you might have expected. The carbonation gives you a slightly fizzy feel. 
The mouthfeel of the beer is also very clean, and it will easily cleanse your palate when you're eating something spicy. It finishes dry with a lot of bready malts at the end. 
– Flavor 
From the aroma, you have an idea of what the Konig Pilsener will taste like. The beer has a balance of semisweet pale malts, slight hoppy bitterness, and some grassy notes. It starts out soft and sweet, with a pleasant taste of white bread. You will also notice a bit of cracker malts that caress your tongue, matching the creamy body.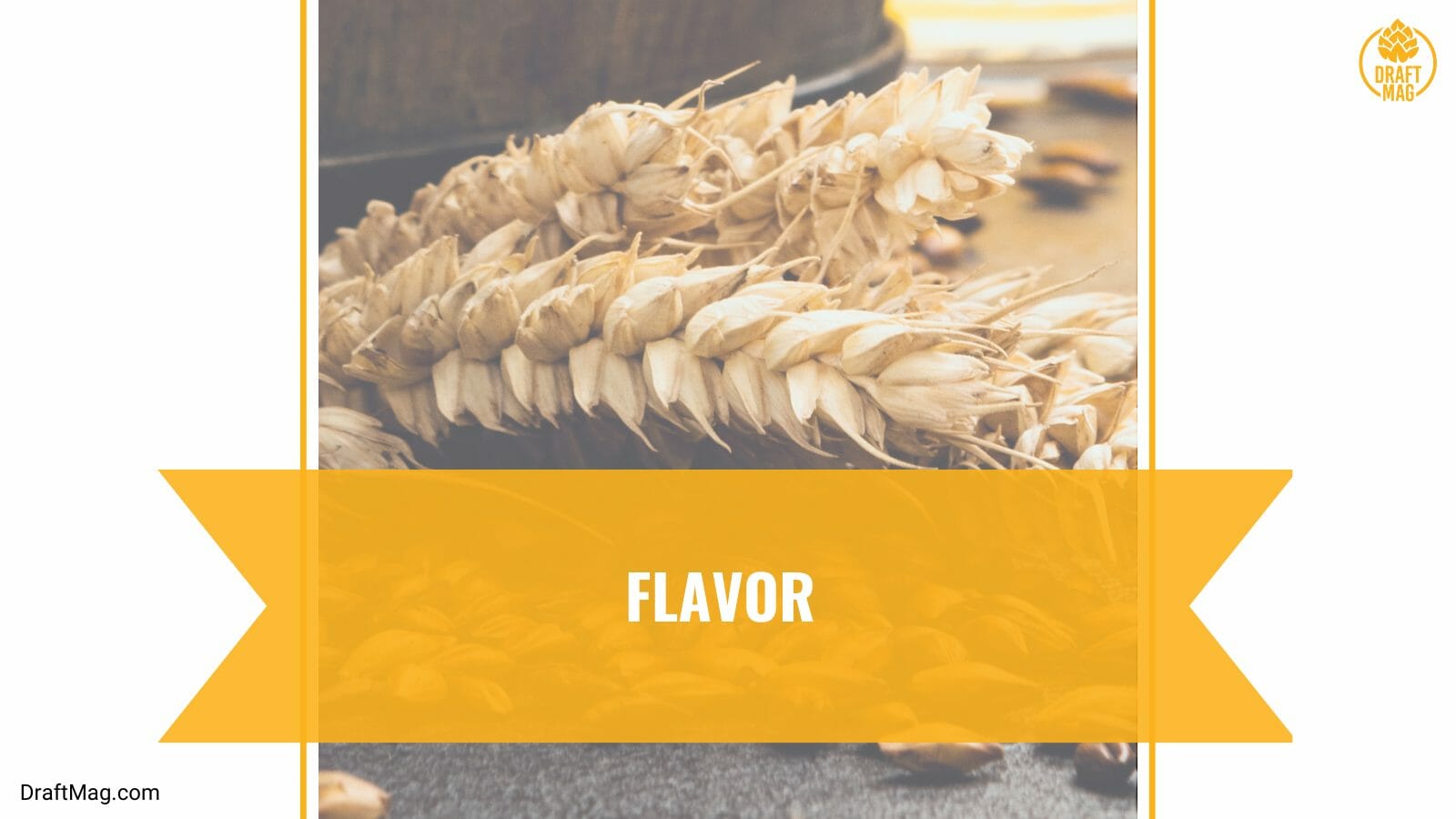 Towards the middle, the flavor quickly shifts to taste spicy and peppery. The peppery hops are snappy and are balanced with some notes of citrus and floral hints, also from the hops. You might notice some wheat dough as you drink too, as well as honey. Through the finish, you get floral notes and a slight lemon tartness. 
– Food Pairings
When having a German-style pilsner like the one from Konig, you should consider having some pub food. Try out some homemade chicken pot pie, fish and chips, steak and onion pie, club sandwich, buffalo chicken wings, cheeseburger sliders, steak frites, and bangers and mash with the clean beer.
The hoppy bitterness will contrast-rich sauces and sweet foods. You can enjoy it with salads that are topped with citrus or spicy dressings, chicken, marbled meats, oily fishes, spicy dishes like noodles or pasta, and light foods. Seafood like salmon, tuna, trout, and shellfish will also go great with the creamy body of the pilsner.
You can pair it with a wide range of cheeses, but the top options are Muenster, Monterey Jack, and Havarti cheeses. As for dessert, try it out with strawberries and cream, banana orange crepes, or a carrot cake. In general, fruity desserts will go great with a clean pilsner. 
Ingredients 
The main ingredients in the König Pilsener beer are water, malted barley, and hops. The beer follows the German Beer Purity Law of 1516 and is a bottom-fermented lager. Since it follows the classic process that is centuries old, it's not surprising that it hits all the flavor notes.
The lager is made by master brewers, and all the ingredients have been carefully selected to give you a top-quality and clean beer. The malted barley is the main part of the beer's flavor, giving you a lot of bread, biscuit, and crackers, but the hops are not left behind. 
Nutrition Facts 
The pilsner is served in 330 ml or 11.2 oz bottles, and every serving features an ABV of 4.9 percent. Its decent alcohol content is barely evident in the flavor and aroma, except for the slight warming. The original gravity of the beer is 11.3 percent, and it has a decent IBU.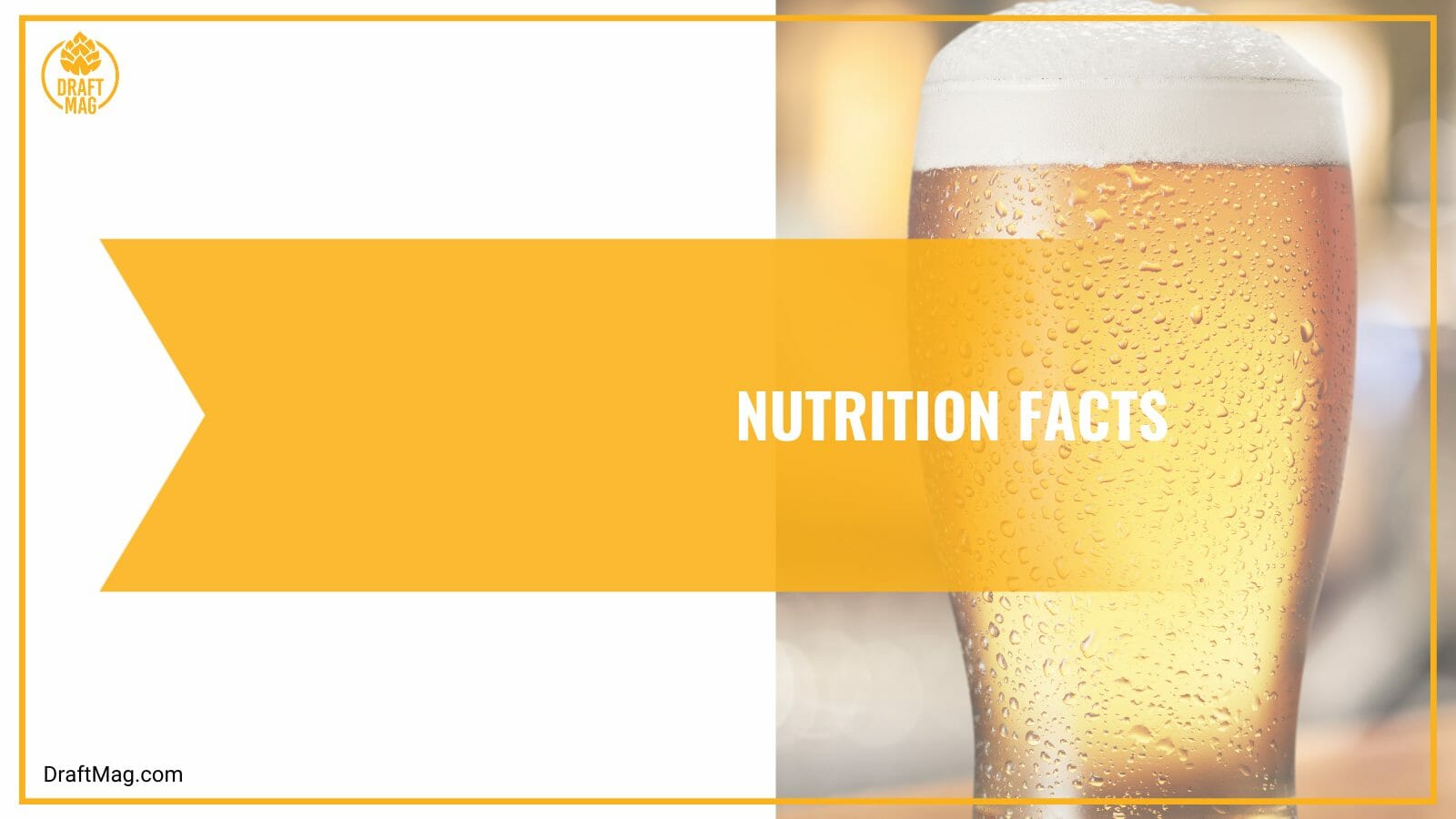 In every 100 ml, the beer features 170 kj, which is about 41 calories. As for the carbs, there are 2.3 grams for every 100 ml serving. There is no fat, protein, or salt in the pilsner. It has a low-carb content that makes it suitable for drinkers on a keto diet. 
History 
The König Pilsener was released by Konig Brewery in 1911. The brewery was making its beers in Duisburg and was one of the few companies that were making bottom-fermented instead of top-fermented beers. It is an award-winning beer, as it won the Grand Gold at the 2020 Frankfurt International Trophy and a Silver at the 2019 Dublin Craft Beer Cup.
Today, the beer is available in over 40 countries around the world. In 2004, the brewery was purchased by the Bitburger Brewery Group, but it was founded back in 1858 by Theodor Konig. Aside from the beer, there is also a Konig Pilsener Radler Grapefruit. 
Conclusion
Whether you're looking for a clean pilsner to have with friends or to pair with dinner, this versatile beer is a good choice. Here's a summary of what our beer review covered:
The Konig Pilsener is a German-style pilsener with an alcohol content of 4.9 percent.
It has flavors and aromas of sweet malts, honeyed malts, crackers, bread, hop spice, floral notes, and a creamy body.
It is made with malted barley, hops, and water.
Serve it in the Exclusive Glass or a pilsner glass at 43 to 47 degrees Fahrenheit (make sure to pick the most suitable pilsner glass).
The beer pairs well with pub foods, salads, spicy foods, seafood, chicken, Muenster cheese, and strawberries and cream.
You can purchase the beer online or at different stores. It is also sold at most bars and restaurants that sell German food.