Founders Green Zebra: The Fruity Craft Beer Is Coming Back
Founders Green Zebra craft beer is a blend of fruity flavors and juicy, refreshing tastes with mild alcohol levels. If you are a fruit-flavored alcoholic beverage lover, this beer from Founders brewing is one of the best finds for you.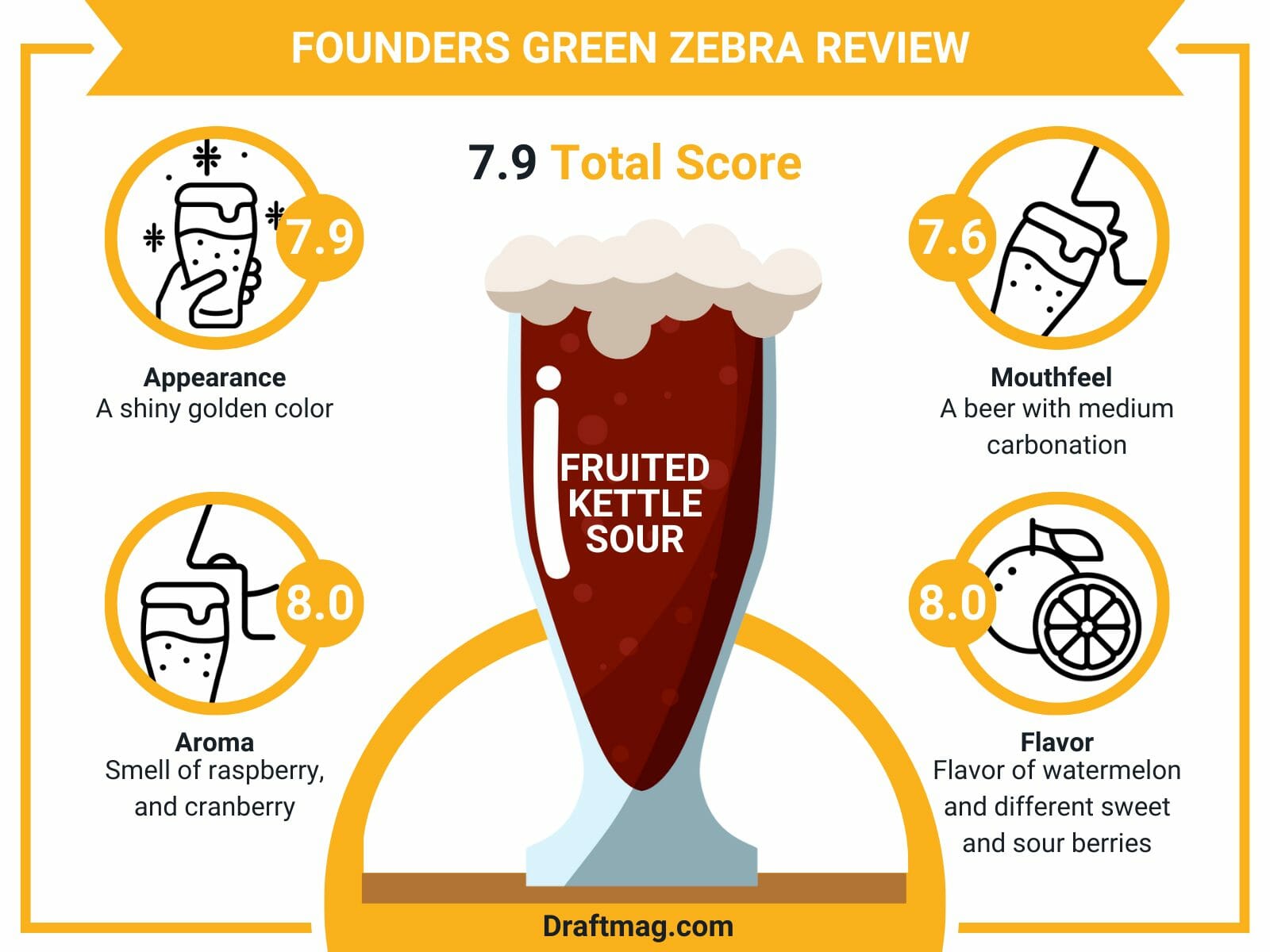 To learn every detail about this beer, read this article and learn more.
Founders Green Zebra Stats
| | |
| --- | --- |
| Country | Michigan, United States |
| Brand | Founders Brewing Company |
| Style | Fruited Kettle Sour, Wheat ale, Gose |
| Taste | Juicy watermelons and little sweetness |
| Body | Soft, light, and dry finish |
| ABV | 4.6 percent |
| Flavors & Aromas | Watermelon like fruity sweet smell |
| Serving Temperature | 40 to 45 degrees Fahrenheit |
Tasting Notes
Founders Green Zebra Tasting Profile
Founders Green Zebra Review
The Founders Green Zebra beer is known for its quintessential sweet and sour beer style. It is fruity and filled with layers of taste at the same time. This and many other characteristics set it apart from other fruit-flavored craft beers. Check them out.
– Appearance
The Gose beer is known for its shiny golden color, which can range up to a dark golden or orange hue or even deep amber. You can also see fast-rising bubbles due to the high level of carbonation in this fruit-flavored beer.
Additionally, it also forms a white foamy head that does not last very long when poured into a serving glass. There is no also lacing around the glass. The overall texture is crystal clear, and the clarity is high because of the multi-layered filtration process it goes through.
– Aroma
The strongest aroma is watermelon and other fresh fruits. After the strong hit of the watermelon, you can also smell the raspberry, cranberry, and whole berry mix flavor. This beer is very lightly hopped; hence the smell of bitter hops is hardly present and does not hit your nose. The smell of alcohol is also very low, and the fruit fragrances are the most prominent in this beer.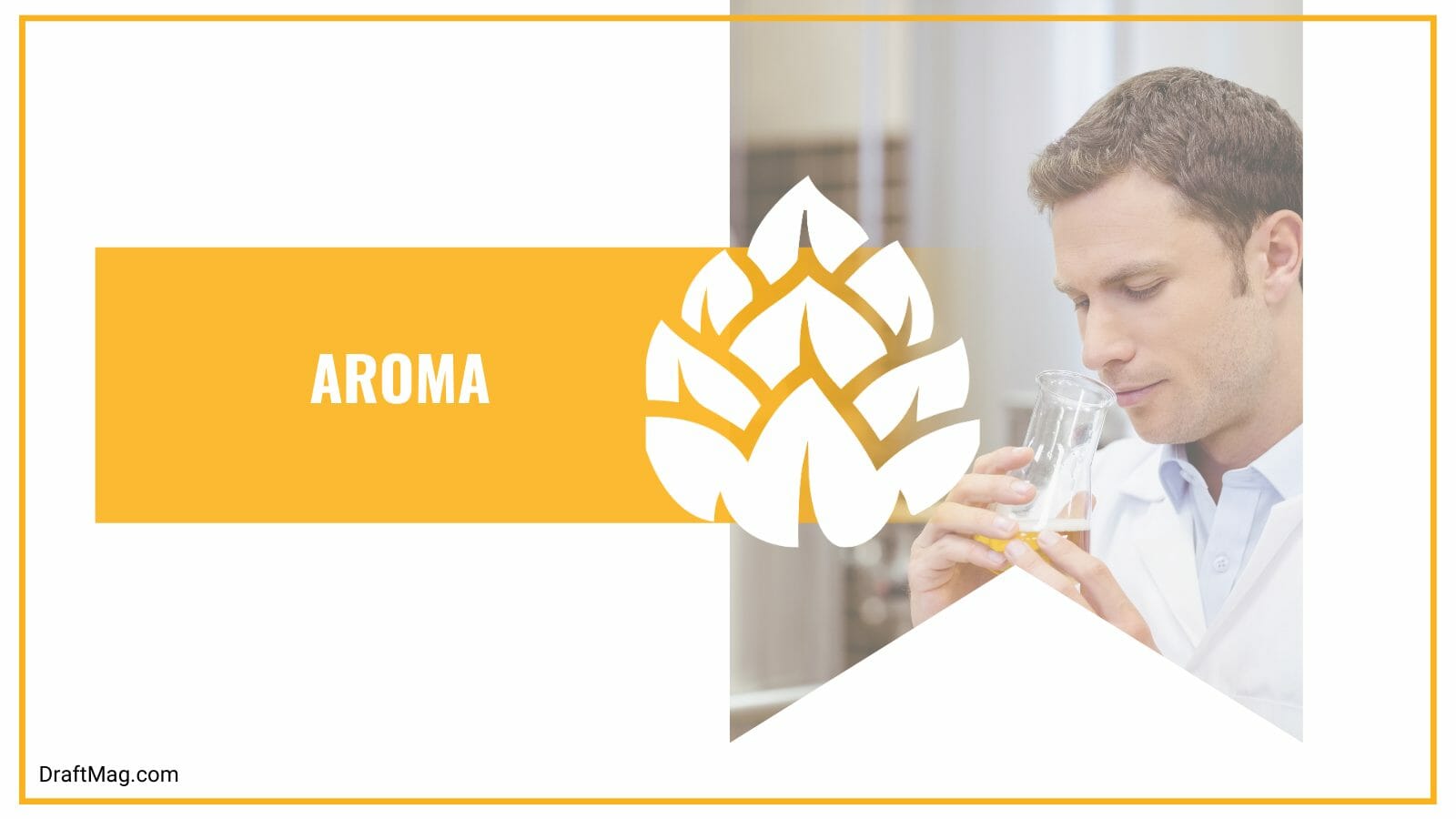 The smell of barley malt used in this beer also brings about a mild sweetness to the overall aroma. You can also smell sour melons and a hint of refreshing Gose sea salt. This salt adds an extra punch to this beer and balances all fruity smells. Though this is a fruit-flavored beer, none of the smells are very aggressive or overpowering, and you can still smell the beer in it even if it has a lot of fruit fragrances.
– Mouthfeel
This beer has medium carbonation, which leaves a fizz on your tongue. The overall finish is very clean and dry. The mouthfeel is soft and very light-bodied, making the beer an ideal drink for summer beach parties and hot days.
– Flavor
The first taste you experience is of watermelon and different sweet and sour berries. After the robust hit of the watermelon, you may additionally scent the raspberry, cranberry, and an entire blended berry flavor. This beer is very gently hopped to let all the fruit flavors shine and get their individual space.
Therefore the taste of the bitter hops is rare and does not hit your taste palette and overpower the other flavors. The taste of alcohol is also shallow, and the fruit flavors are the most pronounced. The overall taste of this beer is very juicy and packed with fruit flavors.
You can also distinctly taste the barley malt used which brings about a moderate sweetness to the general taste. You also can taste the sour melon flavors and a touch of clean gose sea salt. This salt helps this beer get an extra kick and balances out all the extra fruity tastes.
Though this is a fruit-flavored beer, none of the fruit flavors are overpowering. The overall feel is a very crisp, refreshing, smooth, and clean finish. This is a very light beer in terms of alcohol and bitterness, making it a very easy drinking beer. They use a lot of fresh water during the brewing process, which brings about a beautiful fresh taste and helps tone down the fruity and juiciness of the watermelons.
– Food Pairings
Since this is a fruit-flavored beer and is juicy and sweet with a hint of sourness, it pairs well with most summer beach food options.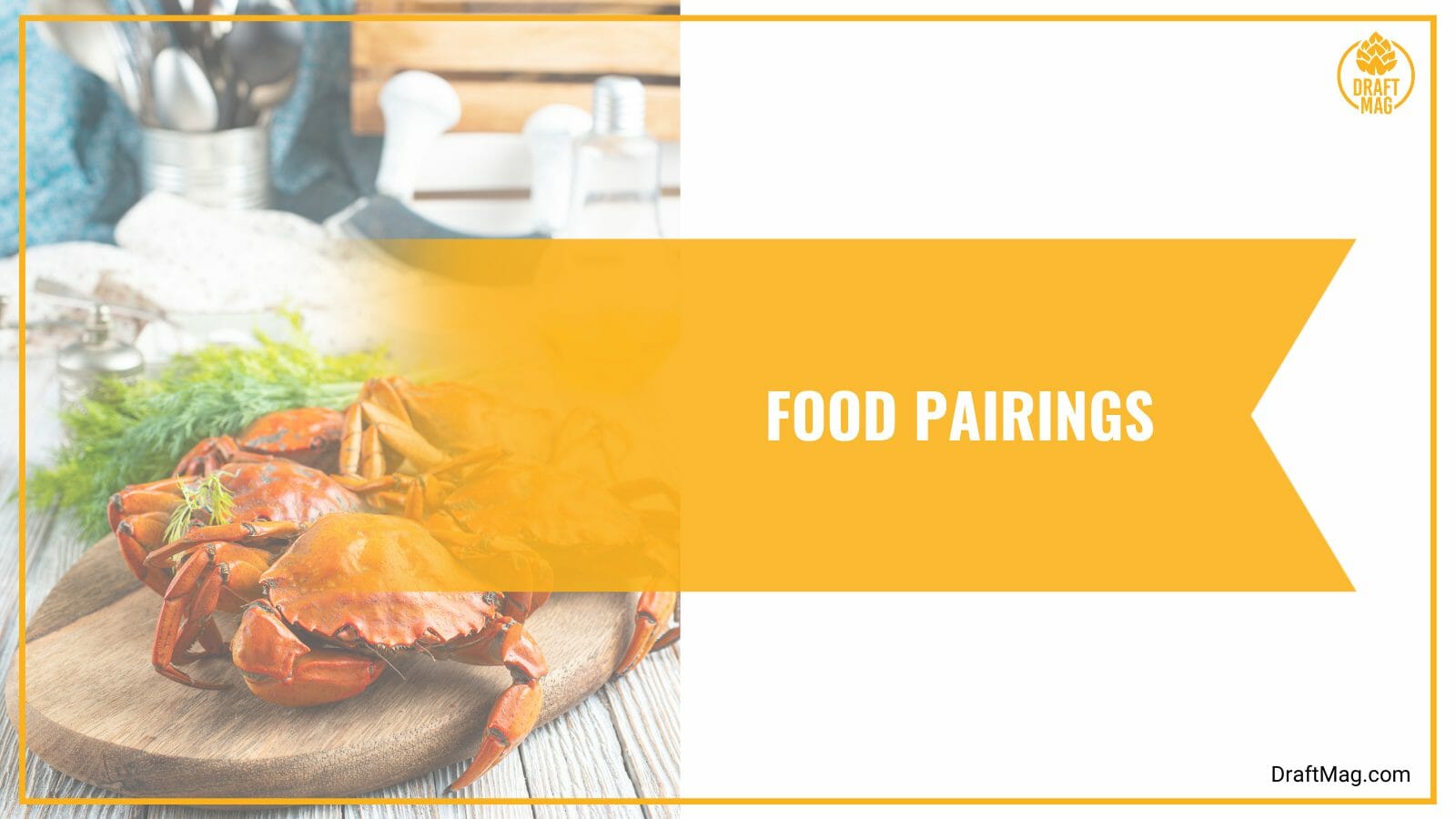 You can pair this food with all kinds of seafood. The seafood flavors like shrimps, crabs, fish, and calamari work well with this beer. The beer's fruitiness washes down the seafood taste and brings a nice balance of tastes.
Furthermore, any kind of grilled, smoked, or meat goes very well with this refreshing pale lager. Steaks, burgers, pork ribs, and lamb shacks all marry well with the Zebra fruit-flavored beer. The smokiness of the food is balanced with the beer's spicy yet light and fresh effect.
Ingredients
Founders Zebra ingredients include barley malt, Gose sea salt, light hops, top-fermenting ale yeats, watermelons, and fresh water. All the ingredients form the balance of flavors and aromas and create this thirst-quenching drink for hot and long summer days.
Nutrition Facts
This beer has zero fat, and 121mg of sodium, two grams of protein, and total carbs of 21.6g of proteins. Overall, the calories of drinking 12oz serving of this beer is 150 calories.
History
People often wonder, "Is the Founders Green Zebra discontinued?". Well, this beer went out of production a few years back. But the Founders Brewing Company has finally decided to relaunch this in their brewery.
However, the Founders company release 2022 will only be seasonal and available from May to July, in celebration of the summer months, when this beer is supposed to be drunk. You can either get their beer from their taproom, or they also deliver it across some states in America, and you can place an order online.
Conclusion
In this detailed review of the Founders Fruit flavored beer, we learned a lot of exclusive new details about this craft beer from one of America's best breweries. These are some points you need to remember about it: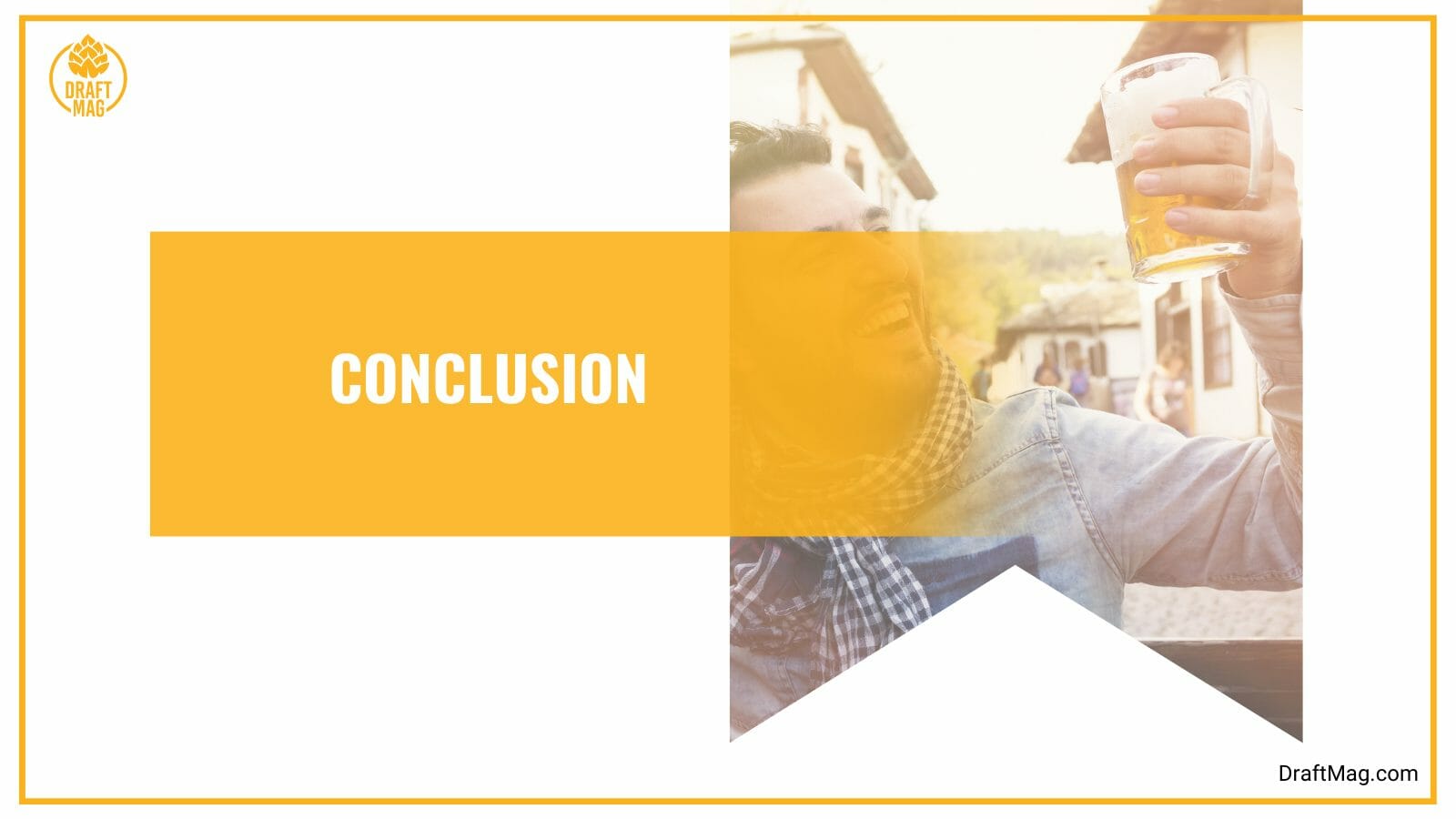 This beer is delightfully tart and sweet at the same time.
It is a watermelon flavor, juicy and aromatic beer that also smells of raspberry and cranberry.
This is a seasonal craft beer, so you can not find it in all stores across America or even throughout the year.
It has overall 150 calories per serving of 12 ounces.
If you are looking into trying out this beer in summer, it will be an amazing match, because after reading this review, you know so much about it.