Pipeworks Lizard King Review: Is This Popular Beer Worth Buying?
Pipeworks Lizard King is one of the many beers of the Chicago-based Pipeworks Brewing Company. The American pale ale (APA) is rich in Mosaic hops with a refreshing feel.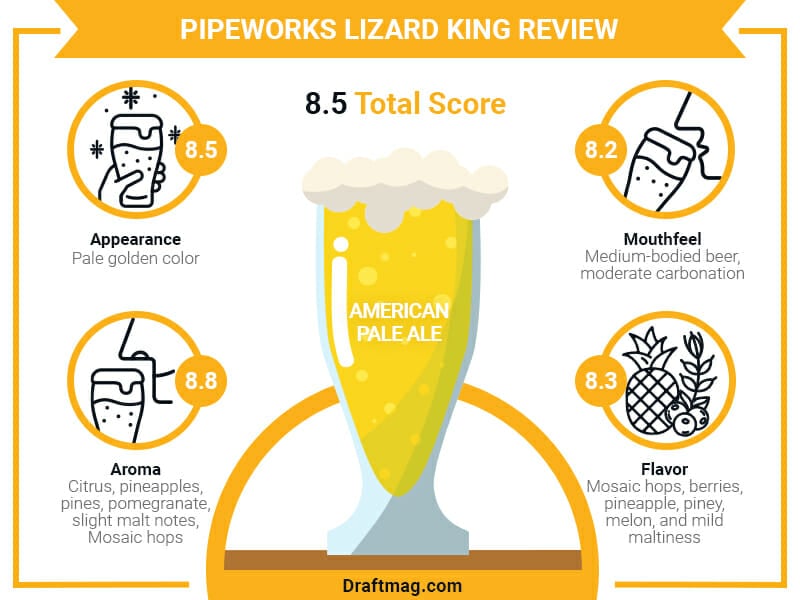 There is more to the Lizard King; this review details its appearance, taste, aroma, flavor ingredients, nutrition facts, food pairs, and history. Read this complete beer review to the end if you're a beer enthusiast who wants to try new things.
Pipeworks Lizard King Stats
| | |
| --- | --- |
| Country | United States |
| Brand | Pipeworks beer brewing company |
| Style | American Pale Ale |
| Taste | Fruity berries, pineapple with a slight malty taste |
| Body | Medium |
| ABV | 6 percent |
| Flavors & Aromas | Pineapple, berry and woodsy |
| Serving Temperature | 45-50 degrees Fahrenheit |
Tasting Notes
Pipeworks Lizard King Tasting Profile
Pipeworks Lizard King Review
As we mentioned earlier, the Pipeworks Lizard King is an APA-style beer. So what features show that it belongs to this category? Let's find out.
– Appearance
The beer appears slightly hazy with a pale golden color from a beer glass, typical of an APA. This is followed by a constant pool of bubbles rising in the glass. Also, it has a white head with decent retention and lacing.
– Aroma
The Pipeworks Lizard King APA has soft blends of aromas ideal for beer lovers and beginners. It incorporates fruity citrus, pineapples, pines, pomegranate, slight malt notes, and tons of Mosaic hops. Its hoppy aroma is due to the late addition of the hops when brewing. The alcohol note is mild and may not be detected by some persons due to its ABV.
– Mouthfeel
Pipeworks Lizard King is a medium-bodied beer with moderate carbonation. The beer is crisp with dominant hops, and malt takes the backseat to make it balanced and easy to drink. Also, it has a mild bitterness and dry finish.
– Flavor
The flavor is softly sweet with a blend of Mosaic hops, berries, pineapple, piney, melon, and mild maltiness. Also, there is a gentle grassy note. Generally, APAs have fewer ester, caramel and hop flavors than English Pale Ales and Amber Ales.
– Food Pairings
Beer and food pairings blend different things harmoniously for a more palatable experience. As earlier said, the beer is slightly hazy and medium-bodied, so it will be great with not very strong foods where salty flavors are dominant. Also, to pair an APA like the Pipeworks Lizard King, you need to consider that it is bitter, although not much and has a mild maltiness.
The beer is pleasant with Mexican dishes like tacos and burritos. The reason is that the coriander and lime juices in their sauce have similar citrus notes as the beer. Lizard King goes well with hamburgers, nachos, fish, chips, and roasted and grilled meats. The creamy mayonnaise and sauce in burgers create magic with the hops.
It is also perfect with cheeses, especially cheddar and derby. The flavor blends can alter the texture of the cheese rind and the cheese itself, introducing complementary or contrasting flavors.
Fast food goes well with this beer style since they are not very elaborate or intense meals, and the mild bitterness of the beer contrasts with the fatty foods. The beer helps to wash the food with an easy drink and cleanses the palate, and it's a sure hit if you combine a good pizza with an APA-style beer like Lizard King, thanks to its mild malty and rich hoppy aroma. In addition, spicy Indian and Thai dishes should not be left out of the equation.
Ingredients
Pipeworks Lizard King is a blend of standard APA beer ingredients, but it doesn't include the regular Cascade or Centennial hops. The primary components include:
Malt
Mosaic hop
Amarillo hop
Water
Ale yeast
As Pipeworks's core product, some unique ingredients may not be open to the public. However, it is possible to brew something close to this beer with the essential ingredients.
Nutrition Facts
Pipeworks Lizard King ABV is 6 percent while its IBU is 36. These values overlap with the English Pale Ales, the American Amber Ale, and the American IPA. The alcohol content is not high, so a few bottles would probably not make you boozy.
Moreover, the 16 fl. oz cans contain an estimated 237 calories and 18g of carbohydrates. However, the beer doesn't offer proteinous nutrients, unlike some pale ale. The carbs from this beer may be on the high side if you are on a keto diet.
In addition, this APA contains potassium and sodium, although they are in trace amounts. Potassium promotes optimum cell function, heartbeat, and muscle tone. On the other hand, the body needs sodium for proper nerve conduction and water-mineral balance. The beer does not contain any fat, cholesterol, or vitamins.
History
Lizard King Mosaic Hopped Pale Ale is one of the products of the Chicago-based Pipeworks Beer Brewing Company. Beejay Oslon and Gerrit Lewis, who were homebrewers, established the company in 2012.
They started the company brewing one-time beers and releasing various beer styles weekly. Over time, the company resorted to producing different lasting brands. After over five years of operation, the company introduced Pipeworks Lizard King brewed with Mosaic hops.
The beer is an APA and is still active to date in Chicago and surrounding cities. Also, it is available in a pack of four cans. Currently, the company has over 300 active products. Examples include Pipeworks Ninja vs. Unicorn, an Imperial IPA, and Pipeworks Lizard King vs. the Cryo, an APA.
Conclusion
If you enjoy crisp, hoppy, and fruity beers, you'll fall in love with Pipeworks Lizard King. Many beer enthusiasts enjoy this beer as it is refreshing with average maltiness and is easy to drink. Here are a few points to note from our review of the Lizard King beer:
The beer has 6 percent ABV and 36 IBU.
The beer is a blend of aromas of citrus, pineapples, pines, pomegranate, slight malt notes, and tons of Mosaic hops.
In a beer glass, it appears slightly hazy with a pale golden color.
The beer is medium-bodied with moderate carbonation.
If you're curious about this beer, you can order online or visit a retail store within Chicago and surrounding cities; just remember to serve it chilled with the fantastic dishes discussed in this review.