American Pale Ale: What Makes This Hoppy Beer So Refreshing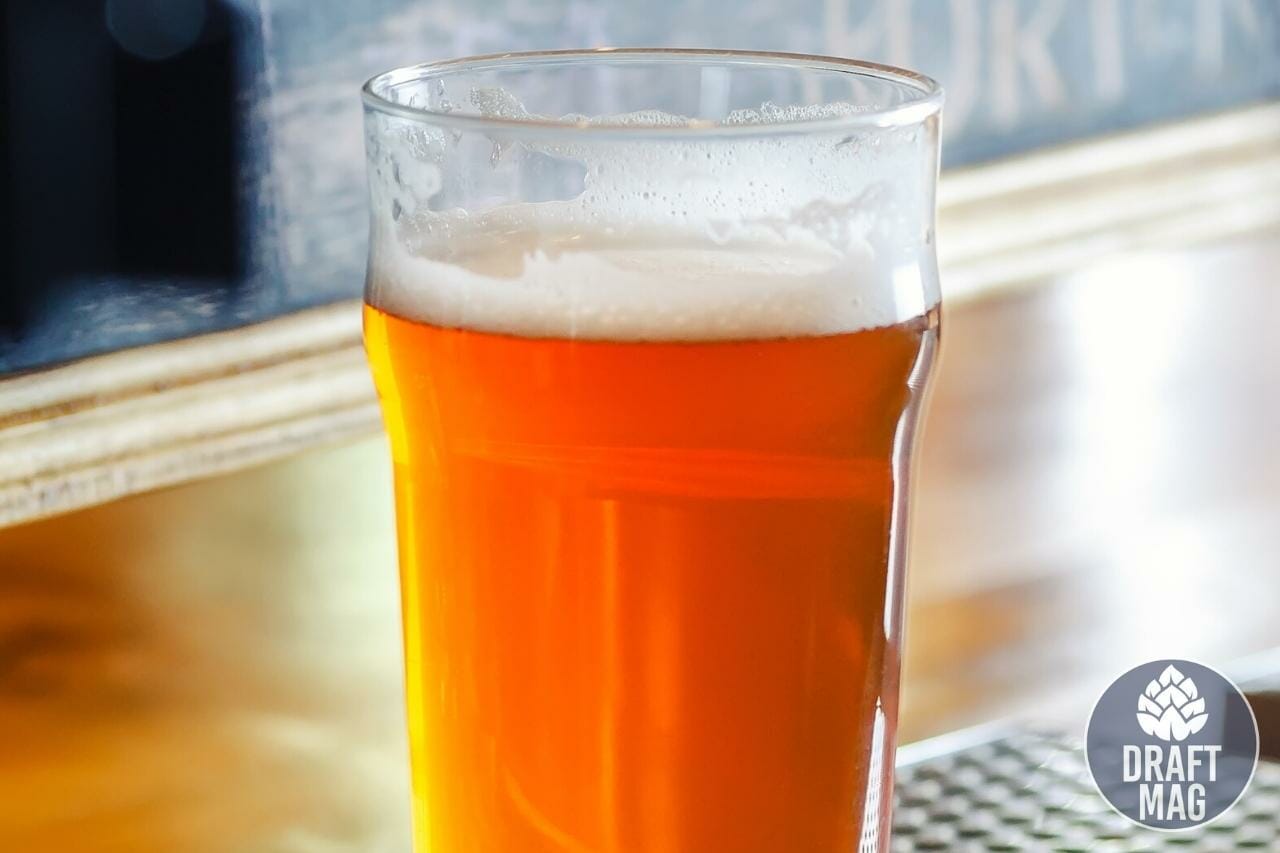 American Pale Ale (APA) is an ale that was developed from its European version. But over the last four decades, it has gained its exclusive characteristics.
Instead of the characteristic English herbal hops, the American brewers have used a lot of citric hops.
Over the years, American Pale Ales have found many homes in craft breweries. If you are an APA beer lover, read on to know more details about your favorite ale.
American Pale Ale Stats
| | |
| --- | --- |
| Origin | America, the 1980s |
| Color | 5 – 14 SRM |
| IBU  | 30 – 50 |
| ABV | 4.5 – 6.2 |
| Type | Ale |
| Serving temperature | 38 – 40 F |
| Shelf life | Around three months |
American Pale Ale Review
The pale ale that originated in America has many unique characteristic features that make it stand out from other pale ales.
Here are all the features that form the core of this beer type:
– Appearance
The color can range from light straw yellow to a deep amber hue. It has a classic white to off-white foam when poured out, which has a fair amount of retention. The liquid, in general, can be clear or slightly hazy, which entirely depends on the type of hop used to brew. It also has low to medium carbonation fizz giving rise to bubbles.
– Aroma
Most American Pale Ale style has a strong citrus fragrance. But the best brewers believe that it is not absolutely essential. There are also layers of malty flavor, almost like a cookie or bread. It also has some toasty aroma to finish it off. The overall smell is never overpowering due to the subtle use of every ingredient at play.
– Mouthfeel
The drink has a smooth feel in the mouth with a little effect of carbonation. The ale has a soft texture and does not have a very overpowering presence in the mouth. It has a very clean hoppy mouthfeel to finish it off.
American Pale Ale is an American adaption of the English Pale Ale, characterized by a medium body and toasty maltiness being felt in your mouth.
– Flavor
American Pale Ale alcohol content is low; hence the taste is generally light and refreshing. With every sip, you can taste a bitter citric fruitiness from the hops. Some American Pale Ale styles can also have a very slight taste of caramel, but not very dominant. All the subtle flavors have to form the perfect marriage for a perfect APA beer to work.
The drink must be served at a controlled temperature of 45 -50 F for the perfect taste balance. It is known as one of the most fruit-friendly beers around.
– Food Pairings
American Pale Ale goes well with a cheesy pizza to any kind of deep-fried food. It also pairs well with grilled meat like steak, chicken, pork, etc. Some versions of an APA beer work well with a burger too.
You can also try it out with fresh cheese or desserts like pudding or a decadent apple pie.
You can be bold enough to have spicy food. The light beer flavor works really well in cutting down the hotness of the spicy food and quenches the thirst.
It goes well with a variety of foods – from chicken to salads. It is an amber-colored drink with a citrus and floral texture.
Ingredients
A classic American Pale Ale uses domestic 2-row pale malt and 5 -10 percent medium crystal malt. Most American Pale Ale brewers use C hops — Cascade, Centennial, Chinook or Columbus. Some rare APA beers also use Willamette, Perle, Sorachi Ace, Simcoe, Warrior, Palisade, Amarillo hops.
The yeast is top-fermenting ale yeast, and the specific strain may vary from brewer to brewer. Other ingredients in American Pale Ale may include experimental malts and hops based on the depth of flavors.
Nutrition Facts
American Pale Ale (473 ml) has 26 grams of total carbs, 26 grams of net carbs, 0 grams of fat, 0 grams of protein, and 241 calories.
History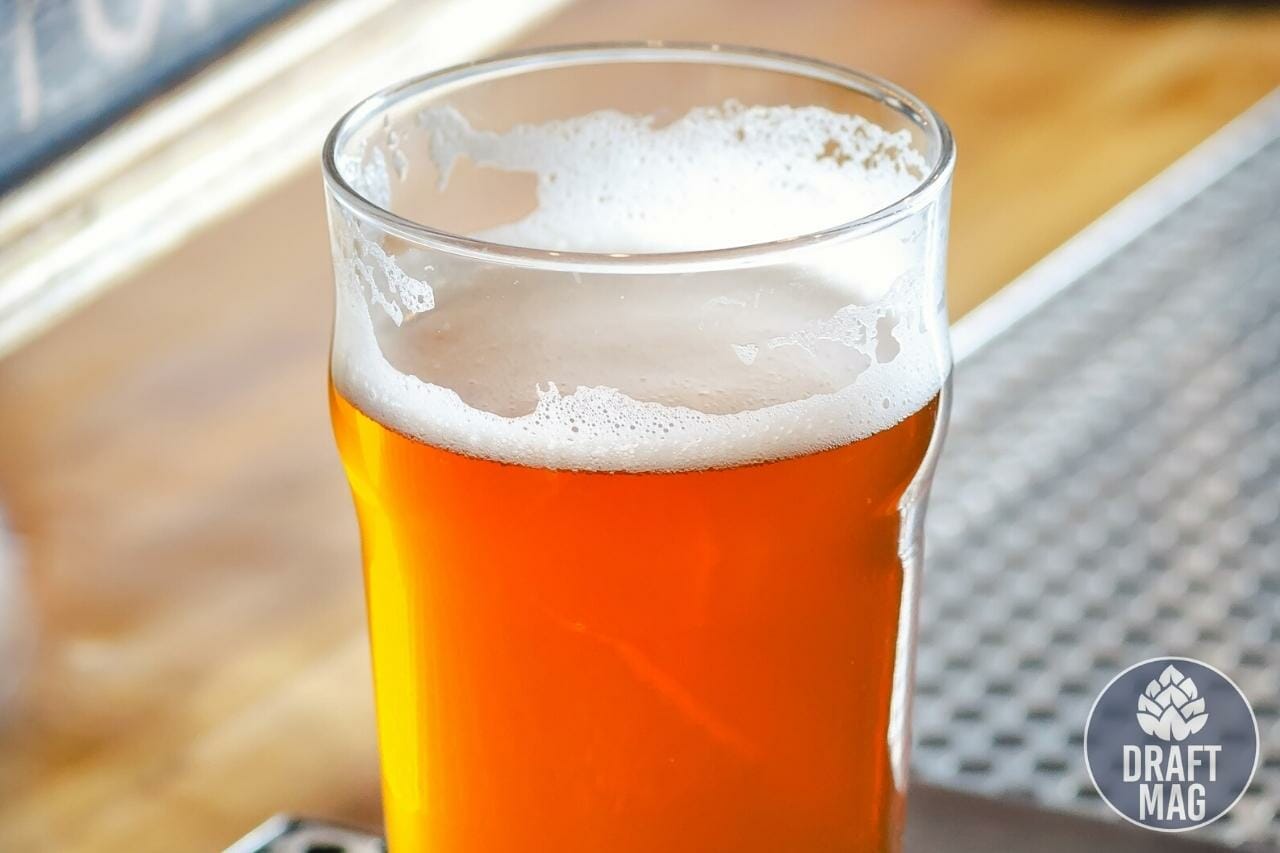 The American pale ale originated as a branched-out version of its European counterpart.
It originated in Europe around the mid-1600s, but the American version has been in the market for not more than 30 years.
Many beer connoisseurs have acknowledged the advent of American Pale ale to the Sierra Nevada Brewing Company. However, this is a debate not every version of history agrees with.
FAQ
– Are There Cocktail Recipes With an American Pale Ale?
Cocktails with American Pale Ale can help you discover many new flavor profiles. The possibilities of these recipes have no limits.
But here are a few simple cocktail recipes to start the journey:
American Pale Ale Manhattan
Ingredients: Two parts of whiskey, one part of cherry syrup, one small bottle of APA of your choice. Ice cubes, cherries, or berries of your choice and a little orange peel.
Mix them in a cocktail mixer bottle, shake well, pour into a cocktail glass, and serve cold.
American Pale Ale Cocktail
Ingredients: One part of ginger beer, one part of any American Pale Ale of your choice. Juice of half a lime juice and lime wedges to garnish. Add ice cubes too.
Mix all of the ingredients in a cocktail shaker and shake well. Serve in a glass and garnish with lime wedges. Serve cold on a hot summer day.
– What Are The Best American Pale Ales?
American Pale Ales have diverse flavors and types in the craft beer industry. Though there are many classic APA beer varieties in the market, you can also find many fruity flavors across the whole country.
Sierra Nevada Pale Ale from Sierra Nevada Brewing Company (Chico, CA)
Zombie Dust from 3 Floyds Brewing Company (Munster, IN)
Grunion from Ballast Point Brewing & Spirits (Anaheim, CA)
Alpha King from 3 Floyds Brewing Company (Munster, IN)
Hop Trip Pale Ale from Deschutes Brewing Company (Bend, OR)
Citra Rye Pale Ale from Joseph James Brewing Company (Henderson, NV)
– How Do I Brew My Own American Pale Ale?
If you want to start brewing your American Pale Ale, this beginner's recipe is for you. This easy homebrew beer recipe for an American Pale Ale can work well with a basic home brewing kit.
– Ingredients
One ounce of C" hops like Cascade, Centennial, Chinook, Columbus.
Five ounces of dry malt mixed with half an ounce of American 6-row malt.
Six gallons of water and top-fermenting London Ale yeast.
Half a kilogram of sugar.
– Process
You need to mash the ingredients ideally at a controlled temperature of 154 F. Do not mix the sugar at this stage (It goes into the mixture after the fermentation process starts). Then ferment the brew at 68 F. After fermentation, add the sugar and mix well.
Store and keep in a dark space for seven days without any movement. You need to ensure that the carbonation level is around 2.2 – 2.5 volumes of CO2 in the whole brew. However, do not rush the process, or the flavors can get mixed up. After this stage, you can bottle your beers and store them.
Major Takeaways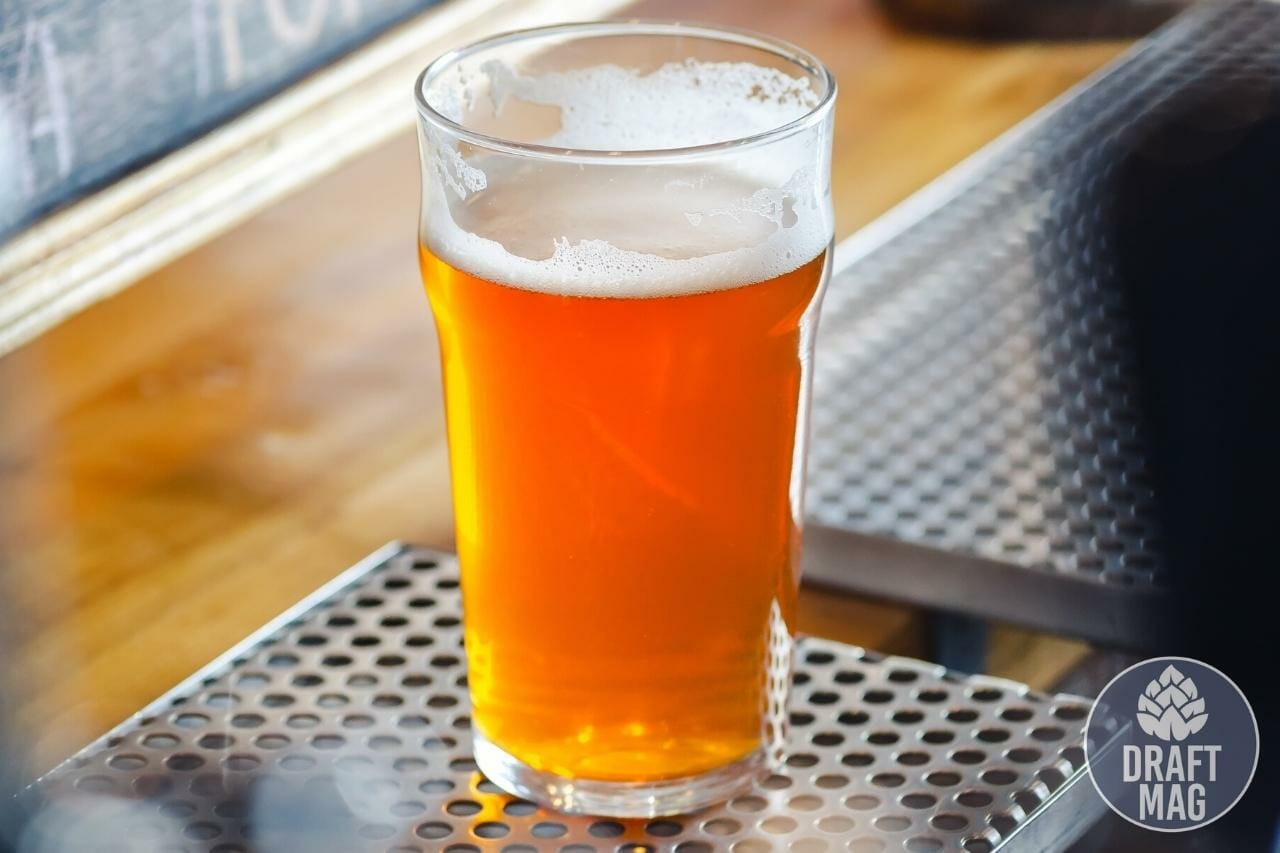 An American Pale is a light beer that can take on a lot of flavors, making it a great canvas for craft beer lovers. The taste notes of this beer are not overwhelming and can go well with many food types.
Here is all that you need to remember about your refreshing American Pale Ale:
The beer can include a lot of ingredients which allows brewers to add more flavors to it because of its light taste.
It is a very light beer with a medium bitterness range.
You can pair this with a lot of food like cheese and grilled food.
It has a very citric flavor due to diverse hop usage.
The ingredients in American Pale Ale are diverse due to the craft beer industry boom across the US.
There are many diverse craft American Pale Ale varieties available across the US. Due to its subtle taste and aroma, it is a good one for beginners as well as ardent beer connoisseurs.
Get your hands on this classic beer now!