Spaten Oktoberfest Review: Is This Marzen Brew Worth Your Dime?
Spaten Oktoberfest has been garnering a lot of attention right from the moment it was released. It is produced by Spaten Franziskaner Brau, a German brewery.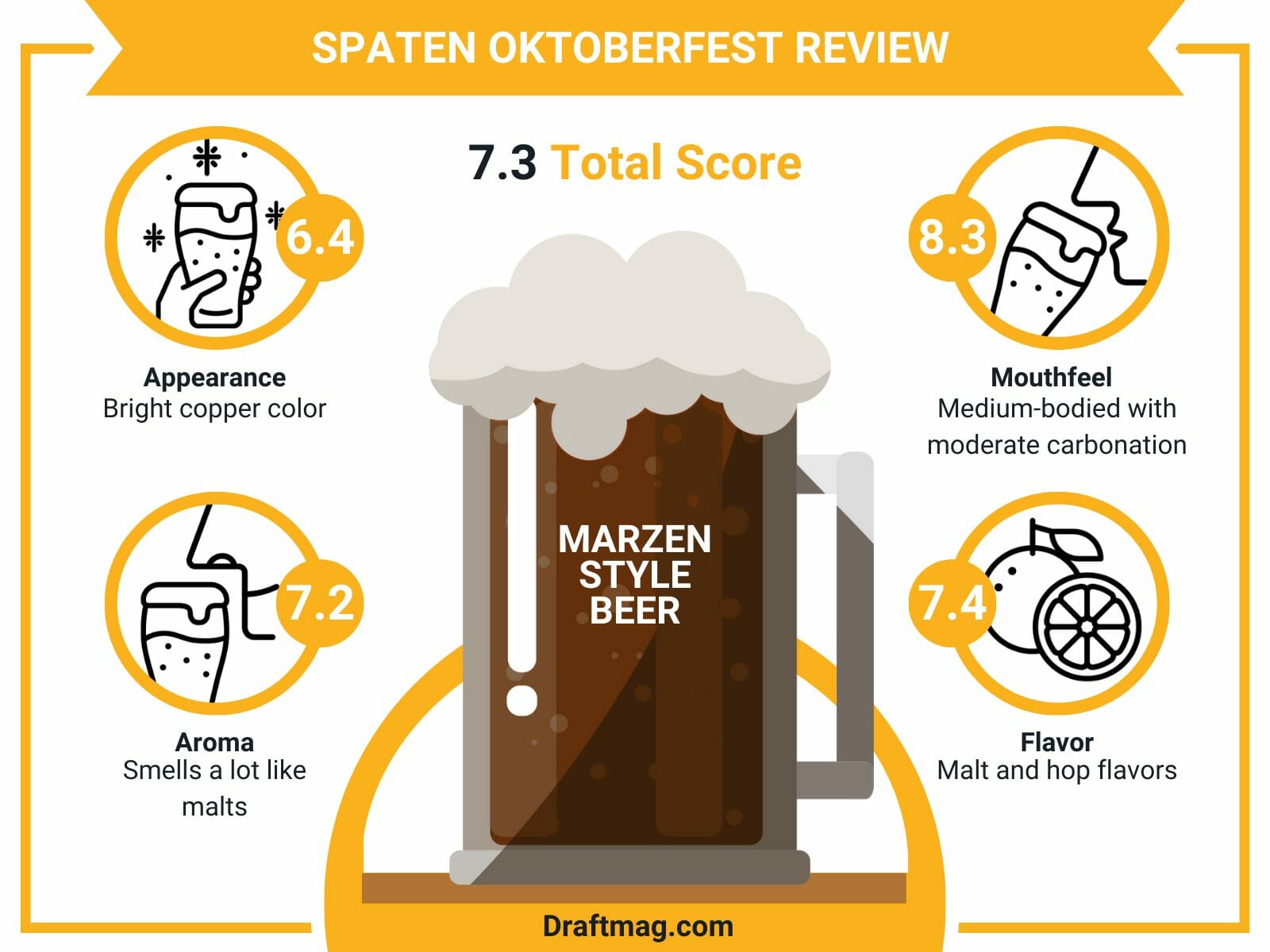 This beer is the perfect fusion of malt and hops to create an outstanding, rich taste. Compiled by our beer experts, this review analyzes this beer and reveals all there is to know about it.
Spaten Oktoberfest Stats
| | |
| --- | --- |
| Country | Germany |
| Brand | Spaten Franziskaner Brau |
| Style | Marzen-style beer |
| Taste | This beer tastes sweet in a rich, malty way, with a spicy hoppiness that balances the caramel and roast malt sweetness. There's barely a hint of alcohol. |
| Body | It is medium-bodied with moderate carbonation and a creamy yet crisp mouthfeel that leaves a slightly drying finish. |
| ABV | 5.9 percent |
| Flavor and Aroma | Its flavor and aroma of sweet malts include caramel, bread, and roast malts alongside a distinctive hoppy character. No alcohol is perceivable. |
| Serving Temperature | 45 – 50 degrees Fahrenheit |
Tasting Notes
Spaten Oktoberfest Tasting Profile
Spaten Oktoberfest Review
With much talk surrounding its taste, many beer drinkers are eager to try out Spaten Oktoberfest beer. However, our unbiased review uniquely unravels this beer and helps you decide if this Marzen is worth your dime and time.
– Appearance
One of the most distinctive qualities of this beer is its bright copper color, which many other beer drinkers would describe as Amber or burnt orange. This beer is brilliantly bright and easily stands out with its thick and creamy white foam head.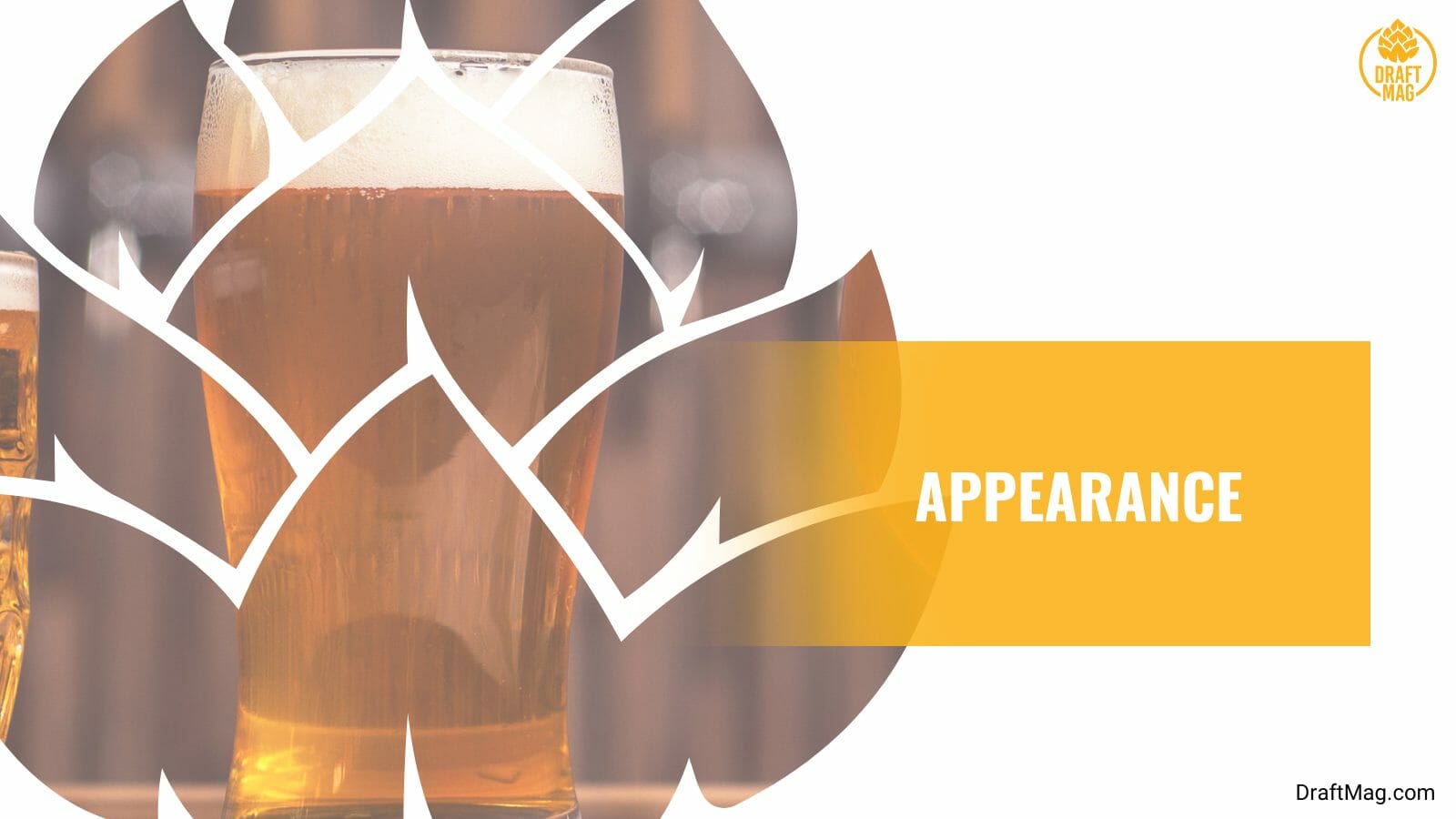 The head retention is excellent, as it takes quite a while for the beer head to recede. Even when it does recede, a thin layer still covers the top of the beer. This thin layer almost remains all throughout the period of drinking. And with every gulp, a thick ring of lacing coats the sides of the glass.
– Aroma
This German Marzen smells a lot like malts. You can catch a whiff of bready malts, caramel malt, a mild roasted malt note, and very faint citrus notes. The unmistakable spiciness of the hops is also present and smells just a bit too skunky.
If you pay closer attention, you can easily detect an earthy note that smells like grass or hay. Overall, the predominant scent of this beer is sweet malts, although the hop presence is also very pronounced. Although the skunkiness of the hops may be off-putting to many drinkers, we generally like that the aroma is quite simple and inviting.
– Mouthfeel
This Marzen has a lovely mouthfeel as it is medium-bodied with moderate carbonation. It is somewhat thin. However, its rich, creamy texture adds some weight to its body.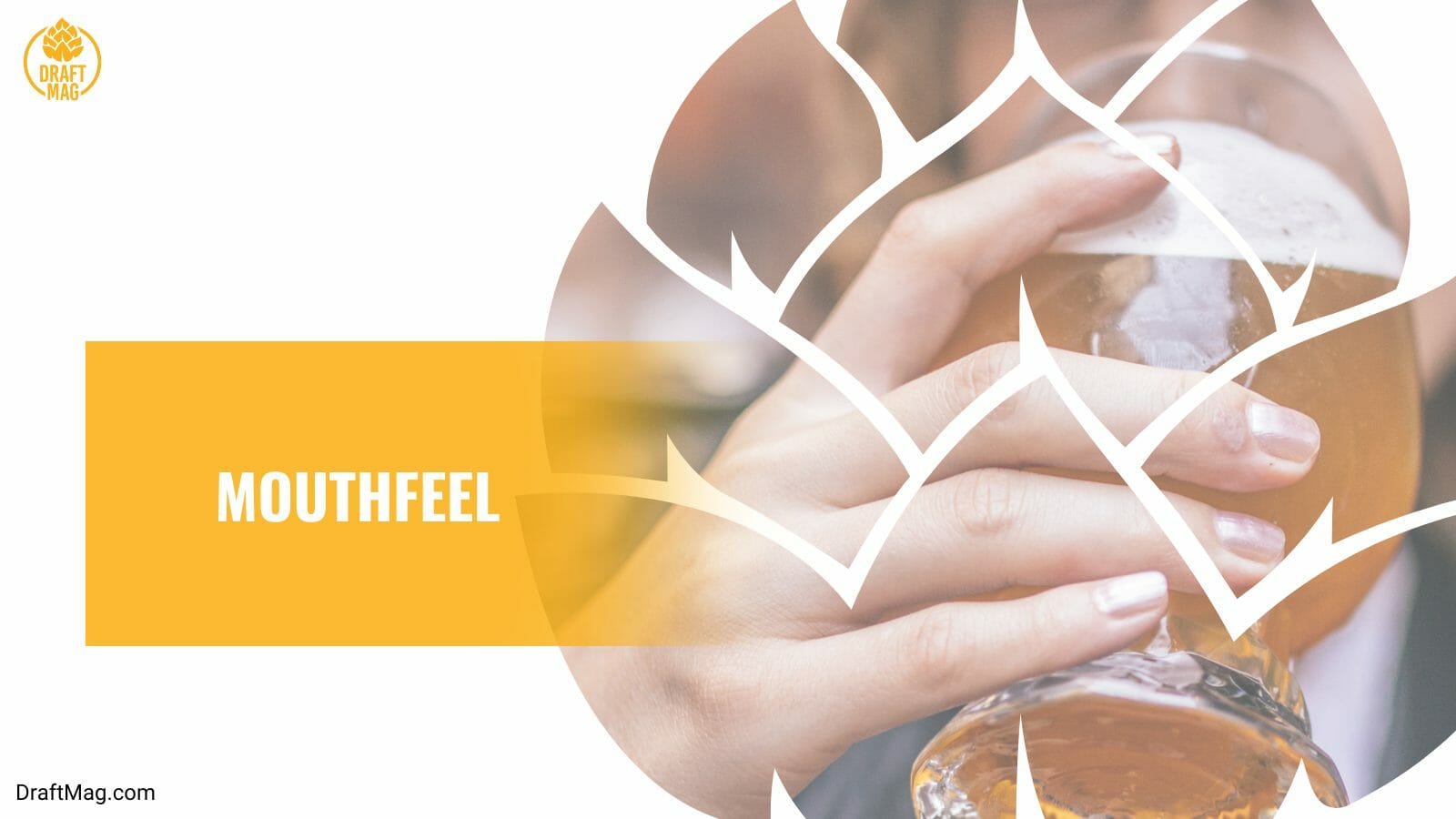 The taste borders between bitter-sweet as the strong malty presence gives the beer a sweet start while the hop lends a lingering, borderline bitter feel. You can quickly tell this is one crisp beer that is also very smooth and easy to drink. There's almost no alcoholic presence, and it leaves a slightly dry finish.
– Flavor
The most distinguishable flavors of this Marzen-style beer are malt and hop flavors. One can easily detect a rich, toffee-like flavor alongside bread and caramel flavors. Another noticeable flavor is the spicy hop flavor which, although slightly overwhelming, balances this beer's malty flavor.
While we describe the flavor profile of this beer as substantial and well put together, we also like that it is simple and mildly flavored without being bland. Each flavor adds a unique feature to the beer to produce an overall lip-smacking brew.
– Food Pairings
Most German Marzen-style beers go well with salty dishes as they help balance or compliment the saltiness of this type of dish. You can pair your Marzen with various cheese such as Fontina, Goat cheese, and even Comte. As a German beer, it only makes sense that this beer style would pair excellently with most German dishes.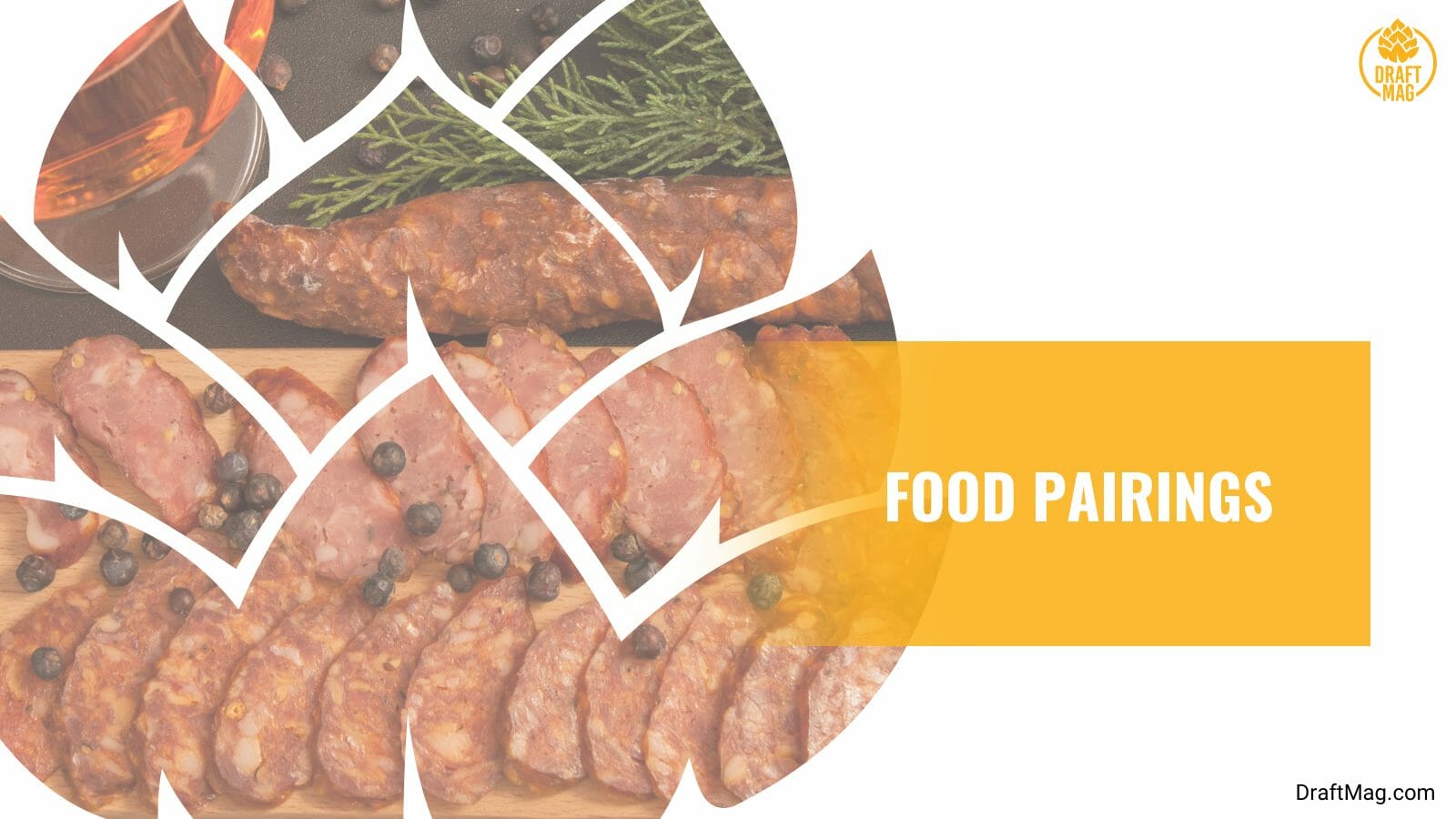 You can also enjoy this brew with grilled dishes, pizza, fries, and sausages. More exotic options like roasted lamb, smoked salmon, and smoked pork are also great choices. For dessert, you can pair this beer with coconut cakes or salads.
Ingredients
This beer is brewed using beer ingredients that include Pilsner Malts, Vienna Malts, Aromatic, Munich, and Caramunich Malts. It is brewed using Hersbrucker and Northern Brewer Hops. It contains water and yeast, and there are no known added additives.
Nutrition Facts
This German beer contains 180 calories and 50 grams of carbs. It contains zero grams of fat and zero grams of sugar. The Marzen has an alcohol by volume of 5.9 percent and an IBU of 23. It may contain gluten unless stated otherwise.
With its exceptionally high amount of carbs, people on a weight loss diet or keto lifestyle may have to avoid drinking this beer in large quantities.
History
It was first produced in 1872 and was the first Oktoberfest to be brewed in the world. It is made by Spaten Franziskaner Brau, which has existed for over 600 years. In fact, this brewery is one of the six Oktoberfest breweries to exist in Munich. Although quite old, this beer has been able to catch the attention of younger beer drinkers even in times when there are countless German beers.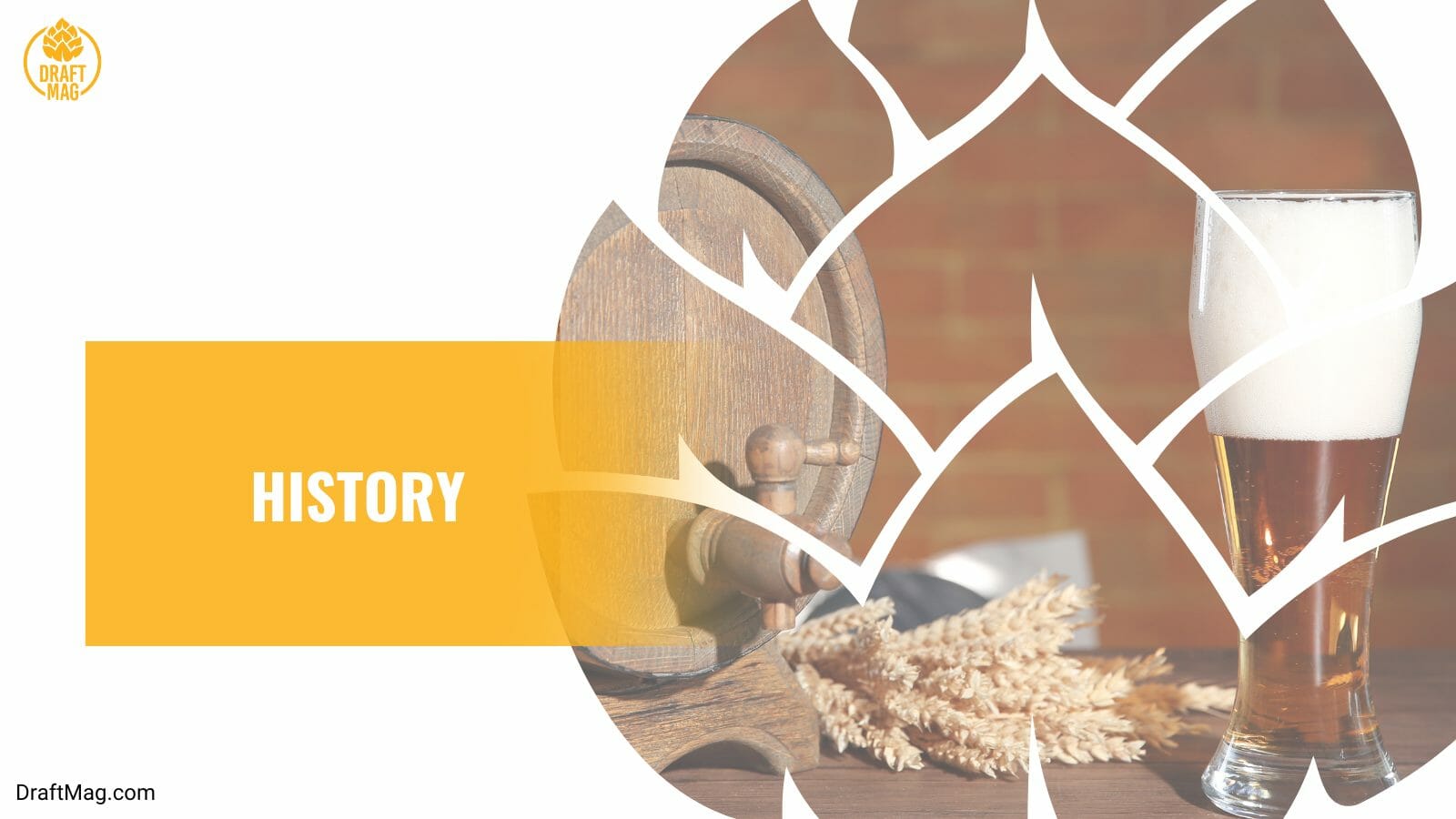 It is a medium-bodied brew that perfectly infuses hops and malt to create a taste that is almost surreal and highly commendable. You can grab a bottle of this beer from any bar or liquor store around you or purchase it from any online beer retail store.
Conclusion
This is undoubtedly a great beer, especially with its sweet taste and distinctive hoppiness, so here's a quick summary of what we discussed in this review:
Spaten Oktoberfest is a Marzen-style German beer with 5.9 ABV produced by Spaten Franziskaner Brau Brewery.
Its aroma, taste, and flavor are predominantly sweet malts, caramel malts, bready malt, hops, and very slight citrus notes.
This beer is medium-bodied with moderate carbonation and a crisp feel that's creamy with barely a hint of alcohol. It finishes dry.
You can pair this beer with a variety of cheese, chicken, German dishes, burgers, and pizza. You can also pair it with smoked salmon and roast pork.
Overall, this is a delightful beer that is sweet without being cloying and has a hoppiness that is perfect for the style. It is a highly recommended craft beer to have on cool evenings alongside family and friends.