Icehouse Beer Review: A Look at America's First Domestic Ice Beer
Icehouse Beer is often known as the first domestic ice beer traditionally brewed and fermented in America. The beer follows a unique brewing process that leads to its flavors and aromas of malts, grains, and corn and a slightly higher ABV.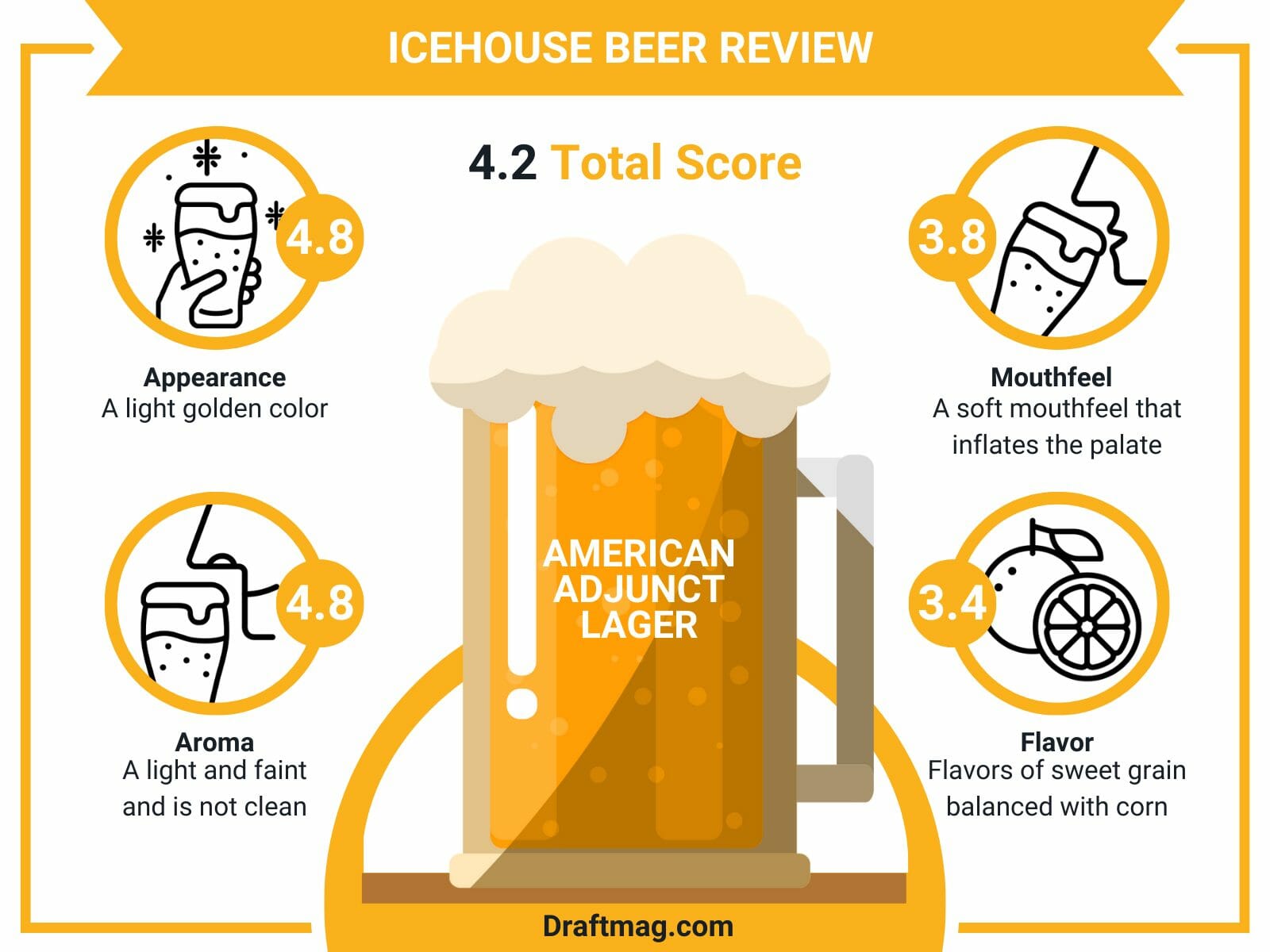 The great-tasting beer is fantastic for pre-game occasions and hanging out with friends. If you're curious about the beer, our Icehouse review includes all you need to know about this beer, including tasting notes and food pairings.
Icehouse Beer Stats
| | |
| --- | --- |
| Country  | United States |
| Brand | Miller Brewing Co |
| Style | American Adjunct Lager |
| Taste  | Grainy, grassy, dry |
| Body | Body |
| ABV | 5.5 percent |
| Flavors & Aromas | Malty, corn, grain, light, dry, bitter bite |
| Serving Temperature | 35 – 40 degrees Fahrenheit |
Tasting Notes
Icehouse Beer Tasting Profile
Icehouse Beer Review
Icehouse is an American adjunct lager with a 5.5 percent alcohol content and is made by Miller Brewing. The domestic ice lager features a unique brewing process and fantastic taste, backed up by its marketing tactics. It pours a light golden body with a huge head and has aromas and flavors of malts, corn, grains, and light tartness.
You should pour the lager into a pint glass with a serving temperature of 35 to 40 degrees Fahrenheit. The pint glass offers enough room for the high, foamy head. Aside from being served cold, the Icehouse beer can be garnished with a citrus slice like a lemon wedge.
Icehouse is an all-season beer you can enjoy anytime, whether you're looking for a fun pre-game brew, something to pair with your nuts and cured meats, or a chill beer when hanging out with friends.
– Appearance
Icehouse pours a light golden color that will look great in a pilsner or a pint glass, with a clear appearance. The carbonation of this beer is very high, so you can see the large bubbles floating from the bottom to the top.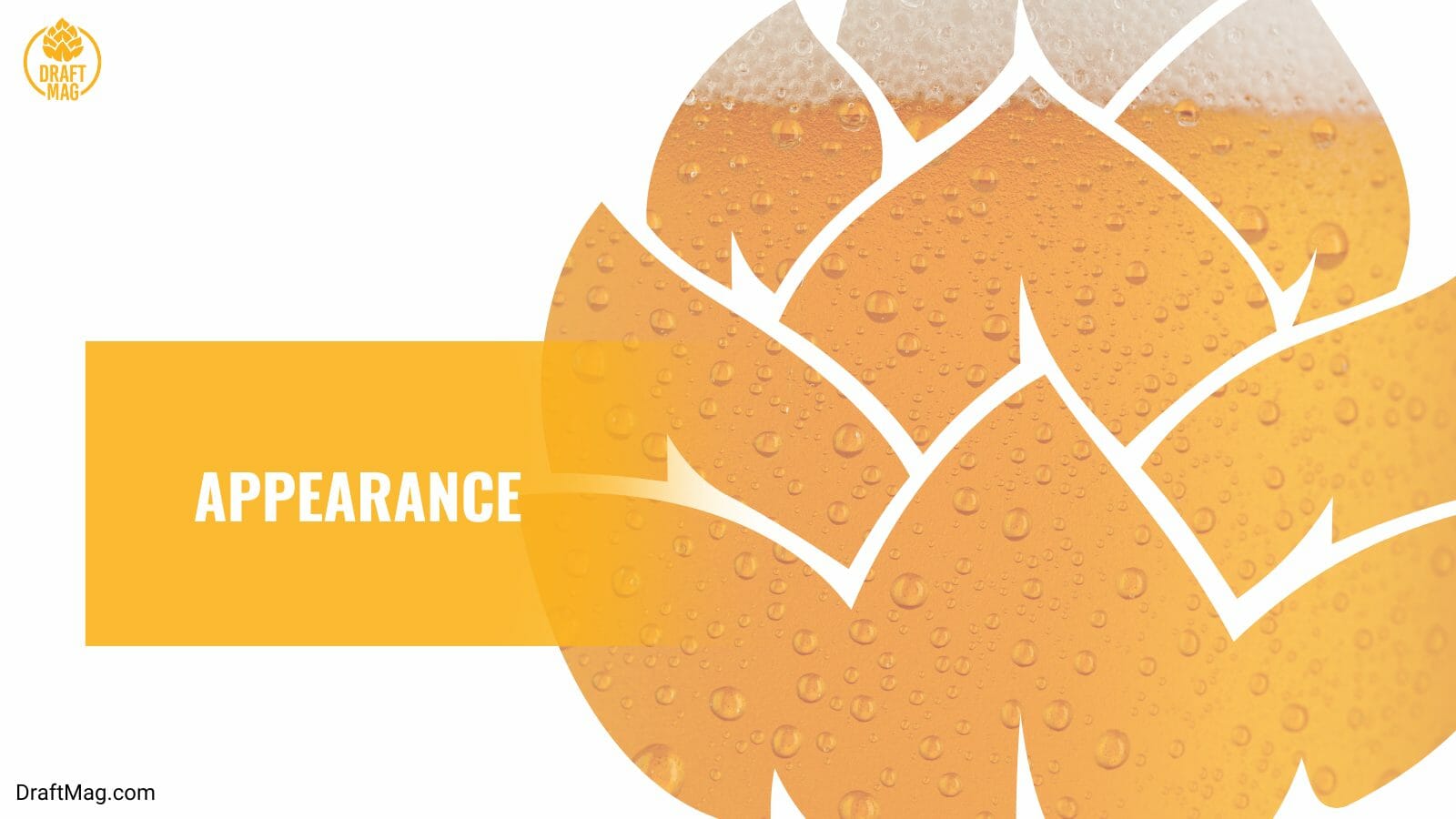 On top of the beer is a fizzy and rocky white foamy head up to four fingers high, but it has poor retention and will dissipate after around five minutes
– Aroma
The aroma of the Icehouse lager is light and faint and is not clean. You will notice the character of lager tartness resting against the corn and malt background, and there is a slight metallic note. There are also hints of dry cereal grass in the aroma, with hay and mint.
– Mouthfeel
On the feel, the Icehouse lager has a soft mouthfeel that inflates the palate upfront before dissipating and giving you a fizzy, bubbly feeling of carbonation.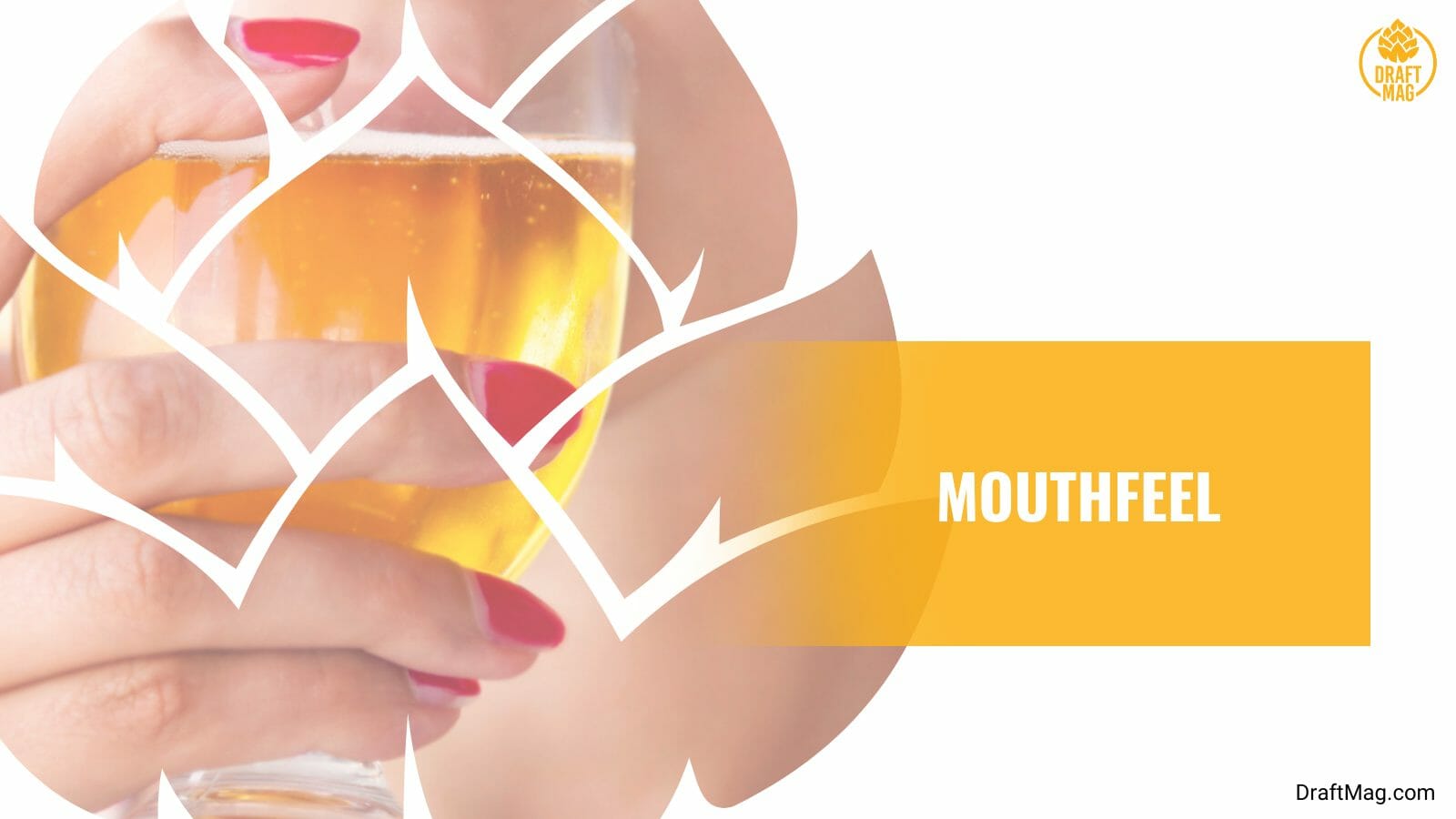 The beer has a light and watery body with a carbonic bite and sweet grain in the aftertaste.
– Flavor
The Icehouse lager tastes like your typical cheap lager, offering the drinker flavors of sweet grain balanced with corn. This is set against a sweet malty backbone that reminds you of bready malts and sweet caramel. There are some spice elements too, but this is pretty low.
The spice presents itself in some light pepper, while the malt is tinged with some tortilla. The pepper also follows into the aftertaste, along with the malty flavor and a subtle citrus note presenting itself in the form of lime or lemon. You might also notice some phenol in the beer, with no alcohol warming. There is some bitterness, but it fades fast.
– Food Pairings
There are different foods you can have with the Icehouse lager, as the flavor is simple and reminds you of a typical lager. It's also pleasant for an ice beer, with none of the alcohol sharpness. The bready malts of the beer complement fried foods, and you can also have it with spicy dishes, herby chicken, American food, and light dishes.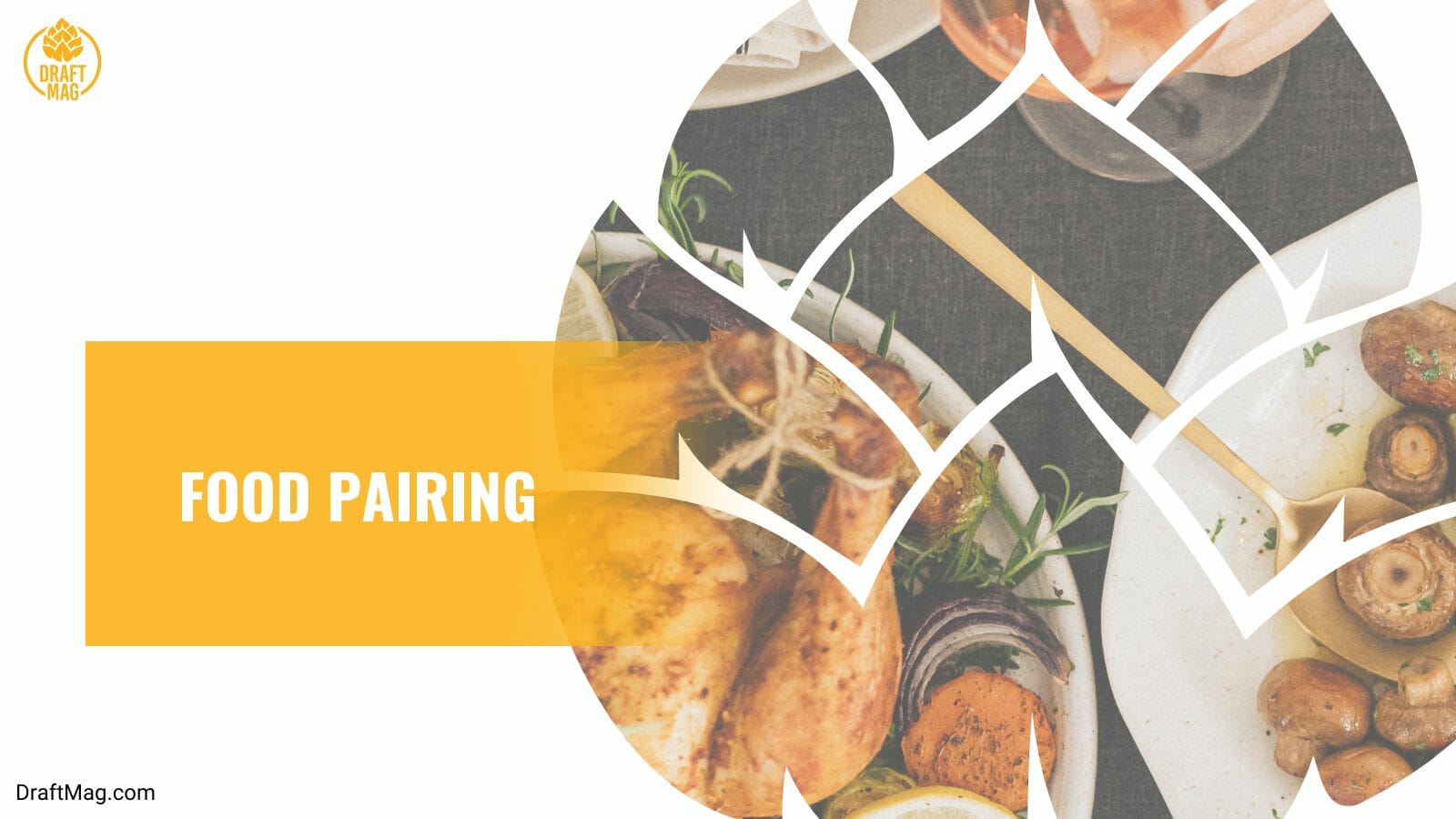 The palate-cleansing beer also pairs well with creamy and light cheeses like fresh Mozzarella, which complements its maltiness. You can have this beer with a fruit salad or soup or try out desserts like lemon-flavored cake or tarts.
Ingredients
The Icehouse beer American lager is made with water, barley malt, yeast, hop extract, corn syrup, dextrose, and maltose. The dextrose and maltose contribute to the flavors of corn in the beer, while the barley malt gives it its malty backbone that manifests as bread and caramel.
The hops in the beer are barely present except for the subtle spice and citrus notes in the finish. You will also notice the lager yeast in the flavor and aroma of the beer. It is first traditionally brewed and fermented as an ice beer before its temperature is lowered below freezing. This allows it to create crystals and increases its ABV.
Nutrition Facts
The Icehouse features an ABV of 5.5 percent, slightly higher than what you expect from regular premium lager brands because of the unique brewing process. There are 132 calories in the beer, and this should be considered when calculating your dietary intake.
This beer also has 8.7 grams of carbs, 1.2 grams of protein, and 0 grams of fat. It should be avoided on keto because the net carbs, 8.7 grams, are pretty high. It is also not a gluten-free beer.
History
Icehouse is brewed by Miller Brewing Company in the United States and was first introduced in 1993.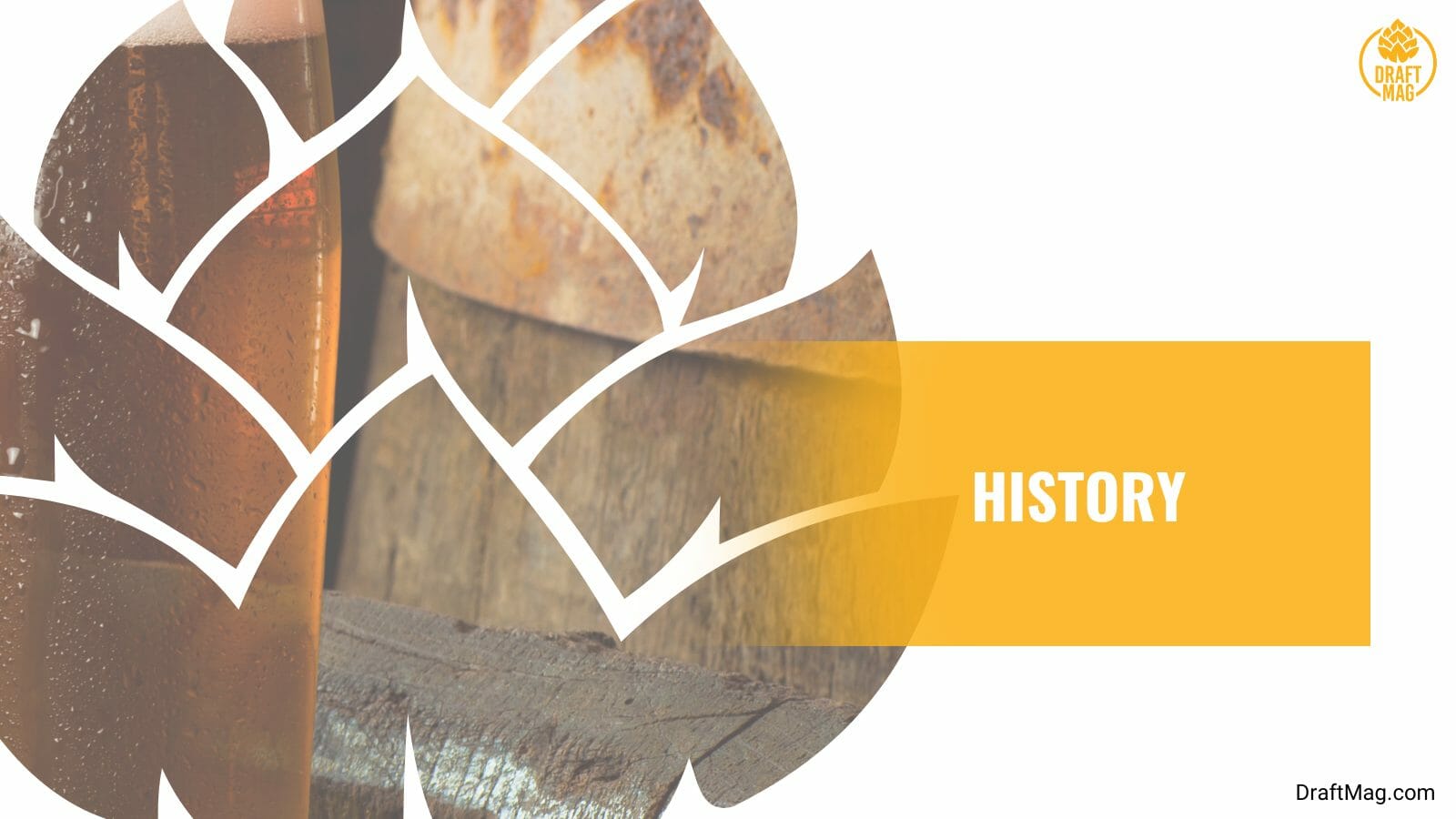 It is the first domestically brewed ice beer in America and remains a favorite of different beer lovers despite declining sales. It is known for having themes of humor and energy in its marketing campaigns. The brewery also released Icehouse Edge after it.
Conclusion
Icehouse beer has stood its ground as the perfect beer for winding down or before a game with friends. If you're planning to buy this beer, here's a rundown of our review:
Icehouse is an American lager with a 5.5 percent alcohol content from Miller Brewing.
It has flavors and aromas of corn, malts, spice, and citrus, with a dry, smooth, drinkable body.
The beer is made with water, barley malt, yeast, hop extract, and corn syrup.
You can have it in a pint glass at a low temperature with a lemon or lime wedge.
The lager pairs well with American foods, fried dishes, spicy dishes, creamy cheeses, and fruity desserts.
If you're curious about the Icehouse lager, you can find it at a wide range of stores near you.