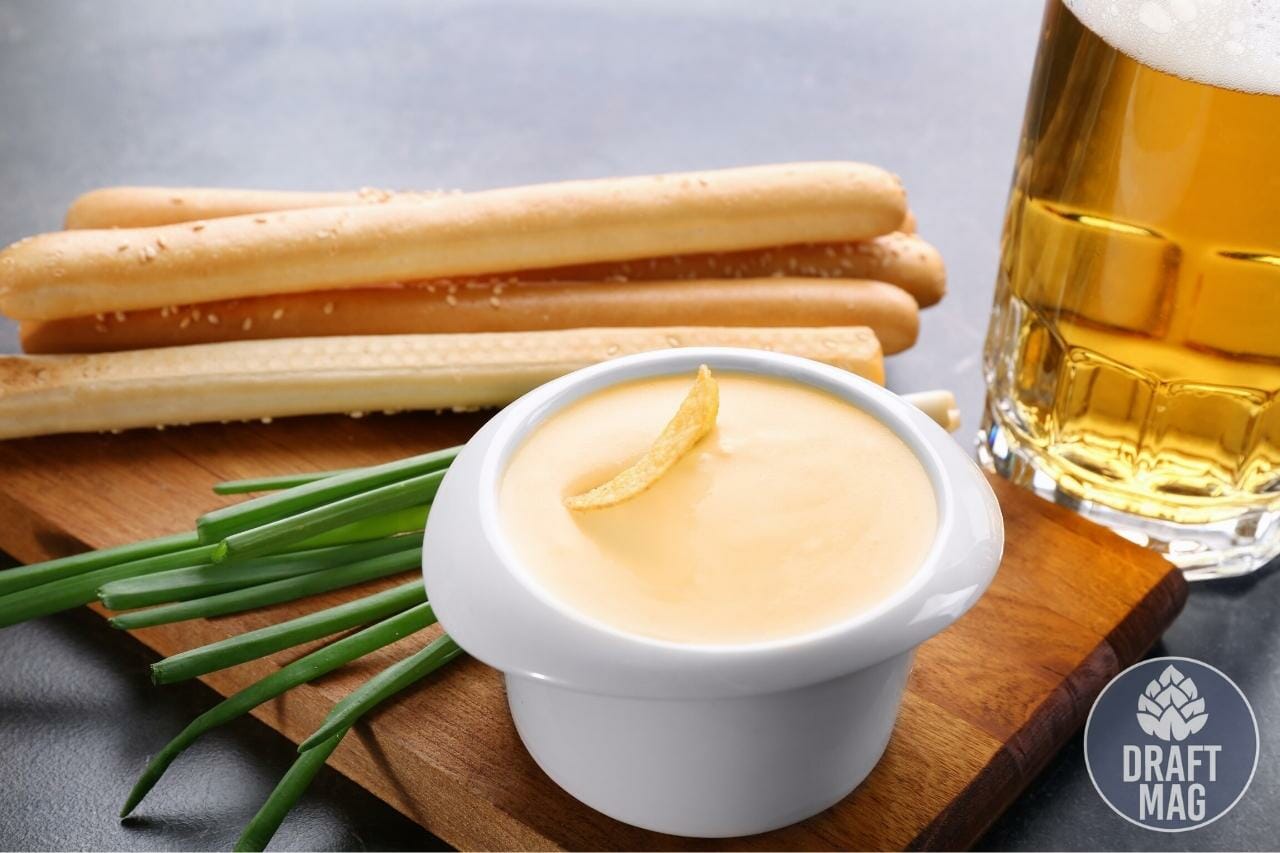 Getting the best beer for beer cheese is usually a dilemma for enthusiasts who like to eat with their beer.
The most recommended beer is the Indian Pale Ale, but you can also use other brews like pilsners, stouts, lagers, brown ales and ales.
You can make a delicious appetizer, dip, or spread with your favorite beer and cheese pairing. We have compiled the top brews to create the perfect cheese dip, so read below to know more.
The Best Beer for Beer Cheese
After much research, we compiled a list of the top beers used to make beer cheese soup.
Montauk Wave Chaser IPA
A craft-style IPA brew is the best choice for a beer cheese dip recipe, and we recommend the Montauk Wave Chaser IPA. Whether you're drinking it or making beer cheese soup, this IPA is a popular favorite in the summer and winter months. The IPA style beer is refreshing with a zesty character that would add depth to your recipe.
It has a 6.4 percent alcohol content with a semi-bitter flavor that matches well with cheese. You can also expect hints of tropical fruits, citrus rind burst, and pine flavor. When cooking dip cheese with the Wave Chaser IPA, you should do so with cheeses like Monterey Jack, Cheddar, Gorgonzola and Limburger.
Heater Allen Pils
If you want your dip with a tasty and malty beer flavor, we recommend the Heater Allen Pilsner instead. The popular Pilsner Urquell inspired this brew, so you can expect a Czech-style taste. It is also made with an eight-week lagering period that deepens its malty character.
This pilsner has a balance of bitter hops and rich malt, which would add a refreshing flavor to your sauce recipe. Cheddar is best for your beer cheese recipe if you decide to use the Heater Allen Pils. Butter cheese, or Butterkäse, might be a bold choice, but it also goes well with this pilsner.
Firestone Walker Brewing Pivo Pilsner
Next on our list is the Firestone Walker Brewing Pivo Pilsner, which has a delicious blend of floral, lemongrass and spice characters. The pilsner is also brewed with a Czech style that gives it an authentic flavor. This delightful brew is ideal for your soup and features a bright and hoppy taste.
Because of the hoppy flavor and 5.3 percent ABV, it adds a sharp taste and creamy texture to your cheese. You should try this pilsner beer with brie cheese, as this is an ideal combination for your recipe. Cheddar cheese is also a perfect choice.
Guinness 0.0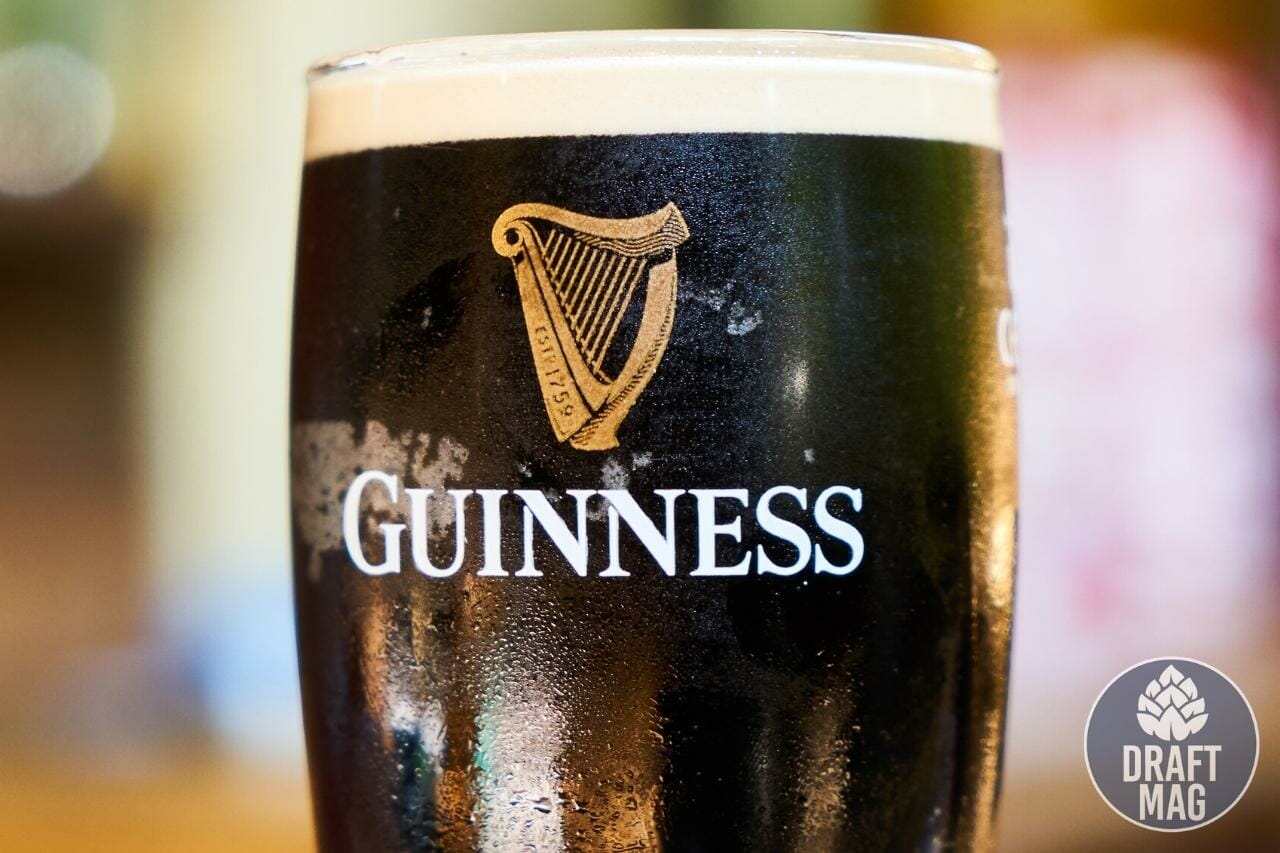 You can also make your beer cheese soup with non-alcoholic beers, and there's no better choice than the Guinness 0.0. Although it has no alcohol, the 0.0 tastes very similar to the original and gives you a delicious character that brings life to your recipe.
The nutrition info also shows that it has less carbs and sugar.
The beer features a coffee-like bitter taste and a hint of sweet milk, thereby complementing your cheese perfectly. An Irish cheddar will go great with the Guinness 0.0 to create a delicious sauce recipe for bread or chips. Although the flavor will be mild, it would provide a mellow yet delightful taste. You can also try out Irish goat cheese, Irish blue and farmhouse cheese.
Half Acre Original Reaper Stout
One great characteristic of the Half Acre Original Reaper stout is its simple flavor, which makes it a popular choice when cooking with beer because it can be treated as a plain canvas. Using this beer in your recipe, you can be as creative as you want with your beer cheese dip.
With 6 percent ABV, the beer is a brilliant mix of bitter chocolate and roasted malts. The alcohol flavor is evident in the beer but would die down with cheese. Sharp white cheddar with the Half Acre Original Reaper will result in a delicious dip for your appetizers. Gorgonzola blue cheese is also an excellent pairing for this brew.
Sierra Nevada Pale Ale
The Sierra Nevada Pale Ale is well-known to have kickstarted the craft beer industry, so it's an excellent choice for drinking and cooking. The beer balances its dominant hops with the soft malt character, and there are hints of citrus and floral from the hops. You will also notice the caramel from the malt and some fruitiness from the yeast.
Because of its hoppy character, the Sierra Nevada Pale Ale pairs well with creamy blue cheese for your sauce recipe. The hops would also bring out the flavor in sharp cheddar if you're interested in bolder flavors. Mozzarellas and Chevres are also good options.
Dogfish Head Raison d'Etre
Next on our list is the Dogfish Head Raison d'Etre, a Belgian-style brown ale with 8 percent ABV. This beer is perfect for adult gatherings and has a unique taste that would go well in your beer cheese dip. It was brewed with raisins and Belgian beat sugar, which is evident in its taste.
You will also notice hints of dark fruit that follow the heavy and full mouthfeel. The beer has a slight graininess too. The Dogfish Head Raison d'Etre goes really well with blue cheese for its cheese pairing. You can also try it out with some soft goat cheese.
Spaten Premium Lager
If you don't want a lot of hops making your cheese sauce complex, the Spaten Premium Lager is dominated by rich malt flavor instead. The pale German lager has a bready taste from the malt with hints of honey, grass, hay and lemon, creating an earthy flavor.
The beer's 5.2 percent ABV is also subtle for cooking, and it would make a perfect accompaniment with your cheese soup when having it in the afternoon. The Spaten Premium Lager is well paired with mild cheddar, as both would create a mellow flavor. Harvati cheeses also go well with light lagers.
Brekle's Brown
The Brekle's Brown is also an excellent choice for cooking beer cheese dip, especially if you want something rich and creamy. The all-malt single-hop brown ale is unique and has a creamy cherry flavor that makes it great for drinking and cooking. There are also hints of caramel malts, and it has a juicy taste due to the Citra hops.
If you want to make something fancy, you can pair the Brekle's Brown Ale with aged Dutch Gouda. The cheese has a saltiness that goes well with the creamy, caramel flavor of the ale. But basically, aged or handmade cheddar is also a good pairing.
Deschutes Black Butte Porter
Last on our list is this rich porter beer, well-known as one of the oldest craft beers in the U.S. The Deschutes Black Butte Porter is a well-balanced, 5.2 percent ABV beer that makes it great for drinking with company and making a beer cheese dip.
The beer offers a rich flavor of chocolate, dried fruit and coffee. When making your beer cheese sauce with the Deschutes Black Butte Porter, it's good to look for soft blue cheeses with a lot of cream and no sharp cheeses. Cheddar and Gorgonzola cheeses also work great.
Other Helpful Information
In this section, we'll be providing you with a fool-proof beer cheese soup recipe that is sure to be the life of the party.
Take your pick from the best beer choices above and make this dish today!
– How To Make Beer With Cheese
The process of cooking easy beer cheese soup is quick, so you can have this on the table in no time. The dip goes well with soft pretzels, tortilla chips, bread and sandwiches as well as vegetables.
From reviewing the top beers for this recipe, you might have noticed that cheddar cheese was recommended the most. Go for cheddar if you're not sure what cheese to combine with your beer for soup. It's also quicker to use a sauce pan over the stove, but there are popular recipes that involve a crock pot too.
– Ingredients
Here's what you need to get started:
Shredded cheddar cheese
Cream cheese
IPA or any beer of your choice
Margarine
Flour
Dark paprika
Chopped garlic
– Cooking Directions
With all the ingredients ready, you can now follow the steps below:
Melt the margarine in a medium saucepan placed over medium heat.
Add the flour, whisk and let it cook for one minute.
Add the bottle of beer and continue whisking until it's smooth.
Add the cheeses, dark paprika and chopped garlic.
Continue whisking so all the flavors blend properly together.
After five minutes or when the dip is smooth, you can turn off the heat and let it cool.
Pair with your favorite chips or use it as a spread for sandwiches.
Conclusion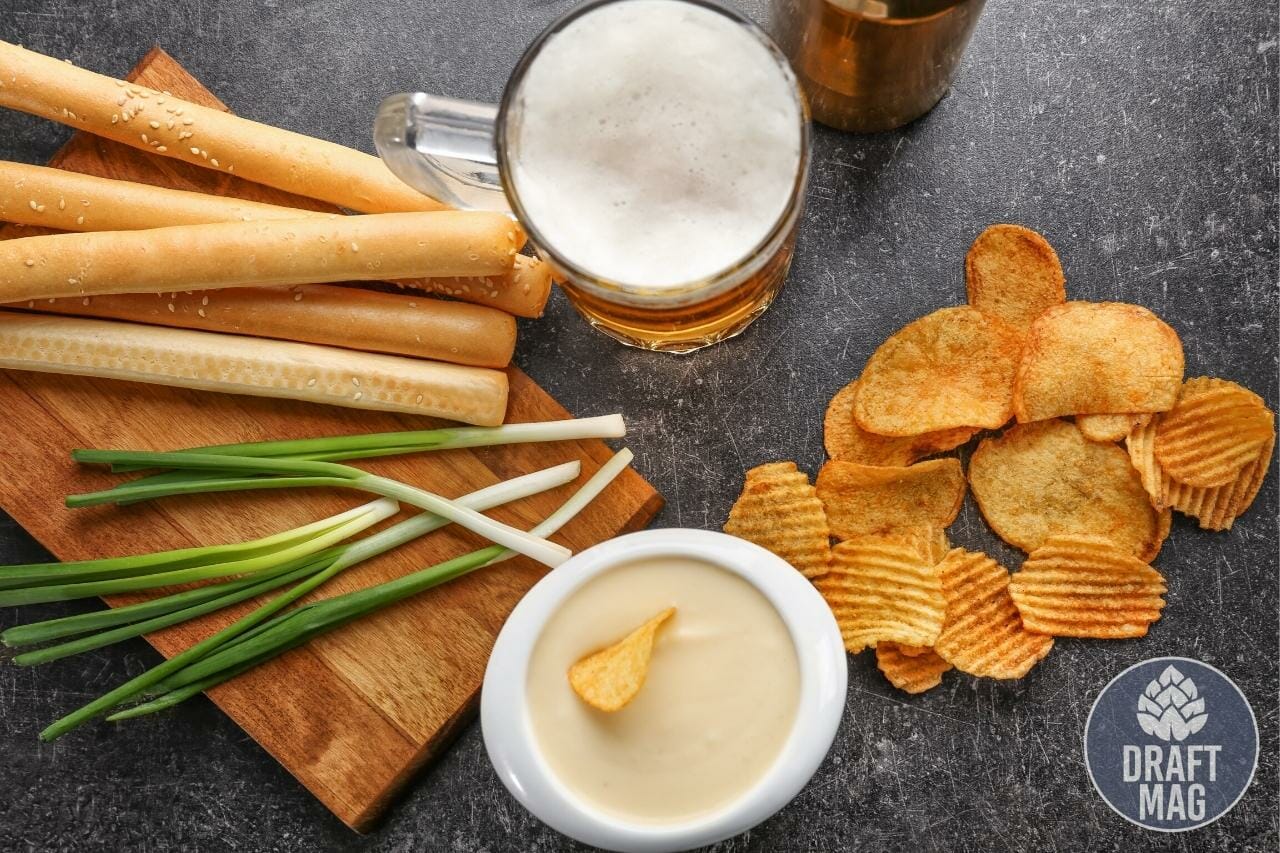 When you look at our review, you will notice that these delicious beers are great for making a beer cheese dip and can also be paired with what you're having!
We have discussed the best beers for this appetizer, so let's run through it again:
You can use IPAs and other ales, lagers, stouts, pilsners and porters for a beer cheese recipe.
The Montauk Wave Chaser IPA is the best beer for cheese.
Non-alcoholic beer also works but has a watered-down taste.
The best cheese for all beers is the cheddar cheese.
Within ten minutes, you can make the sauce and pair it with chips, pretzels or bread.
Whether you're planning a cookout with friends, preparing for game day, or need an appetizer for a gathering, beer cheese dip is the ideal choice.
The best part is that you can drink the beer too!

Latest posts by Draft Mag
(see all)