Yuengling Golden Pilsner Review: A Tale of This Beer's Rich Heritage
Yuengling Golden pilsner is a clean, crisp and full-flavored beer brewed with a perfect balance of specialty malt and Saaz and Hallertau hop. This extremely refreshing and thirst-quenching modern-day pilsner took almost 18 years to develop.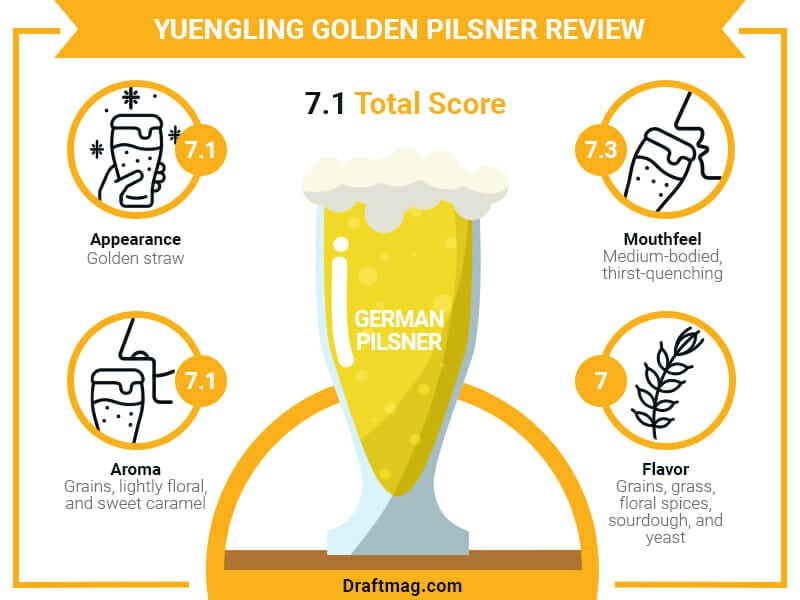 With perfectly balanced flavors and enhanced drinkability, this expertly brewed drink is here to set new standards of refreshment for beer drinkers. Come with us in this journey to know the secret behind this extremely sessional beer.
Yuengling Golden Pilsner Stats
| | |
| --- | --- |
| Country | Pennsylvania, United States |
| Brand | Yuengling |
| Style | German Pilsner |
| Taste | Balanced, Biscuity, Earthy, Floral |
| Body | Light-bodied |
| ABV | 4.7 percent |
| Flavors and Aromas | Crisp flavor and floral, bready and sweet malt aromas |
| Serving Temperature | 45-50 degrees Fahrenheit |
Tasting Notes
Yuengling Golden Pilsner Tasting Profile
Yuengling Golden Pilsner Review
Yuengling Golden Pilsner is popularly known as modern-day pilsner due to several reasons. Here is a detailed description of what this beer tastes like.
– Appearance
The beer pours golden straw in a glass with a small off-white foamy head. The head shows low retention and fades quickly, leaving traces of lacing on the sides of the glass.
Overall, the beer's bright golden color looks natural and clear. Supported by abundant bubbles, this beer looks exceptionally beautiful in a glass.
– Aroma
Yuengling Golden Pilsner showcases intense aromas of grains, lightly floral, and sweet caramel with notes of fruity peach and apricots. In addition to this, there is a hint of corn and clove aromas in the background.
The beer typically features spicy and floral aromas of noble hops, namely Saaz and Hallertau hops, with a light-bready aroma.
– Flavor
Yuengling Golden pilsner is a medium-bodied, thirst-quenching, and refreshingly crisp upfront beer. It showcases the elegant complementation of earthly tones. Grass, sourdough, and yeast are some of the subtle flavors that the drinkers get to experience thoroughly.
The flavors of grains, floral spices and metallic dominate the finish. It showcases moderate to higher levels of bitterness from the Saaz and Hallertau hops, leaving behind crisp, clean, and extremely thirst-quenching hoppy flavors. However, some may find this beer ultra-light, dank, or less complex. Another issue is wide availability because, despite its popularity, it isn't available in several parts of the United States.
If you want to try something bitter, go for Lord Chesterfield Ale, another expertly brewed heritage beer from Yuenglings that offers rich flavors and appeal. The bitterness of this beer is greatly enhanced with the usage of a unique two-stage European technique. It offers delectable upfront malt flavors followed by a sharp, bitter, and dry finish.
– Mouthfeel
This is a light, crisp and medium-bodied beer with higher levels of carbonation. Considering the style, the mouthfeel is entirely appropriate. Overall, it is a smooth, clean, easy-drinking, and thirst-quenching beer.
The beer is entirely refreshing and crisp, which isn't a lot pilsner-like. Contrarily, it showcases typical features of an American adjunct lager but with higher levels of complexity. It showcases a perfect balance of noble hops and gently roasted malty notes thoroughly.
Apart from its rich heritage, the beer reveals a perfect balance of noble Hallertau and Saaz hops and pale and specialty malts. This highly sessional beer comes with a bold, clean, and entirely smooth finish. Overall, it is an expertly brewed brew from Yuengling that cautiously uses passion, premium ingredients, and pure love.
If you are looking for a different taste profile, try the Yuengling Black and Tar, which is a one-of-kind American Interpretation of the traditional Half & Half invented by the English. It was first brewed in 1986 with a combination of 60 percent dark brewed Porter Beer and 40 percent Yuengling Premium beer. It showcases a dark rich color with unique caramel, coffee, and gently roasted malts.
Food Pairings
The Yuengling Golden Pilsner's perfect balance of hops and malt pairs exceptionally well with several summertime favorite dishes. These include:
Steamed crabs – Eating through crab meat can be time-consuming and you definitely do not want a drink with a high ABV. Moreover, you would not want something hoppy that would weigh down your crab experience. Thus, due to such reasons, the Yuengling Golden Pilsner is an ideal match for steamed crabs.
Summer salads – If you are on a diet but still need that alcoholic kick without too many calories, the Golden Pilsner is a perfect drink to go with.
Fried, Grilled, or BBQ chicken – The Golden Pilsner should be your go-to drink with any kind of chicken. The drink's lightness and acidity perfectly complement a heavy chicken meal.
Other foods that go well with the Golden Pilsner include seafood, salmon, trout, tuna, and various cheese varieties such as Monterey Jack, Havarti, and Muenster.
The suggested glassware for serving Yuengling Golden Pilsner is a Pint glass. These glasses are cylindrically shaped, which is narrow at the bottom and wider at the top. This allows more space for the bubbles and helps in forming a perfect head.
The suggested serving temperature is 45-50 degrees Fahrenheit, and this highly sessional beer is available year-round. It is widely available in a 6-pack of 12 oz cans and bottles, as well as on draft.
Ingredients
Only premium ingredients are used in the making of this modern-day pilsner. Here is the list of Yuengling Golden Pilsner ingredients.
Water: Like any other beer, water is the most essential ingredient in the Golden Pilsner as well. The closely located 135 miles long river "Schuylkill" is the source from where the company gets its water. The river runs from Pottsville to Philadelphia.
Hops: The Golden Pilsner is produced with the perfect combination of noble hops such as Hallertau and Saaz. Both are well-known to provide unique aroma and flavor along with higher bitterness levels to the resultant drinks. The Czech Republic and Germany are the primary sources of noble hops.
Yeast: Yeast is yet another important ingredient in the beer brewing process. Saccharomyces pastorianus, a bottom-fermenting yeast, is used to make this beer. It ferments at lower temperatures. The fermentation process is slow, resulting in a more crisp taste, and this yeast type is used to brew almost all Pilsners and Lagers.
Malts: The specialty and old-fashioned pale malts go into brewing the Golden Pilsner. This malt combination provides elegant aromatic and unique flavor properties to the Yuengling Golden Pilsner.
Moreover, if you love fruit-flavored beers, try the Yuengling Raging Eagle Mango. This beer is expertly brewed from natural mango extracts. It is a truly delicious, refreshing, and thirst-quenching beer in all aspects. It uses traditional German Hops and comes with a slightly higher alcohol content (6 percent ABV).
Nutritional Facts
Yuengling Golden Pilsner comes from the house of Yuengling Brewery, a brewery with six generations of brewing experience. The popularity is attributable to the experience and expertise of brewers. The serving size of 12 ounces of Yuengling Golden Pilsner contains 9.3 carbs and 136 calories.
If you are health conscious, however, go for Yuengling Light Lager. As the name suggests, it is a carefully brewed light lager by Yuengling with a standard serving of 12 oz. It is a medium-bodied beer, full-flavored, and an easy-drinking brew in every sense. The beer has only 3.2 carbs and 99 calories.
History
Yuengling brewery was founded by David Gottlieb JungLing in 1829. He was also the master brewer of the brewery. Although he was born and brought up in Germany, in the hope of living a better life, he moved to the United States. There, he settled in the small town of Pottsville, located in Pennsylvania.
With his experience and knowledge, he started his own Eagle Brewing Company and changed his surname to Yuengling. Later, in 1873, he was joined by his son, Frederick Yuengling and the company's name was changed to Yuengling and Son, though the same American eagle logo was retained.
The Yuengling and Son, formerly known as Eagle Brewery, are often considered the first brewery in the U.S. As of today, the company is growing up to be stronger day by day, operating out of its Pottsville, Pennsylvania home brewery. Additionally, the company has acquired another brewery in Florida (Tampa).
– Recent History
Golden Pilsner is the first core product of this brewery after 17 years. The main aim of this light and refreshing pilsner is to provide an alternative to popular light beers such as Coors Light or Miller Light.
The beer is power-packed with flavors and offers an easy-drinking thirst-quenching experience to the drinkers. It is here to provide new standards in refreshment to beer enthusiasts.
Some of the reasons to like this modern-day Pilsner include:
The rich heritage and six generations of brewing tradition
Showcases full flavors and characters of a traditional german pilsner
Compared to other beers in the same category, Golden Pilsner is well-priced
It is professionally packaged
It offers a refreshing and thirst-quenching finish.
Use of Noble hops with pale and specialty malt
In 2018, some important discoveries were made regarding this brewery, which revealed:
It is the largest wholesome American-owned brewery
It is the 6th largest overall brewery
It is the largest craft brewery in the U.S in terms of volume of sales
FAQs
– What Does Yuengling Golden Pilsner Taste Like?
Yuengling Golden pilsner is sweet with grainy flavors. It is a medium-bodied beer with crisp and earthy tones that offers refreshingly unique and power-packed flavors. It is further complemented well by traditional yeast and authentic tastes of sourdough.
While consuming it, you are likely to experience some of the subtle flavors including yeast, sourdough, and grass.
– Is Yuengling a Lager or a Pilsner?
Yuengling golden pilsner is a traditional lager. It is a noteworthy brew from the brewers as it is their new addition after approximately 17 years of being in the brewing industry. Yuengling Golden pilsner is an amber-hued beer sold in an old-fashioned bottle green color.
Yuengling Golden Pilsner is hoppy. Moreover, it showcases a perfect balance of both hop and malt characters. The term "Golden" here represents both the color and the name. Overall, it is a crisp thirst-quenching beer with a smooth and clean finish.
– How Much Alcohol Is in Yuengling Golden Pilsner?
The highly sessional, outstanding, and modern-day pilsner comes with an alcohol content of 4.7 percent. In addition, the beer is brewed with the perfect combination of specialty and pale malts and hops (Hallertau and Saaz).
The beer offers a bold, smooth, and crisp finish. With 4.7 percent ABV and 135 calories, it is a well-balanced beer. This offers a perfect combination of specialty and pale malts and Hallertau and Saaz hop for a bold and hoppy flavored brew experience. This makes it a perfect pair with heavy foods like chicken, seafood, and steamed crabs.
– What Is the Difference Between a Lager and a Pilsner Beer?
The major difference between a lager and a pilsner is that the pilsner is created using more aggressive hops compared to a lager. In addition, different yeasts are used to brew a lager and pilsner.
A pilsner is a type of lager only with roots in the Czech Republic. So to conclude, pilsner is a little spicier and hoppier than a lager.
Endnote
The rich heritage and six-generation experience of Yuengling brewery reflect thoroughly in the Golden Pilsner. This time, America's Oldest Brewery is here to offer a new standard in refreshment to beer enthusiasts; after all, it is a product of 18 years of extensive experimentation.
Yuengling Golden Pilsner is an all-malt beer that perfectly combines pale and specialty malts and Hallertau and Saaz hop.
It is a product of Yuengling Brewery – America's oldest brewery with six generations of brewing experience.
At 4.7 percent ABV and 135 calories, it is a highly sessional, entirely refreshing, and easy-drinking brew.
It showcases Saaz and Hallertau hops' floral and spicy character balanced with specialty malt sweetness.
It is a full-flavored modern-day beer that is an expert take on the traditional German pilsner.
The modern-day pilsner born is an excellent choice for active, social, and outdoor occasions. If you incline toward the traditional German pilsner, this modern take on pilsner is worth trying for beer enthusiasts, so get your hands on a bottle today!